ZOE is a temporary co-existence between reishi mushrooms and a custom-made robotic system. Noor Stenfert Kroese and Amir Bastan explore with ZOE the possibilities of internal communication between a robotic system and reishi. Within this seeming paradox between nature and technology, an ecosystem occurs that cares for and affects the other through sensing technologies. It continues onto the research of the interaction and unknown communication within fungal mycelia networks.
ZOE uses sensors to collect data from the environment as well as the mycelium of the reishi. It uses this data to create the internal communication between the reishi and the robotic system. The reishi and their behavior defines what the robotic system does and the robotic system influences the shape of the light-sensitive reishi mushrooms. Over time this influence sculpts the shape of the fruiting bodies of the reishi as a reflection of their ecosystem. The data is used in the space to create a sensory experience for exploring this unknown communication. Finally, the data-carpets are created from the daily collected data from reishi in relation to their environment to see if we could experience any correlation between them. These tactile data visualizations explore the outcome and the unknown communication going on in this temporary co-existence.
Are we able to tune in on these different rhythms of all of the parts involved, and what are we in a space that is with, but not about us?
Credits
Noor Stenfert Kroese & Amir Bastan
Support: Produced by Productiehuis Theater Rotterdam with support from by Municipality of the City of Rotterdam, Fonds 21 EXTRA and Art Climate & Transition – EU Creative Europe project.
In co-production with Creative Robotics, KUKA CEE and Mushroom Research Center Austria.
This project is presented in the context of the More-than-Planet project co-funded by the Creative Europe Programme of the European Union.
Noor Stenfert Kroese (NL)
Noor Stenfert Kroese (*1993) is a new media artist, scenographer and artistic researcher. From a critical post-human perspective, her works evolve around the relationship between humans and non-humans in spatial performative installations. Her current research focuses on data storytelling of living organisms. Exploring the unknown of the living organism through sensors and robotics is translated into tactile human experienceable outcomes. Her work does not provide a direct answer but seeks the space to ask questions and experience.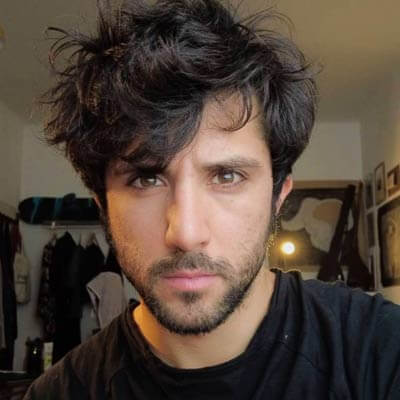 Amir Bastan (IR)
As a new media artist with a background in fine arts and philosophy, Amir Bastan (*1991) explores the gap between the conscious and the unconscious. He realizes his works by designing narratives through real-time processes. Amir is based in Linz/AT, where he is pursuing his PhD. He is currently a lecturer and a researcher at Creative Robotics – University for Art and Design Linz.