Our previous destination was London. The next stop on our itinerary is Mistelbach, which isn't a hotbed of paranoia so at least there are no security checkpoints to pass through. The reason for our trip to Lower Austria is to visit the Hermann Nitsch Museum, where a retrospective entitled SINNE UND SEIN (Sense and Being) will open on April 7. The Ars Electronica Futurelab has contributed to it, which is what this account is all about.
Let's go to the Nitsch Museum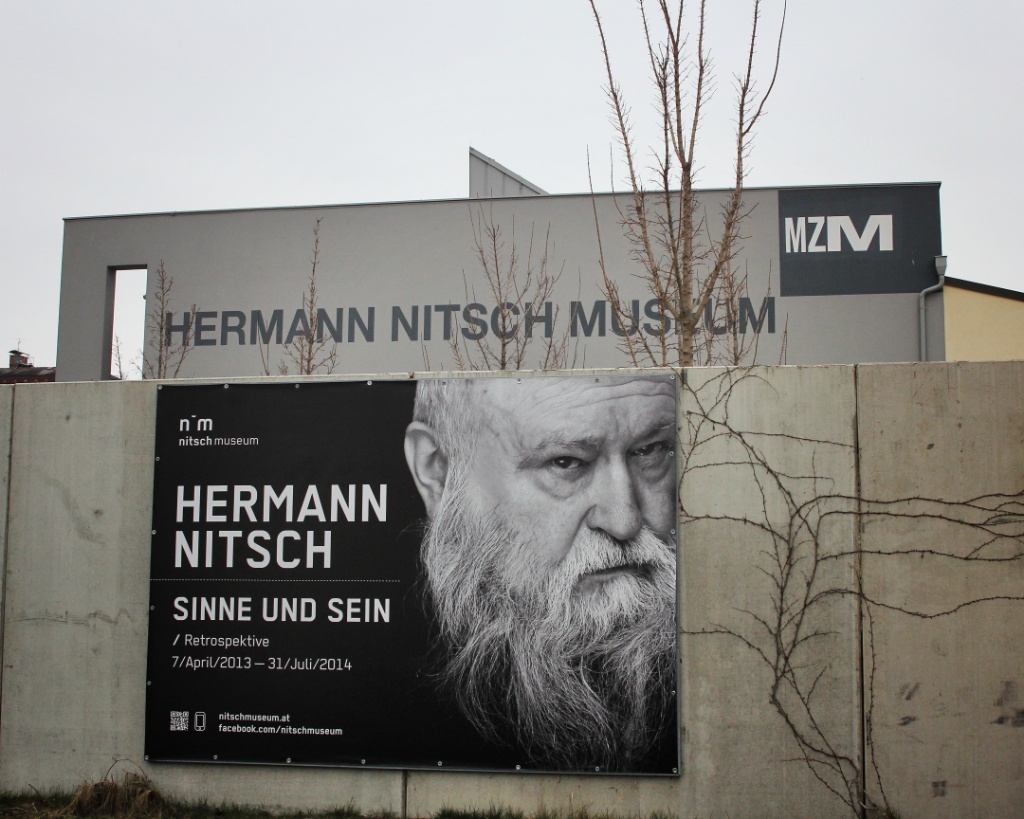 Most of us are familiar with Nitsch's work. His "Theater of Orgies and Mysteries" established new benchmarks; actions by the man who is probably the highest-profile practitioner of Viennese Actionism were works of multimedia art before this term was even coined. The origination, the design, the experience of the paintings, the graphics, the music as well as, of course, the material and olfactory components—these, taken together, involved all five senses, and were a mental and physical challenge for artists, actors and audience members alike.
Patrick Müller of the Ars Electronica Futurelab introduces Hermann Nitsch to the application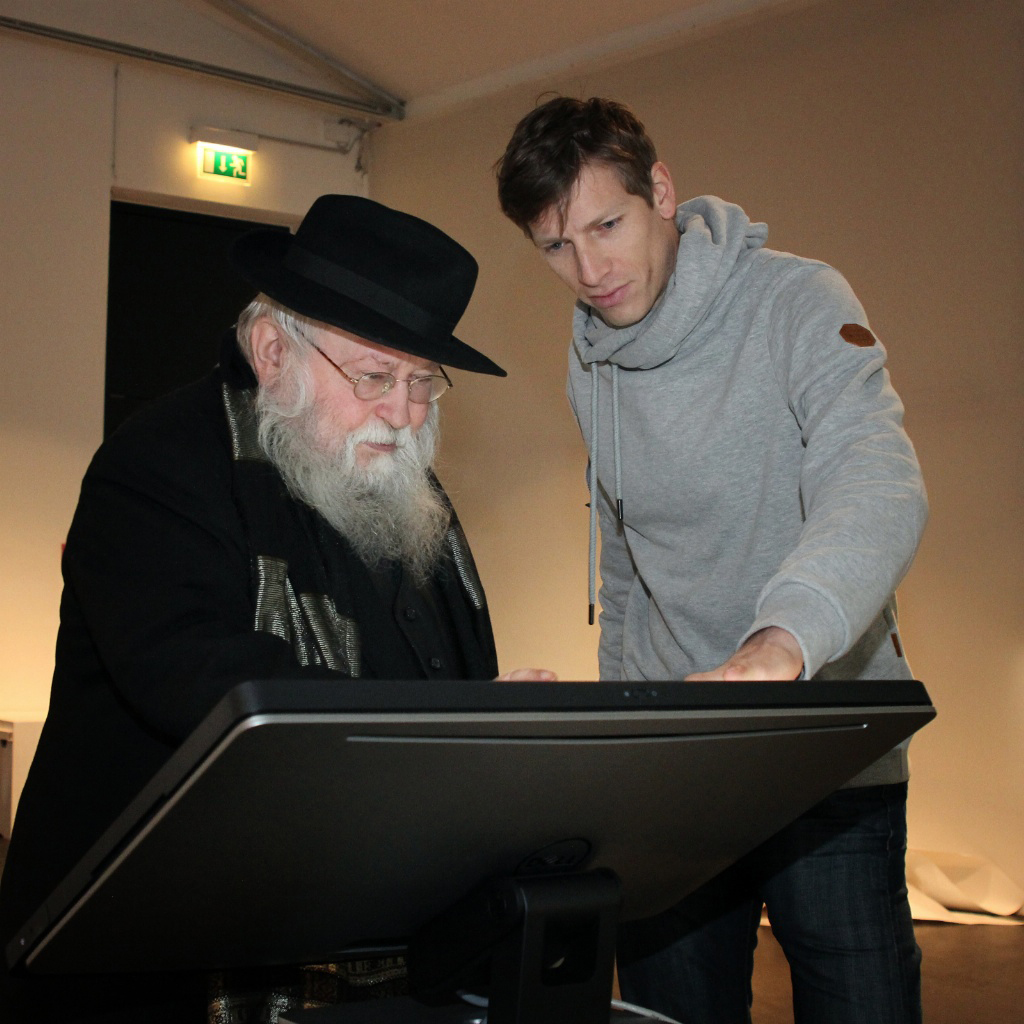 Documenting this realm of experience and getting it across to non-participants is no easy task either. The Hermann Nitsch Museum in Mistelbach will now face this challenge once again in the form of SINNE UND SEIN.
The chapelle or installationsroom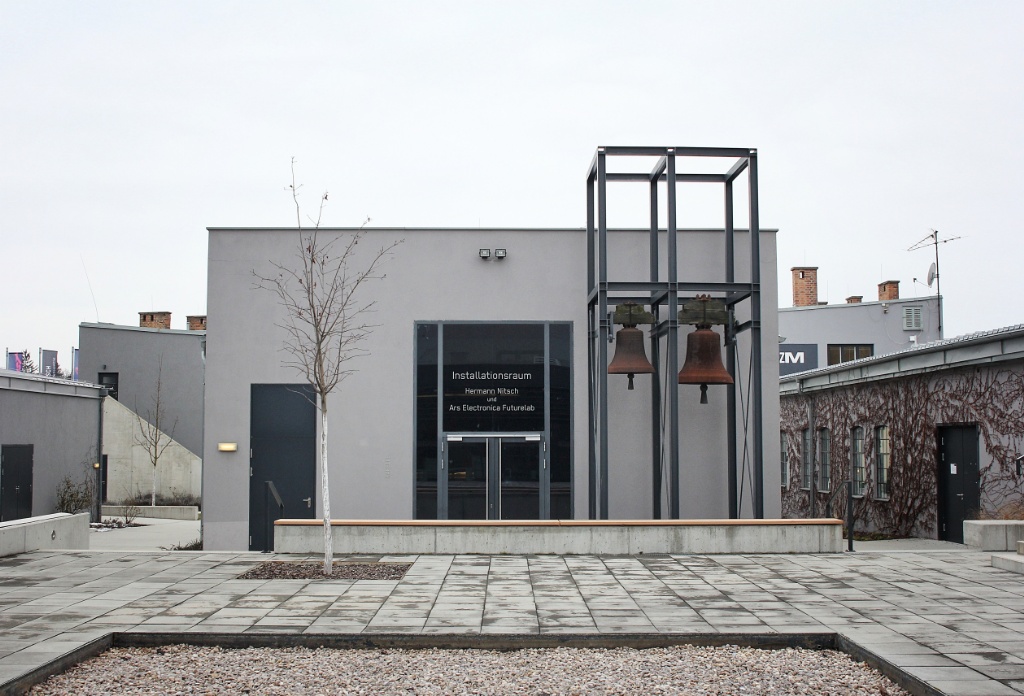 The installation venue is the Chapel, a separate building in the courtyard of Nitsch Museum (which is part of the Museum Center Mistelbach (MZM) where a Nitsch retrospective entitled "Süße Lust – Geschichte(n) der Mehlspeise" (Sweet Lust – (Hi)Stories of Pastry) is running simultaneously in another exhibition space.) In the Chapel, the Ars Electronica Futurelab has installed a miniature version of Deep Space, but just because it's small in comparison to the original doesn't necessarily mean that all they've done is hang a tablet on the wall.
Measuring 8×4 meters and displaying images up to 38,000 pixels wide, the dimensions are quite impressive here too, especially since the whole space is pretty much dedicated to this installation. On display are four of Nitsch's works, two of which are reconfigurations never before seen in this form. They're controlled, as in the Ars Electronica Center, via a multi-touch terminal that lets users zoom in and discover details that might previously have been unknown to anyone but the artist. Each image has been virtually cut up into thousands of individual pieces; the wealth of detail is impressive.
But visual components aren't all there is to admire. "Concert for 1,000 Fingers," (Hermann Nitsch/Peter Jan Marthé, "KLAVIER-SINFONIE FÜR 100 PIANISTEN", Uraufführung: 25. 11. 2012 im "Kulturquartier" Linz, Ausführende: Pianisten des O.Ö. Musikschulwerks & der Musikuniversität Wien. Dirigent: Peter Jan Marthé) is piped in on specially installed speakers that impart every single decibel of this piece loud and clear. If you go with the flow, the works of art in this setting and the combination of imagery and sound make an even more intense impact, an experience that comes close to involving all the senses.
Nitsch dives into Nitsch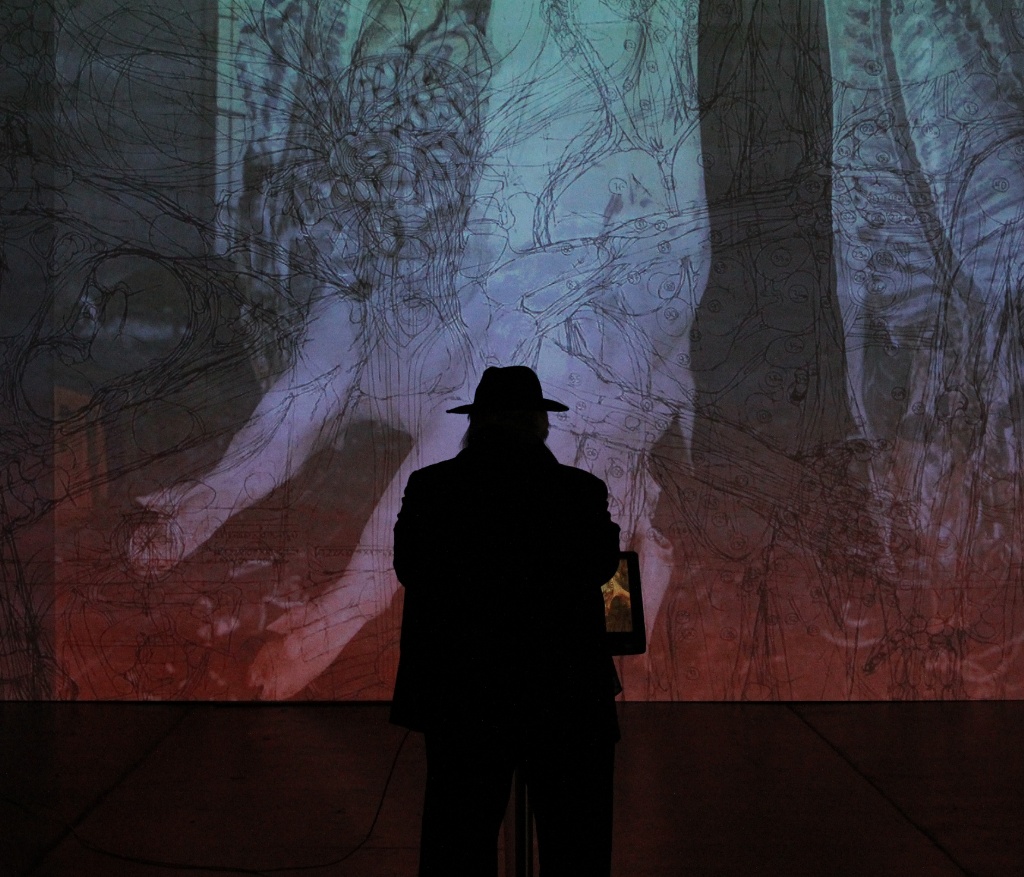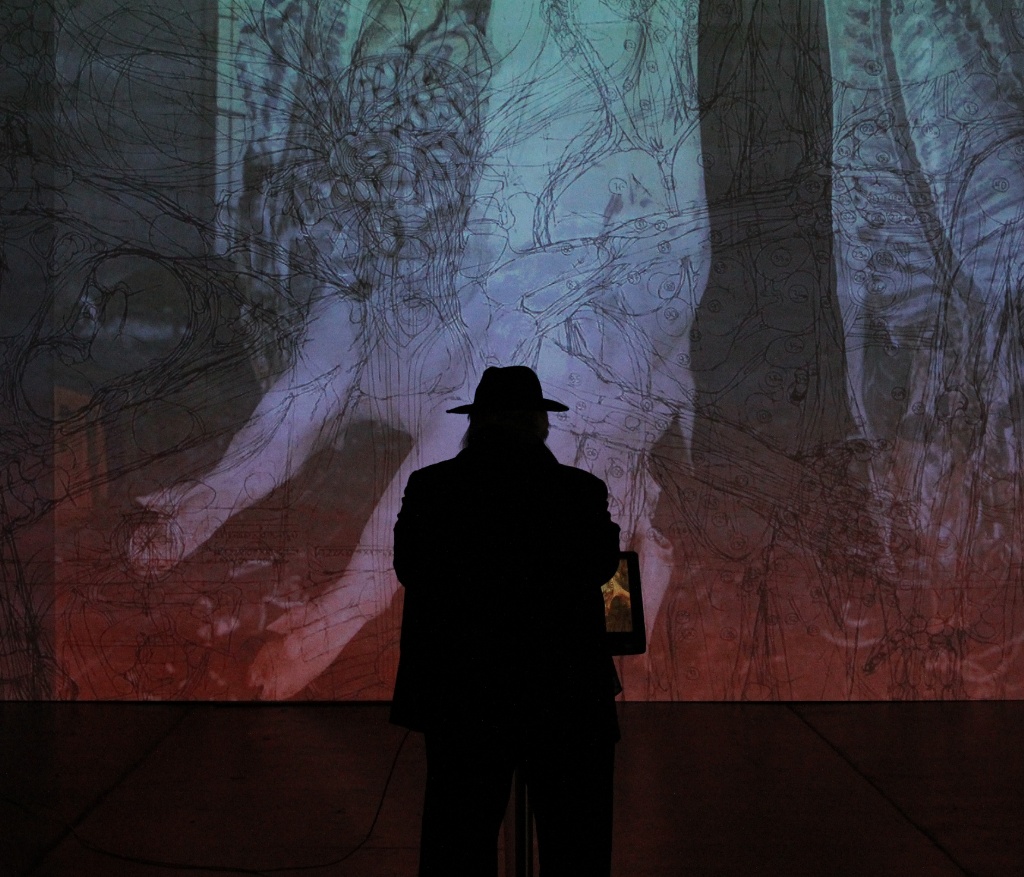 Photo: Michael Kaczorowski / faksimile digital, Birgit und Peter Kainz
In any case, Nitsch's reaction to the setup was enthusiastic. And even if he dispenses with the use of new media in his own works and employs them strictly for documentation purposes, he nevertheless acknowledges that they do indeed have the potential to modify a work of art from time to time. And he very obviously had a ball exploring his own works via touchscreen. But as he himself put it: "It's as I expected. I find it stimulating, though this certainly doesn't mean that I'm going to totally give myself over to new media now. I have to consummate my work, to continue the way I've been going."
SINNE UND SEIN opens on April 7, 2013 at the Hermann Nitsch Museum in Mistelbach. The exhibition will be accompanied by various actions. Details are available on the website of the Nitsch Museum. Hermann Nitsch will be at the Ars Electronica Center in 2013, details will be announced soon.