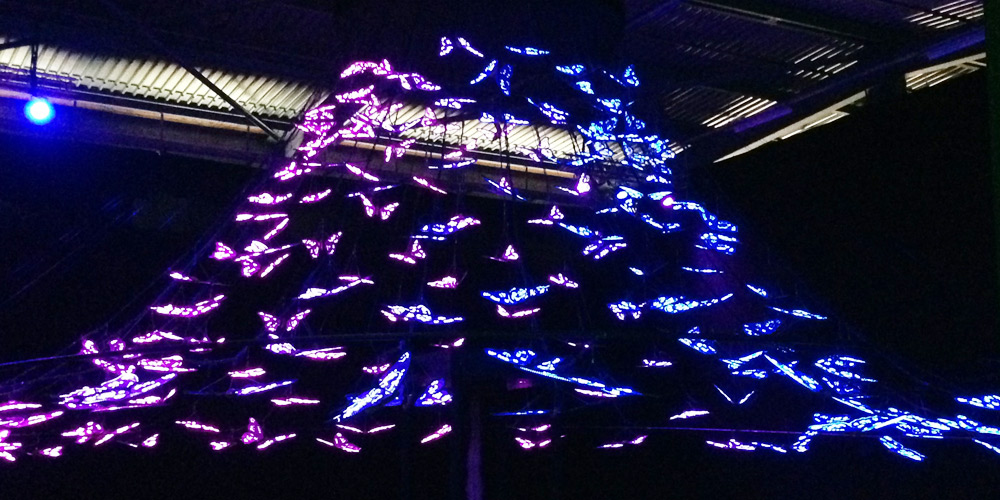 If butterflies flutter around the exhibition…
Can the fluttering of a butterfly's wings in Brazil trigger a tornado in Texas? Edward Lorenz, a meteorologist in the USA, posed this question back in the early '70s. Now, "L'Oracle du papillon," a newly opened exhibition in Fribourg, Switzerland, has taken up the principle of this so-called butterfly effect and applied it to the many little things people should be doing now that can cumulatively turn into something that has a substantially positive impact on environmental protection.
Exploring Cities with a Pen
The technological star of this show is Ars Electronica Solutions' GeoPulse, a modern simulation & visualization tool that provides visitors with a fun, playful way to explore a city in the form of facts, figures and interrelationships enriched with images, texts and infographics. A GeoPulse exhibit has been running for a year now at the Ars Electronica Center in Linz. Here, visitors can use a digital pen to interactively access data in books, on maps, scrolls, objects and even on the exhibition space's walls and floor. The data called up in this way is displayed on a nearby monitor or on jumbo-format projection surfaces. The Linz Book contains an enormous amount of information about this city—statistics, real-time data, historical facts as well as extensive details about topics of particular interest.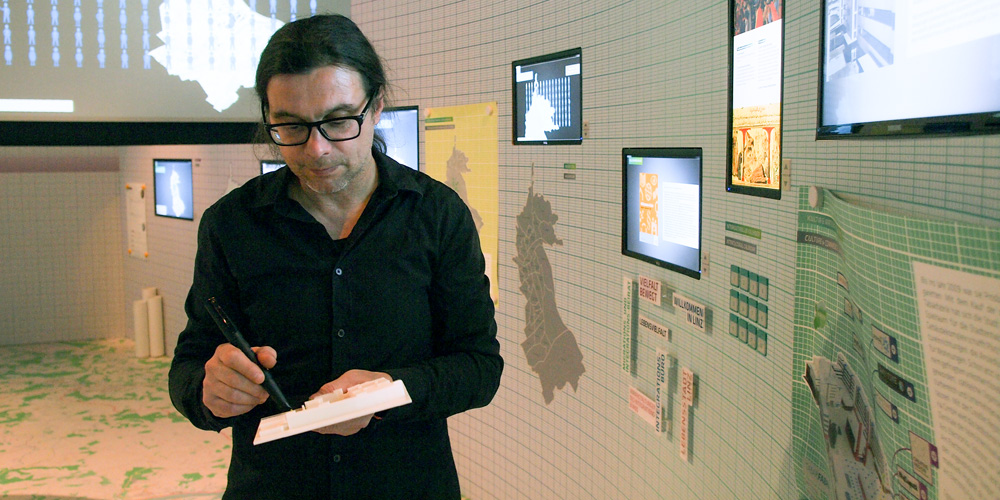 Michael Badics at the GeoPulse exhibition at Ars Electronica Center Linz
With "Solutions Centre" in Search of Solutions
Michael Badics, senior director of Ars Electronica Solutions: "On this basis, we've now created a system in Fribourg that is totally dedicated to a single theme: sustainability. Fribourg is a small city that will grow into a large metropolitan area over the next 20 years. Accordingly, they'll be confronted by a lot of issues. The population will increase tenfold, which means that decision makers here will be facing challenges having to do with public transit and vehicular traffic as well as infrastructural and organizational density. And all of these problems have to be faced promptly for planning to be done in a timely manner."
Ars Electronica Solutions played a major role in conceiving, planning and implementing this exhibition. Its Solutions Centre offers visitors an interactive space that cordially invites them to take a personalized approach to saving energy. "Individuals realize that they can and must make a major contribution. You arrange a number of little steps, small gestures that are easy to carry out, and that you do, in fact, actually follow through on."—to walk distances under two kilometers, to regularly check their car's tire pressure, to invest in new triple-glazed windows, to adjust their house's room temperature to their personal needs, to use LED bulbs and to turn off lights when they're not needed, to use non-disposable shopping bags, and to keep their smartphone in service for at least three years.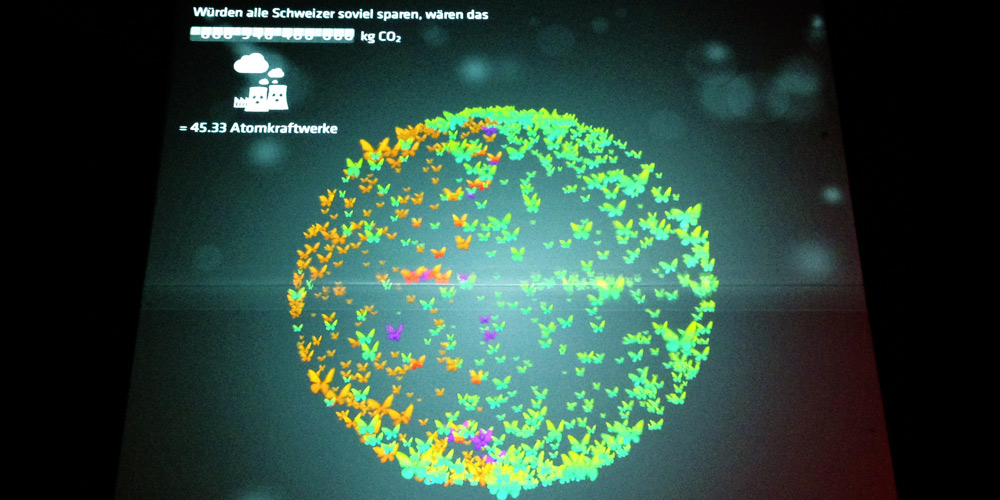 There is enough saving potential, as this visualization in the "Solutions Center" shows
Make promises and stick to it
Barbara Hinterleitner, project manager at Ars Electronica Solutions, elaborated on the concept: "The exhibition space is devoted to four themes: transportation, housing, energy and consumer behavior. Each area consists of a circle of 10 steles, in the middle of which is an interactive table. Users equipped with a tablet can photograph the steles' QR codes to get info and tips about each of the gestures they can make a part of their lifestyle. The tables provide opportunities to use the tablet to access more detailed and comprehensive information."
Then, simulations and visualizations show you what your actions ultimately yield in terms of cost savings and reduced CO2 emissions. "At this point, each visitor can make a commitment to a particular gesture—that is, promise to live accordingly for a whole year—and then you see how much CO2 you save by doing so." Whoever's not willing to make such a promise can also request informational material, or, after having visited the exhibition, make their promise online. The sum of all such commitments is visualized on a 4×4-meter cube that also displays a photo of each such visitor … made up of lots of tiny butterflies.
"Essentially, this was conceived for the citizens of Fribourg as well as the surrounding region—that is, the adjacent cantons. And, in principle, for Switzerland as a whole, since that country has made a national commitment to producing one ton less CO2 per capita per annum. So this has wide-ranging significance beyond the borders of this particular region.", Michael Badics says.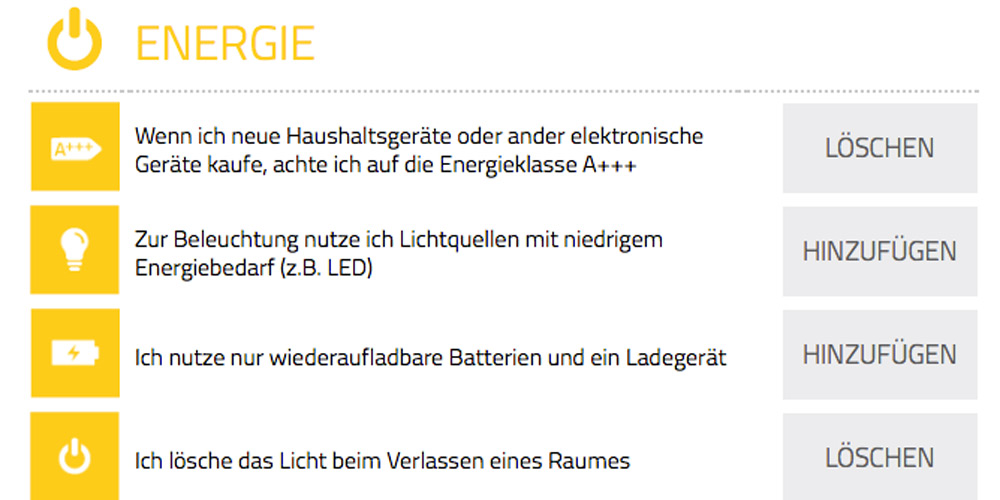 Just a few of the many gestures, that help to save energy
Interaction on the Go
A mobile component is another GeoPulse add-on that's being used not only in Linz and Fribourg but also in Beijing, Moscow and in Austria's Karawanken Park. Mobile devices like smartphones can now be integrated into GeoPulse's cluster of interaction possibilities. Michael Badics: "Users can select certain information such as particular routes or points of interest they noticed in the exhibition, save it to their mobile devices and then work with it outside of the exhibition venue. Then, when you approach, say, a point of interest, your device alerts and informs you. Plus, users can participate—that is, give feedback in the form of a text, image, audio or video." Ars Electronica Solutions is already planning the next step: giving users the option of enabling their mobile devices to serve as additional data sources for GeoPulse. For example, small add-ons would enable smartphones to report on air quality in order to better support planning activities.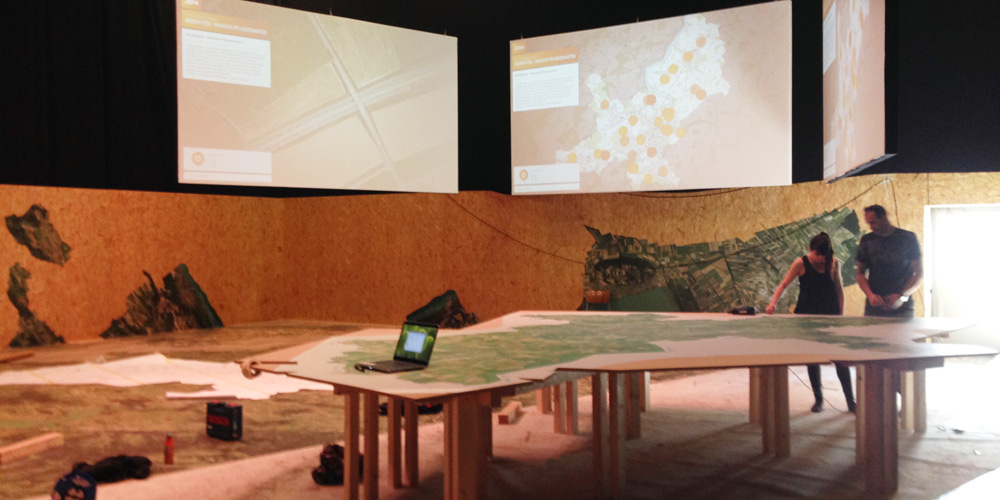 Here GeoPulse is being constructed at Fribourg
Planning Cities, Promoting Countries
GeoPulse is already putting an efficient new tool into the hands of urban planners. Overlaying multiple levels of data is what makes this possible—demographic data, for instance. Thus, it's possible to produce a city map with a graphic depiction of the distribution of children under five years of age; then you can overlay the locations of extant kindergartens and nursery schools, which makes it immediately obvious where infrastructural improvements will be needed. Badics went on to outline further possibilities: "Then, by overlaying that configuration with migration data, I can see where children of immigrant families live, and thus where specially trained personnel will be needed to provide necessary services. This combination gives me a broad spectrum of easily implementable options to react to change and to do planning."
GeoPulse is also being used at trade shows. Österreich Werbung, Austria's inbound tourism agency, uses this product in its presentations in order to very flexibly respond to particular questions and interests—for instance, to display hotel bed statistics, sightseeing highlights and ecological developments in Austria. These are things a standardized Powerpoint presentation simply can't accomplish. In Moscow, on the other hand, GeoPulse is being used to attract investors and organizations to newly developed regions, and to inform them about future projects. "There are many different contexts in which GeoPulse can be utilized, but the primary area of deployment is by cities and larger regions in order to facilitate planning and to disseminate information."