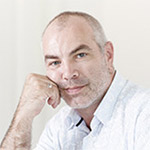 Since April 2013 the Ars Electronica Center Linz shows each week a new exciting documentary of "Terra Mater" in Deep Space on the 16 × 9-meter big screen – with free admission every Saturday between 1 and 2 PM. This is only possible through a cooperation with the Terra Mater Factual Studios from Vienna and the TV channel ServusTV of the Red Bull Media House. Ivo Filatsch, senior producer and executive producer of Terra Mater Factual Studios, gives us in an interview a glimpse of how such documentation actually arises and talks about how he himself has found its way from the Austrian Broadcasting Coorperation (ORF) to this production company that develops around 20 productions a year.
Mr. Filatsch, every week Terra Mater shows a new documentary – how are these movies produced?
Ivo Filatsch: We produce high quality television documentaries in the genres of nature, science and history. We bring out some 20 productions a year. Our output is extensive and wide-ranging – this is related to how we work. Whether an own or a co-production – we produce and make the films from the idea to the screenplay, the production plan, the directing, the filming, the cut and the entire rest of the post-production such as music and graphics, sound design and voice recording to the point of completion.
However, it almost never happens that a project will be finished exactly to 100 percent how you imagined it at first. An example are problems during the shooting because something is not working as planned – or because of bad weather. Then we have to think of alternatives, and the product looks in the end usually different than it was originally planned. So you have to be flexible and creative – but this is quite a normal and integral part of our work.
For our successful series "Terra Mater" on ServusTV we need a total of about 50 films a year – but we can not produce all by ourselves. So we also buy program on the international TV market, for example, documentations of the BBC or National Geographic – and out of these English films we produce German versions. Here, the original text is not simply translated only one to one, but it will be adapted and updated. With in-house productions and external documentaries, we can fill our slots on ServusTV every Wednesday at 8:15 PM (editor's note: and the slots of "Terra Mater" at the Ars Electronica Center on every Saturday at 1 PM).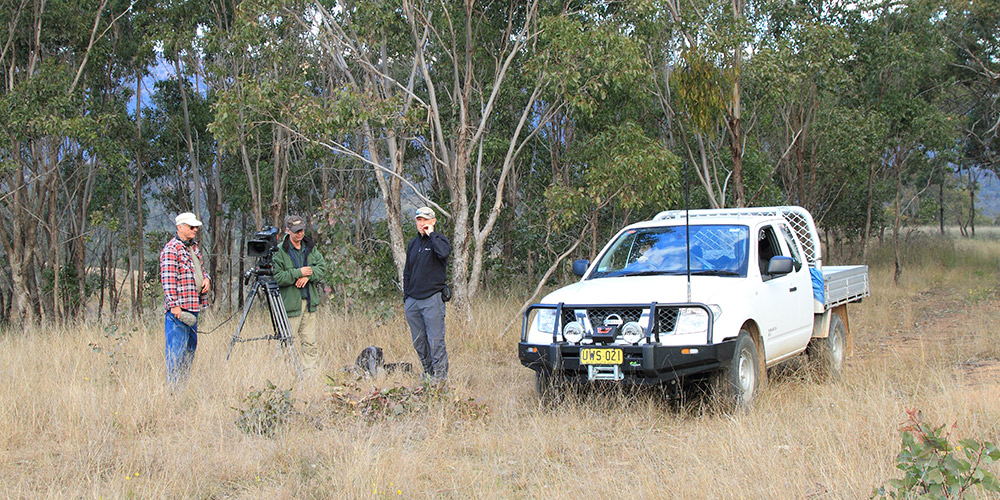 Photo credit: Terra Mater / Matt Hamilton
Take for example the documentary "The real Dingo". Did you produce it yourself?
Ivo Filatsch: Yes – in this project, we have worked together with the company Humble Bee Films in Bristol in England. The concept was interesting, we liked the script – so we have said, we will produce it. The director Duncan Chard has travelled with his team to Australia, and he returned with the entire film material back to us to Vienna. Together with the cutter Glenn Rainton from England Duncan edited the documentary in one of our edits. The two have spent a total time of more than two months here in Vienna. We had previously agreed that we will make the entire post-production at our place – not just the cut, but also anything that has to do with the sound, the music, the graphics and everything else.
Isn't it difficult to cut the footage into a documentary, if you're not at the place yourself?
Ivo Filatsch: Well, the complete shooting material has to be examined before cutting and you select the usable scenes and settings. Duncan and the film crew had all the relevant scenes that were in the script filmed in a total of 90 days – some a bit different or later than expected. Together we then developed in the editing room the film structure and the concrete story. You try something out, and it works – or not. Then you change the sequence again until it fits in the end. In the course of the cut then other people came into play, such as the musician who composed the soundtrack for the Dingo film – because of course, music has an enormous importance in film. Or the graphic artist who designed the maps – so that the viewer knows where the story geographically is currently playing. Producing a film is definitely always teamwork.
How did you come to Terra Mater?
Ivo Filatsch: That's a long story… I originally started in July 1992 at the Austrian Broadcasting Cooperation (ORF). The former TV editorial director of the ORF Science, Dr. Manfred Sterling, invited me for an interview – and then my career started. At first I was responsible for science reporting at the "Zeit im Bild" (Austrian news) and produced short clips. Then the science magazine "Modern Times" was invented where I was part of the team from the beginning in March 1995 until the end of more than ten years – and then I moved to the science magazine "Newton". Until then, I got already twice the offer from Walter Köhler to change to the documentary series "Universum" – it was the third time when I didn't say no.
Already from 1993, I had edited a dozens of international documentaries for "Universum" – parallel to my main activity at the ORF science. Therefore, the profession of animal films and nature documentaries was not new to me. At the end of 2006 I switched to the staff of "Universum" – the first major project was a 100-minute documentary for the 20th anniversary of "Universum" that I created together with my colleague Martin Mészáros. At the end of 2010 the "Universum" crew then left the ORF and accepted a new challenge.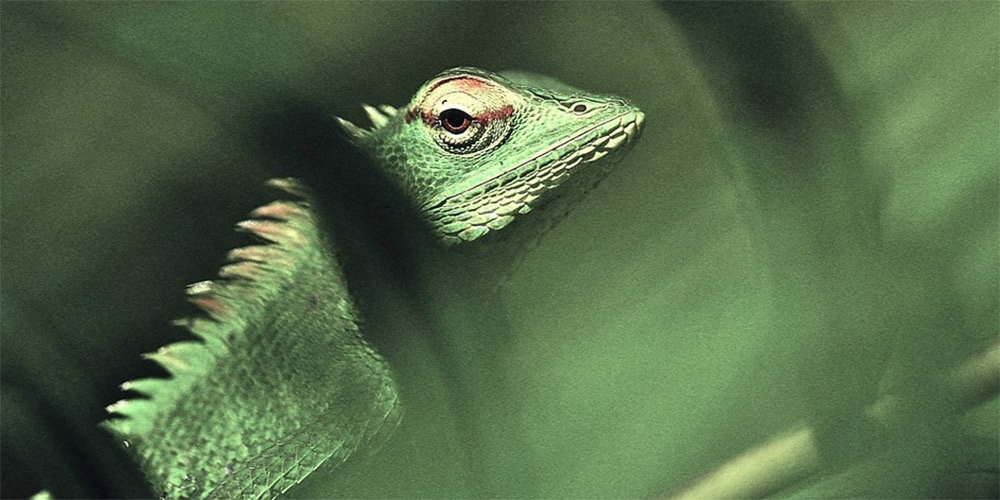 Photo credit: Terra Mater
What project are you currently working on as a team now?
Ivo Filatsch: There are several projects that are very important because they are documentaries with many parts that require more effort. There is, for example, a three-part documentary about Sri Lanka, which is currently in production – in collaboration with a British director. As the responsible producer I check together with my colleagues from the production department if everything meets our expectations – film crew, equipment, script, filming, production plan and so on. In addition, I also work on the actual creation of the three films – during the cut we decide what settings should be taken and how the individual scenes and stories of the three episodes are designed.
A new project, which is close to my heart and that I am also responsible for, is a film about giraffes – because we know still very little of these great animals. Mostly they are in documentaries about lions or cheetahs in Africa and only decorate the landscape. In our film, which is designed entertaining and informative, these animals will finally get the lead role, they deserve.
Two other major projects are supervised by my colleague Andrea Gastgeb: a five-part documentray called "Wild Brazil", which will showcase the fantastic nature of Brazil ahead of the 2014 FIFA World Cup. And a spectacular three-part series about the longest river in the world – the Nile. Apart from the television productions, for which I am working, we also have a separate department for cinema projects – but cinema is again a completely different caliber.
Since when do you produce films for cinema?
Ivo Filatsch: With the founding of Terra Mater Factual Studios it was clear that we position ourselves in this way to produce mainly television documentaries in the fields of nature and animals, history, science and society. On the other hand, there was always an interest to create cinema productions. But here the requirements are very different than producing for TV – cinema projects require much more effort and time. Two productions that we have already published, are "Among Wolves" and "Harodim" – a movie with Peter Fonda about the background of the 9/11 terror attacks. Currently, the colleagues are currently working hard on the next projects.
And how do you get to your topics?
Ivo Filatsch: Firstly, there are personal interests – all of my colleagues have certain topics that interest them most. I am part of the science area and very interested in natural sciences – and there again especially for everything that has to do with astronomy and space travel. This has always been that way. Therefore, certain productions are my tasks before someone else has to re-read into these topics completely new. You should also know which scientists you can contact if you do not know something exactly – in this case, it is easier if one who has already worked in a topic and has relevant contacts with professionals. On the other hand, some topics are obvious. I myself, for example, have created a documentary on meteorites that we broadcasted two days before the "end of the world" – which was predicted for the December 21, 2012…
Then there are projects that are interesting for us because of their fascinating story, their unique pictures or unusual approaches. People often come to us with an idea who are looking for a way to realize a film. And if we believe in the concept and the general conditions fit, then we start producing.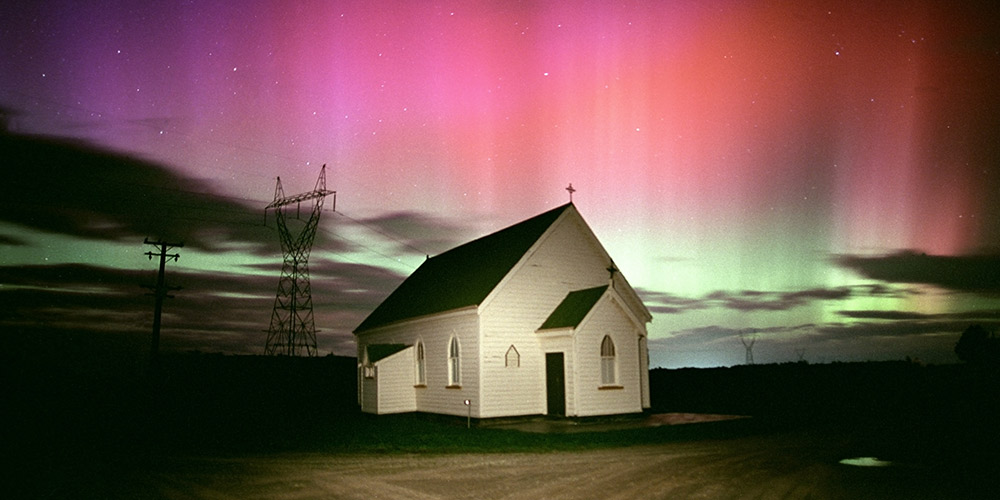 Photo credit: Terra Mater / Stephen Voss
It sounds nice that you can choose the topics yourself…
Ivo Filatsch: Of course, one can not choose anything – it's a hybrid. Sure, if I can think of a great movie theme, I can argue well, then there is little, however, that stops us to realize it. This is also true for my colleagues who also implement their interest in movies. In our documentaries about meteorites and auroras it was clear that they fall in my area. The fact that we have chosen the topic of auroras was the fact that in 2013 a maximum of solar activity was predicted – and therefore particularly many auroras could be seen. Concerning the meteorites, there was the topic of the doomsday scenario of December 21, 2012. Although the hype was humbug, in public it was an issue – and the possibility of a meteorite impact on Earth is still very real, as is the case on February 15, 2013, has shown on Russian Chelyabinsk. Because of this strike, I have updated my film with the dramatic images and info from there.
And then you are busy for months…
Ivo Filatsch: Yes, but for "Aurora", for example, we had difficult production conditions. Overall, I traveled for the filming of this movie four months, 80.000 km on the road. In addition to the long journeys, there were intense experiences such as extreme cold, the fascinating aurora itself or encounters with great people. Nevertheless – at some point inevitably a moment arises when you think yourself: When will the movie finally be finished? At the end you will definitely need some distance because you will get simply blind to time. But after half a year or so, you watch the film again and you will think: Yes – I have done it right.
Watch "Terra Mater" in Deep Space of the Ars Electronica Center Linz, every SAT at 1 PM, admission is free!