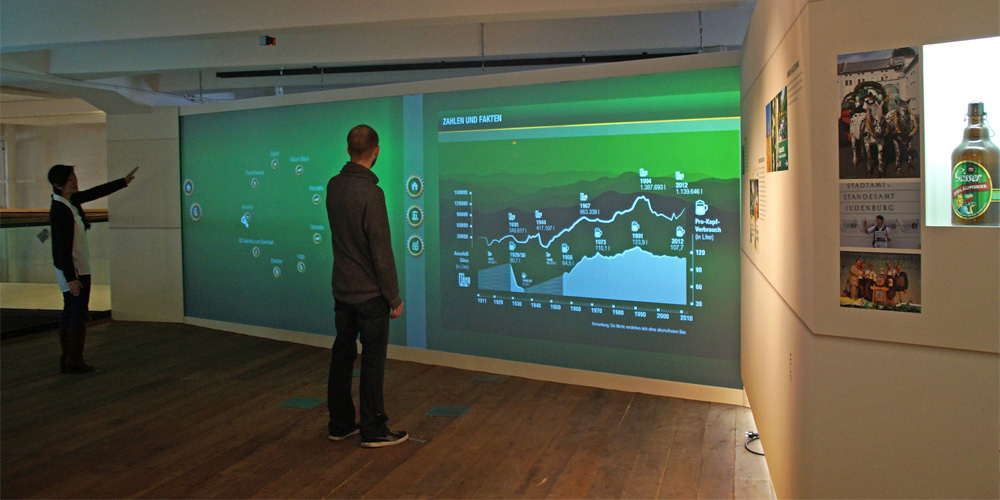 Statistically speaking, beer is Austria's national beverage. Average consumption is 106.4 liters per capita per annum. From a historical perspective, the art of brewing has a long tradition here, a fact attested to by documents preserved at several monasteries. At around 1010 A.D in what was then the Göss Nunnery in the Austrian Province of Styria, it was above all women who began producing "liquid bread." Now, a millennium later, the former cloister is the site of a museum dedicated to the history of beer. Just in time to celebrate Beer Day on April 23, 2014, the Göss Brewery Museum opened a new exhibition designed in collaboration with Ars Electronica Solutions.
So how do you exhibit beer? And what's the best way to tastefully present the history of the company that brews it? In 2013, Gösser asked Ars Electronica Solutions to help redesign an exhibition space. What finally emerged was a gentle facelift done in step-by-step fashion and including interactive installations. They take a look at the history of the Gösser brand. The responsible consumption of alcohol doesn't get short shrift. We talked to Ars Electronica Solutions project manager Claus Zweythurm about the challenges that come with reconfiguring a brewery museum in this day and age.
What were your primary considerations in redoing this museum in a way that successfully dovetails its historical exhibits about the art of brewing beer and modern modes of presentation?
Claus Zweythurm: Our highest priority was to avoid disturbing the sense of tradition evoked by the Gösser brand and the museum itself, and actually to play it up. In the initial phase, we employed the technique of projection mapping to impart a brand new look to the objects on display at the museum. For example, we used their long-since-retired drip cooler to show how the hot brew used to be chilled by sending it through cold pipes. At another location, an old bottling plant, we took a lighthearted approach to the stalwart gals who got the beer into a user-friendly container. This visual material is designed to supplement the verbal descriptions and thereby support the visitors' efforts to understand how the brewing process actually works. Our installations thus complement the historical facts.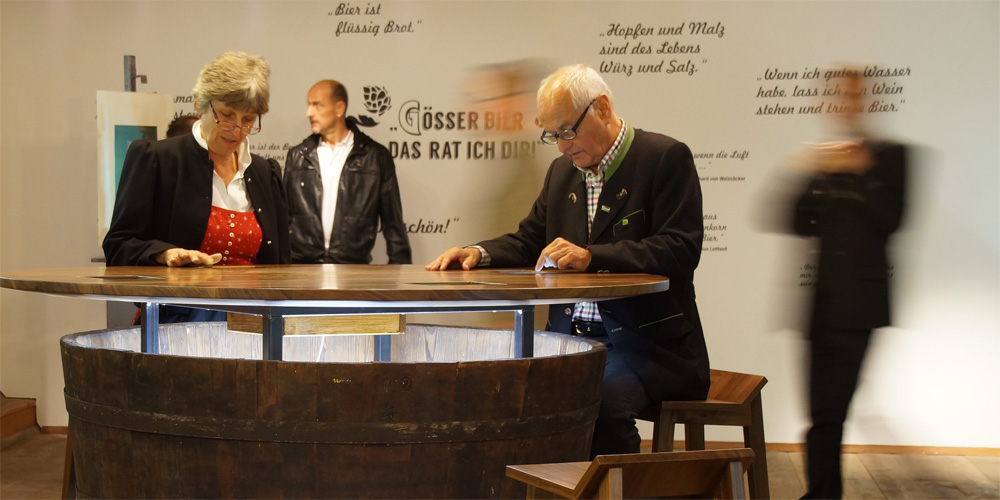 Company history, corporate values and info about operations are displayed along a timeline that, thanks to laser tracking, visitors can partake of as a walk-through experience in the truest sense of the word. Why did you opt for laser tracking as the interaction interface here?
Claus Zweythurm: Why laser tracking? Hmmm … to tell you the truth, the members of the Development & Technology crew would be the ones to ask, but I'll take my best shot. It's not always easy to find the right mode of interaction, but we knew we wanted to implement gesture control for the content we aimed to get across. Now, there are at least three proven ways to go here: camera tracking, which is kind of tricky, 3-D tracking like Kinect, for instance, and laser tracking. Following consultations with the Ars Electronica Futurelab engineers, our staff opted for this solution. After all was said and done, it was clear that gesture control essentially required only a single level (that is, 2-D), for which laser technology provided the data most reliably.
A museum about beer isn't exactly a common, everyday assignment. How did you approach this topic? Did the Gösser people have any preconceived notions?

Claus Zweythurm: Gösser realized that the museum needed some attractive new highlights, and the Gösser brand should be represented by its core values, whereby drinking responsibly plays a key role. But we definitely wanted to avoid turning this into an exercise in sermonizing, so we opted for a subtler approach. Right from the outset of this tour through the world of brewing, the accent is on the quality of the ingredients and the pleasure of drinking a beer made the tried-and-true, natural way. For example, from the Lobby, visitors proceed down a corridor lined with hops and malt to arrive at the museum. On the interactive wall on the Upper Level, we bring up the various activities Gösser is committed to in conjunction with enjoying alcohol responsibly. One of the exhibition's recurring motifs is the rich amber hue of Gösser Naturgold, the non-alcoholic lager introduced not too long ago. And at the convivial beer tasting that culminates each tour, particular emphasis is placed on making visitors aware of the subtle differences in the taste of the various types of beer and the variety of specialties Gösser brews. All of this is part of the overall concept of the makeover. So are fun and enjoyment provided by entertaining features like creative interactive installations, a Gösser quiz, and a making-of film about Gösser TV commercials.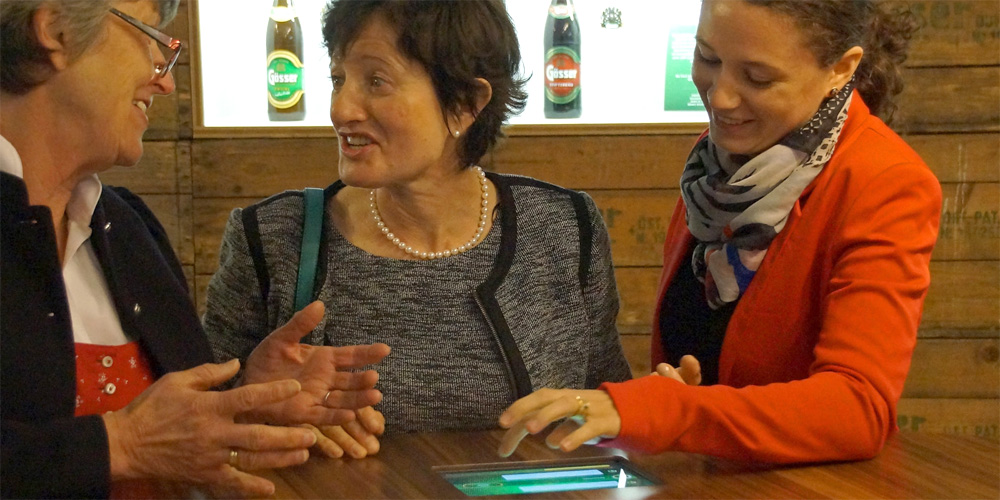 What should executives keep in mind when they decide to do what Gösser has done and present their company history in a modern package?
Claus Zweythurm: Consult Ars Electronica Solutions early on! And as far as I can tell, there's a lot of interest in pursuing this course. But the main thing to keep in mind is not to "go modern" at all costs; you have to stay focused on your own individual strengths. And this is what serves as the basis for jointly developing a concept that's feasible and doesn't come across as phony.
And one final question: can or bottle?
Claus Zweythurm: Ha! Depends on the circumstances but, basically, bottle …