The five jurors in the Prix Ars Electronica's "u19 – Create Your World" category spent three days evaluating many entries by youngsters age 19 and under from Austria. They discussed them at length, deliberated, advocated and, finally, made choices. During one of the few breaks the jury took, we cornered Ulrike Schweiger and Conny Lee and asked them about the difficult decision-making process.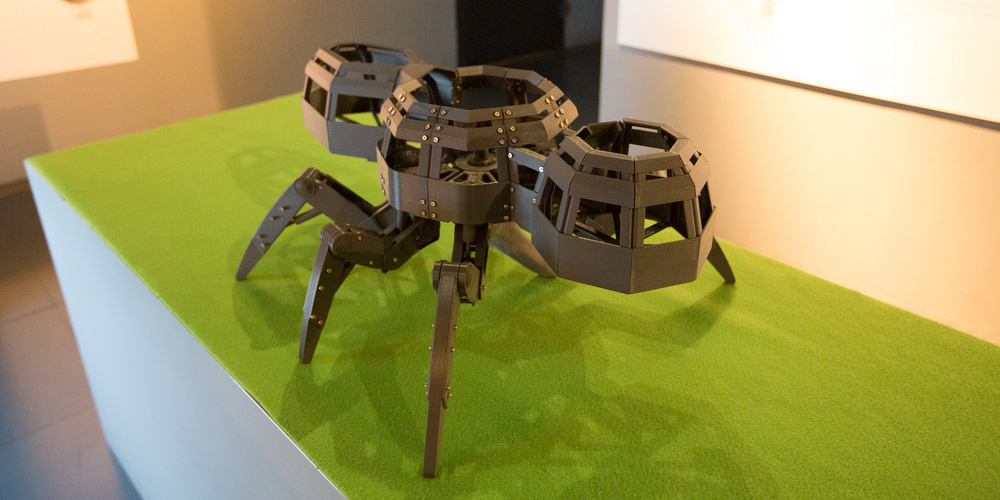 The "Konstruktion eines Fortbewegungsmittels nach dem Vorbild der Ameise" from Gabriel Krög got 2013 a Honorary Mention in the category u19 – Create Your World (Credit: Tom Mesic)
In this category, kids and young people have the opportunity to formulate, manifest and present their ideas for the world of tomorrow Have you noticed a trend this year as far as the projects' themes are concerned?
Ulrike Schweiger: The beautiful thing about this is the wide array of themes. There are a few different age groups, and very diverse points of view and approaches. A couple of topics like mobbing, for instance, were assigned by schools, which is why several entries dealt with them. Another assigned topic was "Space for Art" that called upon students to give some thought to how to display art in spaces in which they would like to live. There were also lots of submissions in the scientific-technical area, mostly from students attending secondary technical schools.
Conny Lee: Exactly. We've noticed that a large number of projects come from vocational-technical schools. Many were done in conjunction with a particular class or to satisfy the requirements for a high school diploma or college degree, so they display a high level of expertise. But for us as jurors, it's often difficult to judge exactly what a particular project is capable of, what's innovative about it or what's already been done in the respective fields.
The GameLab Exhibit at the Ars Electronica Festival 2013 (Credit: Tom Mesic)
In this category, youngsters can submit anything they like—artistic animated films, sound creations, websites and apps, scientific projects, and innovative ideas for the future. Isn't it hard to compare the works?
Ulrike Schweiger: Yes indeed, it's extremely difficult, which is why it's a good idea set up sub-groups. Then you can evaluate only scientific works, or just submissions in the field of biology, or compare animated films with other animated films. This way, you can slowly but surely move forward by always comparing and discussing similar submissions.
"Soilution – Erde mit Zukunft" got 2013 an Award of Distinction in the category u19 – Create Your World (Credit: Tom Mesic)
Did you also apply this grouping approach within the entrants' various age groups?
Ulrike Schweiger: No, we don't divide up the works in the respective age groups. We consider them all together as a mixture. Nevertheless, sometimes I do ask about the age of the youngster who submitted a particular entry because it makes a difference if a 10-year-old programmed a computer game or a 17-year-old did, and naturally that plays a role in my assessment.
Conny Lee: Yes, age is taken into account. After all, a 17-year-old naturally has different capabilities than a 10-year-old or a 7-year-old—simply due to the life experience they've been able to gain.
Can the young ones' works even stand up to comparison with those by older youngsters?
Conny Lee: The very young competitors most certainly can hold their own! Often, very young people don't think in such strict patterns yet, and this sometimes enables them to surpass the efforts of older kids, both artistically and creatively.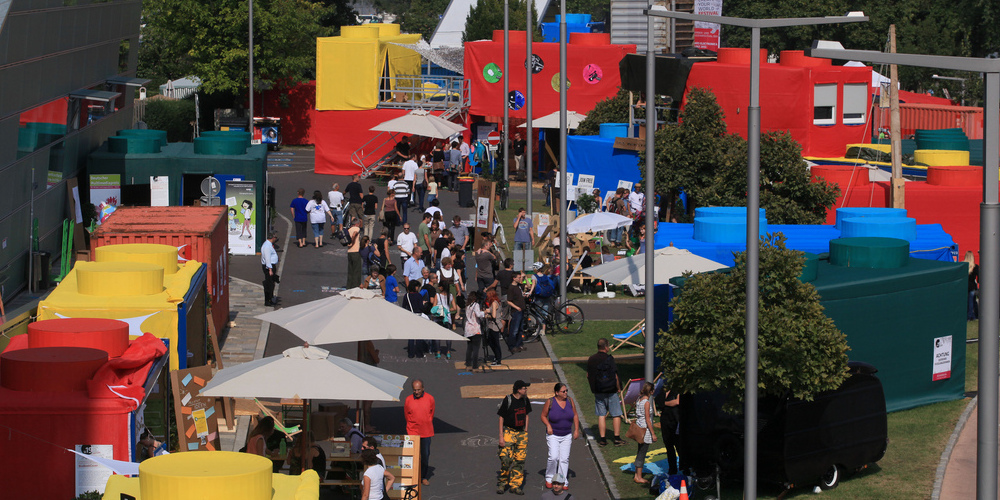 As part of the Ars Electronica Festival there is a special festival city for children and young people each year (Credit: Rubra)
What advice would you give to kids and young people who want to enter a project in years to come?
Conny Lee: They should try to keep adults from meddling in their work and talking them into stuff. They should do their own thing, and go all the way with it. That's my most important piece of advice.
Ulrike Schweiger: It's important to design a submission in such a way that it's also understandable by a juror who might not be an expert in that particular field. That applies especially to scientific projects. Here, above all, the documentation is important. For example, if it's an invention, it would be great to see a model of it, or even, ideally, a short film that shows how this invention works.
2013 Dominik Koller won with his Visual: Drumset the Golden Nica in the category u19 – Create Your World (Credit: Dominik Koller)
What does a project definitely have to have in order to win a Golden Nica?
Conny Lee: The project should blow us away the moment we set eyes on it. It should be innovative, creative, and artistic as well as technical. Needless to say, the economic-technical component is also important; otherwise, it's got no business at the Prix Ars Electronica!
Ulrike Schweiger: The project must by all means make a powerful impression. The jurors have to be touched or moved by it in some way. Ideally, it should even enable people who behold it to see the world a little bit differently.
About

Ulrike Schweiger
Ulrike Schweiger graduated from the mdw – University of Music and Performing Arts Vienna where she majored in film and television. She works as a director, screenwriter and dramaturgical advisor. She's a member of the board of directors of the Viennese and Austrian screenwriters guilds, and serves as a juror on the Austrian Film Institute's film development advisory board. Ulrike Schweiger's films have won numerous awards at international and Austrian film festivals.

Conny Lee
Conny Lee was born in 1985 in Vienna, where she went to college and studied theater, film and media, majors dismissed as a one-way ticket to unemployment. Since graduation, she's worked at Radio FM4 as producer and co-host of the station's bilingual morning show, and as editor of content dealing with her favorite topics: games, literature and comics. She also emcees events and moderates discussions.
As difficult as the decision-making process was, the jury in the u19 – Create Your World category did finally decide who would take home the Golden Nica statuette and the €5,000 that go with it. The jury also selected two recipients of Awards of Distinction worth €2,000 apiece as well as the merchandise prizes in two age groups: 10 & under and 11-14. The press conference at which all the 2014 Prix Ars Electronica prizewinners will be announced is set for June 2nd. So the suspense will last a little while longer. In the meantime, we want to shorten the waiting time here at the Ars Electronica Blog with other interesting interviews of jurors.