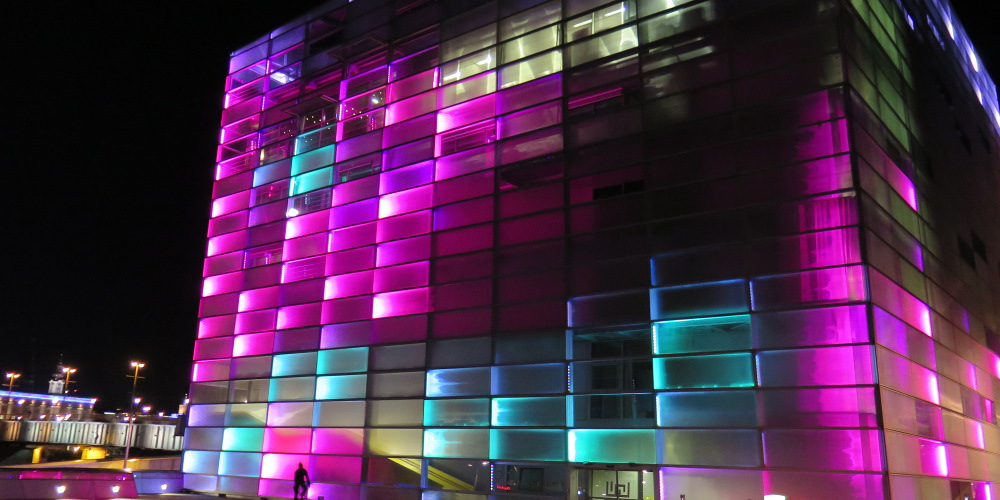 DeepCity (Credit: Benjamin Skalet)
The Ars Electronica Futurelab starred in the opening night extravaganza of this year's sound:frame festival at Vienna's MAK–Museum of Applied Arts, delivering interactive highlights that rocked the venue's stage, speakers and projection walls. The focus was on audience participation, performance pieces and innovative visualizations of ecological data from Linz, Vienna, Berlin and New York.
The MAK's venerable halls on Vienna's Stubenring filled quickly on the evening of April 9 for the long-awaited event kicking off sound:frame 2015. This annual conclave of thousands of dance-mad cosmopolitans, electro-geeks and aficionados of world-class DJ & VJ culture has made an international name for itself as a Festival for Audiovisual Expressions. All of which just made it that much cooler that the Ars Electronica Futurelab was invited to provide just the right interactive features to set the tone for a great festival.
Heavy-Headed / Dada-Minded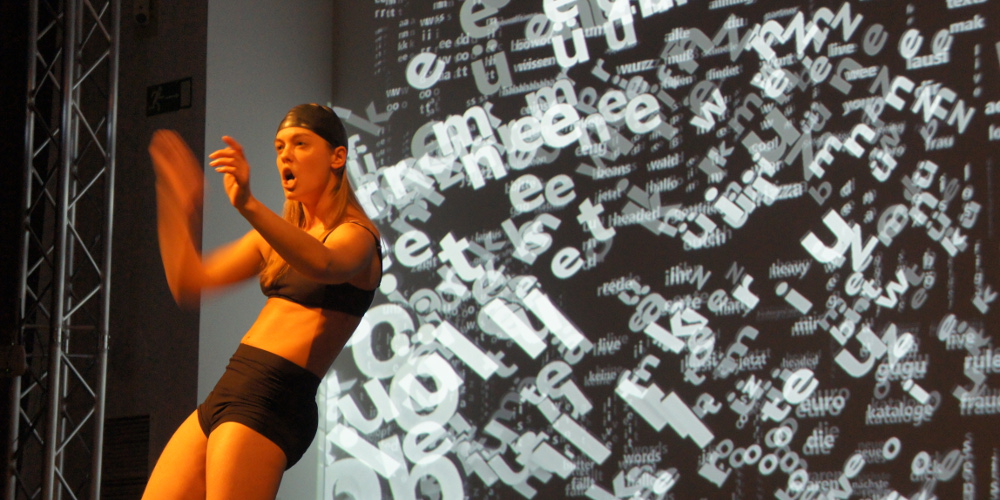 Barbara Vuzem dances Kurt Schwitters' Dada piece Ursonate in front of an interactive jumble of letters derived from text messages input by audience members (Credit: Martina Mara)
The action got underway with "Heavy-Headed / Dada-Minded," an Ars Electronica Futurelab collaboration with Viennese media artist Klaus Obermaier. In this performance experiment, the accent was on audience participation—literally. The centerpiece was an interactive projection surface that visitors could fill with text messages via smartphone app. Just under 250 messages fluttered in over the course of 10 minutes—they were modified by an anagram generator and then formed the stylish background for a spectacular dance number accompanied by a recitation of Kurt Schwitters' absurdist sound poem Ursonate.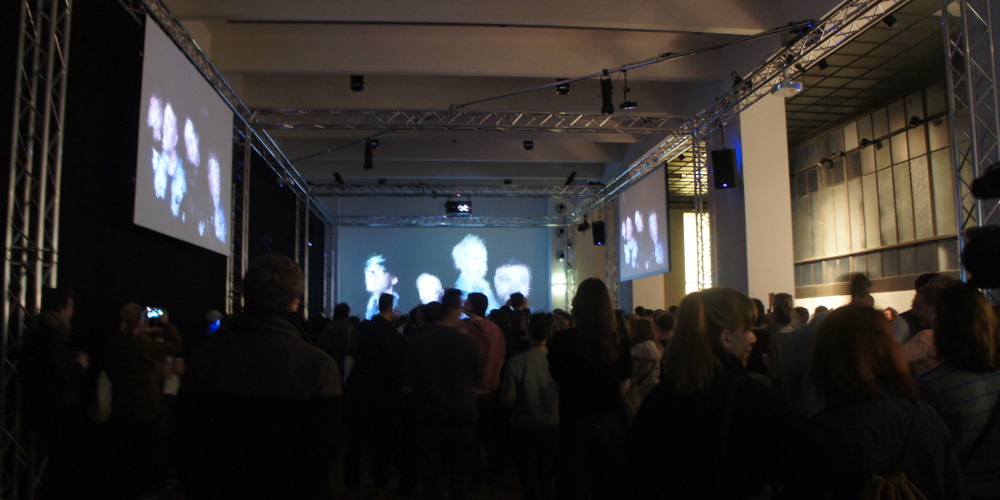 The visually modified video portraits of audience members appeared to the rhythm of the music on three projection screens (Credit: Martina Mara)
In addition to text content, any visitor to "Heavy-Headed / Dada-Minded" could also contribute a 3-D portrait of his/her head. To make it happen, Futurelab staffers installed a walk-in box containing two 3-D depth-image cameras and equipment to send the resulting pics to a central database. The upshot: a distortion mirror projected onto three of the space's walls, whereupon audience members could behold their own video portraits gaudily tweaked with applications of color, throbbing to the beat of the DJ's base line, in jumbo format.
Next up were presentations of three projects developed by artists Anita Brunnauer, Dietmar Offenhuber and Ursula Feuersinger in conjunction with a residency at the Ars Electronica Futurelab. The aim of their stay was to deal with this year's theme of the EU's Connecting Cities network: "In/Visible City." The three artists' approaches to these visible and invisible urban aspects entail creating interactive visualizations for display on the Ars Electronica Center's LED façade. Following the works' premiere on April 4, 2015 in Linz, the artists came up with a wrinkle custom-tailored to the sound:frame festival: audiovisual project documentations enhanced with new live elements especially for the audience in Vienna. The three individual works manifest highly dissimilar artistic takes on the same basic issue: How is it possible to make what is invisible visible?
Urban Entropy
Urban Entropy (Credit: Veronika Pauser)
Dietmar Offenhuber's work considers city dwellers' unscrutinized habits and behaviors. "Urban Entropy" is an effort to visually portray common, everyday urban "griping"—i.e. complaints submitted by individual citizens to the powers that be. The source of his raw material was the database of the city's Schau auf Linz website that enables locals to call attention to deficiencies around town. Offenhuber screened the title of each original complaint accompanied by a reading of the text detailing the respective intolerable situation, and, with a visualization of the Schau auf Linz app's binary code, the artist simultaneously evoked the interplay among the elaborate structures that make up life in the city and the incessant reconfiguration of the urban sphere. What the audience sees on screen is an interactive series of 0s and 1s that constantly undergo reordering, break down into chaos and reassemble into new formations once again.
Deep City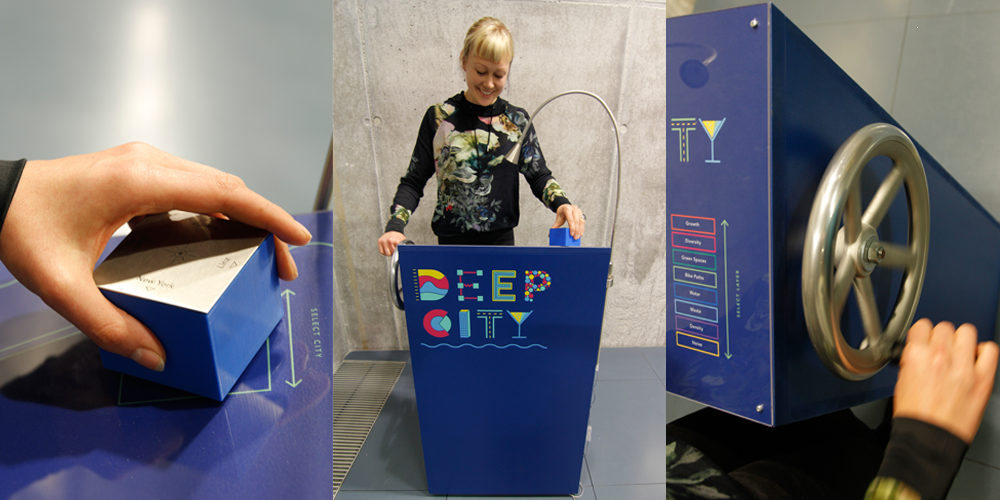 Deep City (Credit: Veronika Pauser)
Excavations beneath the surface of metropolitan life were also undertaken by Ursula Feuersinger. In her project entitled "Deep City," she visualizes the cityscapes of Linz, Vienna, Berlin and New York as a sort of geological cross-section composed of individual—otherwise invisible—strata of information. Her data layers consist of digital information about socially and ecologically relevant aspects of the urban lifestyle such as the percentage of streets that provide bike paths, patterns of energy and water usage, and participation in recycling. In addition to her visualizations, Feuersinger set up an interactive terminal featuring haptic user interface elements—interested visitors can turn a crank to browse through the various layers of data, and spin a cube to switch from one part of town to another. Feuersinger's presentation to the sound:frame audience featured live visuals with graphic elements of the "Deep City" interface as well as videos documenting the project's debut in Linz.
Blindage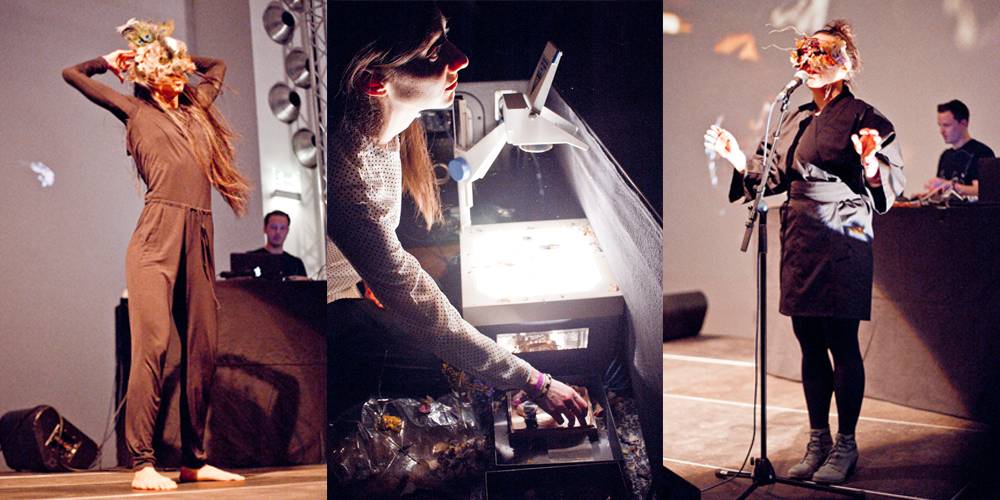 Blindage (Credit: sound:frame)
Anita Brunnauer, the third Connecting Cities artist, then presented her "Blindage" project in which she reconnoiters the boundaries between humankind and nature, the animalistic and the civilized, as well as the disclosure and concealment of personal information. Visually, she employs the metaphor of the mask behind which city dwellers hide during their daily dealings in the social media domain. In this connection in Linz, Brunnauer screened an organic-surreal video work and thereby equated the Ars Electronica Center's façade with a mask by displaying, among other imagery, shots made through a microscope that, due to the low resolution of the façade's pixels, appeared totally abstracted and thus masked. At the sound:frame opening night event in MAK, she presented a newly created poetic performance: While the masked protagonists of the "Blindage" video were making a live appearance on stage, Brunnauer aggregated organic materials such as feathers and leaves on the surface of an overhead projector and beamed live images of her action onto the ceiling of the MAK space.
For more info about the three projects and the Connecting Cities artists, click here.
Here's a link to an interview with the three Connecting Cities artists.
"Heavy-Headed / Dada-Minded" was financed by the FWF–Austrian Science Fund (PEEK_AR111).
Connecting Cities has been subsidized by the EU Culture Programme.