The 2015 Prix Ars Electronica juries have completed their deliberations. 25 jurors from all over the world convened at the Ars Electronica Center in Linz to assess entries submitted for prize consideration in five categories. As a lead-in to the May 26, 2015 press conference at which this year's recipients of the coveted Golden Nicas will be announced, the Ars Electronica Blog will be publishing several interviews we conducted with jurors before, during and after their sessions. First up is Susanne Jaschko, an internationally active freelance curator and author. In 2012 she launched prozessagenten, a label for her collaborative art and design projects. In conjunction with Prix Ars Electronica 2015, she's a juror in the Hybrid Art category. Her areas of specialization are hybrid and transdisciplinary projects and the methods currently used by media artists.
Amidst intensive discussions and categorization, she found a few minutes during a lunch break to chat with us about prozessagenten, current trends in transdisciplinary art, and her initial impressions of this year's Ars Electronica Festival location.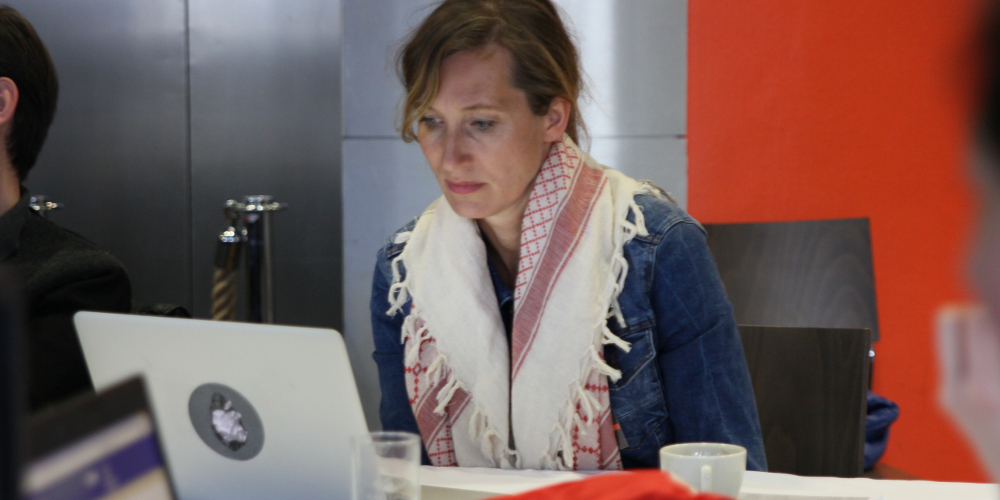 Susanne Jaschko (Credit: Martin Hieslmair)
You founded prozessagenten in 2012. On your website, you write: "Art, design and architecture are presently going through a paradigm shift: they're becoming processual and dynamic, participative and reactive." Why, in your opinion, are these changes occurring now?
Susanne Jaschko: I think that a sort of shift in thinking is taking place. The way people comprehend the world has changed enormously. We're aware of the complex interrelationships and reciprocal effects operating in the various systems we live in, and this insight has also changed our view of the world that surrounds us and the world we create. We want to play an active role in shaping this world. Of course, this also has to do with the fact that there are a lot more possibilities today for people to actively participate in the creation of their environment and, so to speak, consider themselves a part of the process and not just—like before—as observers. This new way of seeing things is the reason for this paradigm shift.
Credit: Martin Hieslmair
How is this paradigm shift manifesting itself?
Susanne Jaschko: Of course, you notice this first and foremost in art because art is a sort of crystallization system that brings things to the surface, forms them, and puts them in a nutshell. I also see that here as a juror evaluating submissions in the Hybrid Art category, and it's evident in my work with the prozessagenten. The static quality that art used to have is disintegrating. These projects violate many rules that were once typical of art. They're more hybrid, dynamic, open and processual. And this applies to all art genres—in the theater, for example in Rimini Protokoll projects, as well as in urban planning, architecture and design.
The qualities of being processual and collaborative, which have been typical of media art since its very inception, are now present as guiding principles in numerous social and cultural realms.
You're a juror in the Hybrid Art category. Is this also processual art?
Susanne Jaschko: In my opinion, it is—at least in most cases. But hybrid art is, of course, not a static concept. Accordingly, we jurors have attempted to define which projects we see as belonging within the purview of this category—which is, after all, ultimately an artificial and very wide-ranging cluster—so that we all apply the same criteria in assessing the entries.
What are some of these?
Susanne Jaschko: We're interested in projects situated in interstices, which is to say that they can't be pigeonholed into a particular genre or artistic format. I mean projects about which you can't say absolutely unequivocally that it's, for example, a play, a performance, an intervention, a scientific research project, a sculpture or a film. When a project isn't clearly classifiable and its hybrid nature raises novel questions that point in an interesting direction, then it's interesting for us as hybrid art.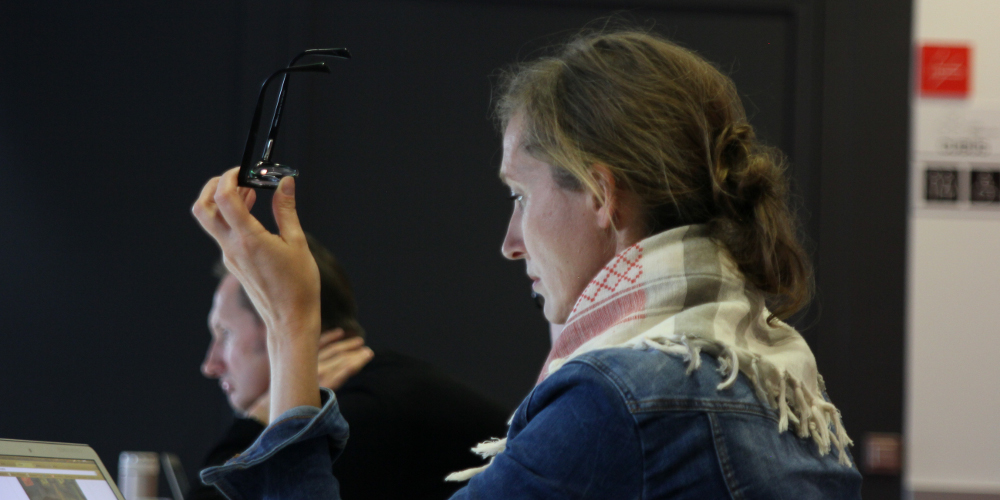 Credit: Martin Hieslmair
Are any trends evident from this year's submissions in the Hybrid Art category?
Susanne Jaschko: In recent years, the winners have been "classic" BioArt projects. Needless to say, that encourages artists active in this area to submit their projects, which we're noticing this year. But we're also interested in other artistic practices, and artists shouldn't be overly influenced by these recent winners. They should submit projects across the whole spectrum of hybrid art, regardless of artistic genre.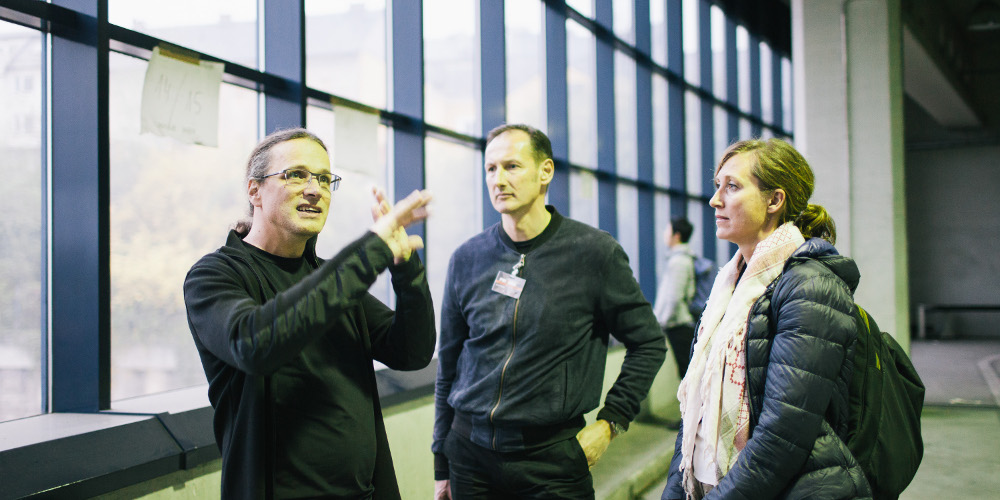 The Prix Ars Electronica jury visited this years festival grounds – the former letter & parcel distribution center. Credit: Florian Voggeneder
You went along on the outing to view the main location of the 2015 Ars Electronica Festival. What was your impression as a curator of the former Postal Service letter & parcel distribution facility as a festival location?
Susanne Jaschko: Well, needless to say, these gigantic spaces are very impressive. When a curator goes through these spaces, what immediately goes through your head are numbers and you think: This is going to be expensive! I admire the courage to take on this space, particularly since the time remaining for preparations is so scant. But I'm positive that this is going to turn out to be fantastic. It's going to be interesting to see how Ars Electronica utilizes the space, one that most assuredly was not designed for this purpose. It's a big challenge to determine how much space within the halls will serve as a setting for temporary structures, how much will be left as is, and how to use the simplest of means to take advantage of the space. Of course, the exhibitions themselves will also be fascinating. It's going to be interesting to see how projects that are usually displayed in a gallery setting come across in such a strong, dominant space. These are the big questions that are immediately raised by a space like this.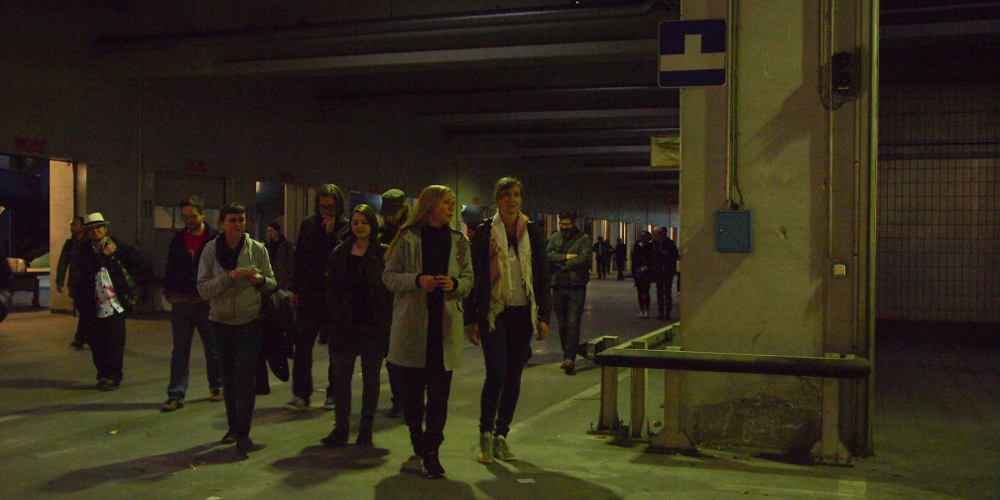 Prix Ars Electronica jurors and staffers on their way through the former letter & parcel distribution center. Credit: Martin Hieslmair
Do you have any ideas for projects with a connection to hybrid art that could be produced there?
Susanne Jaschko: I think that the projects we've now short-listed all have the potential to make a strong impact on festivalgoers even in this space. If they only work in a white cube—that is, if they depend on being staged as art in a classic artistic space—then I don't regard them as effective hybrid art projects.
Susanne Jaschko
Dr phil. Susanne Jaschko (*1967) is an independent curator and author with an international practice. Digital culture often serves as a starting point for her projects. With prozessagenten, which she founded in 2012, she develops collaborative art and design projects. Previously positions include curator and deputy-director at transmediale and Head of Exhibitions at Netherlands Media Art Institute. She is based in Berlin, Germany.