The Prix Ars Electronica is one of the world's most prestigious awards for creativity and pioneering spirit in the use of digital media. The Prix's highly diversified dramatis personae have included internationally renowned artists including Karlheinz Stockhausen, Roy Ascott, Lynn Hershman-Leeson and Chris Cunningham, Oscar winners such as John Lasseter and Chris Landreth, as well as creative young trailblazers like the Graffiti Research Lab. What constitutes the technical and aesthetic state-of-the-art in the electronic arts is determined by the Prix Ars Electronica. Each year, the prizewinning works are showcased at one of the highlights of the Ars Electronica Festival: the CyberArts exhibition in the OK Center for Contemporary Art.
In this interview with Genoveva Rückert, the curator of CyberArts 2015 talks about the stars of this year's show and current trends in the digital arts.
Genoveva Rückert at OK Höhenrausch (Credit: Magdalena Leitner)
Genoveva, what are the highlights of the 2015 CyberArts exhibition?
Genoveva Rückert: One of the focuses in this year's CyberArts show will be on prizewinners in the Prix Ars Electronica's Hybrid Art category. These are always highly visual, playful, sensual works, often mixed forms involving bioscience and genetics, as well as hybrid artistic genres. There are many truly excellent works from this category on display this year. Digital Musics & Sound Art is another one of the Prix Ars Electronica's biennial categories that was staged this year, and the jury has honored several installations that we'll now be showcasing in CyberArts. The spotlight will be on these two categories, but the exhibition will also feature the top prizewinners in the Computer Animation / Film / VFX category, the u19 – CREATE YOUR WORLD competition and the recipients of [the next idea] voestalpine Art and Technology Grant.
Golden Nica, Hybrid Art: Plantas Autofotosintéticas / Gilberto Esparza (MX) (Credit: Gilberto Esparza)
Which of these projects were your personal favorites?
Genoveva Rückert: This year's Prix Ars Electronica Golden Nica recipients are all outstanding. Above all, the grand prize winner in the Hybrid Art category, Plantas Autofotosintéticas by Gilberto Esparza, is an excellent work because it's a socio-politically relevant project and one that applies art to real life. And artistically, it's a wonderful, enchanting installation. The same goes for the Golden Nica honoree in Digital Musics & Sound Art. Chijikinkutsu by Nelo Akamatsu is a very beautiful, fine audio installation. And the Golden Nica winner in Computer Animation / Film / VFX, Temps Mort / Idle Times by Alex Verhaest, is a poetic and extremely aesthetic video installation. So this year's Golden Nica recipients are all absolutely extraordinary.
In the Hybrid Art category, there's also a fascinating project named ReBioGeneSys by Adam W. Brown and Robert Root-Bernstein, who've utilized the means provided by the natural sciences to construct a lab situation that constitutes a living sculpture. I'm really impressed by its conceptual strength.
Golden Nica, Digital Musics & Sound Art: Chijikinkutsu / Nelo Akamatsu (JP) (Credit: Nelo Akamatsu)
How is the exhibition being conceived? I mean, you've mentioned that there are several installations …
Genoveva Rückert: The concept we've used in previous years—exhibiting works in both the OK Center for Contemporary Art as well as the Ursulinenhof—has been very well-received so we're going with it again this year. The Ursulinenhof is a former monastery located immediately adjacent to the square in front of the OK. This year, we haven't attempted to arrange the works by categories; instead, we've created a dramaturgical arc to heighten the essential experience of viewing the exhibition. Most of the works we're presenting this year are installations. The sole exceptions are the Prix Ars Electronica's Award of Distinction recipients. If they couldn't be displayed as installations, then we're presenting them in the form of documentations. But that's an absolute exception—this year's exhibition will be highly sensory, interactive, enthralling!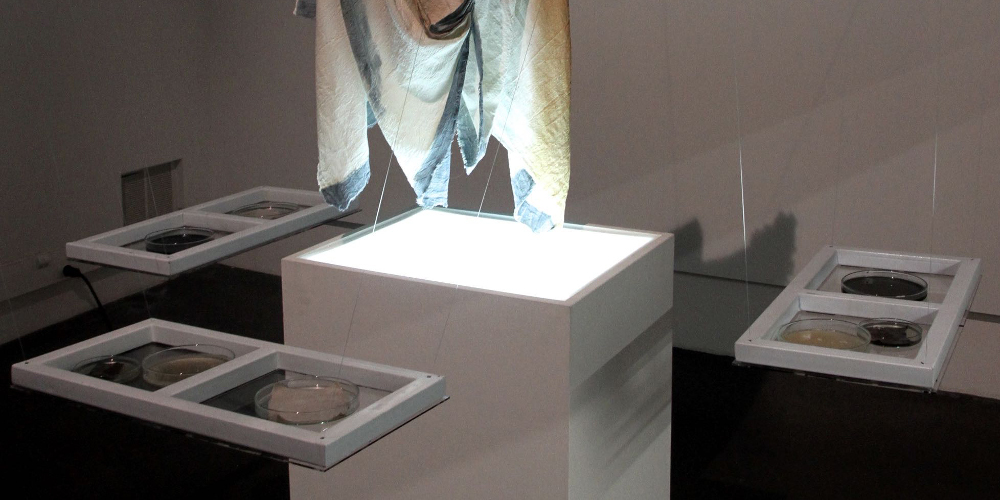 [the next idea] voestalpine Art and Technology Grant: SOYA C(O)U(L)TURE / XXLab (Credit: Tommy Surya Rahadyanto)
Does "interactive" mean that visitors can try out the installations for themselves?
Genoveva Rückert: Exactly. Visitors can take a hands-on approach and do things themselves. The exhibition kicks off with a work entitled ::vtol:: oil by Russian artist Dmitry Morozov. He built an object you can use to destroy cell phones and other technical devices. The sound of the destruction generates an original composition that the visitor can then take home in the form of a CD. Then it's a matter of strolling through the exhibits that are arrayed throughout the Lobby and up the staircases into the 1st and 2nd Upper Levels, in the Main Hall of the Ursulinenhof, where the Plantas Autofotosintéticas exhibition is set up, and then on up into the attic, which is the site of an amazing installation by Kathy Hinde, a Digital Musics & Sound Art prizewinner. Then visitors can head back down to the 2nd Upper Level to the so-called Bridge Studio, where there are two complete interactive works. One is by Golan Levin, who's been an Ars Electronica regular for many years. This time, he works with visitors' hands and transforms them into augmented sculptures. The second work is by American artist Courtney Brown, who attempts to let installation visitors experience what dinosaurs actually sounded like. Visitors can talk into a model of a dinosaur's skull and the installation converts it into prehistoric vocals. So, as you can see, visitors to this year's CyberArts exhibition have a wide range of activities to choose from, and I think our offerings are a good fit with the Ars Electronica Festival audience. There are conceptual works, works that treat fascinating, important sociopolitical issues, and also works of a playful nature.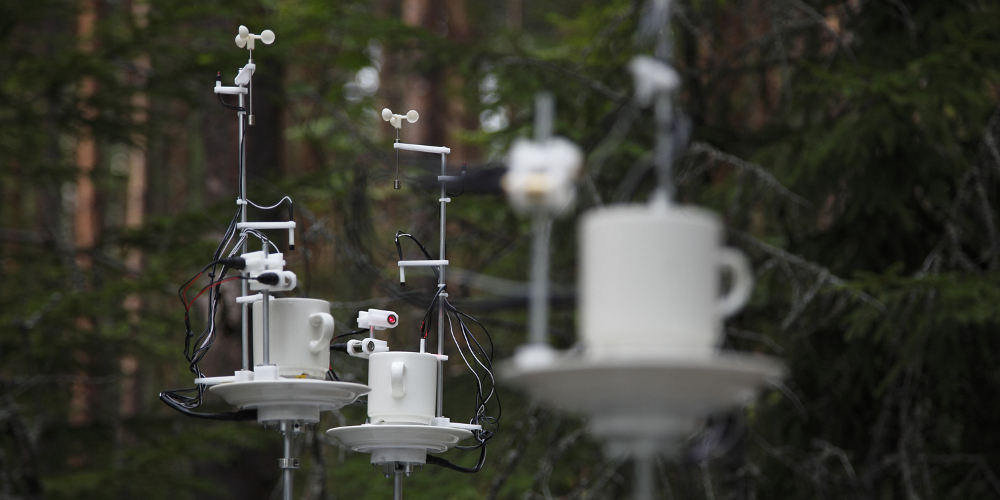 Award of Distinction, Hybrid Art:Teacup Tools / AgnesMeyer-Brandis (DE) (Credit: VG Bildkunst)
What trends have you identified in the individual categories?
Genoveva Rückert: What you can see this year in the Hybrid Art category — which was last staged two years ago—is strong substantive interest focused on the climate and water. This year, there were fewer works having to do with genetics and mutation than has been the case in previous years. The focus now is on how we deal with the environment. This is the main theme of Plantas Autofotosintéticas, which shows a way to take urban waste water and feed it into bio-reactors in order to purify it.
Another example of this focus on water is Tipping Point, a project by Kathy Hinde, who goes about this in a very aesthetic way. She uses industrial glasses arrayed in tandem so as counterbalance one another. In other words, this is a matter of equilibrium and a balanced mode of using global water resources.
A work that deals with climate is Teacup Tools by Agnes Meyer-Brandis, who was honored for it by the Prix Ars Electronica with an Award of Distinction. Her subject is aerosols, minute particles in the air. She collects huge quantities of data and evaluates it. In her weather stations, she uses teacups to collect practically everything that falls from the sky: dust particles, pollution, aerosols. She collects this data, and as a reaction to them, the cup automatically moves up and down. She goes about the work on her project similarly to the way a climate researcher would, but she presents her results in playful, artistic fashion in order to make the abstract data more easily accessible.
Something else that I find striking in comparison to two years ago is that entries to this year's Digital Musics & Sound Art competition included numerous spatial installations, and I truly believe this has to do with the makeup of this year's jury. The jurors displayed a marked preference for these works, which means that, this year, we have fewer classic, computer-generated musical compositions and more audio installations. We're exhibiting a very beautiful work by Ralf Baecker that deals with geo-magnetism and translates this into a laser projection. And there's a wonderful work by Douglas Henderson that's oriented on a ship's navigational devices and captures sounds like the fluttering of sailcloth. Thus, he sets up a compass throughout the entire exhibition space in the form of light and sound. A very beautiful, sensual work.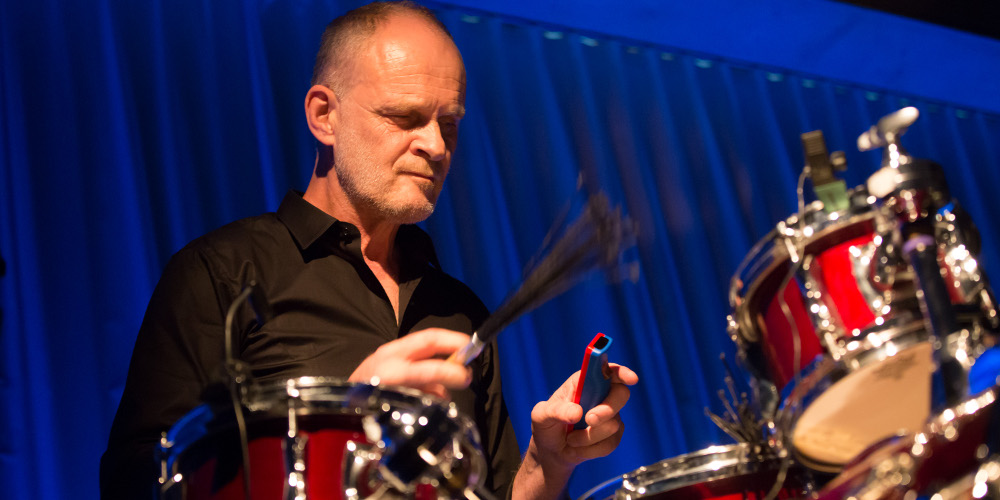 Golden Nica, Digital Musics & Sound Art: Drumming is an Elastic Concept / Josef Klammer (AT) (Credit: tom mesic)
One of the highlights is the series of Prix Forums. What can we look forward to?
Genoveva Rückert: Well, I think the Prix Forums will be a real treat for festivalgoers simply because they provide an opportunity to see the artists in person. The winners in the individual categories convene and discuss their works, and this is a great way for members of the audience to gain deeper insights into the exhibition.
Another attraction that's become a mainstay of the Festival lineup is the OK NIGHT here right after the Klangwolke spectacle on Saturday night. This is definitely a don't-miss event!
The CyberArts exhibition opens at 5 PM on September 3rd, the first day of the Ars Electronica Festival, and runs until September 13th. As always, it features the best and most exciting project submitted for Prix Ars Electronica prize consideration. OK Night begins at 8 PM on September 5th.