The opening of the new Ars Electronica Center in 2009 gave birth to the idea of also using the new facility to present medical themes to the public. Ever since, they've been showcased in the Center's Main Gallery like in the RoboLab, BrainLab and BioLab. And now, since the premiere of Deep Space 8K in August 2015, the AEC boasts an internationally unique venue for speeches and presentations that's also superbly suited to depicting and communicating medical content. And right from the outset, visitors were so enthused by these presentations that we developed a regular series of events in Deep Space 8K dedicated to medical topics.
Deep Space 8K is not only a setting for high-definition projections on dual 16×9-meter surfaces on the venue's wall and floor; additional viewing options include stereoscopic 3-D images, 3-D films and interactive 3-D real-time graphics. 3-D shutter glasses enable visitors to enjoy an impressive three-dimensional experience. Now, in the wake of an across-the-board upgrade of all hardware components in summer 2015, state-of-the-art projectors, high-performance processors and fiber optic cables conjure up breathtaking worlds of imagery in amazing 8K resolution.
These technical enhancements now make it possible to also apply highly complex programs in Deep Space 8K. One is the Cinematic Rendering app for the presentation of photorealistic images of the human body in 3-D and jumbo-format dimensions. Dr. Franz Fellner, chief radiologist at Linz General Hospital, recently talked to us about the new possibilities of imparting anatomical insights.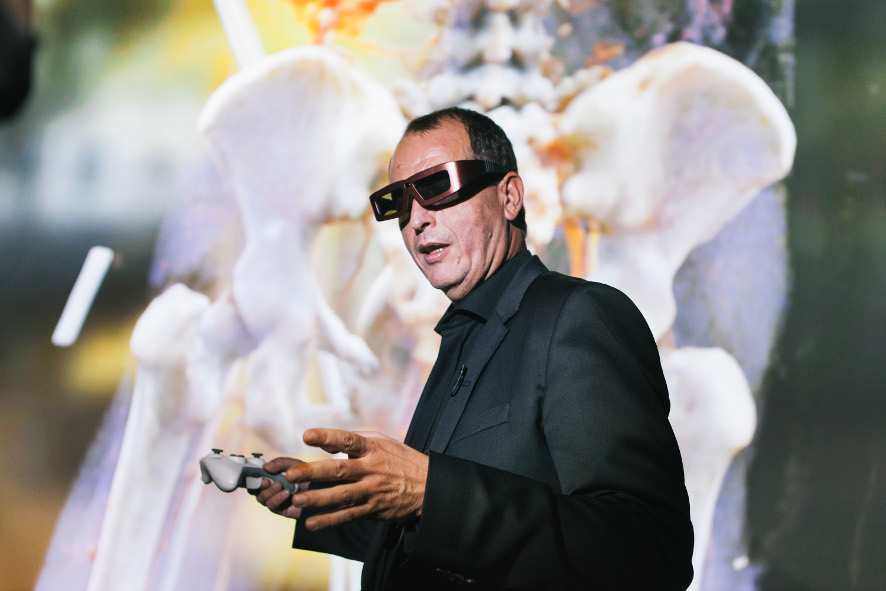 Credit: Florian Voggeneder
What awaits visitors to "The Universe Within – Cinematic Rendering" in Deep Space 8K?
Franz Fellner: This is a completely new way to learn anatomy. For the first time, anatomy studies feature living human bodies. What we display here are data sets derived from examinations using computer tomography (CT) and magnetic resonance imaging (MRI). In Deep Space 8K, these data sets can be screened three-dimensionally in extraordinary detail on huge projection surfaces. About two years ago, Siemens Healthcare began developing this software in Princeton. The idea for it came from the animated film industry. The aim was to develop a program that could depict medical imaging data from CT and MRT scans as photorealistically as cartoons produced in a Hollywood studio. So that's the reasoning behind the name Cinematic Rendering. Nevertheless, this program is still just a prototype and it will be a while until it's authorized for commercial use. But this program's capabilities are already amazing!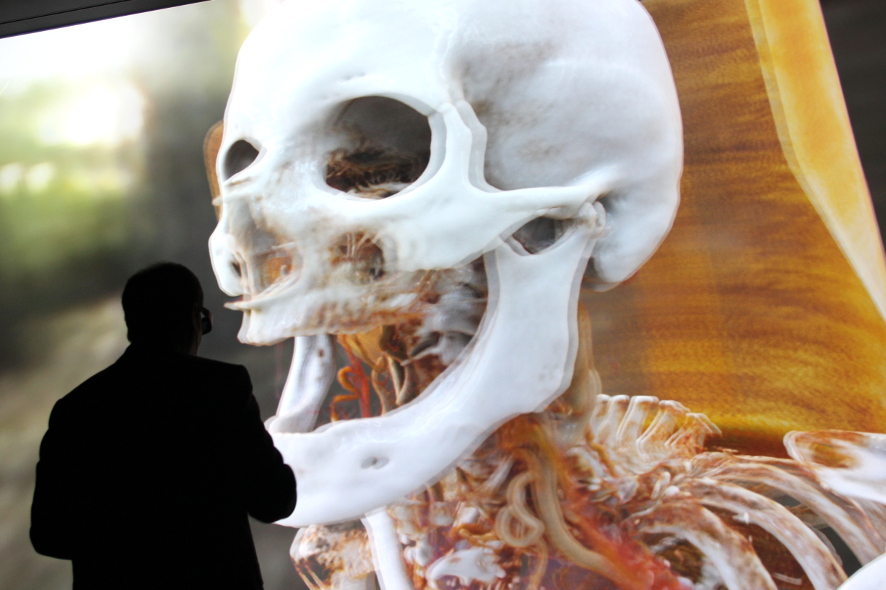 Credit: Magdalena Leitner
Last summer, I was offered the opportunity to test this new software, and my immediate reaction was to use it in Deep Space 8K to enable the general public to see what's happening in this field. So the current situation is that we in Linz have access to this internationally one-of-a-kind prototype that lets us display these incredibly interesting images of human anatomy in this quality and size, with this superb luminous intensity, in 8K resolution and, above all, in 3-D stereoscopy.
Credit: Florian Voggeneder
There's always tremendous demand for tickets to your events in Deep Space 8K. Why do you think that the subject of medicine is so popular?
Franz Fellner: People have always been fascinated by medical subjects. To be able to see the anatomy of the human body in 3-D—starting with the outer layer, the skin, and proceeding to the blood vessels, the organs and the bones—is something that's interesting to everyone because we all realize that we all look just like that too. And when the images are augmented by fascinating information and data—for instance, about the extraordinary performance of organs like the human heart that beats a hundred thousand times a day and over 3½ billion times over the course of a person's life and thereby pumps 7,000 liters of blood per day, and that the lungs contain a surface area of 100 square meters—this makes for an ever more fascinating audience experience.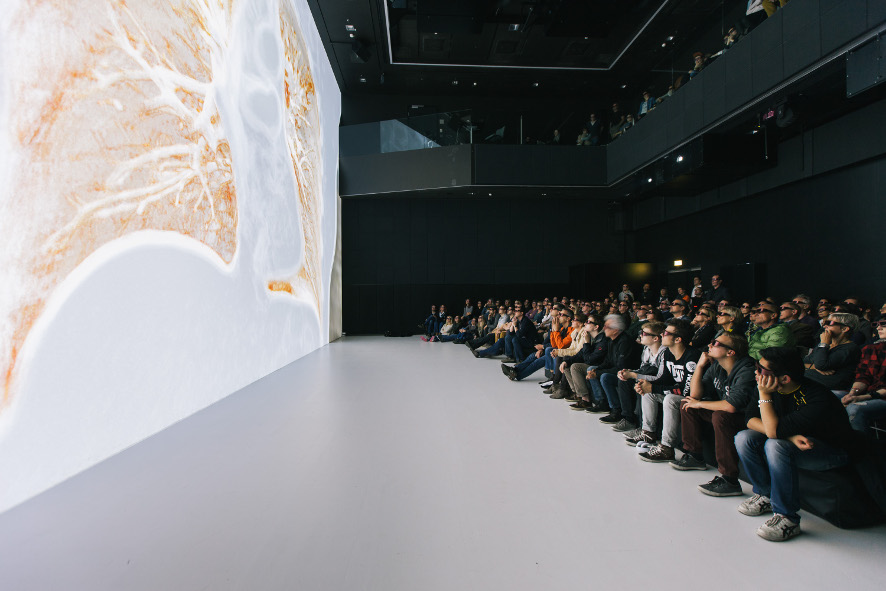 Credit: Florian Voggeneder
And not only our visitors; the presenters as well are really excited about the possibilities that Deep Space 8K affords. So, what makes Deep Space so very interesting for talks on medical subjects?
Franz Fellner: I think it's being able to screen high-definition, realistic images with these jumbo dimensions in this impressive ambience. Another thing I really like about Deep Space 8K is the personal contact with the audience. And I believe that the feeling is mutual; it's reciprocated by audience members, who are involved in an interesting, highly interactive interrelationship with the speaker. Combined with the technical infrastructure, this brings about something extraordinary!
Credit: Florian Voggeneder
How can surgeons benefit from the technical possibilities of Deep Space 8K in their daily work?
Franz Fellner: What we're doing here at present is anatomical depiction, and this will definitely present interesting possibilities for anatomy education—not only for med students but for training in all health service professions in which human anatomy has to be taught.
Now, of course, as the next phase of development, it would be interesting to show operations in 3-D in Deep Space 8K. And, indeed, my colleague Dr. Andreas Shamiyeh has been recording minimally invasive, laparoscopic operations in 3-D for the last two years, and it would be really great if we were able to screen them in Deep Space 8K. Stereoscopic depictions of surgical procedures would enormously enrich the field of medicine.
Credit: Magdalena Leitner
Bio

Dr. Franz Fellner is the head of the Department of Radiology at Linz General Hospital. For over 20 years, his work has focused on human anatomy, how the body functions, and the wide-ranging possibilities of imaging procedures. He has given speeches worldwide and organized continuing professional education events on these topics since the 1990s.
If you'd like to experience Dr. Franz Fellner's presentation "The Universe Within – Cinematic Rendering" in person in Deep Space, you have two upcoming opportunities: Deep Space LIVE on Thursday, January 21, 2016 at 8 PM, and at a Deep Space LIVE Weekend on Sunday, January 24, 2016 at 3 PM. Reservations are recommended: call 0732.7272.51 or e-mail center@aec.at.