Ars Electronica Export is making its next guest appearance in Berlin—to be precise, at DRIVE. Volkswagen Group Forum in the heart of downtown, not far from two of the city's foremost landmarks, the Unter den Linden boulevard and the Brandenburg Gate. "HUMAN FACTOR – endless prototyping," the exhibition running here July 1-August 27, 2016, showcases concepts and projects that have not yet fully matured or been brought to completion. These are artistic prototypes that provide answers to social, ecological and economic questions. We recently met with the exhibition's curator, Ars Electronica's Martin Honzik, and discussed a few of these prototypes, taking the next step to serial production, and the role of the artist in this day and age.
The "HUMAN FACTOR" exhibition clearly focuses on connections between art and industry. But hasn't this interplay always existed?
Martin Honzik: Art and industry is the very expansive conceptual hook of this exhibition, to which we've taken a very naïve, open-minded thematic approach. As soon as they set foot inside the exhibition venue, though, visitors will quickly discover that, actually, this linkage connecting art and industry has always existed. Coming up with the right approach to this theme was also a huge curatorial exercise for us. At first, it seemed much too broad. Finally, we had to give some serious consideration to this very wide-ranging topic and come up with a common denominator—and that's the human factor.
This human factor needs no art and no genre; all of us carry it in our DNA. These are qualities that are called for if you ever want to call yourself a pioneer: curiosity and the effective principle of failure. You can even see this when you observe a baby. A baby doesn't learn to walk by having read a book on how to do it; instead, he/she tries over and over again to stand up until practice makes perfect. And this is precisely where the power of change comes it. If you compare prototypes with a production series, you see that the series has the advantage of uniformity, of economy, and has all these elements of efficiency inherent in it, but initiating an effort to correct an error in a series is much more laborious than going back to the drawing board, reexamining the basic ideas, and assessing the prototype's failure as a positive, constructive event. That's the operating principle of the "Human Factor" exhibition. It's also the operating principle for the human species and it's what we need to even be able to survive here on Earth.
Credit: Quayola
Could you cite an example illustrating this link between art and industry?
Martin Honzik: Every one of the exhibits and projects on display constitutes a prototypical example of such a case. Certainly one of the most fascinating projects is the one by David Quayola —his work modeled on the uncompleted sculptures by Michelangelo that garnered him a Golden Nica in 2013 from the Prix Ars Electronica and which made a name for him worldwide. Back in his day, Michelangelo misjudged the hardness of the stone, which is why he was unable to bring these works to fruition, but this was more of a technical problem than an artistic one, an impediment that Michelangelo couldn't overcome.
The "Human Factor" is the first time in an exhibition context that Michelangelo is being replaced by a powerful one-arm KUKA robot, which is attempting to solve these technical difficulties and thereby bring Michelangelo's concept and work to completion. This is a very powerful image that raises several questions: What role do artists play nowadays? What instruments do they deploy? This is also very much a matter of intellectual property. "Sculpture Factory" by Quayola is certainly the key work in the exhibition, the one around which the others are curatorially arrayed.
Give us an overview of the exhibition. What are you most pleased with?
Martin Honzik: I'm happy about the constellations among and between the respective works. And I'm pleased to experience a show that doesn't lodge a claim to being exclusively an art exhibition. For instance, the visitors encounter an aquaponics configuration that makes it possible to raise fish and plants in a closed cycle. Here, visitors can't initially figure out if this is an art installation or not. Aquaponics is a great way to understand the facts & circumstances of nature itself and to create a model to enable human beings and animals to survive longer on this planet.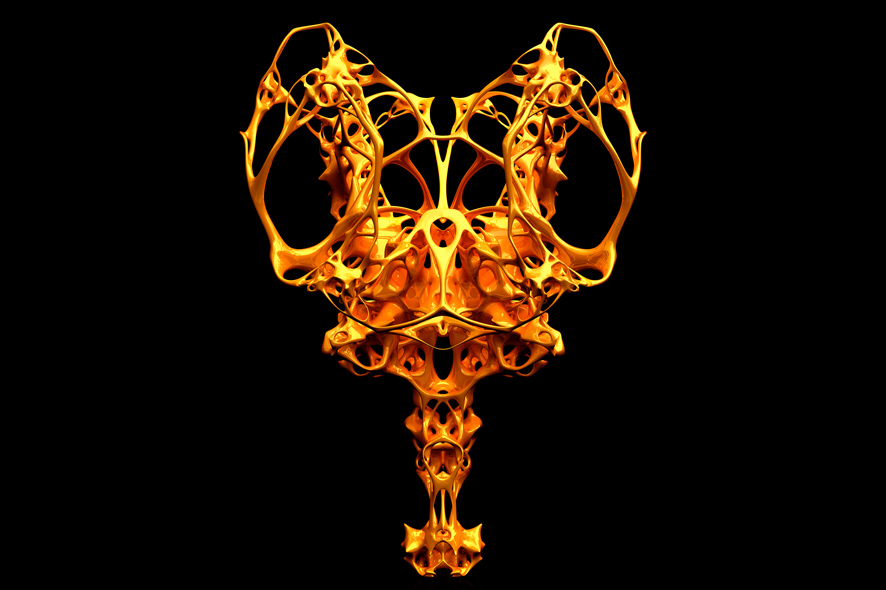 Credit: Nick Ervinck
Of course, the exhibition's lineup of artists is a Who's Who of the Prix Ars Electronica. A part of our curatorial work is seeking and finding thematic associations and relationships to the works of art in the Prix Ars Electronica pool. Agnes Meyer-Brandis by her "Teacup Tools" installation, and Nick Ervinck is on hand with "AGRIEBORZ" and "IKRAUSIM." He, for his part, represents a new prototype of an artistic personality who takes up a new technology that, although it's already in a pretty advanced stage of development, is relatively free of fantastic associations when it come to the actual application and that, in Europe, is definitely still seen as more of a lifestyle.
Nevertheless, this technology has the potential to launch a revolution—by all means in the industrial production sector. This is a revolution that won't make our planet any greener, but constitutes a world-encompassing, totally game-changing system—3-D printing. Already as a young designer, Nick Ervinck contacted the firms that produce these parts and took a designer's creative approach to exploring the possibilities of this technology. Today, he developing 3-D printing on an incredibly high aesthetic level, and he's also working together with commercially oriented firms on enhancing the capabilities of the material.
Here in "Face Cartography," we encounter another robot, though this one focuses on people rather than on materials …
Martin Honzik: Interestingly, the artist who created this work, Daniel Boschung, had previously worked for Volkswagen as a photographer, which enabled him to travel the world and get better acquainted with the company. Whereas Quayola deploys a KUKA robot, Boschung uses one made by ABB—the world seems to be divided among these two robot systems. Boschung invites installation visitors to take a seat in front of these high-tech machines while the robot shoots hundreds of photographs of tiny sectors of the human face. Finally, software assembles the individual images, and the result is an incredibly high-resolution portrait—in fact, a level of resolution that just might be more than some folks want to subject themselves to.
A stark contrast to this is provided by "Human Study #1, 3RNP" by Patrick Tresset. Here too, the central metaphor is a portrait situation, but it's played out very differently. A camera is mounted on the end of each of three swiveling robotic arms, and the installation visitors are invited to sit before them for a portrait, just as if they were posing for a human artist. While they're doing so, it can be observed how these subjects accept having to sit still for minutes at a time and hold their breath, even though it's strictly technology that's producing their likeness.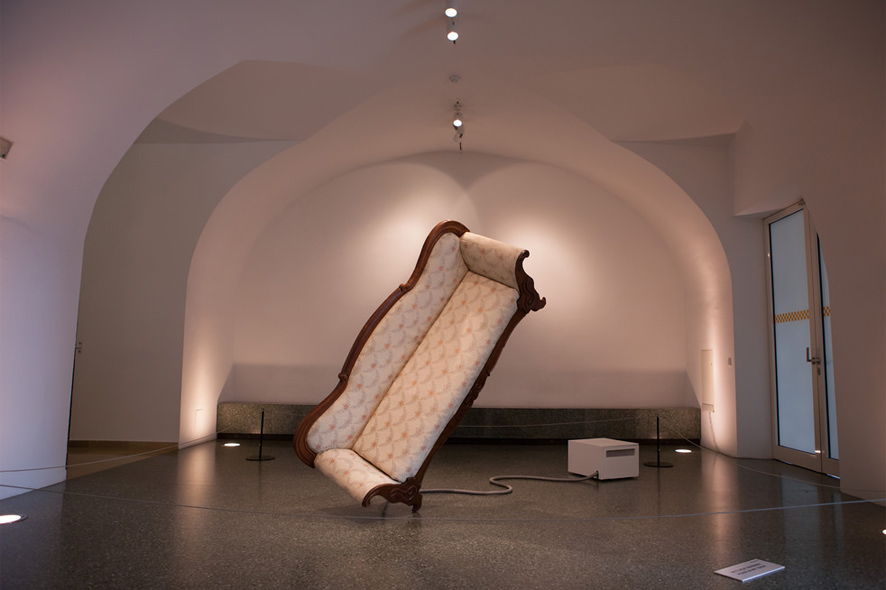 Credit: Florian Voggeneder
Another Golden Nica recipient, Jakob Tonski, started out just trying to have some fun and make a common, everyday sofa stand on one leg. What came out of this is a technical tour de force that confronts the visitors with an experience that challenges their assumptions about what's possible and, in fact, it was singled out for recognition as such by the Prix Ars Electronica. The sofa is equipped with extremely sophisticated technology, high-tech innards that might be what you'd expect to find inside a satellite to solve the problem of an object freely floating in three-dimensional space.
"Endless Prototyping" is the descriptive add-on to the title of the show. Will we ever succeed in achieving serial production?
Martin Honzik: Hopefully not, since once we do, any possibility of change has truly been forfeited. Self-determination is gone. The world doesn't function if it's perfect; it functions because it's imperfect. And that's why we're forced, over and over again, to go back to Square One! As much as we strive to peer into the future, we're simply too small to pull this off.
If you happen to be in Berlin between July 1st and August 27th, the "HUMAN FACTOR – endless prototyping" exhibition at DRIVE. Volkswagen Group Forum Berlin is well worth seeing and being inspired by! We've compiled detailed and comprehensive information about the prototypes and the artists who created them at export.aec.at/humanfactor.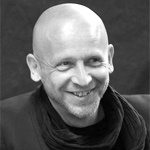 Martin Honzik is an artist and director of Ars Electronica's Festival, Prix and Exhibitions divisions. He studied visual experimental design at Linz Art University (graduated in 2001) and completed the master's program in culture & media management at the University of Linz and ICCM Salzburg (graduated in 2003). From 1998 to 2001, he was a member of the production team at the OK Center for Contemporary Art. In 2001, he joined the staff of the Ars Electronica Future Lab, where, until 2005, his responsibilities included exhibition design, art in architecture, interface design, event design and project management. Since 2006, Martin Honzik has been director of the Ars Electronica Festival and the Prix Ars Electronica and in charge of exhibitions in the Ars Electronica Center as well as Ars Electronica's international exhibition projects.