Each Artist Lab is dedicated to one of the exhibitors who, like the alchemists of bygone days, are conducting experiments and thereby launching innovative developmental processes. They're amalgamating digital data with the physical world of our bodies, creating new materials, and deploying the latest technologies, robots and software. A dozen trailblazing alchemists will showcase a selection of their works in Artist Labs in the Alchemists Of Our Time exhibition in POSTCITY.
Festivalgoers can scrutinize all these works—including, of course, the Artist Labs—September 8-12, 2016 in the former Postal Service logistics facility at Linz's main train station. Here we offer an overview of the participating artists and a sneak preview of the show.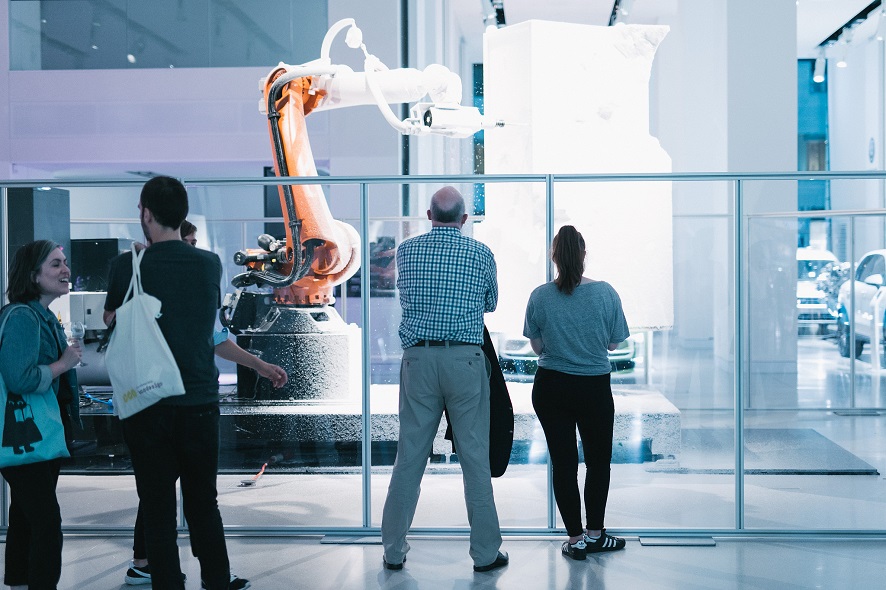 Credit: Florian Voggender
Artist Lab Quayola
Leading off is Italian artist Davide Quayola, whose "Sculpture Factory" will be hard to miss, even in spacious confines of POSTCITY. His towering sculptures are replicas of famous works by Michelangelo, but with a slight difference. A man chiseled the originals by hand, whereas the workforce in Quayola's plant is made up of industrial robots producing the familiar forms en masse.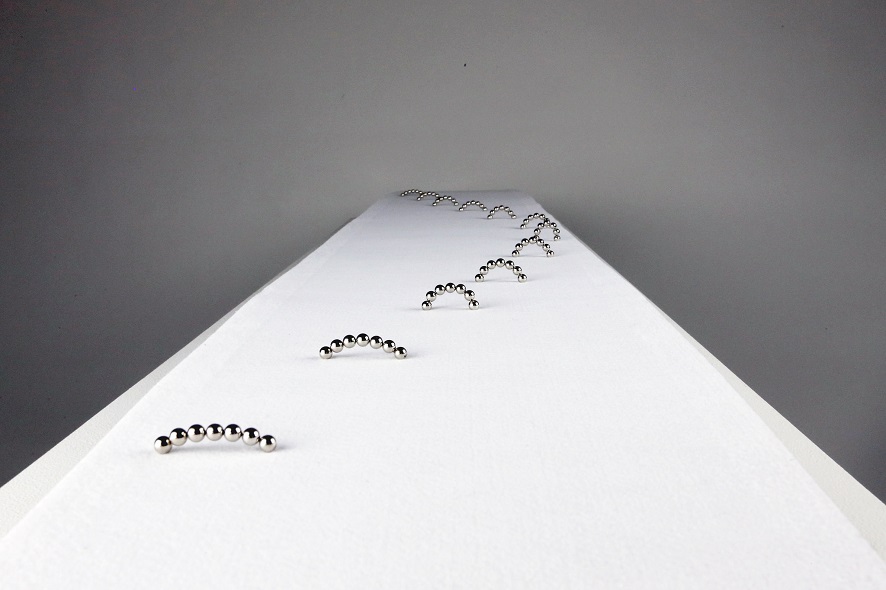 Credit: Yasuaki Kakehi and Michinari Kono
Artist Lab Yasuaki Kakehi
There's no such thing as stasis in Japanese media artist Yasuaki Kakehi's Artist Lab, not even for a minute. His works are incessantly moving and morphing; the difference between animal, plant and machine becomes blurred. His "Phytowalkers," for instance, are plant-machine hybrids that seek sunlight and move to maximize brightness. The 12 "Loopers" that look like little worms don't inch along on their own, though; an electromagnetic field is their driving force. The structures of the installation entitled "microcosm" react to each other and their environment, their form constantly adapting to external influences. Another work that deals with how one can react to the challenges posed by ones surroundings is "Single-Stroke Structures," inflatable partitions that make it possible to set oneself apart in a discrete personal space amidst an increasingly populated world.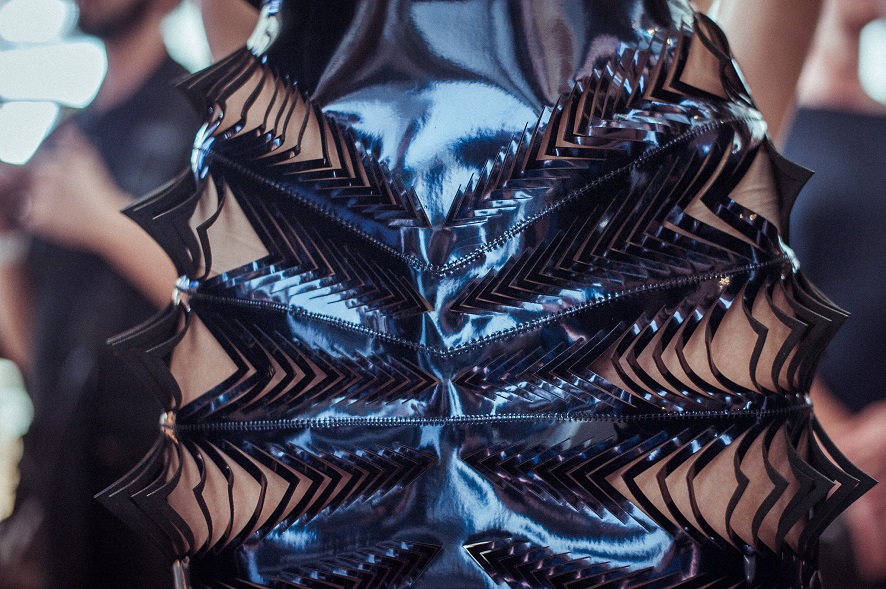 Credit: Morgan O'Donovan
Artist Lab Iris van Herpen
Dutch fashion designer Iris van Herpen's Artist Lab features her collection "Magnetic Motion" that just garnered her a prestigious STARTS Prize honoring an artistic work that substantially influences our view of technology. Its creation was inspired by Van Herpen's visit to the Large Hadron Collider at CERN–the European Organization for Nuclear Research. Using its magnetic field as her model, she came up with a collection strongly influenced by the scientific phenomena of magnetism and chaos. The garments weren't fashioned with a sewing machine but rather by injection molding and the use of laser cutters and 3-D printers. The eye-catching accessories were formed with magnets.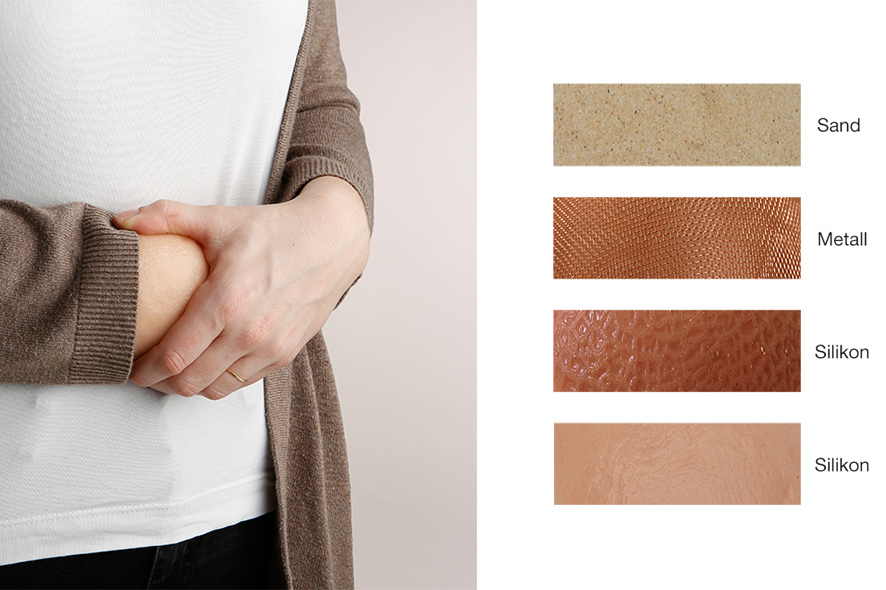 Credit: Bernardo Aviles-Busch
Artist Lab Artificial Skins and Bones
The collection on display in this Artist Lab was likewise a recipient of a 2016 STARTS Prize singling out for recognition innovative collaboration between industry/technology and art/culture. Nine works emerged from a seminar held at the Berlin Weißensee Academy of Art in cooperation with prosthesis manufacturer Ottobock; seven of them are being exhibited in POSTCITY. "Artificial Skins and Bones" is about artificial bodies and body parts, and people's relationships to them.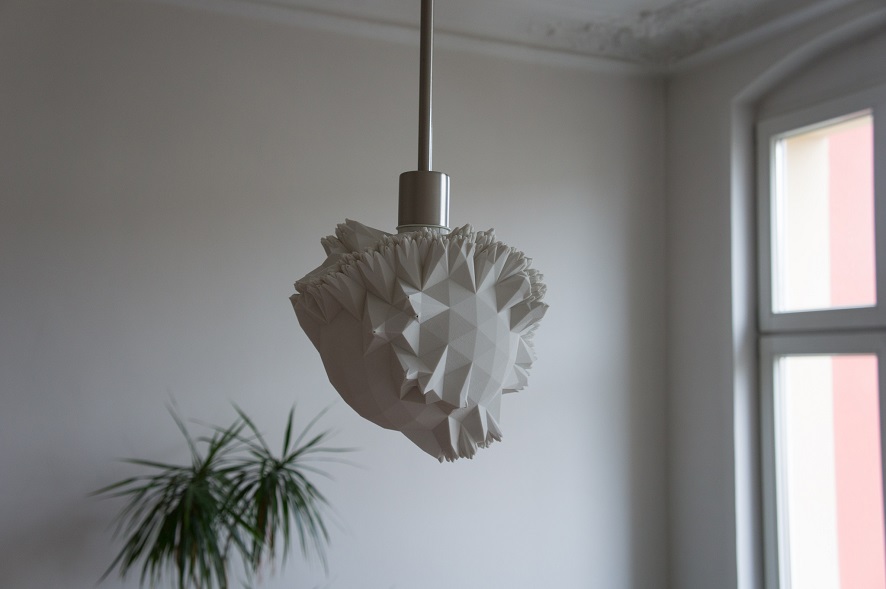 Credit: Michael Burk
Artist Lab Jussi Ängeslevä
Subsumed by the title "Beyond Prototyping," the three works in Jussi Ängeslevä's Artist Lab deal with the dynamics at work among designers, users and manufacturers. "Ciphering," "Locatable" and "Highlight" were created in conjunction with a research project conducted jointly by the Technical University of Berlin and the UdK–Berlin University of the Arts where Ängeslevä is a professor. They're based on easily-influenced algorithms and interactive online platforms featuring products that can be individually customized by the user. Each resulting object—in "Ciphering," a ring with a punched-out, individualized message; in "Locatable," a table with an engraving based on a street map; or in "Highlight," a lamp that looks different depending on where the light is shining in the particular room—is thus unique, and also designed to be both sturdy and elegant.
Credit: EPFL Artificial Life Lab
Artist Lab ASSISIbf
ASSISIbf stands for Animal and Robot Societies Self-Organize and Integrate by Social Interaction (bees and fish). Behind the long title is an algorithm that enables two or more species to communicate with one another—in this case, fish and bees. Robotic systems specially configured for the respective creatures learn to communicate with them and ultimately make it possible for the two species to interact. They can thus jointly solve problems—an idea that's especially interesting in consideration of the communications between human beings and animals. Festivalgoers will be able to witness how this works at the ASSISIbf Artist Lab, where fish and bees will be assigned a task they have to carry out together.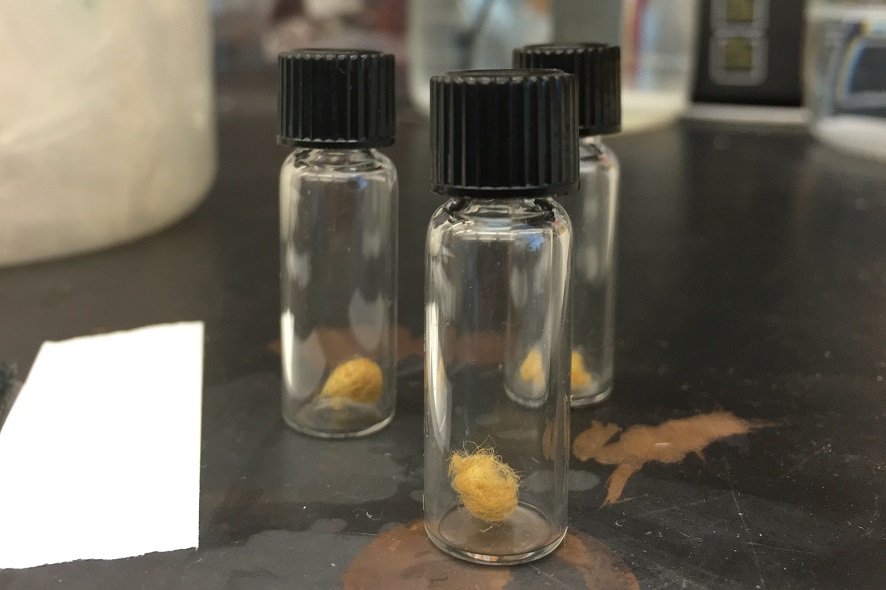 Credit: Carly Nix
Artist Lab Joe Davis
In his Artist Lab, Joe Davis deals with what modern alchemy looks like and whether it even still exists. Humankind has already achieved so many things that had previously seemed impossible. Is there still even room for such wonders? Davis answers in no uncertain terms: YES. His two works show how alchemy and the search for the miraculous can survive, even in this day and age. For "Bombyx Chrysopoeia," he raised genetically engineered silk moths whose woven silk fibers can incorporate metals like gold or platinum. "Astrobiological Horticulture" isn't about a recipe for gold but rather the elixir of life itself. The organisms bred here could theoretically survive even on Mars.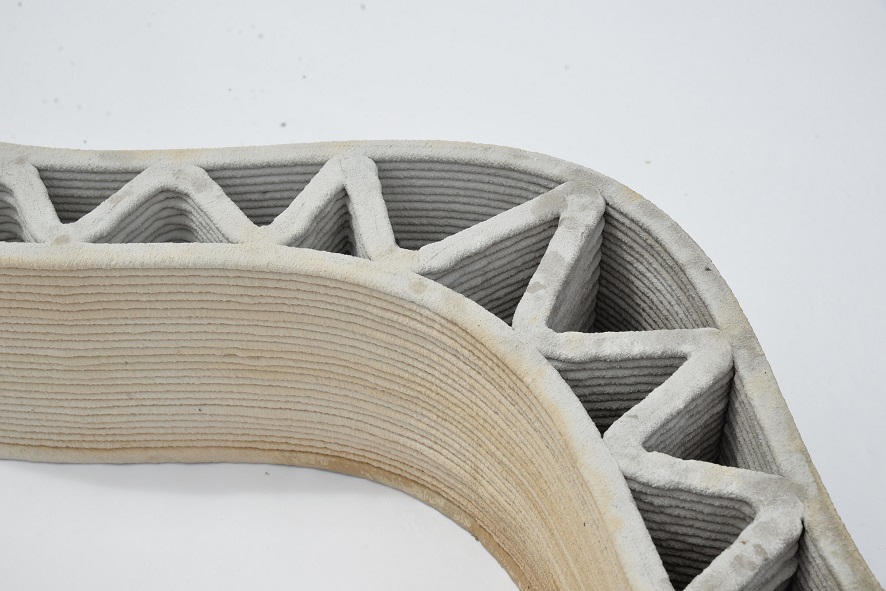 credit: REX|LAB
Artist Lab Marjan Colletti
3-D printing has finally arrived in the realm of construction components. In his Artist Lab, Dr. Marjan Colletti, head of the University of Innsbruck's Institute of Experimental Architecture, presents methods that can be used to print our concrete. That department's work has focused on automated robotic production methods since 2012 when its Robotic Experimentation Laboratory (REX LAB) was set up. Taking advantage of 3-D printing in major construction projects is, however, a somewhat futuristic development. Whereas 3-D printing is often used in conjunction with smaller jobs, it's still far removed from a commercial application when it comes to large-scale projects. Here, Marjan Colletti presents models that could soon change that.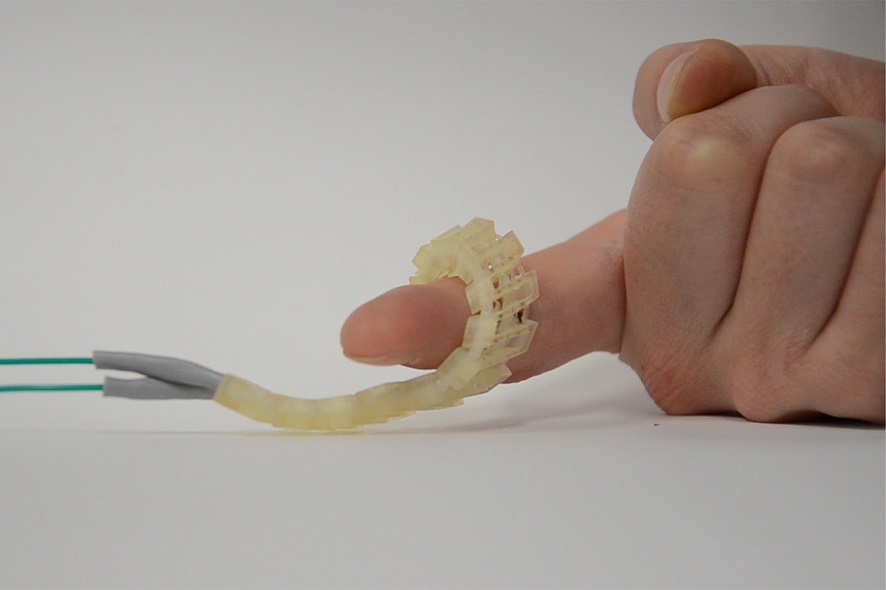 Credit: Yoichi Ochiai
Artist Lab Yoichi Ochiai
The Artist Lab of Japanese media artist Yoichi Ochiai is dedicated to the Digital Nature Group that he heads. Exemplary projects demonstrate how the group imagines the future of our multimedia ecosystem—above all in terms of interdisciplinary, processor-based projects that interconnect the various domains; systems that register a person's body language and facial expressions and directly manifest them on a doll; a projector that can convert sunlight into a visual display without any source of electricity; and investigations of various methods for displaying holograms in space.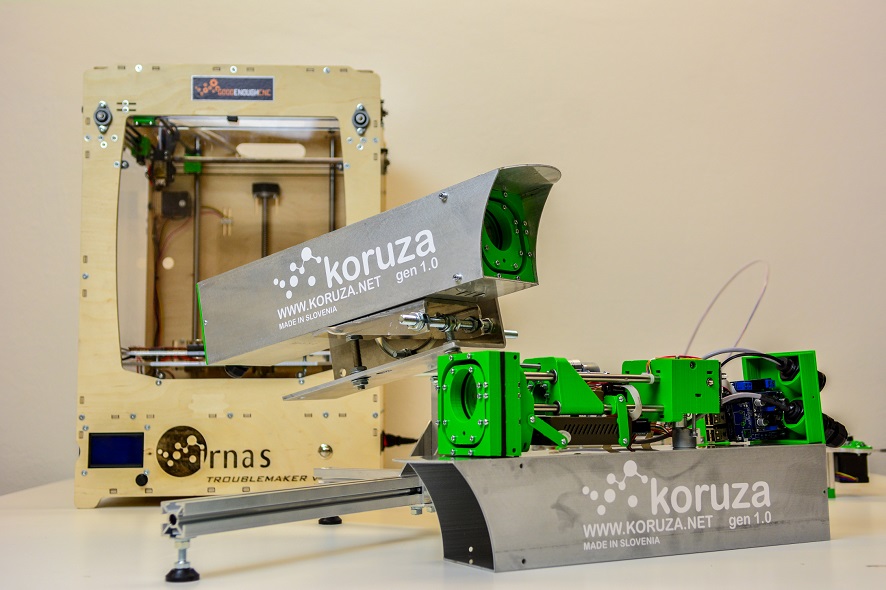 Credit: Jure Zagoranski
Artist Lab Institute IRNAS
Slovenia-based IRNAS Institute's Artist Lab features two projects: fab&sciencelab and the KORUZA communications system. In fab&sciencelab, visitors can use machines and 3-D printers they bring with them to do experiments, research and DIY projects just like in the big Fab Labs that have been set up in many cities worldwide. KORUZA was created in-house at IRNAS. This open communications system offers an alternative to Wi-Fi networks and is simple to emulate. The system will be on display at the Artist Lab to demonstrate how such communication functions and why it might represent the future of existing networks.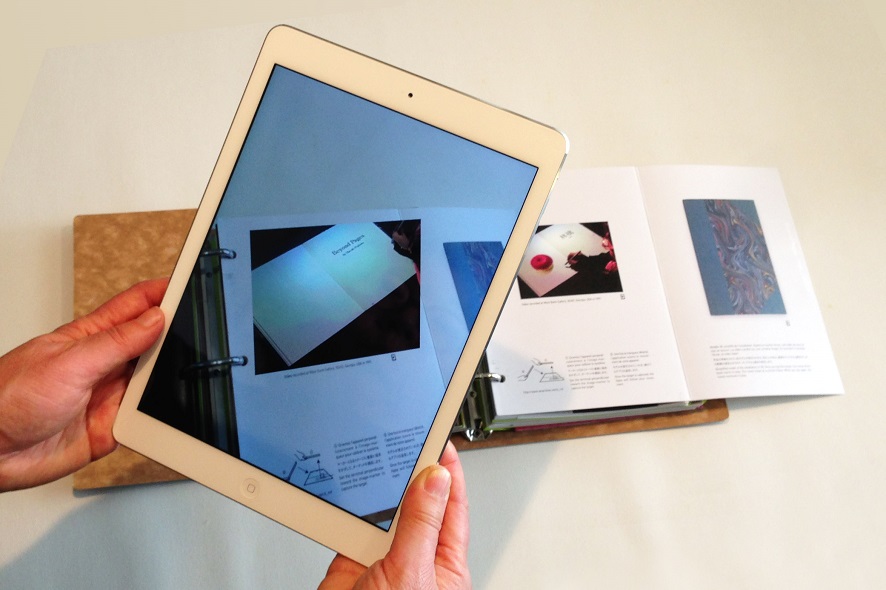 Credit: Masaki Fujihata
Artist Lab Masaki Fujihata
Masaki Fujihata's Artist Lab will showcase pioneering works by the Japanese media artist whose interactive art has made a name for him worldwide. One of the exhibits is a book entitled "Anarchiv 6" that documents most of his works from 1972 to 2016. Needless to say, "Anarchiv 6" isn't just a book with pages in a conventional sense; it can also be considered a three-dimensional installation thanks to its built-in iOS devices and Augmented Reality technologies that make pictures and videos seem to jump off the pages. This is a form of archiving that Masaki Fujihata has now taken to Version 6.0. Over the last 15 years, the "Anarchiv" series has encompassed works by five other artists.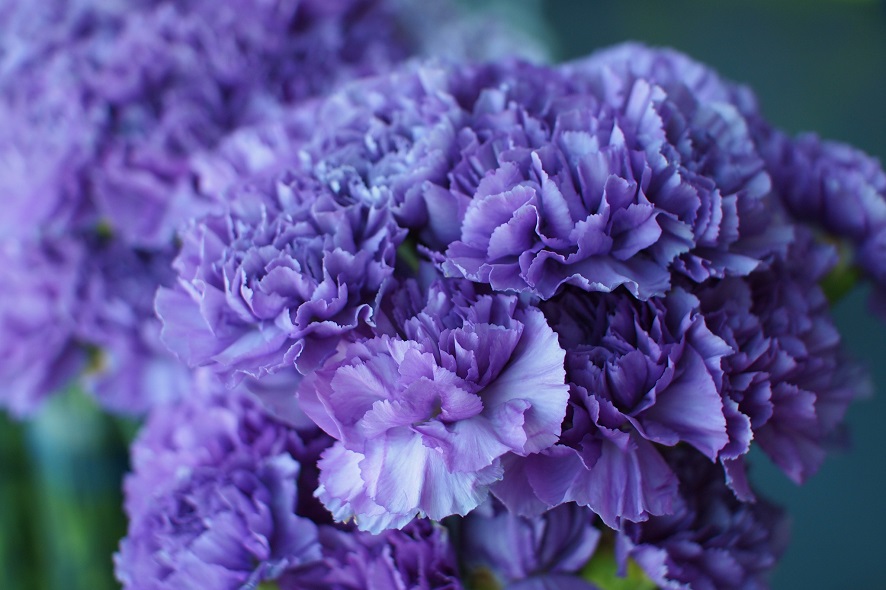 Credit: Martin Hieslmair
Artist Lab BCL
In this Artist Lab, the artistic research project named BCL founded by Georg Tremmel and Shiho Fukuhara will exhibit works in its specialty field: the interrelationships among and similarities and differences between biological and cultural codes. For example, "Common Flowers / Flower Commons" features genetically engineered moondust flowers that were bred by a Japanese brewery in Columbia and are being marketed worldwide. The artists of BCL "clone" these plants and then plant them outdoors—and thereby give them back a space and make them accessible to all as so-called common flowers. The second work on display also deals with genetic engineering—"Ghost in the Cell" embodies the virtual idol Hatsune Miku, a computer program, in an artificially produced genome and thus brings it to life.
The Artist Labs and lots of other exhibits by the alchemists of our time will be on display at POSTCITY throughout the Ars Electronica Festival, September 8-12, 2016. Exhibition hours: Thursday to Monday, 10 AM to 7:30 PM.
To find out more about the festival, follow us on Facebook, Twitter, Instagram & Co., subscribe to our newsletter and check out our website at ars.electronica.art/radicalatoms .