During the 2016 Ars Electronica Festival which took place from September 8 to 12, 2016, in Linz festivalgoers could observe the "creative social activists" from Grameen Creative Lab, Impacthub Vienna and the Schmiede Hallein as they go about their work, or even got involved in it. Impacthub Vienna had announced a program ranging from actions and presentations of yoga classes all the way to digital educational platforms. On Saturday, September 10th, you could get a close-up look at the Lemmings over the course of a so-called hackathon.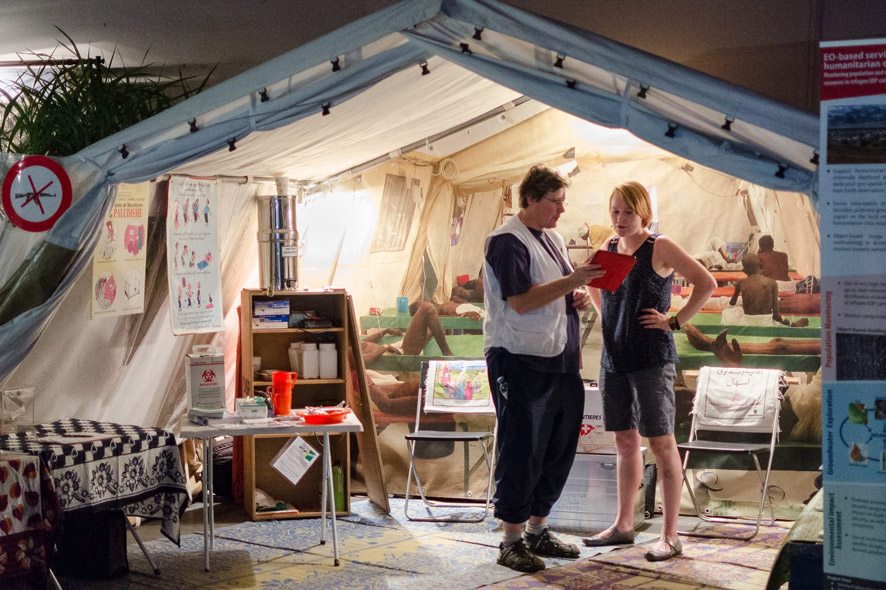 Credit: Johanna Mathauer
Doctors without Borders, Engineers without Borders and Architects without Borders are independent organizations that got together for the first time in Linz to jointly brief the general public about their global approach. During times in which the world's borders are becoming increasingly hard and fast, people without borders are gaining importance. Accordingly, there are more and more groups that use "without borders" in their name, associations of people whose professions have become a more broadly conceived calling to work on behalf of the community. These organizations have one thing in common—they transcend borders in deploying their knowledge, time and enthusiasm in order to accomplish some purpose. But what motivates them? And is it possible by means of knowledge transfer to contribute to correcting the disequilibrium that characterizes the world order?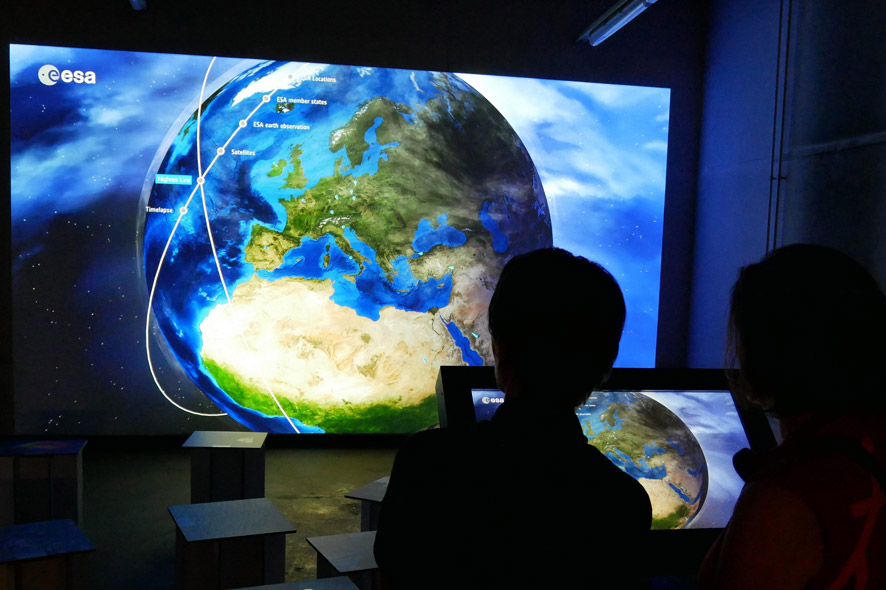 Credit: Pascal Maresch
Needless to say, the European Space Agency tends to see things from a global perspective. The view from outer space shows the beauty of our planet as well as its current problems. Satellite imaging can register and observe changes both visible and invisible to the naked eye. A selection of some of the most impressive images has been on display in LabOratorium in the form of an interactive 4K projection by Ars Electronica Solutions.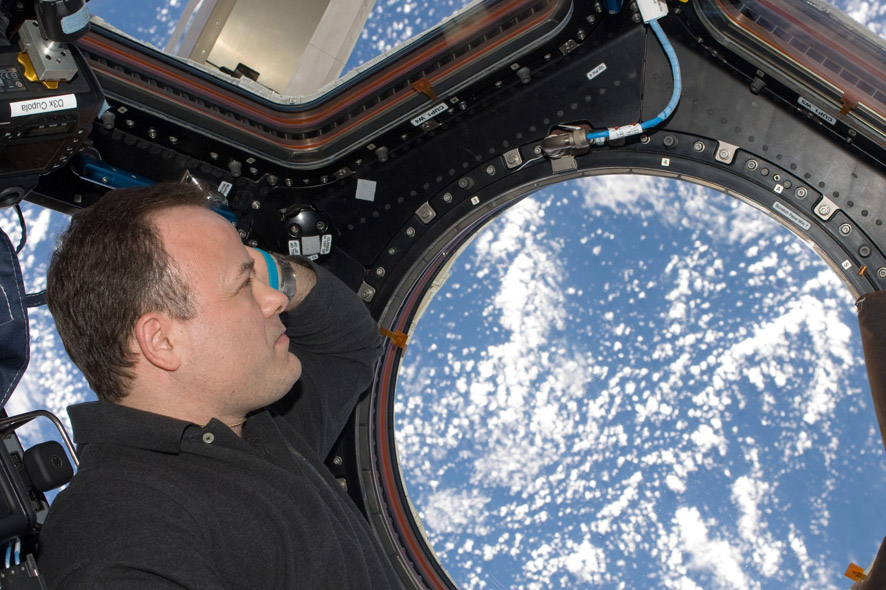 Credit: NASA
Former astronaut Ron Garan is one of the few people who've seen our planet with their own eyes while aboard the ISS. In his "Overview Effect" installation, he discusses his personal experiences associated with this extraordinary point of view, and what changed for him as a human being as a result of it. After his career in space flight, he signed on with USAID, the US government's civilian foreign aid agency, where he was responsible for the deployment of new technologies in developing countries. Ron Garan now lives out his commitment to social welfare as a private citizen.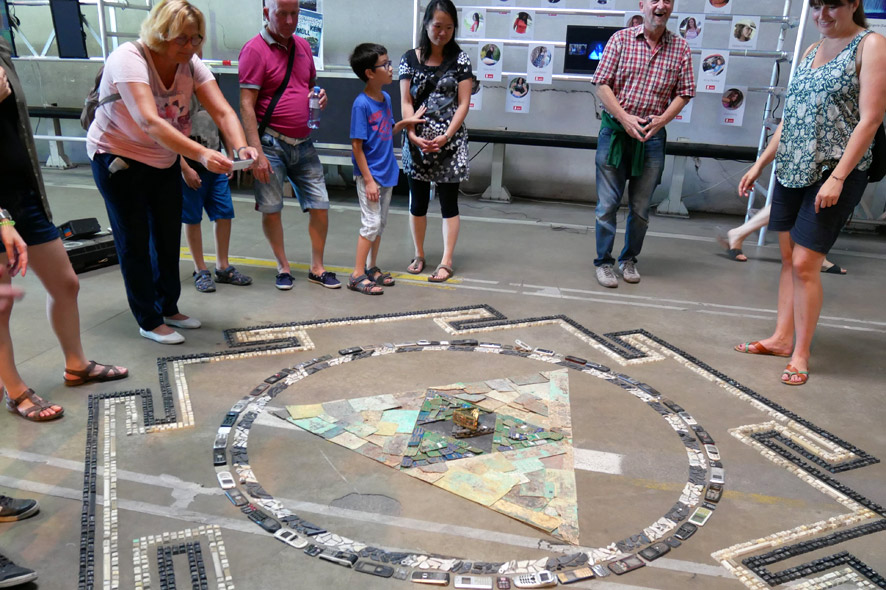 Credit: Pascal Maresch
The artists group KairUs forms the core of the Behind the Smart World research lab's staff. They study the global impact of our digital consumer behavior. Agbogbloshie is a district in the teeming metropolis of Accra in West-African Ghana. The world's largest electro-waste dump is located here. 22 hard-drives brought back to Austria from this dump are the starting point for the 'Behind the Smart World' research Lab. Alongside the material and exploitative dark sides of the dirty business with electronic waste. The project brings together artistic positions dealing with the value of digital information and our constant production of data. We leave not only material traces that have disastrous effects on people and our environment, but also digital traces, the value of which is to be called into question.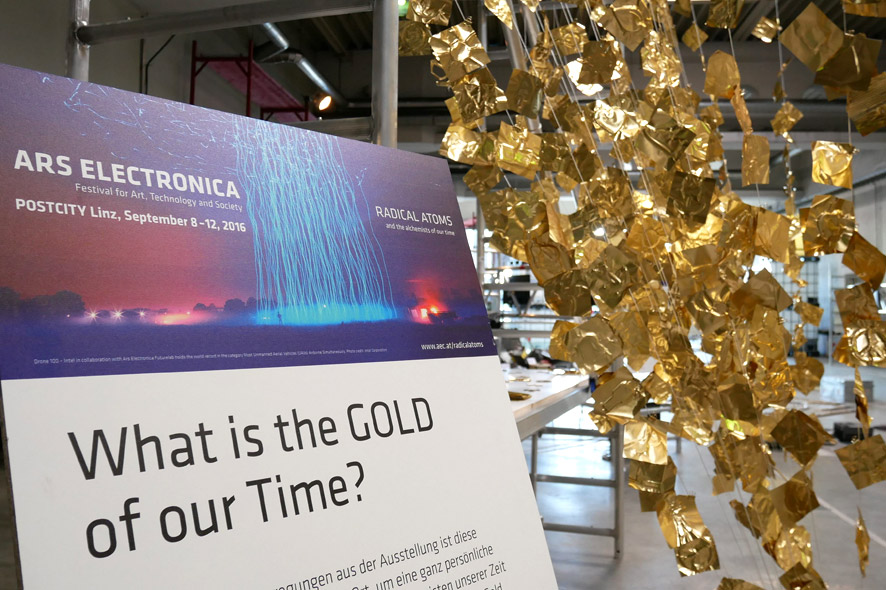 Credit: Pascal Maresch
It was GOLD they were after—the alchemists and those who financed their experiments. But even back then, it wasn't necessarily a matter of the precious metal itself. The expectation invested in that puzzling material, aurum, ranged from physical healing all the way to spiritual enlightenment. And to even further compound the confusion, the alchemists used cryptic scripts and symbols to express themselves. The exhibition "LabOratorium – An Alchemical WorldLab" offered assistance as you seek your own personal answer to the question: What is the GOLD of our time? Is wealth still actually all that we're interested in, or is true value to be found elsewhere?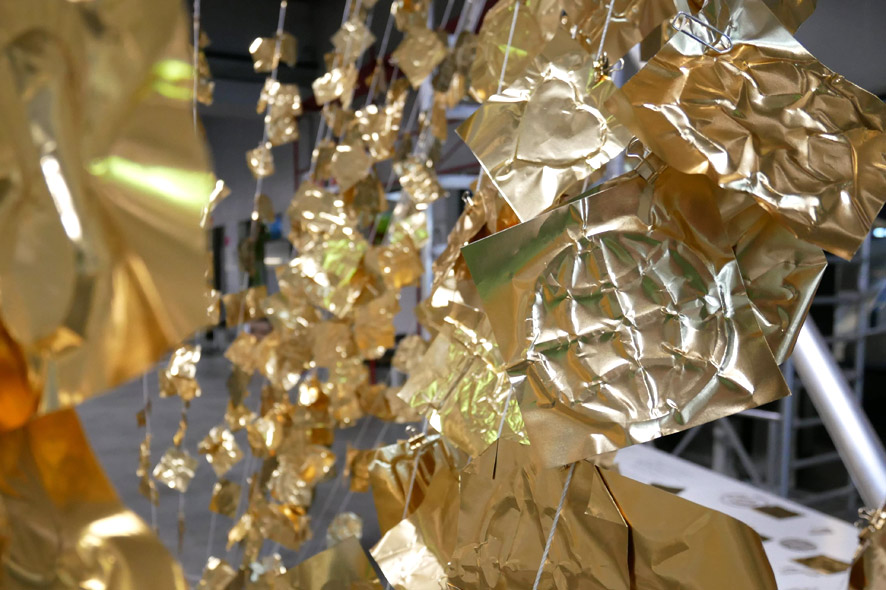 Credit: Pascal Maresch
The visitors stamped the symbols in the alchemical manner into gold foil to depict their answer. An empirical sculpture that admits multiple interpretations thus took shape over the course of the festival.
Merken
Merken
Merken