Hybrid Art has been a Prix Ars Electronica mainstay since 2007, and this category will single out for recognition outstanding works of hybrid and transdisciplinary art once again in 2017. Until then, the HYBRIDS show at the Onassis Cultural Centre in Athens is featuring a wide-ranging selection of great work in this genre. We recently took a stroll through the exhibition with its curator Manuela Naveau, who is heading Ars Electronica Export.
We're standing here in a totally mirrored space, looking at ourselves but also beholding the digital traces around us. This is no doubt the best point of departure for an explanation of the first phase of this exhibition…
Manuela Naveau: Indeed, in the Hybrid Realities category, we question what the word "real" means now, scrutinize the world of data, and consider its immense influence on our reality—one that can change with astonishing speed amidst a network that connects us up with such a diverse array of associates, human beings and bots alike. We also look into social media and online platforms, computer-controlled algorithms in general that make decisions for us and, since these systems are already capable of independent learning, attempt to steer us onto the route we ought to take into the future. "Social Soul" by Lauren McCarthy and Kyle McDonald is an ideal place to start this thinking.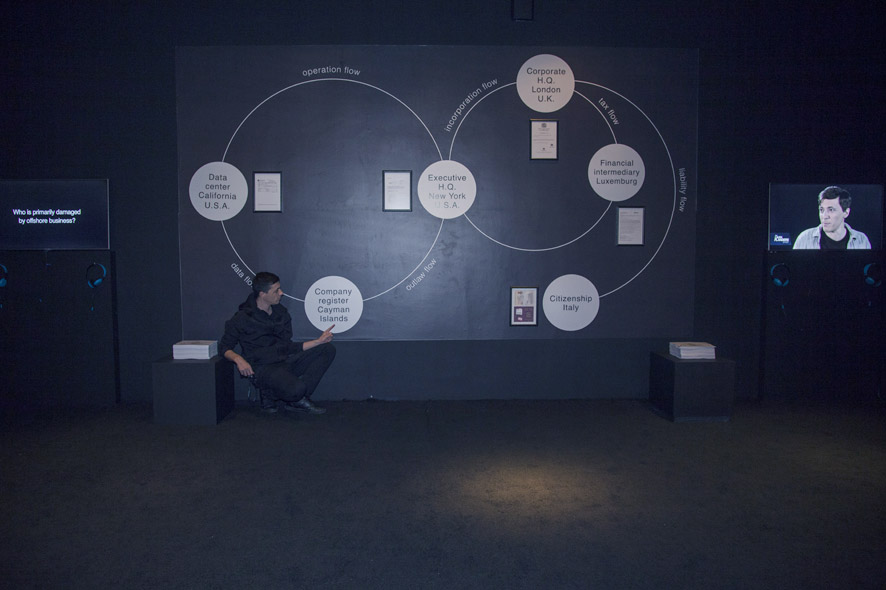 Loophole for All by Paolo Cirio, Credit: Andreas Simopoulos, Courtesy of Onassis Cultural Centre-Athens
Data, their value and their lack of transparency are taken up by three more projects.
Manuela Naveau: Paolo Cirio's "Loophole for All" sheds light on the covert machinations in offshore financial havens like the Cayman Islands, and the artist offers listed firms for sale to all comers. Manu Luksch's "Third Quarterly Report" investigates what sorts of social capital can flow back into society when the so-called Internet of Things promises a "smart city" but what's actually behind it is a huge corporation presiding as a sort of global mayor. And "A Ship Adrift" by James Bridle leads to the question: Did we ever consider whether it will even be possible to get lost in the smart environments we'll inhabit someday?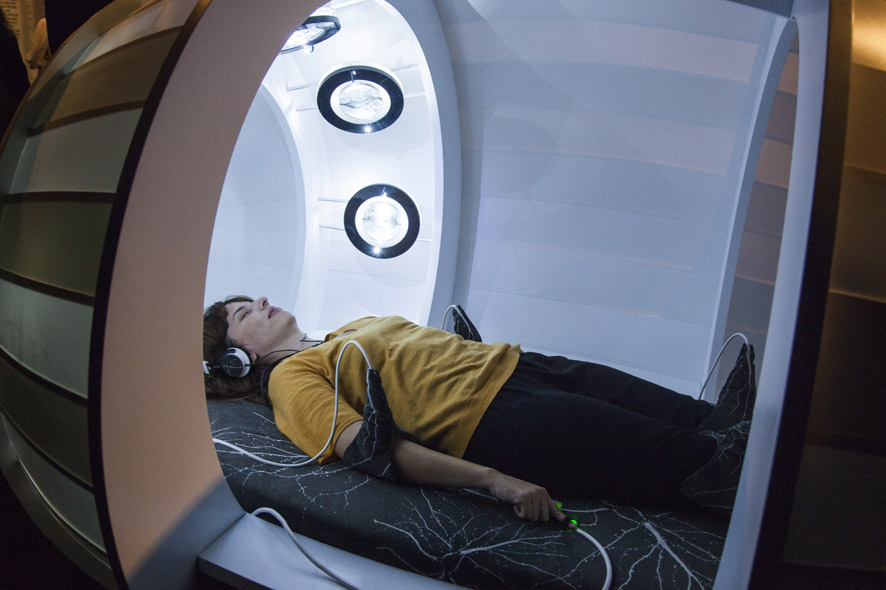 MyConnect by Saša Spačal, Mirjan Švagelj and Anil Podgornik, Credit: Andreas Simopoulos, Courtesy of Onassis Cultural Centre-Athens
The next phase of the exhibition, Mankind & Utopia, goes yet another step further…
Manuela Naveau: The category Mankind & Utopia goes yet another step further into the future and, in light of the fact that we're all essentially particles and information storage media, inquires into whether we'll eventually be able to enter into direct connections with other organisms—plants, animals and human beings alike. The work "Myconnect" by Saša Spačal, Mirjan Švagelj and Anil Podgornik can be seen as a sort of species connector that establishes a cycle operating directly between a human being and a fungus culture (fungal mycelium).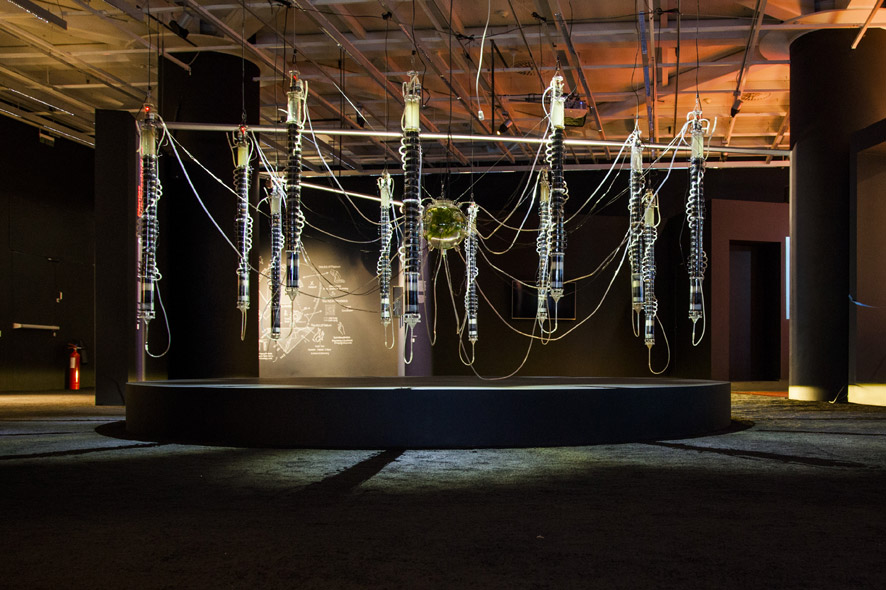 Autophotosynthetic Plants by Gilberto Esparza, Credit: Andreas Simopoulos, Courtesy of Onassis Cultural Centre-Athens
The fact that microorganisms can be deployed to purify polluted water, that energy can be generated thereby and, in turn, used to produce light to nurture the growth of the plant organisms in a self-sustaining cycle is demonstrated by Gilberto Esparza's "Autophotosynthetic Plants". The exhibition's centerpiece, a glass creation that looks like something out of a science fiction movie, calls into question artificial life cycles and their potential influence on our world.
Body Paint by exonemo, Credit: Andreas Simopoulos, Courtesy of Onassis Cultural Centre-Athens
Looking not the least bit artificial but with rather a human mien, two more works of art behold us…
Manuela Naveau: One way of looking at the work "Body Paint" by exonemo is as a sort of artificial species. These creatures stare at installation visitors like a couple of aliens—one green, one red. And if that doesn't get to you, what will is noticing their slight facial movements, so that this staged tableau seems to be coming alive.
The work "Temps Mort/Idle Times" by Alex Verhaest can be understood in a similar vein. Here as well, time and, especially, death and transience play a decisive role. The artist presents portraits—resembling works done by Flemish painters during the Renaissance—of individuals talking about someone recently deceased. The observer's initial impression of a historical image quickly segues into a futuristic feel during the course of exercising one's option to use a cell phone to establish picture contact with the protagonists and apparently bringing them to life.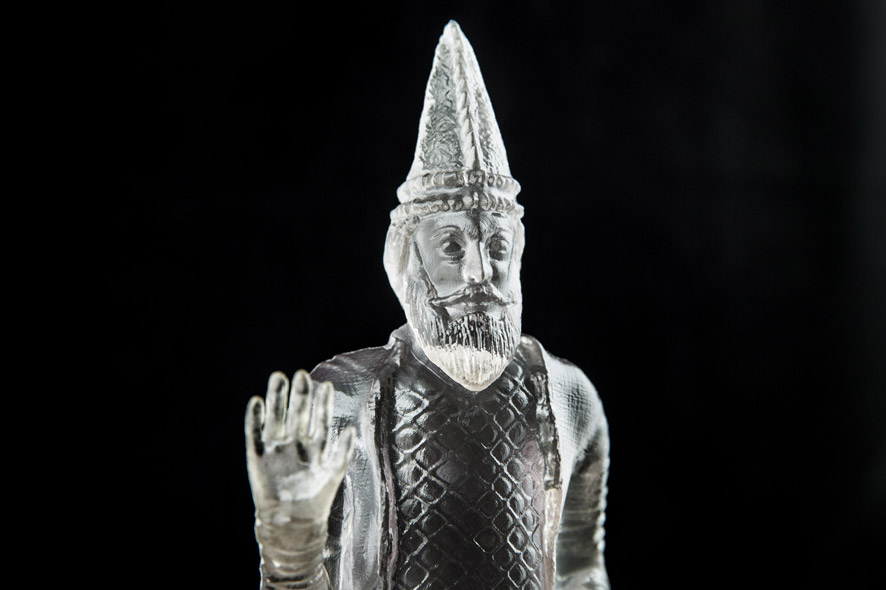 Credit: Morehshin Allahyari, Material Speculation: ISIS, 3D Sculpture, Courtesy the artist and Upfor Gallery, 2016
The next substantive segue takes us to Hybrid Remixed. So, what in the world does this mean?
Manuela Naveau: The third category, appropriately entitled Hybrid Remixed, subsumes seemingly unstructured, coincidental mergers of diverse materials and media, contents and persons. Here, the repetition of the element of unplanned confrontation is precisely what constitutes the quality most strongly characteristic of these works, and it takes a second pass to recognize their varying intentions. Deserving of particular attention is the work "Material Speculation: ISIS" of Iranian artist Moreshin Allahyari that deals with the statues and frescoes destroyed by ISIS in the summer of 2015. Needless to say, her interest is not of a purely archeological nature; rather, it is strictly substantive and above all artistic. The artist used 3-D printing to reproduce 12 statues from the Roman period in Hatra and Assyrian artifacts from Nineveh, two cities in what is now northern Iraq. Moreover, Allahyari has equipped each of the objects with a small data storage device containing background information about these cultural treasures. Users can access, augment and modify the content.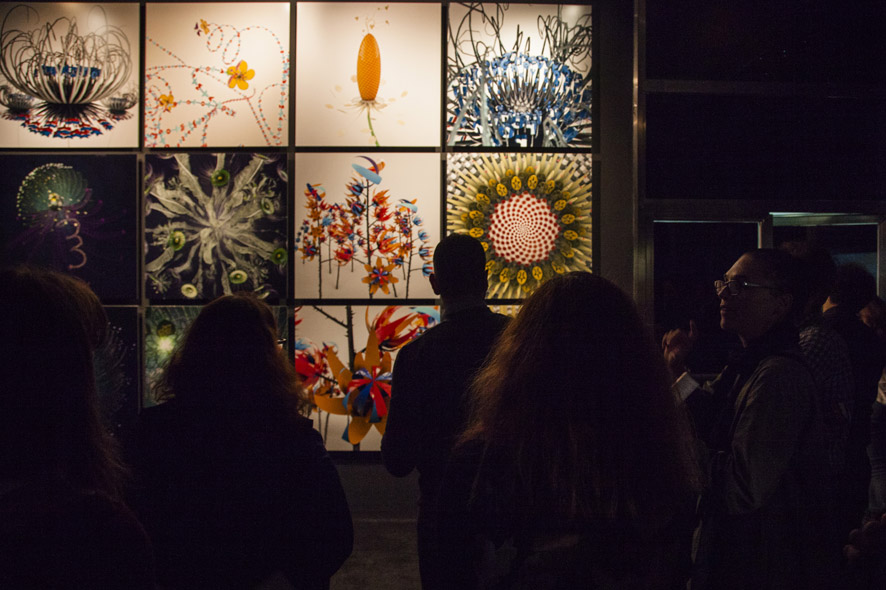 Fifty Sisters by Jon McCormack, Credit: Andreas Simopoulos, Courtesy of Onassis Cultural Centre-Athens
Whether they're digital information or living substances—here, lots of things change…
Manuela Naveau: "Newstweek" by Danja Vasiliev and Julian Oliver is another work that can be grasped only in the context of the overall exhibition. Visitors entering "Hybrid" and immediately coming upon the Newstweek infodesk there might well get the idea that the online portal of one of the leading local newspapers has established a presence here. But closer scrutiny of the presented topics makes it evident that some of this content has been twisted and flipped, and visitors are cordially invited to engage in some hands-on manipulation of their own. Jon McCormack's "Fifty Sisters" is easily deceptive. What seem to be lovely plant motifs to the unfocused glance of a casual passer-by turn out, upon close inspection, to be made up of repeating building blocks: an oil company logo.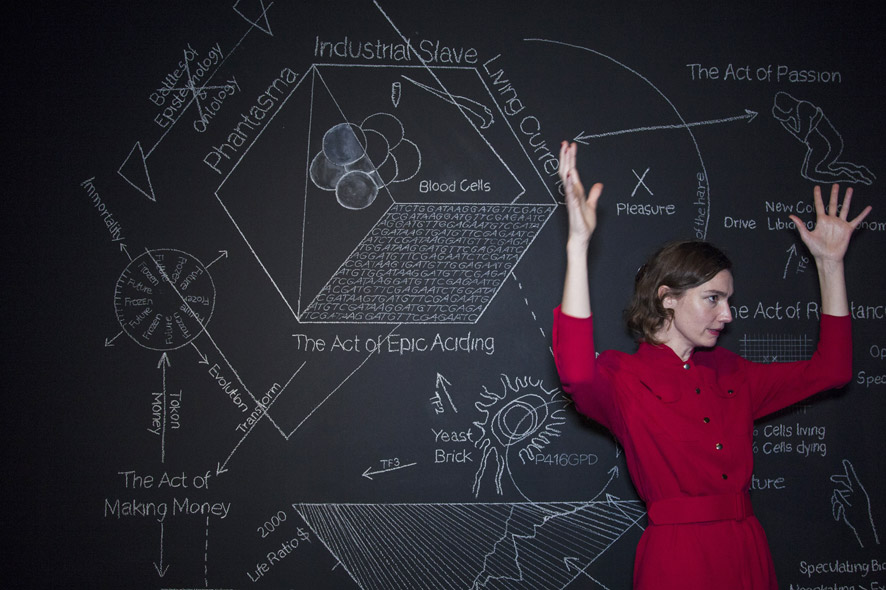 Hare's Blood by Klaus Spiess and Lucie Strecker, Credit: Andreas Simopoulos, Courtesy of Onassis Cultural Centre-Athens
And finally, we remix existing artworks too—"Hare´s Blood" by Joseph Beuys is transformed into a living substance. The artists extracted DNA sequences from the original work of art, developed a synthetic gene that they activated and that is now part of the installation as well as the performative encounter with it. Hare's Blood+ poses questions about authenticity and authorship, about art and the market for it.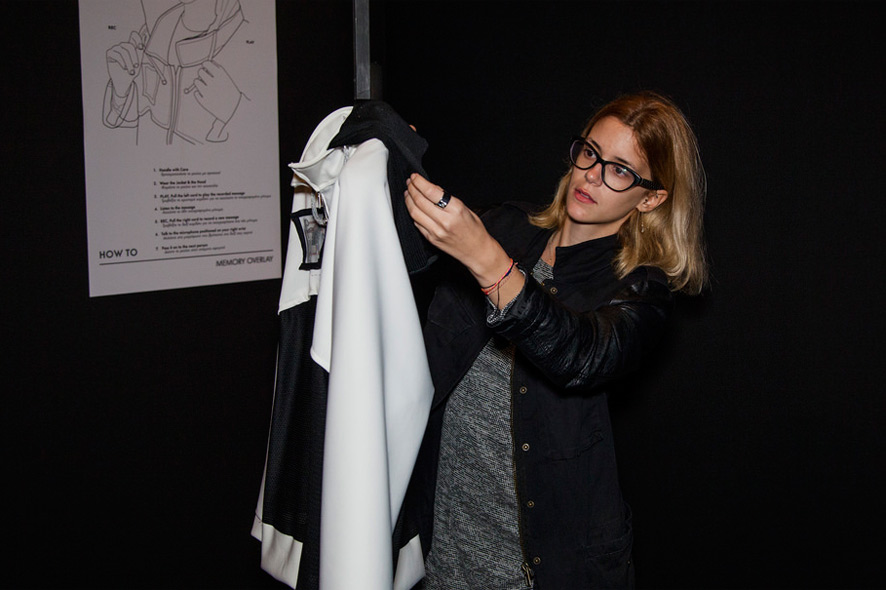 Memory Overlay by Afroditi Psarra and Marilena Georgantzi, Credit: Andreas Simopoulos, Courtesy of Onassis Cultural Centre-Athens
But tell us a little more about the works by Greek artists in this exhibition!
Manuela Naveau: Afroditi Psarra and Marilena Georgantzi not only created a new work; they're also leading workshops in which young people can give free rein to their imagination in their approaches to the possibility of a second skin—a smart jacket, e-crafts and wearable fashion. "Memory Overlay" is the work the two artists have conceived as a source of inspiration: a jacket that materializes the immaterial world of feelings, remembrances and language, and passes this on as information to its surroundings. Is the purpose communication; discourse development; better interpersonal understanding?
Inhibition by Marinos Koutsomichalis, Credit: Andreas Simopoulos, Courtesy of Onassis Cultural Centre-Athens
The work "Inhibition" by Marinos Koutsomichalis can be interpreted similarly. "Inhibition" is a headset, a sensor-equipped head covering that produces sounds and rhythms by measuring brainwaves. Via his website, the artist not only invites us to replicate or expand on the project; he also solicits thoughts, ideas and audiovisual documents from those interested in getting involved, and makes starter kits available to workshop participants.
So, now that we've arrived at the end of the exhibition, tell us what you find particularly fascinating about hybrids?
Manuela Naveau: Of all we have learned thus far in our encounter with this topic, there is, first and foremost, this: Coming to terms with these new hybrid constellations requires, above all, openness and courage. And the performance being staged for the exhibition's opening unmistakably sets the tone. Anastasis Germanidis makes us cognizant of how important it is to critically examine the trust we place in machines and automatons. Once we've outed ourselves on the Randomly Generated Social Interactions website, we become involved in a game in which we meet other site visitors assigned to us by an algorithm. What do we lose and what do we win when we transfer our (social) interests to a computer program?
This project was made possible by Onassis Cultural Foundation.
The Hybrids exhibition will run until January 15, 2017 at the Onassis Cultural Centre in Athens, Greece. For more information about the media artworks and their artists, go to export.aec.at/hybrid.
Merken