STEM–science, technology, engineering, mathematics–has been familiar terminology to educators for decades already. The measures it prescribes for elementary school classroom instruction are meant to get an early start paving the way to an innovative society. In the meantime, the acronym has acquired an additional letter. The "A" that now makes STEAM stands for arts. Accordingly, Fraunhofer MEVIS has launched STEAM Imaging, which grants an artist the opportunity to spend a residency of several weeks duration scrutinizing precisely this connection between art and science.
During the initial phase, the artist will spend two weeks working closely together with staff researchers at the Fraunhofer Institute in Bremen, Germany. Then, s/he will make a move to Linz for a 2-4-week stint at Ars Electronica, which will also be hosting a related workshop for pupils. The artistic results of these encounters will be presented at the Ars Electronica Festival September 7-11, 2017 in Linz within the framework of the European Digital Art and Science Network. We talked about the residency with Bianka Hofmann, Head of Corporate Communication at Fraunhofer MEVIS, and also asked her what expectations that scientific institution brings to this artistic collaboration.
"Technology is the campfire around which we tell our stories."Laurie Anderson
What are you working on at Fraunhofer MEVIS?
Bianka Hofmann: We are developing assistant systems to help physicians with early detection, diagnosis, and therapy of cancer and diseases of the circulatory system, brain, breast, liver, and lung. The goals of our work are to detect diseases earlier and more reliably, customize treatments to each individual, and make therapeutic success measurable. In addition, the institute develops software systems for industrial partners to undertake image-based studies to determine the effectiveness of medicine and contrast agents.
Developments in medical technology are changing our everyday lives in increasingly shorter innovation cycles. We need adaptive, interdisciplinary platforms to deal with the impact and design of these technologies at an early stage. With our science communication projects, we want to raise awareness about how digitalization in medicine supports and influences healthcare. Medicine is concerned with the most private of affairs: my own body. New possibilities emerge when my data is not only used to diagnose me, but also to benefit other patients. Doctors can use other patients' recovery and medical histories as a reference to compare which therapies work under different physical and social conditions. At the same time, questions about data security and personal space emerge. Who owns the data? Do I? Does the doctor? Does my health insurance company? Who develops the clinical processes and models that use the data? What legal ramifications must be taken into consideration?
These questions concern both market output and the shape of the future of society. The aim of the science communication (SciCom) at Fraunhofer MEVIS is to foster the engagement with, and ownership of future technology. In recent years, we at Fraunhofer MEVIS have promoted the development of SciCom formats to enable and encourage people to engage with medical technology topics in more depth. Our formats include workshops for pupils, texts describing the contributions of math, physics, and informatics to health sciences, visual storytelling (information graphics and scientific medical footage for 2D and stereoscopic 3D movies), the development of new methods to visualize medical interrelations, art installations, and hands-on exhibits.
Can you tell us more about the cooperation between Ars Electronica and Fraunhofer MEVIS? What awaits the artist in Bremen and Linz?
Bianka Hofmann: Ever since Fraunhofer MEVIS created the Poking Florian exhibit for the Ars Electronica Festival in 2013, we have been collaborating with the AEC. We have contributed content to the "Universe Within" program in the Deep Space 8K theater. We have worked closely with colleagues at AEC to factor in the technical and content-related frameworks and possibilities. From our contact with the Deep Space infotrainers, we were able to gain another perspective on our 3D short movies, which are interactively presented at AEC. At the last two festivals, our institute director, Professor Horst Hahn, and the head of our MR group, Professor Matthias Günther, were invited to the Deep Space to discuss current research and challenges in computer-assisted medicine. Those were great opportunities to help the festival audience understand real-world 3D medical image data and answers to complex questions.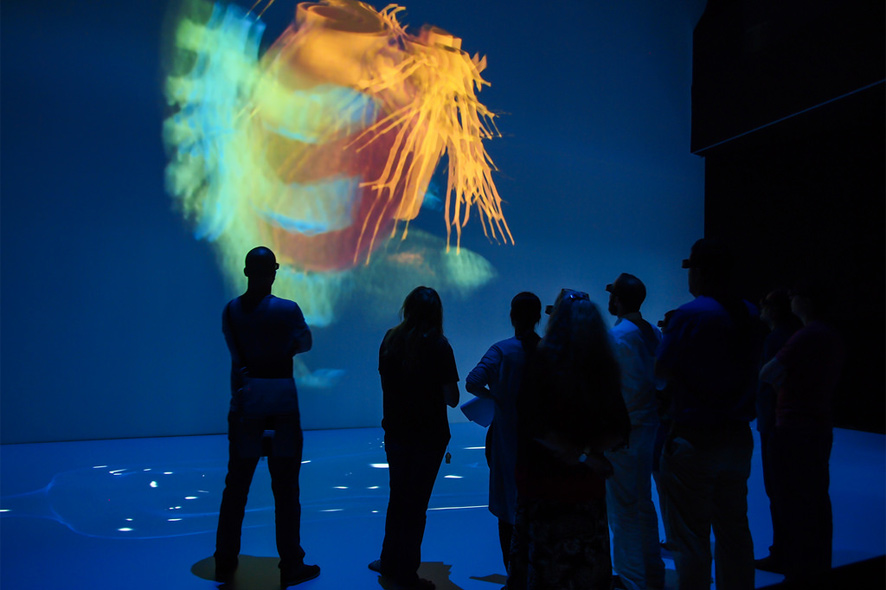 "Universe Within" program in the Deep Space 8K theater, Credit: Martin Hieslmair
This artist-in-residency program is the first integral component of our new SciCom format entitled "Discuss and Create". Fraunhofer MEVIS experts, alongside the artist and pupils, will explore medical imaging technologies in collaboration with the Fraunhofer Talent School Bremen and the Ars Electronica in Linz. Our role is to teach MeVisLab, a software platform for processing medical image data, and to provide workshop material about the mathematics, information science, and physics backgrounds and collaboratively enhance it. We will provide the artist with insight into our research and developments and build bridges to new professional fields through school workshops. Ars Electronica will provide its facilities and Ars Electronica Futurelab experts to select and mentor the artist and will create the link to the pupils in Linz. For us, it is important to create a space for the artist to reflect upon their work, issues, and solutions with the participating scientists. Perhaps we will manage to encourage and strengthen the participating scientists in their strategies during their 'free pre-development phase.' Lastly, both artists and researchers will be able to engage with and involve the future generation.
What potential do you see in connecting art and science?
Bianka Hofmann: We need a new avant-garde that feeds on the fusion of natural and social sciences, technology and art, and develops societal utopias – neither dystopias nor promises of technological salvation. People cannot comprehend or constructively deal with complex questions in 20-minute presentations or 140 characters. Expert knowledge, time, devotion, and understanding are needed. What we are capable of, though, is socially and accessibly incorporating and acknowledging this expertise as well as possible. Nerdy is the new awesome! Media-cultural developments such as the sitcom Silicon Valley are just one expression of this. Research, development, and art do not exist in a societal vacuum, and are usually not devised by isolated geniuses. What ideas for the future, sustainable beyond our own lifetime, do we want to carry forward? How do we want to talk about new possibilities in medical technology and describe their development? Every view of the world, including the scientific view, is also a choice of perspective, a specific door to enter. Remembering or even realizing this is an important step towards acknowledging and exploring other perspectives such as art.
We have to be careful when bringing science and art together to not instrumentalize the artist, but to allow them speak for themselves and provide them the freedom to follow their own impulses. In the field of applied science, however, we look for possible benefits at a very early stage. Scientists are not just input providers for new technologies who mere provide artists with tools.
In my opinion, science, new technologies, and art will continue to fuse together. At the same time, scientific disciplines will be amalgamated. For example, to establish new processes in diagnosis and therapy planning in the clinical routine based on evaluating the data of multiple patients, we need mathematics, informatics, medicine, health sciences, law, and politics. We must connect the fields that contain possible answers. In addition, we will have to search for answers on a global scale if we do not want to exclude parts of humanity.
An expansion of the R&D teams is needed, not only in terms of expertise, but also the spectrum of participants, such women and people of color. We also need new media narratives to shine a light on the new ideas, approaches, and possibilities that emerge from innovative technologies, instead of criticizing and scandalizing those technologies. These stories influence the collective perception of technologies, medicine, and health. In my opinion, the future belongs to the first companies and organizations to clearly prioritize such teams and address new narratives in all their creativity to develop livable future scenarios and make a clear difference.
Are there concrete expectations at Fraunhofer MEVIS?
Bianka Hofmann: We hope all participants to engage in the experiment and create space for possibilities, where what comes next is not yet defined. Basically, this is an experimental performance. The players and content are selected, but no one knows what the cooperative end results will look like. We can be satisfied when all participants – pupils, scientists, artists, and project developers – come out of the experiment with their own questions and paths to pursue. We provide the framework – computer, software, workshop materials. In the end, what matters it is the collective work and openness to become involved with and relate to each other. Mutual respect, devotion to the topics, and curiosity about what can emerge: those are my wishes.
Among other things, STEAM Imaging includes the explicit assignment for the artist to carry out school workshops. In your opinion, what are important activities and channels for scientific organizations to promote digital expertise and science education?
Bianka Hofmann: Hands-on projects for the next generation that focus on STEM topics as mathematics, informatics, and physics have a long tradition at Fraunhofer MEVIS. We place a lot of trust in the 'young talents' and provide them with concrete mathematical or natural science knowledge so that they can take action themselves. Pupils can make an MR image on the scanner and evaluate it with special software. For this, they need background knowledge. What is a pixel? What is a voxel? What are dimensions? It is surprising how far you can go with children and teenagers on a technical level when you have the room and time to describe the context, create the possibilities for autonomous working, and, above all, maintain curiosity and fun.
For us, expanding this proven workshop to an artistic level is new territory. We hope to reach further groups of pupils. Even pupils who want to study psychology will need math and statistics, and prospective artists have many new tools at their disposal that require basic computer science knowledge. Programming will become a fundamental school subject like language and mathematics.
If we want to promote digital competencies and science education, we must, in my opinion, more deeply involve pupils and let them actively co-develop. We can no longer train a generation that is competent and educated in all topics. In parts, young people can simply grasp the application and possibilities of new technologies better than the teaching adults. We need schools and a society that foster the talents and resources of every child instead of just mirroring the education of parents' generation. In Germany, the education level of children is still largely connected to the education level of their parents. Mathematics, programming, fundamental natural science knowledge, languages, and art are not unattainable and inaccessible abilities. It is a matter of our priorities as a society and what teaching and learning frameworks we create. Teachers and social workers deserve our utmost respect and support in this process.
In my opinion, the formats and channels of future education will become more universalistic on a new level. And so will science itself. The questions posed by digitalization, big data, and machine learning penetrate all scientific fields. A fundamental understanding of new technology must be part of every education. However, because of the rate of development, this can no longer be achieved by the working generation alone. We need intergenerational dialogue, especially in education. How can communication and knowledge flow in both directions? We need activities and channels that engage schools, teachers, and social workers on a societal level. We need companies, manufacturers, retirees, and job seekers who develop topics, ask questions, and find possible answers alongside pupils. Collaboration with the industry, for example, cannot consist of merely sponsoring hardware and software purchases. Concrete projects for which pupils can work together with employees from IT companies are one possible approach.
Pupils can get to know their own talents and abilities. Regulatory requirements take a lot of time and energy from pupils and teachers. The orientation to an external standard partly impedes development. An incubation room can nurture and give specific qualification like physics, for example. At the same time, pupils require space to work autonomously. This can only happen if pupils start learning from the first grade on to work autonomously with self motivation. Indeed, we need an all-day school schedule with social workers that exists as social space where social problems that teachers cannot address can be tackled, so that a safe space and dependable mentors for all pupils are provided. A principal of a school in a socially disadvantaged area once said: "The school cannot sugarcoat the district." It is the task of the entire society. In which societal spheres are we living, and in which do we want to live? Which groups of society participate through concrete action concerning the education of the next generation? The influence of role models cannot be stressed enough.
In school, more and more importance will be given to learning how to autonomously develop new topics and handle new technologies. This will be possible with concrete topics that help impart the "how" in an illustrative way. Self-motivation and the ability to improve oneself is a critical point in education. I am explicitly not talking about self-optimization, but one's own inner motivation and attitude towards life.
A well-founded scientific way of thinking provides access to real life and an approach to problem solving. If we engage people and include other perspectives from different life and working conditions, through workshops, family universities, open laboratories, and collaborations with craftspeople and industry through presentations and discussions, we will be able to discover further answers.
We want to reach the citizens who are not intensively concerned with technological innovations. The STEAM Imaging project and the collaboration with artists is one contribution of responsible science communication. We want to create further forms of communication to bring society closer to the new technologies in health care. And of course we will continue to inspire people to learn about STEM topics! For researchers, participation can be a chance to gain even more clarity, purpose, and their own attitude towards their work topics. We want to further encourage discussion among researchers, whose opinions are based on differing expertise and experience. We want to continue to learn how to integrate dialogue and collaboration with the public in the continuous R&D process and to view society as a partner to help shape future research fields together.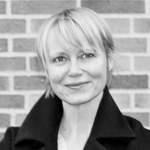 Bianka Hofmann inspires people about new ideas in science, research, and art and the possible impacts of future technology. To encourage people to engage with and create their own experiences, she focuses on innovative communication concepts. She is working at the Fraunhofer Institute for Medical Image Computing MEVIS, where she developed the institute's strategic press and media work and science communication and is now the Head of Corporate Communication. Before she worked at the University of Bremen on transferring new knowledge from the universities into schools. Prior to this she worked in various companies on the transfer of scientific research results into application-oriented concepts. During her studies, she investigated intra and inter specific communication and the evolution of cultural behaviour among Mammals. She undertook, together with colleagues, three field research missions on pilot whales. Their work contributed to the "Code of Conduct" near the Canary Islands where she was involved in environmental protection activities. In her studies in Biology and Religion Theories, she focused on symbolic and ritual-symbolic communication and the cognitive factors of communication in Mammals. She studied Comparative Religion and Biology and completed a qualification as communication coach at a private institute of psychology. Contact: bianka.hofmann@mevis.fraunhofer.de, Twitter: @jadeshiro
You are an artist and would like to participate in this artist-in-residency? Please contact us till February 2, 2017 at artandscience@aec.at.