Youngsters still have until March 13, 2017 to submit their projects and ideas for prize consideration in the Prix Ars Electronica's u19 – CREATE YOUR WORLD category. Among the awards are a Golden Nica statuette and €3,000. Additional info is online at ars.electronica.art/prix. In this interview, Sirikit Amann talks about the wide-ranging diversity of submissions in recent years.
You've been a juror every year since 1998. Tell us about some of the moments that stand out in your mind.
Sirikit Amann: There are moments every year—that give me pause for reflection, that make me chuckle, that are cause for amazement or, sometimes, simply make me shake my head. There's always a lineup of outstanding candidates to get shortlisted as the Top 30. But then again, sometimes there are works that really get to you but that just don't gain enough traction to make it into the Top 15.
In 2012, the Spanish class at a Viennese school submitted a cinematic lip-dub work entitled "Dorotea," a witty performance accompanied by music that the performers wrote themselves, a catchy sound that gets into your head and your legs and puts you in a happy mood. When I deliver a speech, I often take this work along with me so it can be seen and heard by everyone. This is yet another advantage of having been a juror for many years—some works resonate, they intrude into my consciousness and thus achieve, in one way or another, a sustainable presence.
Susanne Legerer, uterus=raum=universum

A work that received an Award of Distinction a few years ago went on to make its presence as well as its radiance felt again in a very different context. "uterus=raum=universum" later appeared in the INNENraum (2015) exhibition in Dornbach Parish Church, where it displayed a range that goes far beyond the submissions we generally receive. This illustrates how u19's concept, execution and claim to artistic excellence are able to deliver on the promise that was made back in 2008.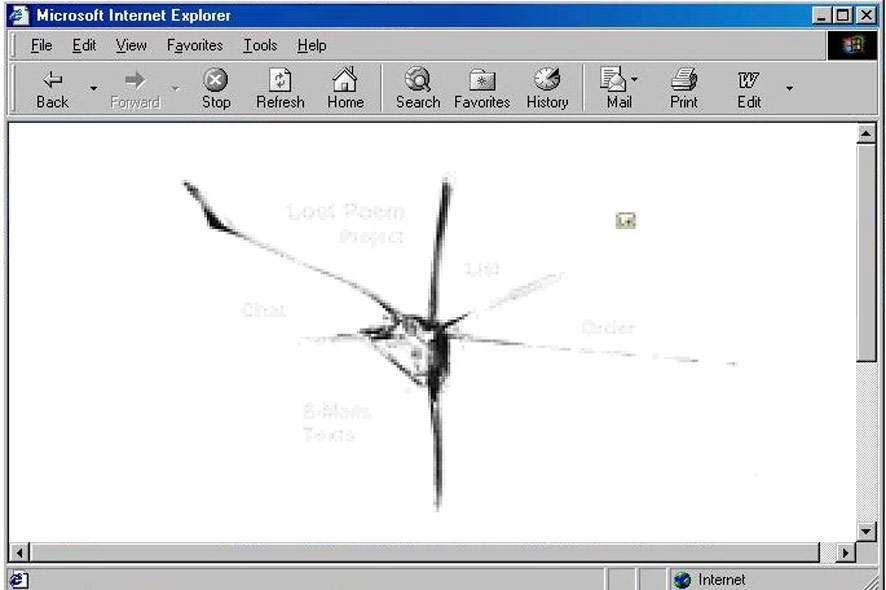 Doris Mätzler and Jürgen Bereuter, Lost Poem
There's a third work I'd like to mention. In the very first year of u19, we received a poetic, communicative and technically masterful work that anticipated much of what subsequently became state-of-the-art. The centerpiece was a piece of plate glass into which the "Lost Poem" had been engraved before the plate was smashed. There then formed a Web community whose members attempted to reassemble the shards, which had been measured and weighed and their silhouettes posted online. Almost 100 people communicated, discussed and jointly solved this jigsaw puzzle. And this was back in 1998!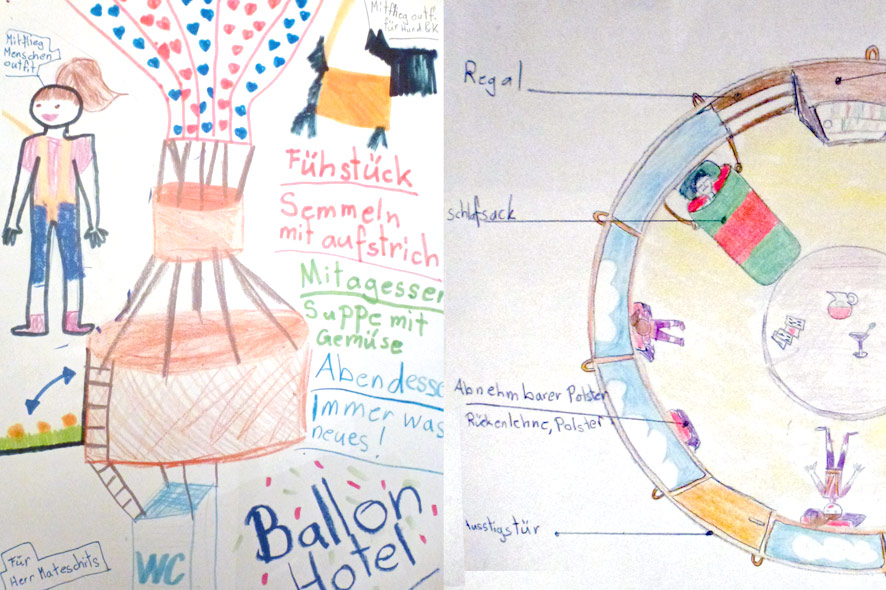 Lara-Marie Pascher, The Ballon Hotel
In 2014, a nine-year-old girl named Lara-Marie Pascher received the u10 Special Prize for her Ballon Hotel complete with a list of security precautions, daily meal plans for the pilots, a solar power plant and a fold-out dog run. Do you believe that as we get older, adults tend to lose a certain amount of creativity?
Sirikit Amann: No, I don't think that you lose creativity. Maybe it gets overlaid by considerations stemming from everyday life in the workplace, but once you've discovered the joys of experimentation and design, they stay with you. That's why I think it's so important to nurture this spirit of discovery on the part of young people, and for there to be a place where the results are displayed, rewarded and discussed. After all, what's the use of toiling away in a secluded room creating the most exquisitely crafted animation sequences or inventing the most fascinating robotic applications if nobody notices? That's precisely what makes u19 – CREATE YOUR WORLD so unique; it's a setting for young people to engage in exchange, to pass on their know-how—influenced by the open-source community, to be sure. Grown-ups are astounded by the world into which we are immersed here. And the Prix Ars Electronica's long-term archive conserves these works so they can serve as models and sources of inspiration for coming generations.
Susanne Legerer, uterus=raum=universum
In 2008, Susanne Legerer was the recipient of an Award of Distinction for "uterus=raum=universum," a project in which she drew parallels between an ultrasound image of the uterus and images of outer space. What themes is the younger generation addressing right now?
Sirikit Amann: There have been times in which particular topics predominated: the consequences of the Balkan War, 9/11, the Millennium bug, and then there were blockbusters like Titanic, Men in Black and the Pixar films, which were spin-offs of games in the early 1980s. This has changed dramatically in recent years. Now, the impulses tend to come from the indie scene and the imaginations of creative young people. Be that as it may, it's striking that members of today's young generation are giving a lot of thought to their ecological footprint and how the environment can be redesigned to suit humankind's needs.
But the point I especially want to make has less to do with prevalent topics than with the unfortunate fact that most of the submissions still come from young men. I want to encourage girls and young women to submit their work for prize consideration. Don't be shy, ladies! Let us partake of your thoughts, concepts, projects, objects, films, hardware and software.
Dominik Koller was singled out for recognition with a Golden Nica for his  "Visual:Drumset" three years ago. Since then, visitors to the Ars Electronica Center have been able to try their hands at percussion artistry using his kit, which has also been featured in a music video. Why, in your opinion, do kids and young people take part in the Prix Ars Electronica?
Sirikit Amann: I'm totally convinced that they do it precisely because it's the Prix Ars Electronica! The prizewinners that emerge from this competition receive digital culture's most prestigious honor, the equivalent of the Oscar in the film industry. The organizers recognized at a very early stage that young people had to be integrated into this if we were to make an impact in everyday life and in broad-based networks. Plus, keep in mind that during the Ars Electronica Festival, the u19 generation rubs shoulders with the pioneers and icons of digital art, up-and-coming young artists and established masters exhibit their works together, and that, if a youngster decides on a career path in the direction of art or technology, a top honor from u19 is a pretty impressive start to a résumé.
Following all these years of service on the jury, the countless entries (many of which can be relegated to: more of the same), the unexpected moments of astonishment and delight at beholding some new wrinkle, the lust to discover something new, the laughter brought on by the wit and the irony, I just want to say to everyone who's participated in the past as well as all those who'll do so in the future: You have enriched my life! Thanks you very much. I'm really looking forward to the 2017 entries!
Sirikit Amann (AT) has been a juror since the very inception of the u19 – CREATE YOUR WORLD category for youngsters under 19 years of age in Austria. She is currently director of cultural education at KulturKontakt Austria, , a non-profit organization that promotes education and culture in Austria as well as Eastern & Southeastern Europe. She had previously served as an expert advisor in artistic affair at the Austrian Federal Ministry of Education, Art and Culture and in the Office of the Federal Chancellor.