Ghalia Elsrakbi teaches in the Department of the Arts at the American University in Cairo, where she's also director of exhibitions at the Cairotronica Symposium for Electronics and New Media. In April, she'll be one of the expert jurors convening in Linz to select this year's Golden Nica prizewinner in the Hybrid Art category. We were interested to know about her conception of this genre, what trends she's become aware of lately, and whether media artists in the Near East take a different approach than their counterparts in Europe and the US, and Ghalia Elsrakbi recently took some time out to address these questions. And don't forget: there are only a few hours left 'til the 2017 Prix Ars Electronica entry deadline: March 13, 2017, 11:59 PM, Central European Time! For details, go to ars.electronica.art/prix!
What's your personal definition of Hybrid Art?
Ghalia Elsrakbi: Hybrid art is a very difficult term to define, I see it as a space where many disciplines intersect, where boundaries are challenged and as laboratory where artists experiment and apply new technologies into their artistic practices. Art has become a collaborative playground for scientists, journalists and activists where experimentation meets critical, progressive and artistic thinking.
Hybrid Art is also about transcending the boundaries between art and other fields. What role does art have in the year 2017?
Ghalia Elsrakbi: We are living in complex and uncertain times with big dilemmas to solve on different levels, culturally, socially, politically and environmentally. I always believed that art is a form of expression where men and women can reflect, criticize and explore new perspectives but more importantly nowadays is imagining new possibilities and scenarios for the future. I think we are beyond a belief in clarity, we are used to the fact that we are living in multiple realities and truths.
In this video, Ghalia Elsrakbi presents her project "Failed Futures and Extended Borders". Read more about that on foundland.info.
Do you see any trends in new media arts?
Ghalia Elsrakbi: It is again very difficult to spot one specific trend in hybrid art when it is in its nature to challenge and extend boundaries. Addressing challenging topics, reflecting on current issues and experimenting with new technologies has always been and will be the trend. Working on such complex topics requires collaboration where you need to share and develop communal knowledge.
You are teaching at the Arts department at the American University in Cairo – are there any characteristics in new media arts from Middle East compared to Europe or US?
Ghalia Elsrakbi: Artists in the Middle East, in my opinion, are similar in their approach to artists everywhere in the world. Their interest in new media and new technologies has increased after the political and social changes of 2011 and made people more aware of it's importance. The topics that artists in the Middle Eastern region are interested in are certainly related to their reality, history and the social political narratives that they operate from within.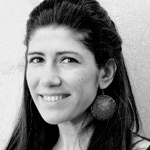 Ghalia Elsrakbi, Designer, researcher and educator. She completed a BA Graphic Design at Artez Hogeschool voor de Kunst, Arnhem, followed by a Masters in Design at the Sandberg Institute, Amsterdam. In 2009, she followed a research post-graduate at Jan van Eyck Academy in Maastricht and co-founded Foundland Collective; art and design practice based in Amsterdam. Her work aims to draw together disciplines of art, new media, graphic design, and writing. She has been involved in research, exhibition and projects with special focus on the Middle East. Since 2014 she teaches at the Arts department at the American University in Cairo and the exhibition director of Cairotronica; Symposium of Electronic and New Media arts in Cairo, Egypt. Ghalia is a Smithsonian fellow and Prix de Rome finalist (2016).