The third day of the 2017 Ars Electronica Festival was every bit as exciting as the two before: POSTCITY and the other eleven festival locations were just as full of events, artworks, conferences, and performances as ever.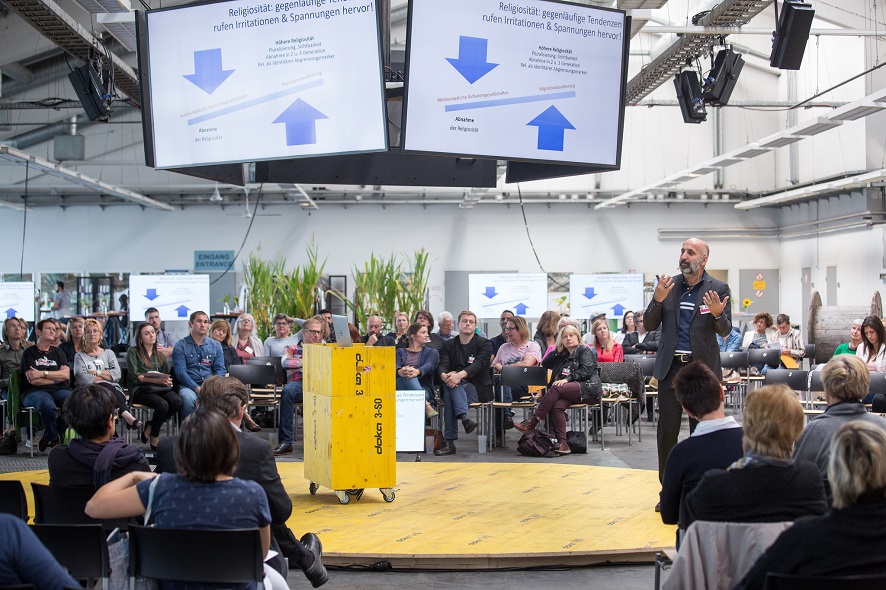 Kenan Güngör talks about integration at the Helper's Conference. Credit: Tom Mesic
The day started early, at nine o'clock, with the Helper's Conference by ZusammenHelfen in Oberösterreich (Helping Together in Upper Austria). In four different panels, experts discussed topics that are important to volunteers and helpers in the refugee crisis.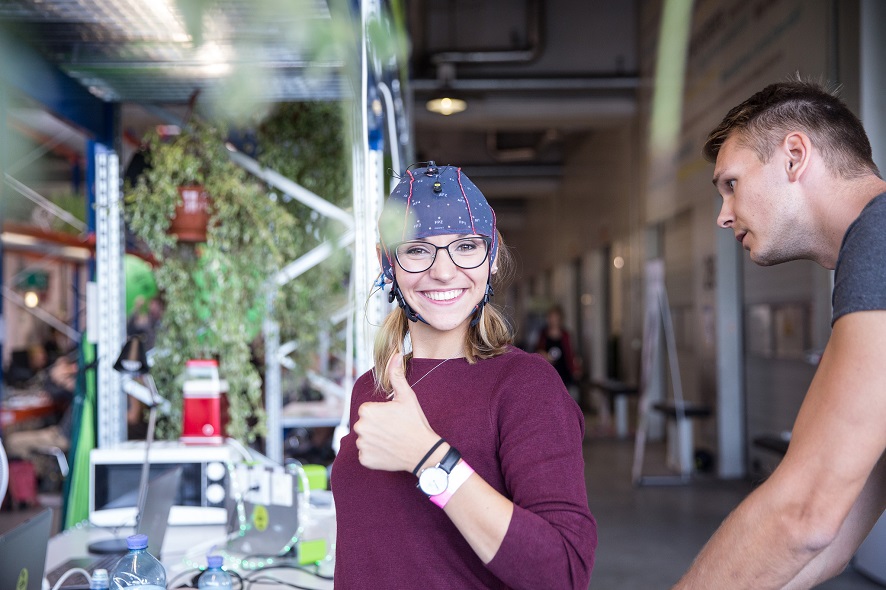 The BR41N.IO Hackathon. Credit: Tom Mesic
The participants of the BR41N.IO Hackathon got up just as early – or maybe they didn't get much sleep at all? The hackers and artists were given 24 hours, in which they could work on projects revolving around the topic of Brain Computer Interfaces. The three best projects in each category were awarded in the big ceremony at POSTCITY.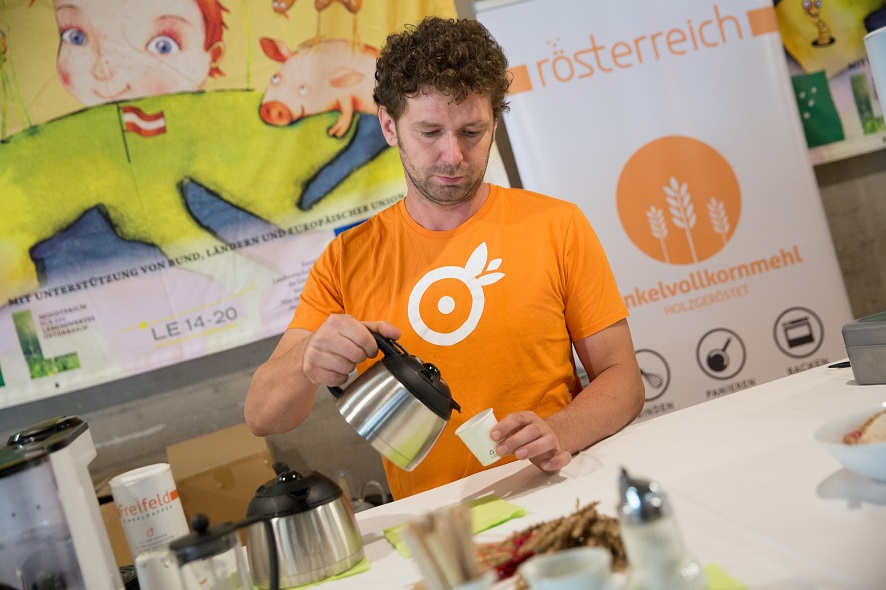 Organic coffee made out of grains – regional and yummy. Credit: Tom Mesic
Saturday's culinary wishes were fulfilled by BIO AUSTRIA, who organized a big organic farmer's market within  the old industrial halls at POSTCITY.
Credit: Tom Mesic
A couple of floors below, our brand-new Gallery Spaces attracted Art and Media fans alike. You can still visit this art market of media arts until Monday, September 11 – the first of its kind at Ars Electronica Festival.
Credit: Tom Mesic
The other festival locations were just as busy. The Anton Bruckner Privatuniversität (Anton Bruckner Private University) made their Sonic Saturday all about Sound Art and Computer Music…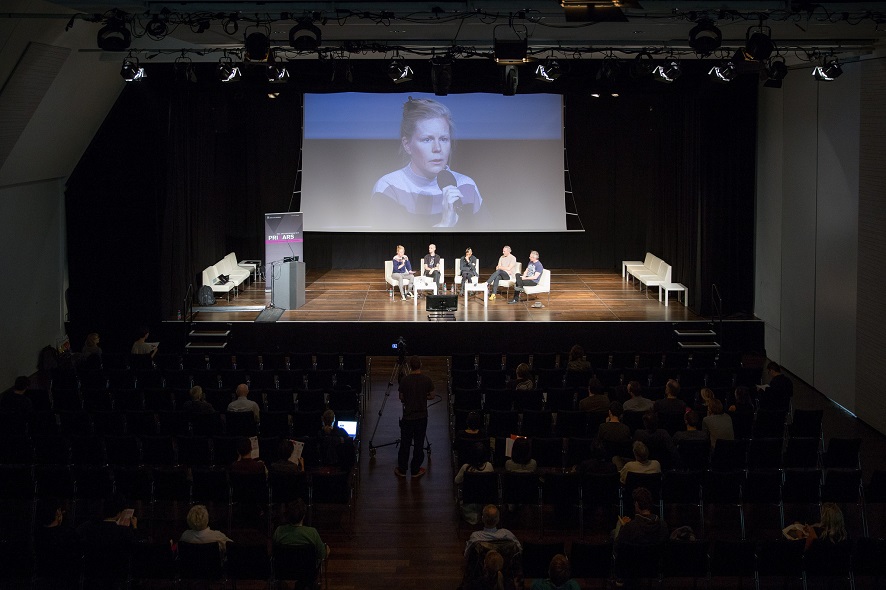 Rikke Frisk giving a talk at the Prix Forum in the category of Digitial Musics & Sound Art. Credit: Florian Voggeneder
…while OK Center for Contemporary Art presented the opportunity to get to know the winning projects at intensiv of Prix Ars Electronica and STARTS Prize better. The winners presented their works at the Prix and STARTS Forums and gave deeper insights into their artistic workings.
Credit: Tom Mesic
Right next to the Forums, visitors could have a look at the winning projects in real life – and even try some of them themselves. The CyberArts exhibition at OK shows the prizewinning works of Prix Ars Electronica until September 17, 2017.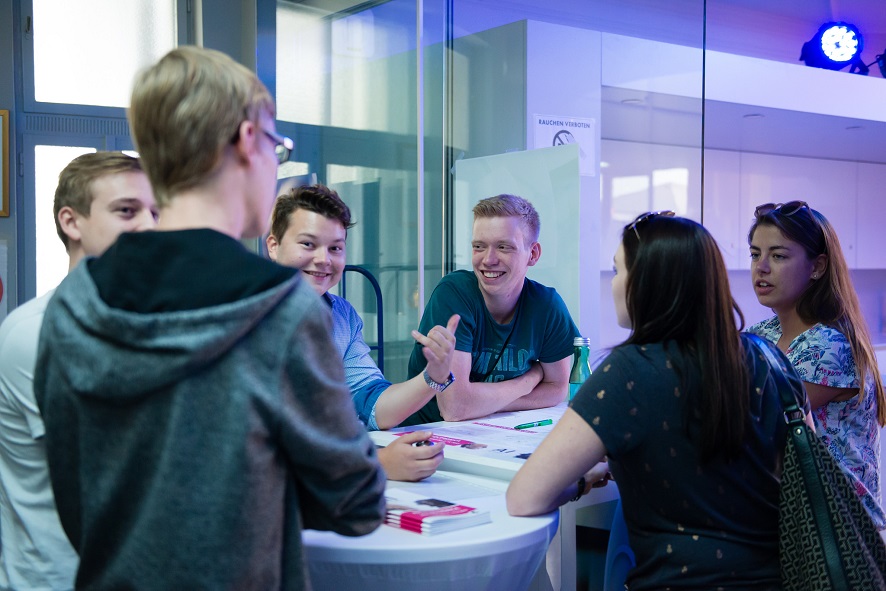 Credit: Sarah Thiery
The next festival highlight awaited visitors just one street over: The Ars Electronica Animation Festival. The symposium "Expanded Animation" discussed hybrid technologies in animation – every aspect, starting at the theory and including many examples of the practice, was covered at CENTRAL.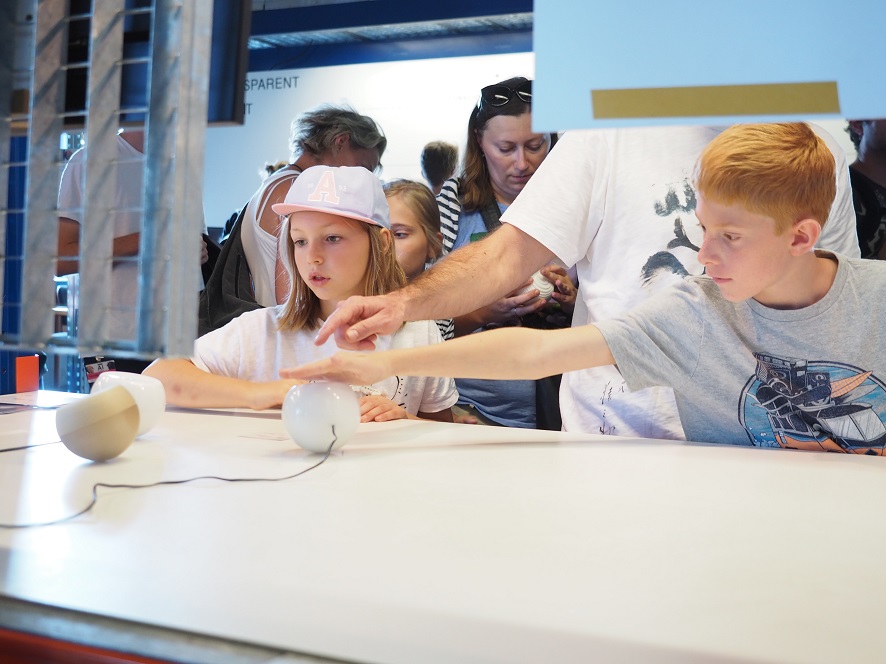 Credit: Martin Hieslmair
Families could discover a whole bunch of exciting projects, as well: Back at POSTCITY, you can see, touch, try, work on, and experience artworks and projects as much as you like.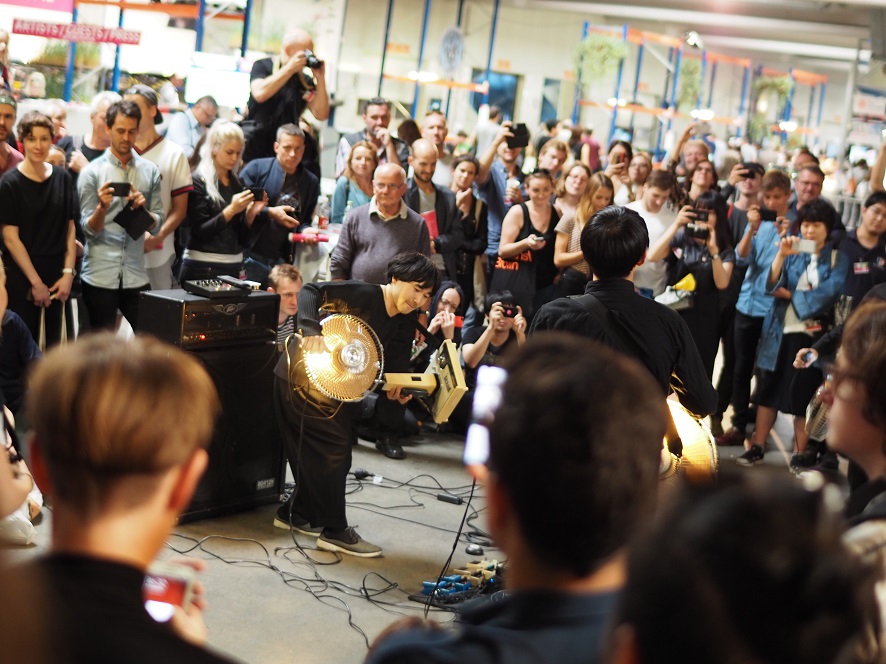 Credit: Martin Hieslmair
All day long, Ei Wada and his team performed with their altered fans throughout POSTCITY. It's hard to put into words how impressive the performance "Sempookin" really is, but the picture showing many fascinated visitors already says a lot.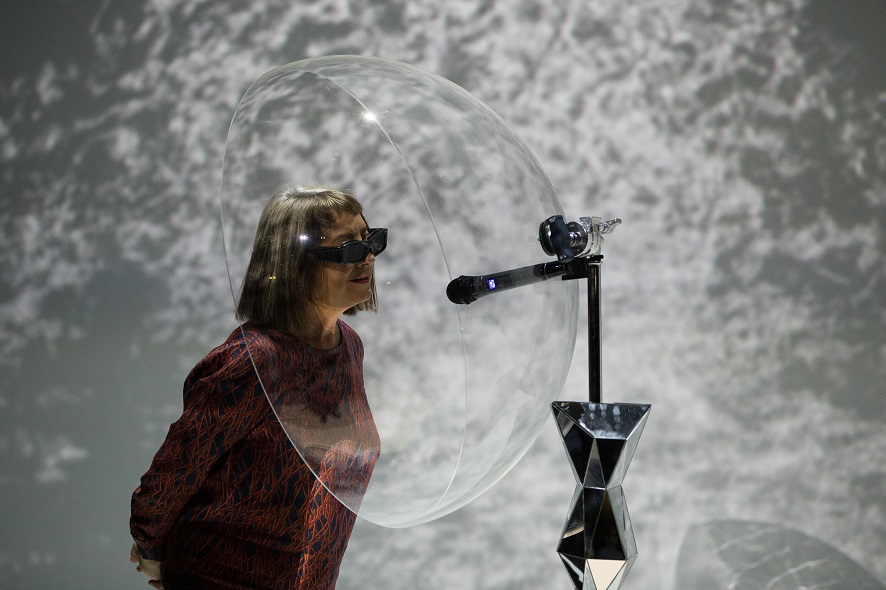 Imitating bird noises. Credit: Florian Voggeneder
Of course, it wouldn't be an Ars Electronica Festival without the Ars Electronica Center  – Deep Space 8K impresses with imersive visualizations and projections all day long. "Bird Song Diamond" asks visitors to imitate bird songs, which in turn will influence the behavior of flocks of birds on screen.
Credit: Florian Voggeneder
One of the artists of "Bird Song Diamond", professor Victoria Vesna, directs the Campus Exhibition of our partner university UCLA, "FEMINIST CLIMATE CHANGE: Beyond the Binary". In the panel about the exhibition, you could find out all about the presented works, women in media arts, and eco-feminism.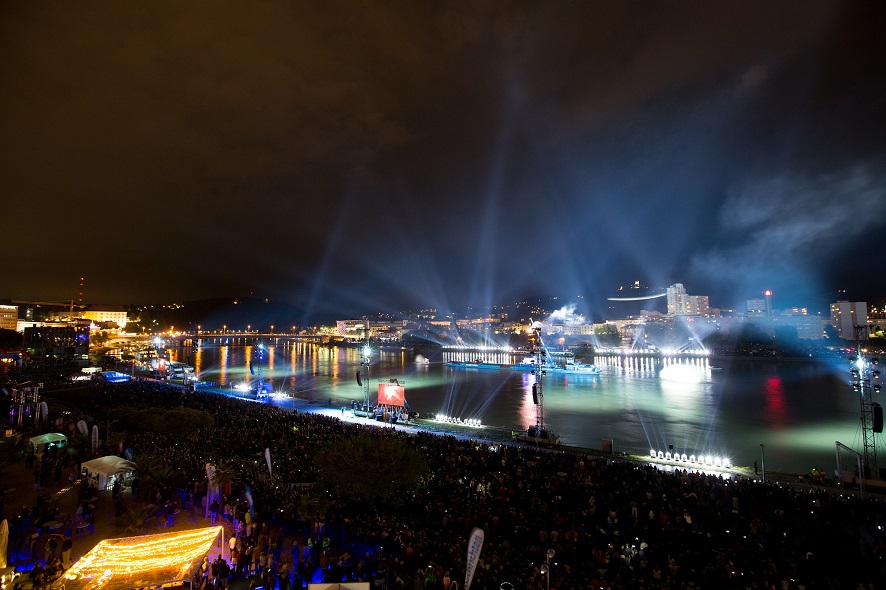 Credit: Tom Mesic
The evening program started with the long-standing tradition of Klangwolke. This year, the impressive spectacle recreated the story of "Moby Dick" – and as usual, it ended in breathtaking fireworks.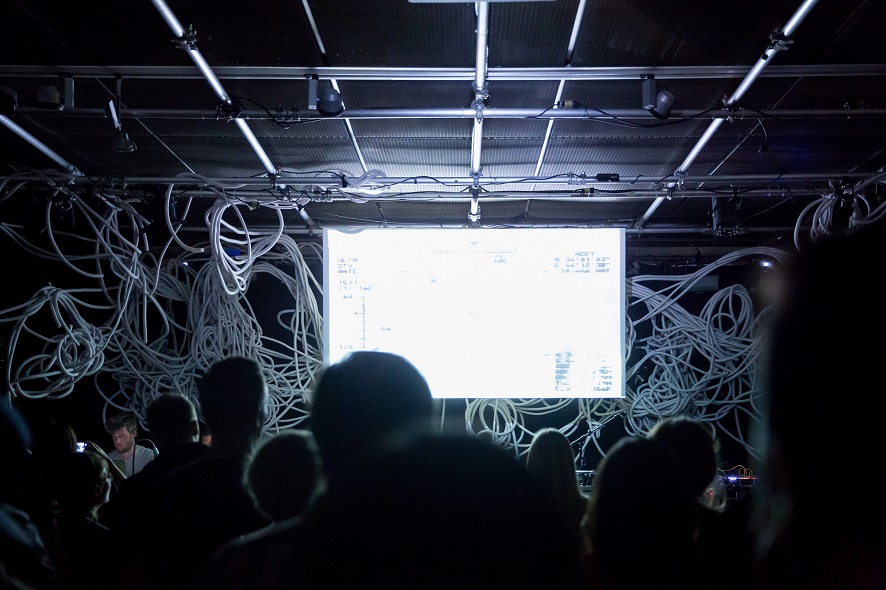 Credit: Tom Mesic
Night owls could move on over to OK Night after the evening's first event – here, you could dance, celebrate, and simply enjoy yourself until the next morning.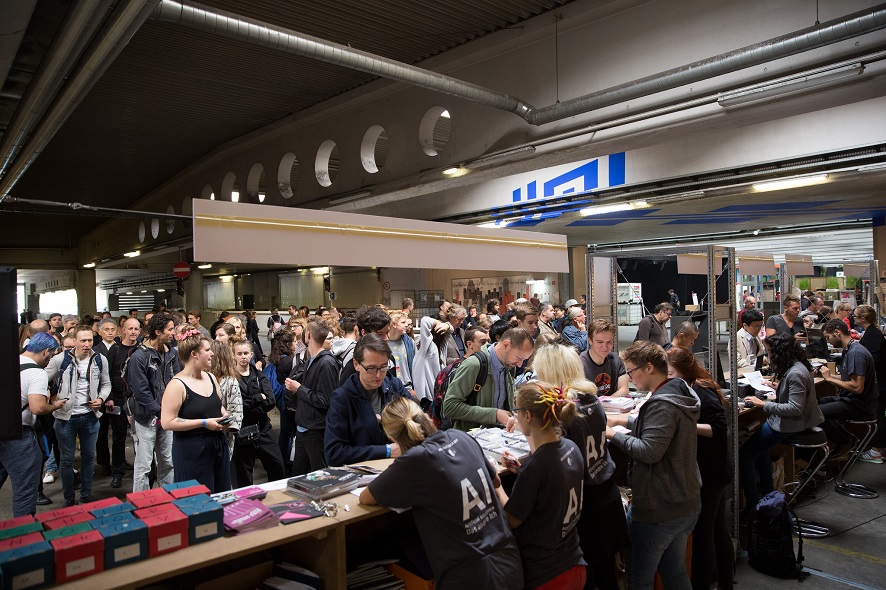 Credit: Tom Mesic
Today, we continue the festival! You can still come visit Ars Electronica Festival 2017 on Sunday and Monday. Find little daily sum-ups of day one (here) and day two (here) on our blog.
To learn more about the festival, follow us on Facebook, Twitter, Instagram et al., subscribe to our newsletter and visit our website at https://ars.electronica.art/ai/en/.