From Popping, Locking and Breaking all the way to Dancehall, Waacking and Voguing—urban dance covers a wide stylistic range. A sampling of these highly diverse dance forms awaits us at this year's Long Night of the Stages on November 11, 2017, when students in the Urban Dance Styles program at Anton Bruckner University and members of Linz's Urban Artists dance collective will display their terpsichorean artistry in a one-hour performance at the Ars Electronica Center.
In this interview, Markus Eggensperger, coordinator of the Urban Dance Styles program, gives us a bit of a foretaste of what's in store, explains why urban dance is no longer synonymous with street dance, and demonstrates that Hip-Hop & Co. can also be stage-based forms of expression.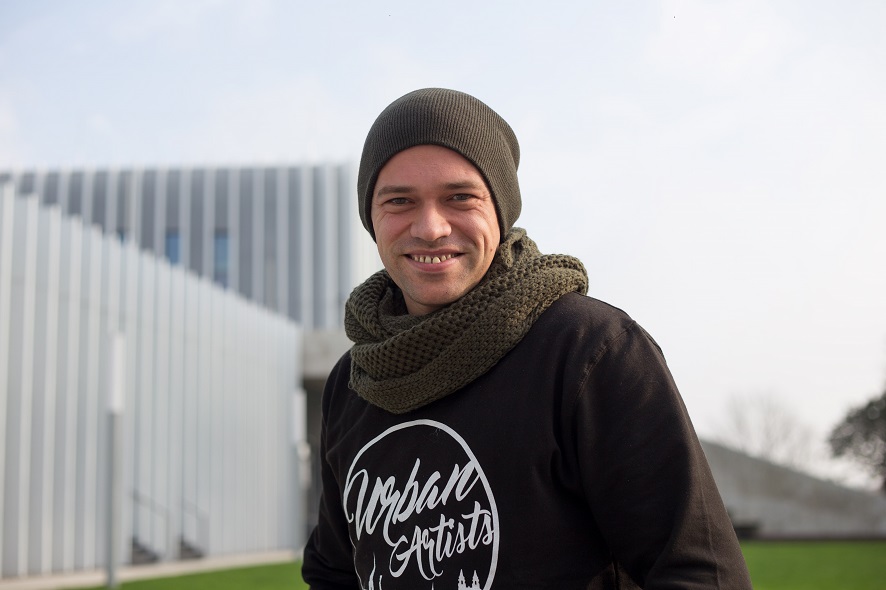 Markus Eggensperger. Credit: Vanessa Graf
Markus, let's start with the basics: what's the content of Anton Bruckner University's Urban Dance Styles program. And for that matter, what are urban dance styles?
Markus Eggensperger: This is a one-year extra-occupational course of study for which graduates receive a diploma. It was first established in 2016, so we're still only in the developmental phase, but our goal is that participants will be able to graduate from the program after two years as an academic trainer. Basically, the way it works now is that, once a month, students spend a weekend in Linz at Bruckner University and receive training in various areas.
So then—what are urban dance styles? It used to be that the term "street dance" was used, but a few years ago, we decided to coin the term "urban dance styles" and to establish it in German-speaking Europe. And we did this for a simple reason: When some people in this part of the world heard the name "street dance", they accused us of having no business on a stage and claimed that we belonged on the street. But this term has a completely different meaning in the US, where the word "street" in this context doesn't just refer to a paved urban thoroughfare; it's used like it is in the term streetwear, which is clothing that you can wear anywhere and not just on the street. So, we're using the term "street" in this sense—as a dance form that can be done anywhere: in clubs, in a dance studio, on stage, and on city sidewalks too.
What are the various dance styles subsumed by the term urban dance?
Markus Eggensperger: Here's a non-exhaustive enumeration: In our program, we deal with Breaking, the original dance form of Hip-Hop culture, as well as Hip-Hop Freestyle, with party dances, social dances, which are dance styles from New York. From Los Angeles, we have the dance forms Locking and Popping, and from Chicago, or Chicago and New York, there's House, which we also work with in our program. But there are a lot of other urban dance styles besides these—Waacking, which is from Los Angeles, Voguing, Dancehall from Jamaica, and there's Lite Feet, one of the newest styles from New York. But we don't spend much time covering these topics; our focus is on Breaking, Popping, Locking and House. And, of course, Hip-Hop Freestyle.
Why did you opt specifically for the word "urban" instead of "street"?
Markus Eggensperger: In the US, the cultural meaning of the word "urban" is basically exactly the opposite. My American colleagues consider the word pretty weird since what you might call the high society uses the term "urban" when they want to refer to street kids without using the word "street". It might seem funny, but it's just the opposite here! When I apply for cultural funding and I'm asked what I do, and I say "street dance", then the perplexed response is: Why do you even need cultural funding for that? And it's not just in Upper Austria; I've gotten the same reaction in other Austrian states and on the federal level too over the course of about 10 years now. When it's a matter of recognition, of funding, of quality, there are certain ideas associated with the term Hip-Hop—you're kids from the streets, you can't do anything! And with Street Dance, this association is similar—you say yourself that you do Street Dance; why do you want to stage this in a theater? The street is indeed an element of this, we do shows right on the street—for example, in recent years, we've taken part in the Pflasterspektakel—but that's often misunderstood. Our dance doesn't come from the street; it's just that it's sometimes presented there, just like other art forms. Our dance form comes from house parties—not in the sense of House as a musical genre, but rather from the fact that a lot of people got together at somebody's house and had a party. Our dance forms come from clubs in New Yorker, L.A. and Chicago. It's a fallacy to think that our dances developed on the street.
So, urban dance and theatrical stages aren't mutually exclusive.
Markus Eggensperger: Quite the contrary—stages are a presentation setting for our dance artistry and our various dance forms. And I'll even go so far as to say a very important setting because in big venues and on major stages, you can reach a different audience than you can on the street.
The word "urban" also appears in the name of the Urban Artists collective you're involved in. What's this all about?
Markus Eggensperger: Urban Artists is a Linz-based association that's a spinoff of Urban Dance Styles. All the members are associated with the university program—as lecturers, teachers, current students or alumni/alumnae. We stage a lot of events together with association members. For instance, in January we're holding "Show Your Skillz", a battle set in the LENTOS Art Museum, and our big April show is "Urban Art Session" in the OK Center for Contemporary Art. And there are lots of events, large and small, that we'll be staging in cooperation with Bruckner University and other cultural institutions in Upper Austria. One of our primary missions is exposing people to culture.
Tell us about some of the buzzwords found on your website: DJing, MCing, breaking and writing.
Markus Eggensperger: DJing, MCing, breaking and writing are the four basic elements of Hip-Hop culture. I'll explain them, because this is the easiest way to understand what Urban Artists does. We have beatboxers, we have MCs—the ones who host a battle, the moderators—and we have the ones who rap. MC stands for master of ceremonies, and DJ for disc jockey—this is pretty well-known, the person who operates the turntables. The word "breaking" is a substitute—in this case, it stands for all the dance forms in urban dance culture.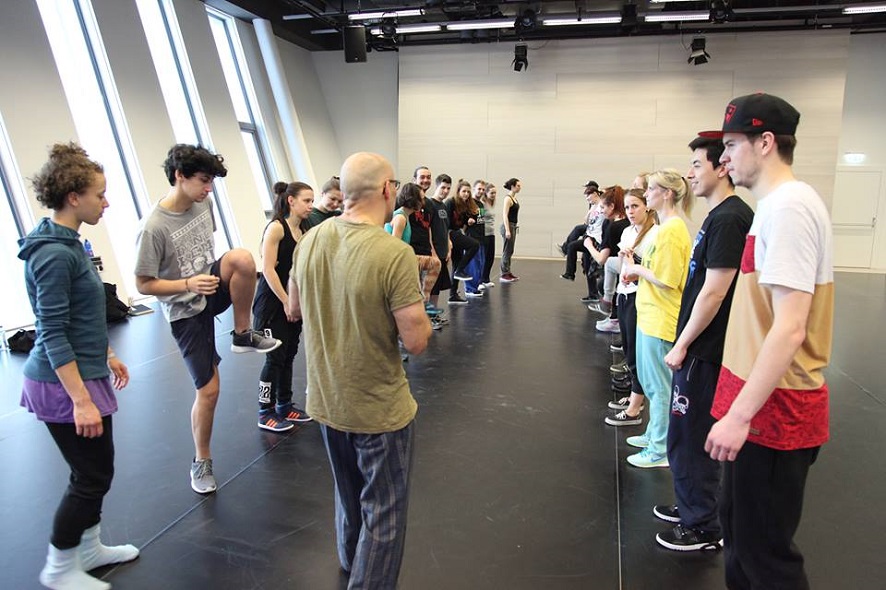 Credit: Markus Eggensperger
Markus Eggensperger: A fascinating, interesting, entertaining one-hour program with several small surprises. As you said, the performers will be members of Urban Artists and students in the program. We don't have an overarching cultural concept; it will be more like a revue made up of a series of numbers. So, it's not a unified, themed production, but there is a thread running through it. The lineup takes audience members on a one-hour tour of the world of urban dance forms, of urban culture. There are absolutely classic numbers in which a dance piece is presented in a brief form; and there we'll also be staging central jams, battles. There'll be an MC and a DJ. We'll present these various urban dance styles in several different forms. With respect to the origins of the term "hip-hop", there's one interpretation that maintains it stands for a cool party—that is, hip meaning cool and hop meaning party. And this is exactly what the members of the general public can look forward to. They won't just be spectators; they'll be part of the action.
What sort of preparations do you have to do for a performance like this?
Markus Eggensperger: Due to the fact that our students are dispersed throughout Austria, we've formed small groups that have been getting together in advance locally—a few are training together in Innsbruck, others in Vienna. We've collaboratively written a program and we'll have one last rehearsal on the Saturday before the performance. In fact, on the afternoon of the Long Night of the Stages, we'll have an open house at Bruckner University. So, anyone who's interested in watching our rehearsal and who'd like to know what our instruction looks like is invited to stop by the Dance Department beginning at 3 PM and watch us work.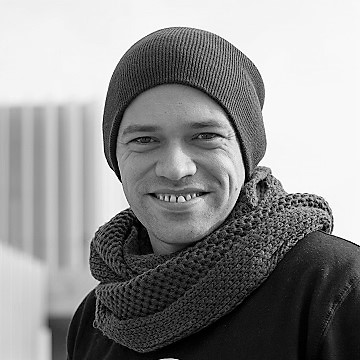 Markus Eggensperger is the coordinator of the Urban Dance Styles program at Anton Bruckner University in Linz, a lecturer at Johannes Kepler University and the State Teachers' Colleges of Upper Austria, Salzburg and Styria, the founder of the DANCEproject and the Urban Artists collective, and the artistic director of the Urban Dance Festival Austria. He has supervised numerous art & dance projects at youth clubs and schools, and gained extensive experience nurturing children and young people in this field. As a free-lance associate of various print media outlets, Markus Eggensperger regularly publishes on subjects having to do with teaching and dance (Helbling, Tanzschritt, et al.). His activities as a dancer (including work for Pussy Cat Dolls, Anastacia, Debby Harry, ORF, SF-DRS), teacher and choreographer (in Germany, Switzerland, etc.) have been major influences on his work. He is a multiple European and World Champion in Showdance (Tanzwerk Wels).
The Long Night of the Stages performance by the Urban Dance Styles program and Urban Artists is set for Saturday, November 11th at 10 PM in the Ars Electronica Center. Complete information about this and all other events on the lineup is available on the website of Die Lange Nacht der Bühnen 2017.
To learn more about Ars Electronica, follow us on Facebook, Twitter, Instagram et al., subscribe to our newsletter, and check us out online at https://ars.electronica.art/news/en/.