The new European Media Art Platform is offering several residencies for artists active in the media art genre who would like to spend two months working at one of the network's European partner institutions. The application deadline is January 20, 2018; details are available at call.emare.eu. The Werkleitz Zentrum für Medienkunst and Ars Electronica are two of the 11 partner institutions hosting these residencies. Here, Peter Zorn elaborates on the current open call, and Veronika Liebl sums up the activities of the European Digital Art and Science Network that has presented 381 artists from over 40 countries during the past few years.
The European Media Art Platform has developed into very extensive residency network for up-and-coming media artists. What in your opinion makes a residency like this so fascinating for artists?
Peter Zorn: The special appeal of residencies certainly lies in intercultural exchange. Particularly in conjunction with the European Media Artists in Residence Exchange (EMARE) grants awarded by the European Media Art Platform, the artist has the opportunity to spend the residency in another European partner country, where s/he engages in a process of exchange with the host institution's staff and receives help from them and members of their local network in bringing a work of art to fruition. And, in doing so, one gets acquainted with another European culture—en passant, as it were. In numerous instances, the participating artists have also held workshops for regional artists and students, and collaborated with other organizations on site. At the end of the residency, the completed work is showcased by the host institution. So, this is a way to open up new markets, line up partners for future joint ventures, acquire new skills at the host institution and take advantage of its technical infrastructure.
Whom does current open call target? Which residencies are being awarded in 2018? And who ultimately decides who gets a residency?
Peter Zorn: The call is directed first and foremost at emerging artists—that is, up-and-coming talents. But that doesn't mean that the applicants necessarily have to be young or beginners. Quite the contrary—we're seeking professional artists whose careers we can accompany and nurture in this phase in which they're not yet stars of the art scene.
Ars Electronica is a partner of the European Media Art Platform. How did this relationship take shape?
Veronika Liebl: We've been working for years on our Ars Electronica Residency Program in conjunction with the Ars Electronica Futurelab, which has made a name for itself worldwide in its fields of particular expertise such as virtual environments, robotics and media creativity. Moreover, it is, of course, extremely important for us to keep on the lookout for interesting possibilities for collaboration. In recent years, artistic cooperation with a wide variety of project partners from all over the world has been one of the key driving forces of the Festival. So, these were two of the main reasons why Peter and I met up in early 2017 during the CTM Festival in Berlin and jointly considered the concrete terms of cooperation between our two institutions.
Peter Zorn: Back in the late 1990s, Ars already organized a conference on the European Media Artists in Residence Exchange that had been launched in 1995 by Werkleitz, Hull Time Based Arts and the Intermedia Department of the Hungarian University of Fine Arts in Budapest, and has entered into varying partnerships ever since. When I, as manager of the predecessor organization, the European Media Art Network, read the call for applications to join the European Platform, it was immediately clear to me that Ars had to be one of the 10 partners, and I met with Veronika during the transmediale in Berlin in February to discuss Ars' membership in the planned European Media Art Platform. And it was wonderful that Ars agreed on the spot, and a couple of months later we got a commitment from Creative Europe too. This has enabled us to span a network throughout Europe that includes several of the most important institutions for digital art.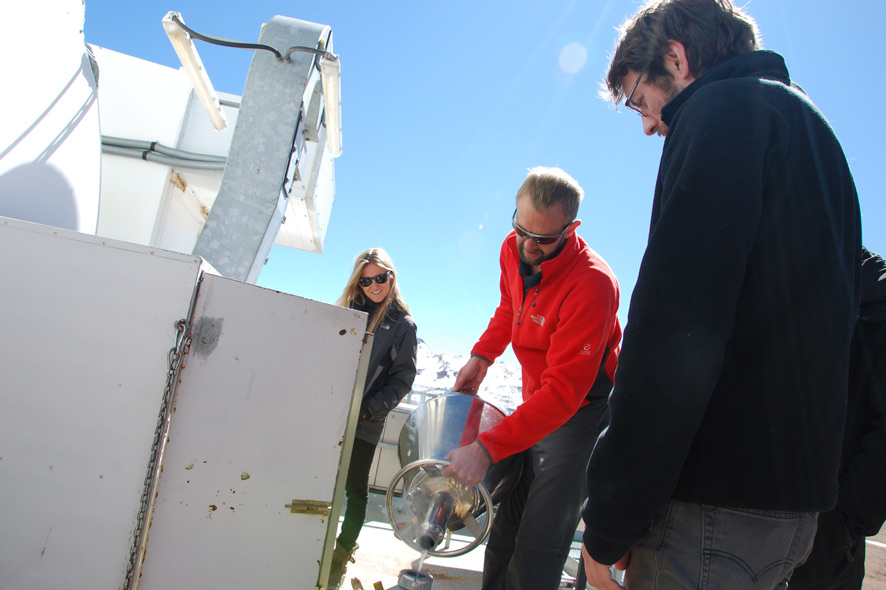 María Ignacia Edwards at her ESO- residency in Chile. Credit: Claudia Schnugg
The European Digital Art and Science Network that includes Ars Electronica and other artistic & cultural facilities has, since 2015, offered numerous artists the opportunity to spend a residency at one of several different scientific institutions. Did everything proceed just as you envisioned it at the outset? What's the bottom line of the network's activities?
Veronika Liebl: Right. Over the last three years, we've offered residencies on a regular basis together with seven other European cultural partners. Nine artists—six women and three men—got a chance to spend a scientific residency at the European Southern Observatory, the European Space Agency, CERN or Fraunhofer MEVIS, followed by a production residency at the Ars Electronica Futurelab. The residencies were a tremendous success, and every single one was, in turn, an important building block in the process of learning how to design such a program. And we're currently working together with several scientific partners to assess the benefits that have accrued to them and to distill insights with respect to the methods used. We've also seen that there's huge demand for precisely such residency formats as well as for workshops and educational programs on various levels. And even beyond the residencies, the European Digital Art and Science Network has achieved great things—so here I'd like to express sincere thanks to all the partners. In terms of the impressive facts & figures: we've presented 381 artists from 40+ countries in 110 individual activities.
The recently published book "The Practice of Art & Science" cites practical examples to elaborates on the interplay of art and science. What do artists and scientists have to say about their (new) encounters in the context of these residencies?
Veronika Liebl: In this publication, many participating artists and scientists report in concrete terms about what they experienced in conjunction with these forms of cooperation. The interviews conducted with them quickly make it clear that all protagonists first developed a shared culture of cooperation and then had to adapt it in accordance with the actual residency process. Thus, this publication provides insights into highly diverse, concrete experiences and success stories that played out in conjunction with these residencies. But they also shed light on the big picture of art & science: It will take creative new approaches to master many of the social, ecological and economic challenges of our time. The inclusion in essential innovation processes of creative people working in artistic genres and cultural fields will not only make art accessible to broader segments of the populace; it will also open up new areas of activity for artists, and provide business and science with new approaches to increasing their competitiveness. An essential factor in this is digitization.
"Great insight, reflection and applied creativity are often ascribed to artists, and these are qualities that, in addition to technological and scientific progress, will be necessary to succeed in an age of digital technologies. "
Cultural projects like the European Digital Art and Science Network illuminate art's role as a catalyst of social renewal processes and do so in a way that is attractive for exhibition visitors. This quickly becomes clear when you browse through the book!
NOTE: "The Practice of Art & Science" recently published by Hatje Cantz Verlag can be purchased online or browsed online at the Ars Electronica Archive.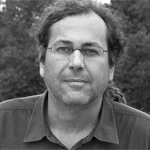 Peter Zorn was born in 1967 in Traunstein, Germany; 1990-95, studied at HBK–Braunschweig University of Art (free art in the film class under Prof. Birgit Hein); co-founder of the Werkleitz Society and, since its inception, member of its board of directors, as well as a member of the executive committee of the Werkleitz Biennale / Werkleitz Festival; 1995, initiator and, since then, manager of the European Media Artists in Residence Exchange (EMARE) program of the European Media Art Networks (EMAN); since 2011, head of the Werkleitz Professional Media Master Class; lives in Werkleitz und Halle (Saale), where he works as a free-lance filmmaker, producer, curator and media scholar (among other positions, consultant on media art to the Goethe Institute).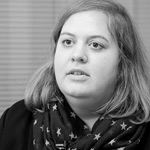 Veronika Liebl is currently Director of Organization and Finance at the department Festival/Prix/Exhibitions of Ars Electronica. She studied economic and business science at Johannes Kepler University in Linz (graduated in 2010) with study visits at the Harvard University (US) and Université de Fribourg (CH). Since 2013 she is enrolled in the Master of Business Administration program for Innovation Management at LIMAK Linz – Austrian Business School. After finishing her studies she was engaged in various commercial employments, amongst others for the Austrian Economic Chamber. Since 2011 she is in charge of cultural management for the department Festival/Prix/Exhibitions at Ars Electronica Linz GmbH. In this capacity she is responsible for finances, human resources, public funding, internal operations and project management. Recently, she is mainly in control of all European collaboration projects under Creative Europe, Horizon 2020 and Erasmus+ and executed in this position – together with her team – numerous EU projects both as project coordinator as well as partner.