A blouse that morphs into a dress, a robot that models clothes, gigapixel images & 3-D videos of innovative materials, and a live fashion show top the colorful lineup on tap at Ars Electronica's Deep Space November 23rd at a showcase of work being done by students enrolled in Linz Art University Fashion & Technology program. The spotlight will be on not-your-everyday modes of presentation and novel textiles, fashion model diversity and sustainable production in the fashion industry.
And the name of the show, DE/MATERIALIZE, is also the theme of other events on the program: the premiere of new exhibits at the Ars Electronica Center and a presentation of VR applications that blur the borders between virtual and analog realms.
In this interview, Ute Ploier, fashion designer and director of the Fashion & Technology program at Linz Art University, gave us a preview of the show.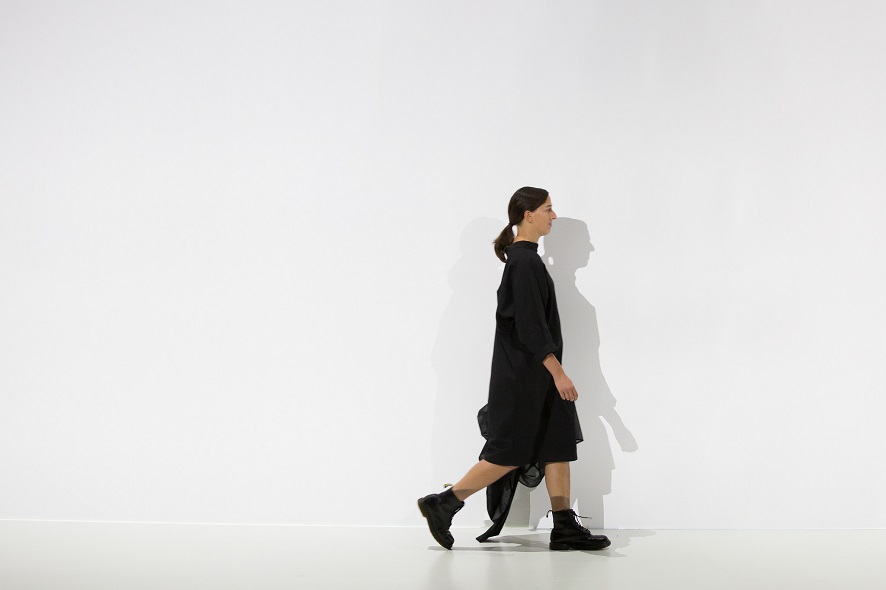 Credit: Florian Voggeneder
Ute Ploier: The way we see it, the fashion system—the way it operates at the moment—will soon run up against it limits. Just consider the phenomenon of fast fashion, which has doubled the output of the fashion industry since 2000; consider the incredible qualities of fabrics, energy and human resources that have gone into this. You can plainly see that cracks are developing in every single facet of this system. So this is why we in Linz made a conscious decision to conceive a program of study that offers an alternative to conventional fashion education. And the idea in the back of our minds was that Linz isn't a fashion capital, so we need to develop something very special to get people to come to us. Experience shows that that's precisely what they're doing—we currently have around 50 students from 13 countries including Argentina, Russia, England, Hungary, Rumania, Spain and Portugal, which is really excellent international diversity for a bachelor's program. We're proving that technology, when it's used correctly and cleverly, can be a tool that makes fashion more sustainable, one with which fashion can be rethought, produced in a new way, and also presented in a new way.
Most people associate the combination of fashion and technology with blinking T-shirts, but that's exactly what we don't mean! For us, the concept of technology encompasses everything from old, conventional technologies that have developed over time in the fashion industry all the way to high-tech. In this course of study, we make an effort to examine the entire arc and to convey this to students so that they can then establish connections between traditional and modern technologies.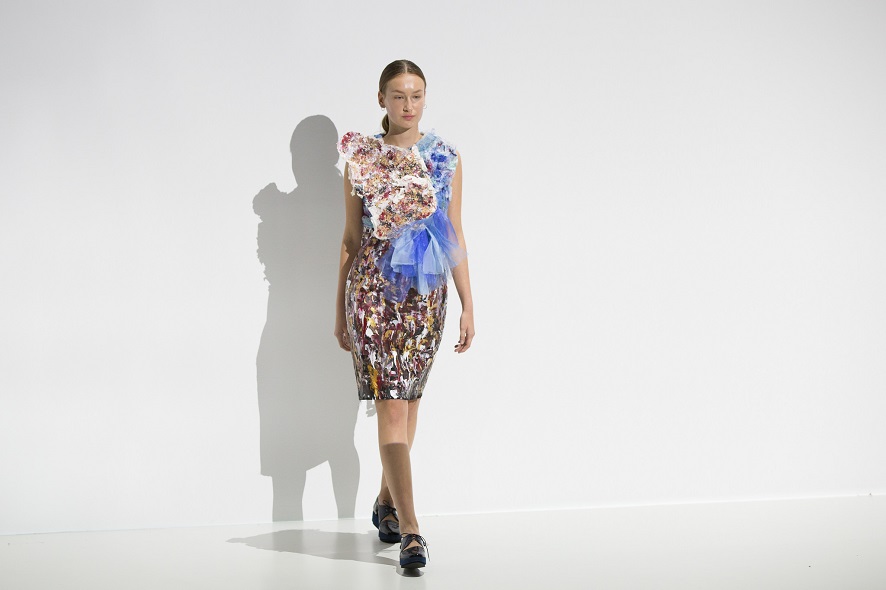 Credit: Florian Voggeneder
What are examples of these technologies?
Ute Ploier: An example of a traditional technology is blueprinting, which is still in use—for example, one of the last blueprinting establishments is located in the Mühlviertel region north of Linz. This is a centuries-old printing process, which is to say actually a dyeing process. The first step is to impress wax onto fabric, and then an indigo solution is applied over it. The beautiful thing about this dyeing process is that the color bath lasts forever. You just have to remove the sediments every now and then. So this is a sustainable, eco-friendly dyeing technique. The fashion industry is now the second-worst contributor to environmental pollution, and a major part of this is attributable to dyeing processes in which lots of chemicals and pollutants are released into the environment. Blueprinting is an example of a traditional technology that it pays to take a closer look at it as to whether it can be updated. Loden jackets are a similar case—in tests conducted in the Tyrolean Alps to measure how comfortable they are to wear and how well they insulate and keep out moisture, they outperformed modern down jackets or high-tech parkas. So, we're actually looking at a whole treasure-trove of technologies developed here in Austria, in this very region. But on the other side of the spectrum, we're also considering leading-edge technologies like 3-D printing and 3-D knitting. Our collaboration with an Upper Austrian company named Kobleder in the field of 3-D knitting is an outstanding example of a sustainable technology whereby a garment is knitted three-dimensionally, so to speak, and emerges from the machine in a finished state. There's no waste product; there's a minimal carbon footprint because we use European—ideally, certified sustainable—yarns; and we bring the production process back into this region.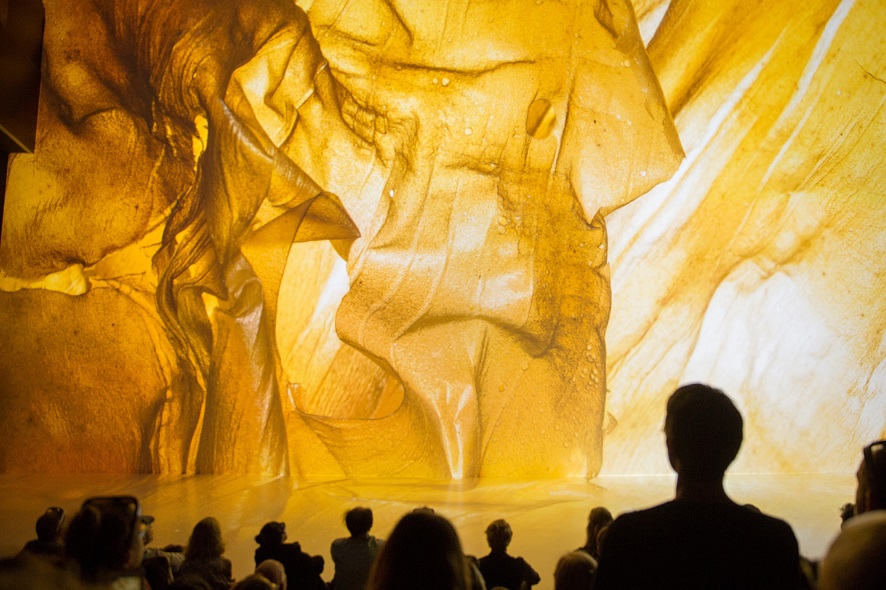 Credit: Florian Voggeneder
So, DE/MATERIALIZE is a showcase of outstanding work by students in your program, and thus best-case examples of the working methods you've just mentioned.
Ute Ploier: Exactly. It's actually a multimedia performance made up of three parts. The first consists of gigapixel photographs—that is, extremely high-resolution close-up images—of structures that our students created. For instance, you'll see the bio-plastic that Aaron Keller produced from natural ingredients. Ursula Vogel designed a self-growing garment that comes from a desert plant that lives atop rock or in sand, so it's not rooted in the earth; it has aerial roots. And its fibers have a very pleasant feel for the wearer. Our bachelor's degree program is for experimentation; it's a sort of proving ground. We say: Think beyond the set of rules that pervades fashion; stick out your feelers; develop your own materials! How can you reconceptualize fashion; what else could it be? Naturally, these are experiments and not finished products, but it's important to us to expand and break down these boundaries, to really try to come up with sustainable fashion alternatives because we believe it's high time to do this!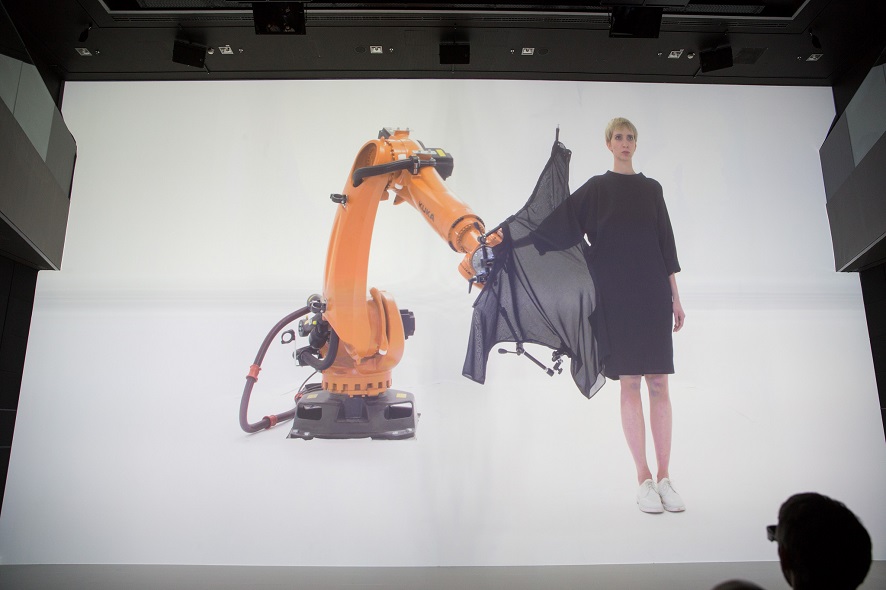 Credit: Florian Voggeneder
And the ultimate outcome is a totally new way dealing with materials?
Ute Ploier: But also with design processes! When a technology is deployed in a design process, the upshot just might be forms and structures that you simply couldn't come up with on your own—keyword: generative design.
And that also goes for our presentation, which was intentionally conceived to differ from a classic fashion show. We take a different approach to fashion, so our presentation should manifest that. Like I said, Part I consists of gigapixel photos. In Part II, we screen 3-D videos we shot in the Robot Lab. The robot does the modeling and is simultaneously the cameraman. The question we pose here is: What is a body? How does a body have to look? The world of fashion is often characterized by strong tendencies towards an anomalous idealization, and we deal with this intensively in our program of study. In other words, we look into alternatives and ask what alternative aesthetic concepts could be like? The ideal of beauty that is so widely propagated in advertising and the media exerts a tremendous amount of pressure and can also lead to huge problems. In my opinion, this has to be critically questioned, and we'd very much like to impress this upon our students. The last part of the presentation is a live performance in which the 10 outfits in the gigapixel photos and videos are shown on live models. We're featuring a mix of agency models and street-casting models, young people, old people from various backgrounds, to thus reflect a broad spectrum of our society.
Credit: Florian Voggeneder
The text of your release says "presented by material and immaterial bodies". What's that mean?
Ute Ploier: Material bodies are, for example, the models. As for immaterial bodies—we have some garments that we've staged with Magic Arms. That means that there's no body inside it; instead, the body can be surmised—the article of clothing itself makes out the body. For instance, there's a scene in the video in which you see a white kimono studded with magnets. The robot conducts the kimono into the audience and, due to the fact that it's three-dimensional and unfurled in a highly plastic way, the spectators can make out the contours of the immaterial body even though there's nothing inside the kimono. We shift back and forth between analog and digital, between real and virtual; it's a journey among diverse worlds and a process of blurring the boundaries delineating them.
What possibilities, in your opinion, will technological progress open up in the world of fashion? What does the future of fashion look like?
Ute Ploier: For me, precisely this is the most fascinating aspect of fashion. I've worked in this industry for over 20 years now, and I'm at the point at which I'm strongly calling into question whether it makes sense to continue doing fashion the way it's done nowadays. These considerations are strongly reflected in the program we've put together for our students. I believe that a tremendous number of doors are opening up in the fashion industry and for our students too. Our program offers very unique training, and we're getting positive feedback. For example, our fourth semester students have to do an internship, and we were really interested to see what sort of positions they would be offered. And it turned out to be a very interesting, diversified mix, from small independent labels to big firms, all of them of very high quality. And I believe that one of the reasons for this was that these firms recognized this innovative approach to fashion in the students' portfolios.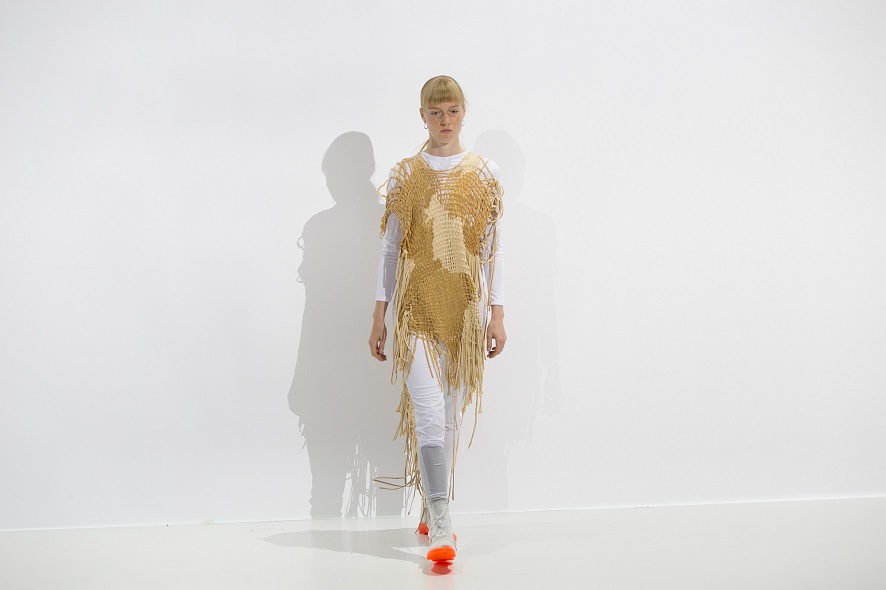 Credit: Florian Voggeneder 
So, is this really something that can be observed on all levels?
Ute Ploier: Definitely. But of course it's more difficult in large companies, where it takes longer until the reorientation process is complete. In the textile value-added chain, this starts with the fiber manufacturer—if their mode of production isn't sustainable, then the finished product can't be either. And it's going to take a while until the giant fiber manufacturers have converted their production chain, but you can see that this is already underway. For example, Lenzing, a company we work with and that has provided support for this show, has developed a way to produce silk from wood. You can see that a lot of R&D is being done, that progress is picking up speed, that there's widespread optimism. Really pervasive sustainable production is still a long way off in the future, but at least you get the feeling that things are happening. Here, technology can be a good catalyst.
Ute Ploier studied fashion design at Central Saint Martins University in London and the University of Applied Arts in Vienna under Raf Simons, Viktor & Rolf and JC de Castelbajac. Her collections have been honored with numerous prizes including Prix Hommes for the best men's collection at the renowned Festival d'Hyères for fashion and photography in France. She was also a finalist at the prestigious Swiss Textile Awards in Zürich. Among the publications that have featured her work are i-D Magazine and the New York Times Magazine. In addition to her own line, Ute Ploier has worked with such clients as La Redoute and Topman. She is the director of the Fashion & Technology degree program at Linz Art University. Ute Ploier lives and works in Vienna.
Deep Space at the Ars Electronica Center will host DE/MATERIALIZE, a showcase of work by students in Linz Art University's Fashion & Technology program, on November 23, 2017. The evening's lineup also includes the premiere of the Ars Electronica Center's newest exhibits. Complete information about this event is available on our website.
To learn more about Ars Electronica, follow us on Facebook, Twitter, Instagram et al., subscribe to our newsletter, and check us out online at https://ars.electronica.art/news/en/.