Our get-together with the Krmpf Krmpf Studio team—Alexander Niederklapfer, Ehrentraud Hager, David & Magdalena Wurm and Liesa-Marie Wondrascheck—was actually a reunion with old acquaintances. In 2006, the Prix Ars Electronica honored their short film entitled "Abenteuer-Arbeitsweg" [Workday Adventure] with the Golden Nica in the u19 – CREATE YOUR WORLD category—or u19 – Freestyle Computing, as it was called at the time. Now, 12 years later, they're presenting their latest work, "merk|würdig" [Remarkable] on January 13, 2018 at 6 PM at the Hollywood Megaplex in Pasching near Linz. This film's most remarkable technical feature is stereo narrativity, which utilizes 3-D cinema technology to simultaneous display two different versions of the plot in the same movie theater. Which perspective each individual spectator sees depends on which glasses s/he happens to be wearing. They don't get the whole story until the post-screening discussion among the spectators about what they've just witnessed.
How did you discover this stereo narrativity technique and what's it all about?
Alexander Niederklapfer: It began seven years ago while brainstorming our "verwohnt" [Spoiled] project. We were speculating about what it would be like if there were two different versions of a film, and which one of them would be screened in the cinema on that particular day was decided by lot. The fascinating thing about it would be that people who then discussed the film with others who had already seen it would then establish that everyone hadn't seen the same movie and there were obviously different versions of it. Now, the reason why moviegoers can see a film in 3-D is that they wear glasses that make it possible to project a different image to the left and right eye—thus, they see it in stereoscope. And from here, it's just a small conceptual leap to ask: What if, instead of showing two different images to each spectator, the entire audience is divided in half, and each subgroup sees the same narrative from a different point of view? So, we don't divide the image, but rather the whole plot into two perspectives—i.e. stereo narrativity. And such a film can't simply be viewed in "only" 2-D; you have to experience it collectively in order to then participate in a discussion with the other half of the audience to find out about the parts of the narrative that one's own group missed. And that can only happen in a cinema. So the 3-D technology that is often just an extra added visual attraction in many films nowadays is thus an essential component of this film's concept.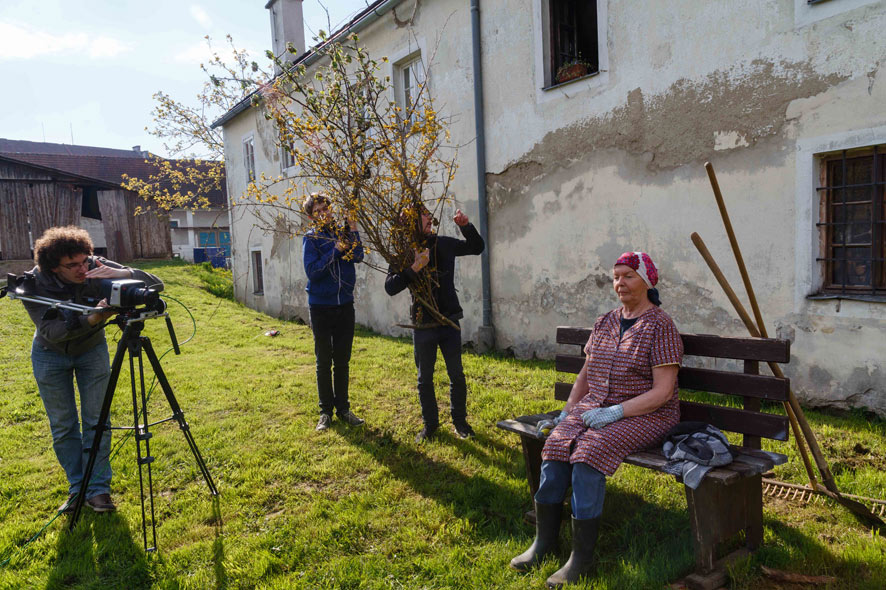 Credit: Krmpf Krmpf Studios
What hurdles did you face in making this film and how did you overcome them?
David Wurm: The very first obstacle was the screenplay for this format. In both video sequences, there was total creative freedom to show different images, but the audience members had to hear the same soundtrack. Thus, every sound, every line of dialog had to fit into both visual perspectives. We developed several concepts for this. But even with the finished script, shooting the actual film wasn't easy, since every change, no matter how minute, had an impact on the corresponding shot in the other perspective. And this difficulty continued throughout the entire film production process. Every step of the way, consideration always had to be given to the so-called stereo narrative.
"merk|würdig" is about an elderly woman with dementia who doesn't recognize her granddaughter anymore. What led you to decide on this theme?
Alexander Niederklapfer: Even if there was no specific incident on which this film is based, several members of the crew have been confronted with this situation. And in giving some thought to the issue, we realized that this story would be very well suited to telling as a stereo narrative. This film could be shot from the perspective of the family members, and it could also show the inner world inhabited by a person with dementia. We approached this topic with the idea that the actions, dialog and thoughts of the demented person would, in her own world, be logical and coherent. Thus, the way such people perceive what's happening around them doesn't correspond to the reality as we family members see it. So, this film is a matter of showing two different perspectives of the very same events. And with stereo narrativity, we've developed the perfect format for this.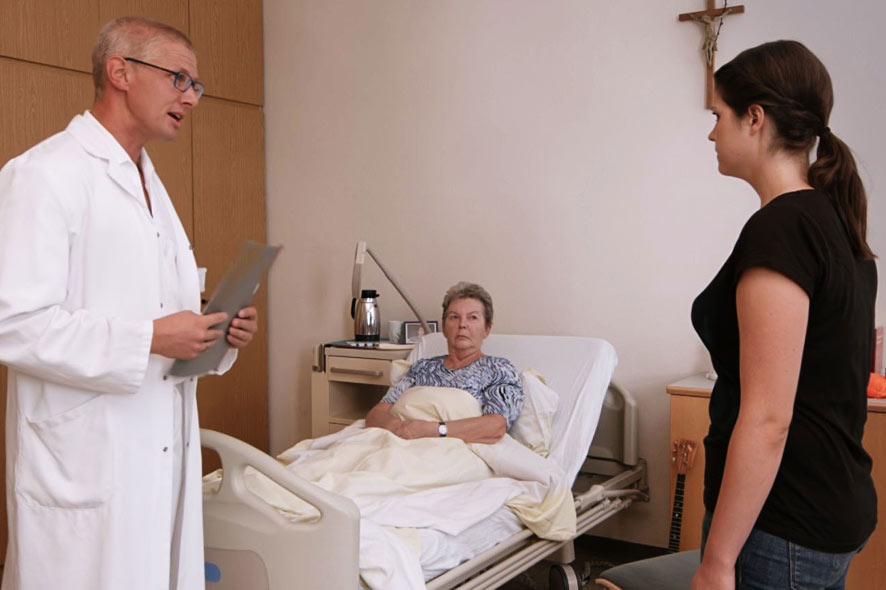 Credit: Krmpf Krmpf Studios
Your film "Abenteuer Arbeitsweg" was honored with the grand prize in the Prix Ars Electronica's u19 – CREATE YOUR WORLD category in 2006. What's gone on since then? How did your Golden Nica spur you on?
David Wurm: Between "Abenteuer Arbeitsweg" and "merk|würdig", we made three major films. "IOCC" was another Lego animated film; then, "verwohnt" was a mixture of real-life and animation; and "Fast Forward" was a two-person piece. And interspersed among them were many smaller projects. And as you can see from the films themselves, we always tried out something totally new—both substantively and technically—in each new production. On one hand, receiving the Golden Nica gave us a big motivational boost; after all, garnering recognition of this magnitude is something very special. On the other hand, this also offered us the opportunity to establish ourselves in media culture, and this is actually what it took to produce a major project like "merk|würdig". We often had to convince people that something novel like stereo narrativity is also very interesting, and in going about this, having a reference like a Golden Nica is, of course, enormously helpful.
So where does Krmpf Krmpf go from here? Do you already have plans for 2018?
Alexander Niederklapfer: First and foremost, we're really looking forward to the audience's reaction to this new way of making and viewing films. Following the premiere on January 13th, of course, we want to arrange screenings of the film at festivals and events, and to publicize the concept of stereo narrativity. What happens after that, we don't know yet, but it's hardly conceivable that we'll never produce another project again.
This short film makes its public debut on Saturday, January 13th at 6 PM in Hollywood Megaplex at PlusCity in Pasching near Linz. The screening will be followed by a gala reception. Tickets are available at tickets@krmpfkrmpf-studios.com.
Krmpf Krmpf is a Linz-based, non-commercial film studio established in 2003. The founders, Alexander Niederklapfer, Ehrentraud Hager and David & Magdalena Wurm, have been acquainted since their earliest childhood and have long collaborated on projects—some of them films. Liesa-Marie Wondrascheck became the fifth core group member in 2015. It all began with work on "Abenteuer-Arbeitsweg", a Lego animated film that premiered in 2006 and was immediately singled out for recognition by the Prix Ars Electronica with the grand prize in the u19 – CREATE YOUR WORLD category. The producers followed it up in 2008 with "IOCC – The Police in a Race against Time", their second stop-motion film. Their first short dramatic film, "Verwohnt" [Spoiled], came out in 2012. In the following years, the studio members' work focused on two major projects: "Ende Mai" [End of May] by Maria Schwab and "Bootstrapping" by Elena Zhivun. The work on "merk|würdig" got underway in 2014.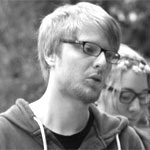 Alexander Niederklapfer was born in 1992 in Linz and is a co-founder of Krmpf Krmpf Studios. He is currently studying philosophy of logic and science in Munich, after having earned a degree in linguistics and mathematics. Right from the start, he directed Krmpf Krmpf Studio's productions, co-authored all screenplays, served as editor and colorist, and was strongly involved in the technical aspects of filmmaking.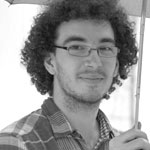 David Wurm was born in Linz and is a co-founder of Krmpf Krmpf Studios. He was a three-time member of the Austrian team at the International Physics Olympiad and later studied physics in Munich and Berkeley, California. He is currently working on his Ph.D. in physics in Munich, where he now lives. At the studio, he's the cameraman and, often, in charge of VFX.