The competition to select superb works of media art to be honored with the Prix Ars Electronica has been held annually since 1987. Thousands of entrants from throughout the world vie for the Golden Nica statuettes. There are four categories this year: Computer Animation, Digital Communities, Interactive Art + and u19 – CREATE YOUR WORLD. The contestants inevitably range from internationally prominent artists to up-and-coming young trailblazers. Gerfried Stocker talked to us about why this media art prize is so important for Ars Electronica too, the fact that recipients aren't only out for the cash awards, how the Golden Nica winners are determined, and what the essentials of this year's competitive categories are.
Why does the Prix Ars Electronica annually seek out the best works of media art?
Gerfried Stocker: The most important reason is actually our very strong belief that these works truly deserve to be honored fittingly and provided the spotlight they deserve. It's still the case that media art is a very young genre, and a major part of our mission is to call attention to the tremendous dynamism here—and not only the works themselves; also the incredibly exciting personalities behind them. Furthermore, the Prix is a core element of the entire Ars Electronica ecosystem. Accordingly, we get the opportunity to network worldwide with thousands of impressive artists and thus keep our finger on the pulse of the latest developments and trends. This, in turn, helps us to further elaborate future festival themes and to effectively adapt our activities to what's going on now.
There's a lot more than only the Golden Nica behind the Prix Ars Electronica. What's so special about this media art prize?
Gerfried Stocker: The Prix Ars Electronica has a very special asset, as it were—a tradition that goes back to 1987. This was the world's first competition every initiated in this genre, and everyone who submits an entry has the chance to become a part of this tradition together with the greatest artists in this genre's short history—John Lasseter in the field of computer animation, Karlheinz Stockhausen, Peter Gabriel and Ryuichi Sakamoto in digital music, and many more. These outstanding people are among the previous recipients of the Prix Ars Electronica, and the prospect of adding one's own name to this prestigious roster is extraordinarily enticing, perhaps even more important than the prize money itself, which is up to €10,000 per category. Another big part of this is the fact that we make every effort to showcase the works singled out for recognition by the juries at the Ars Electronica Festival. The projects featured in the annual CyberArts exhibition also appear in a magnificent, lavishly illustrated catalog. So, this is a wonderful opportunity for participating artists to join this global network.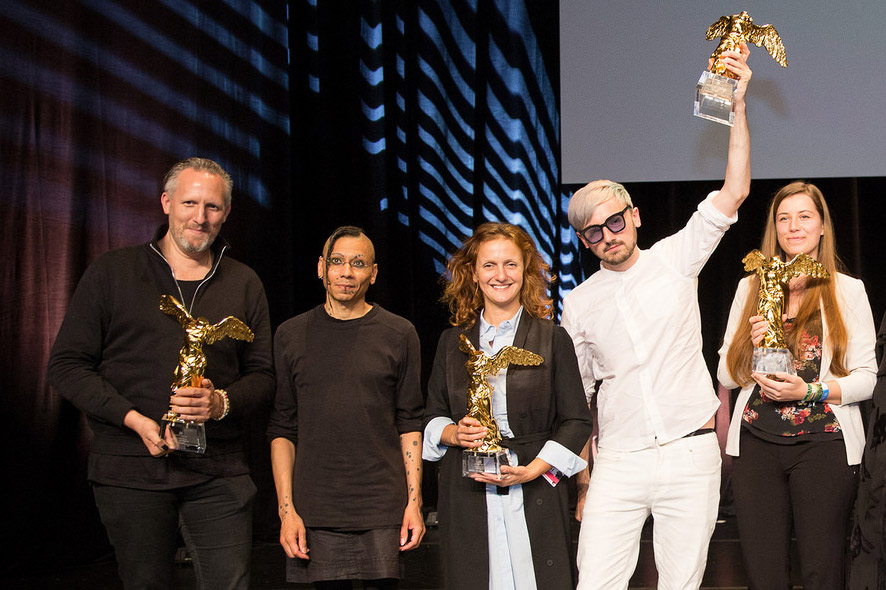 The winners of the 2017 Golden Nicas: Dimitri della Faille (BE/CA), Cedrik Fermont (BE), Maja Smrekar (SI), David OReilly (IE) and Lisa Buttinger (AT). Credit: Florian Voggeneder
The Prix Ars Electronica recipients aren't chosen by Ars Electronica's own staff. This is the job of expert juries that are reconstituted each year…
Gerfried Stocker: Exactly. The tremendous effort that goes into the selection process has been an essential aspect of the Prix Ars Electronica right from its inception. And throughout the years since 1987, we've remained true to this principle and even developed it further, in that all the jurors have to convene here in Linz for three days to jointly decide on the year's prizewinners. There are no excuses and no online voting proceeding parallel to the deliberations. In each of the categories in which competition is being held, we name five top-name international experts, who spend these three days in close consultation with their peers from early in the morning until late at night, discussing—and sometimes even arguing—about the latest significant and exciting developments in their field, and which core criteria are associated with what's going on. And this is, in our opinion, also really the best that we can offer to the participating artists—namely, the assurance that their works are being evaluated in a serious, elaborate judging process by highly qualified individuals. And history has shown that extremely good results emerge from this.
Impressions from the CyberArts exhibition at the 2017 Ars Electronica Festival – here, the best entries of the Prix Ars Electronica will be presented an international audience.
The 2018 Prix Ars Electronica is accepting entries in four categories. So, let's start with the first two. What are Computer Animation and Interactive Art + all about?
Gerfried Stocker: In Computer Animation and Interactive Art + in recent years, we've made a very concerted effort to, on one hand, maintain the integrity of the fundamental concepts but, at the same time, to open things up a bit so that the results of the spinoffs, brachiating processes, the marvelous dynamics, innovation and experimentation that are incessantly taking place also have a chance to win a Grand Prize, Award of Distinction or Honorary Mention in these categories. One of the ways to achieve this is to be involved in an intense, ongoing discourse with the respective jurors. We currently find ourselves here in the fascinating situation of working in an art genre that is constantly reinventing and redesigning itself. In computer animation, for example, this is increasingly a matter of including all these algorithmic and generative real-time graphics. Meanwhile, in recent years, we've also become aware of the massive boom in work with virtual reality. At this point, machine learning and artificial intelligence are just as important for the Computer Animation category as they are for Interactive Art.
"Of primary importance, of course, is for the Prix Ars Electronica to honor excellence. The media art prize must go to the best works of that particular year. But it's also essential to see it as a trend barometer and to use it as an instrument—for us as well as for the artists and audience members—to demonstrate how dynamically this scene is developing from year to year."
Entries are once again being accepted in 2018 in the category entitled Digital Communities. How are we to understand this term?
Gerfried Stocker: The exciting thing about Digital Communities is that this category actually represents the core of what our internet-based, digital world boils down to—namely, the utilization of this technology by human beings. But this isn't a matter of technology; rather, it really is explicitly about the communities themselves. Here, we encounter extraordinarily exciting and ambitious projects that are implementing this technology all over the world, but with the clearly defined objective of doing something positive for their own immediate surroundings or for other people—something that really helps these people, is advantageous to them, makes their daily life easier, supports them in dealing with conflict situations. And then, of course, there are also these projects that manifest that which is the essence of art, that way in which art is indispensible—the critical analysis of what's happening in these developments. These are the projects that take center stage in Digital Communities.
And finally, youngsters under 19 years of age living in Austria can submit entries to u19 – CREATE YOUR WORLD …
Gerfried Stocker: We stage u19 – CREATE YOUR WORLD annually to highlight the creative use of these new technologies by young people. But in this category, we're not simply satisfied with cute kiddie clichés like "Isn't it nice that they can already use the computer?" Here, one can very clearly bear witness to the depth, seriousness and critical faculties at work on the part of, say, 14-year-olds, see their approaches to these media and their reflections on media's multifarious impacts on our society. The wealth of ideas that young people come up with in constructing completely new things is an endless source of fascination! Every year at the end of the jury deliberations, there comes an exciting moment—once the verdicts are in, all the jurors gather in one room and present their results. And, I must tell you, the announcement of the winners in the u19 – CREATE YOUR WORLD category is actually what we're waiting for most excitedly because this is where the biggest surprises always come. I believe that if we take up this very positive dynamism and take these technologies and media into our own hands, then we really have the chance to make good things happen. That's the essence of these projects created by kids and young people, and that's what u19 – CREATE YOUR WORLD is all about.
Submit your own project for 2018 Prix Ars Electronica prize consideration or nominate a media art work that deserves to be singled out for recognition with a Golden Nica. This year, competitions are being held in four categories: Computer Animation, Digital Communities, Interactive Art + and u19 – CREATE YOUR WORLD. Winners receive a Golden Nica statuette, prize money of up to €10,000 per category and a featured appearance at the next Ars Electronica Festival (September 6-10, 2018 in Linz, Austria ). There is no entry fee. The extended entry deadline is March 12, 2018. Complete information about the Prix Ars Electronica is available at ars.electronica.art/prix/en!