A total of 40 artists confronted the world's most explosive political conflicts in their contributions to the book entitled "COMIC CULTURE CLASH." For each duo, the initial panel is identical; this serves as the point of departure for both comic artists to develop their respective takes on these (mostly political) issues. Russia and Ukraine, the Assad regime and the Syrian opposition, Swabians and Berliners, the Front National and French liberals—in all these cases, light is shed on conflicts from two standpoints.
One of the project's initiators is comic artist Titus Ackermann, who, together with Andreas Hartung, Jonas Greulich and Thomas Gronle, launched COMIC CULTURE CLASH in 2016. He'll tell this story on March 17, 2018 at 3 PM in the Ars Electronica Center. Here, we kick off the conversation with a few basic questions.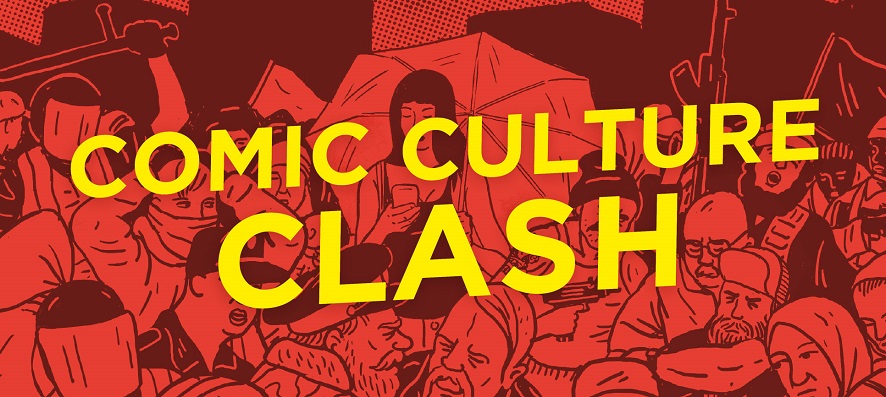 How did you come up with the idea of the Comic Culture Clash?
Titus Ackermann: Two years before, Andreas Hartung (AHA) of the comic magazine "Epidermophytie" and I had staged the "first" Comic Clash, which was conceived as an offline conclave of the entire German-language comics scene. And everybody had a great time! Then in 2014 and 2015 with the situation in Syria, the refugees and many other horrendous developments, we decided to do something similar—but this time we wanted to encourage the illustrators to make political statements.
How did you go about choosing the 20 conflicts?
Titus Ackermann: We did some brainstorming. Unfortunately, it's pretty easy at the moment to find conflicts worldwide, and even though we later decided to cut a few, there were also a couple that we simply forgot about!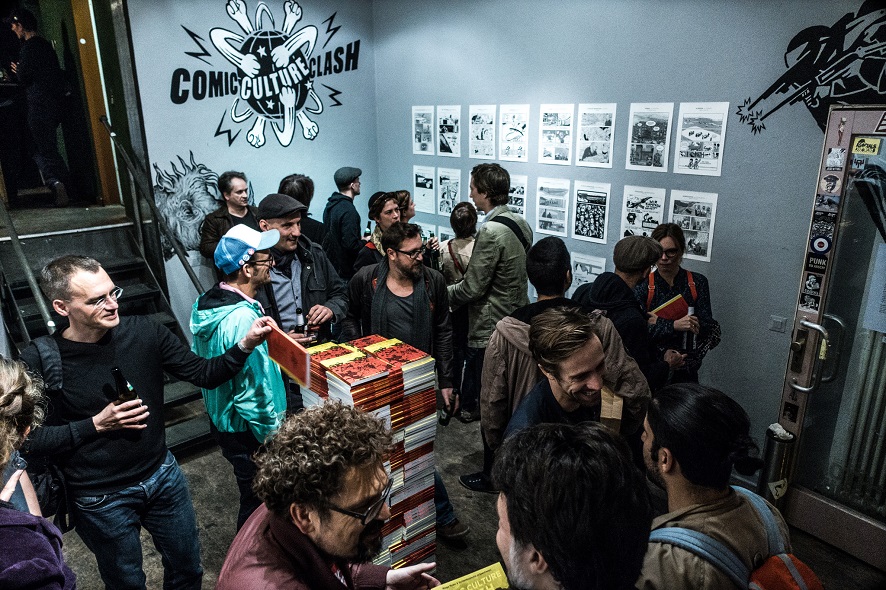 At the vernissage of Comic Culture Clash 2016. Credit: Johannes Eber
Why do the artists work in duos? And why is there an initial panel they both have to begin with?
Titus Ackermann: We wanted to take a "conceptual" approach, and achieve a certain degree of comparability. When I produce an issue of my magazine, it should display internal continuity; there should be a sort of thread running through it of a substantive and/or formal nature. That's the origin of the idea for both artists to begin their narrative from the same panel. We wanted to shed light on both sides of the coin, pro and con. That's why we divided the artists up into duos.
There were also staged dramatic readings of the results at Comic Salon Erlangen. Give us an idea of how that went.
Titus Ackermann: We had already presented a "competition" on stage at Comic Clash in 2014. This was absolutely great—both the illustrators and the audience members were delighted. Then in 2016, right on stage, we issued drawing assignments that also reflected political components—for instance, there was a discipline entitled "Auditory Misunderstandings" in which ambiguous radio transmissions were interpretively drawn by two teams simultaneously. And afterwards, the audience could vote on which one best captured the multiple significances. There were also "Social Hysteria" reports that were communicated in the style of a game of Telephone and thus mangled in the process. And then there was the "Babel Comic Quiz" in which you had to communicate via drawings.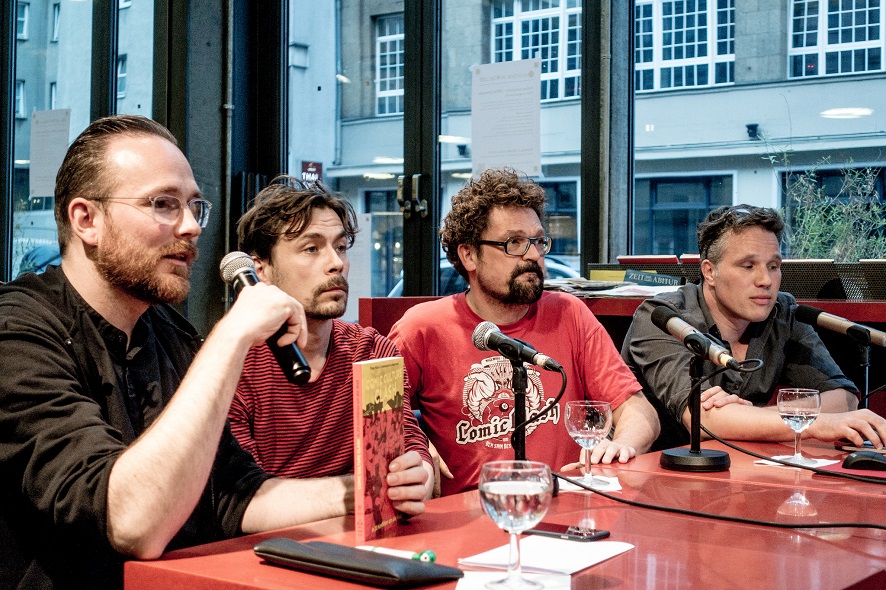 Book Release of Comic Culture Clash. Credit: Johannes Eber
Tell us about the works at Comic Culture Clash? What were the surprises and highlights?
Titus Ackermann: The work was pretty arduous, even though there were four of us involved—AHA (Andreas Hartung of Epidermophytie), Jonas Greulich, Thomas Gronle and I, from MOGA MOBO. We had to coordinate 20 themes with 40 narratives, and we also had to see to the various needs of the illustrators, such as editing. Meanwhile, we were working on our own stories and raising money to do the printing. And, needless to say, there were differences of opinion along the way. The particular highlights were when we were confronted by a really outstanding piece of work that truly met our expectations, or, in some instances, completely ignored the prerequisites we had established and nevertheless worked beautifully. … Sometimes, you got the feeling: this could really be a success!
Why should comics address such serious subjects? And how should they go about it?
Titus Ackermann: The only appropriate answer to this question is another question: Why not? Why should there be topics that can't be dealt with in the comics/graphic novel medium? And the follow-up question: Why, actually, don't more comic illustrators dare to tackle such issues?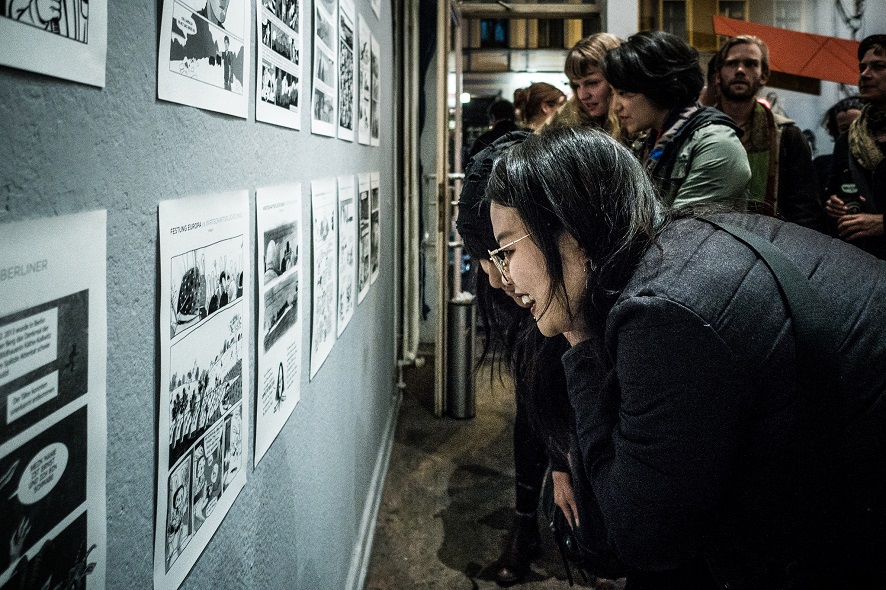 Credit: Johannes Eber
How have the reactions been so far?
Titus Ackermann: The reactions have far exceeded our expectations. There's huge demand for the book—unfortunately, it's almost sold out at this point. We've been able to present it at various exhibitions, and there've been more than a dozen radio & TV interviews as well as coverage in newspapers and magazines. And our own readers—our most important critics—have literally flooded our editorial office with orders, which has meant schlepping packages to the post office on a daily basis for weeks now. But of course, this is a labor of love for us!
Titus Ackermann was born in 1970 in Basel, Switzerland. He's the founder and publisher of the comic magazine MOGA MOBO. He studied illustration at the Stuttgart State Academy of Art and Design and Macintosh School of Art in Glasgow. Since 1999, he has lived and worked in Berlin, since 2000 together with Jonas and Thomas, two other members of the MOGA MOBO studio staff. He also works as a freelance illustrator and character designer for magazines, publishing houses and major ad agencies. He developed the well-know children's book character OLI who's been providing entertainment for young train travelers for many years now. His work has been honored with several prizes.
The COMIC CULTURE CLASH event is being staged at the Ars Electronica Center on March 17th at 3 PM in conjunction with the 2018 NEXTCOMIC Festival. Complete details are available on our website.
To learn more about Ars Electronica, follow us on Facebook, Twitter, Instagram et al., subscribe to our newsletter, and check us out online at https://ars.electronica.art/news/en/.