Uh oh—the company that was supposed to organize a big robotics competition entitled Robo-Challenge backed out on short notice. There are only two hours remaining to get this event ready to run! Is it possible to carry out this daunting task?
That's the premise of an organized game entitled Otelo Futurespace – The Digital Playground. In eight labs, each focusing on a different aspect of digitization, 10-18-year-olds acquire the skills that will help them get the Robo-Challenge up and running. In these lab settings, the accent is on hands-on practice—the participants are encouraged to try out new things, experiment and learn.
Before Otelo Futurespace sets up shop at the Ars Electronica Center April 4-8, 2018, we sat down with Martin Hollinetz of Otelo eGen to find out about the challenges presented by the various labs, the sequence of events, and the big Robo-Challenge that's the culmination of this organized game.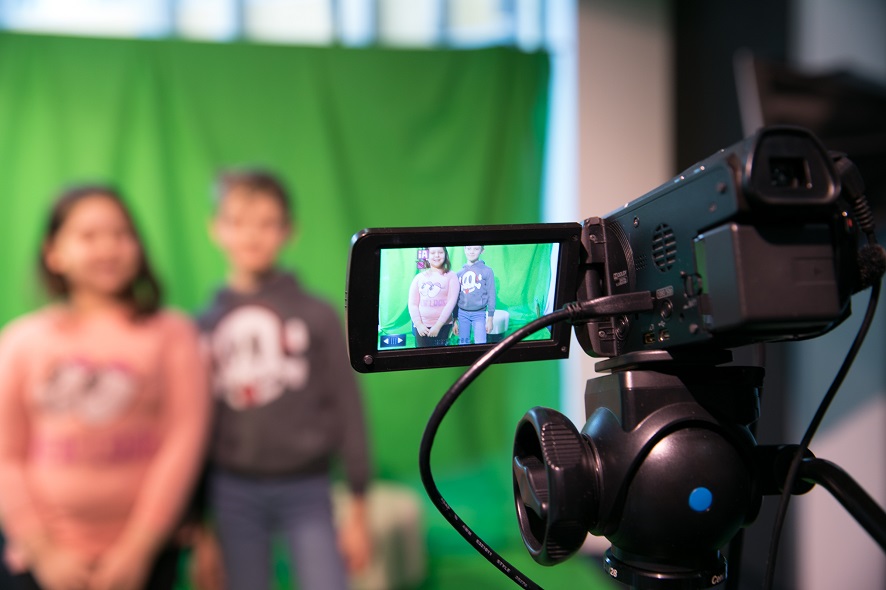 Credit: Otelo
Martin, start by explaining to us what Otelo Futurespace is all about.
Martin Hollinetz: Otelo Futurespace is a program consisting of various labs and that can be used for a variety of applications and games. At present, the program includes eight labs dealing with various aspects of digitization—the themes are robotics, electronic health, virtual reality, making, digital production, data analysis, transactions and process controls. At the conclusion, once the participants have gotten acquainted with the individual technologies, there's a station at which you make an effort to link up these fields—for example, something's planned in the Virtual Reality Lab that has to be implemented in the SmartLab, which focuses on automation. Futurespace, The Digital Playground, is a way that we've developed to integrate these eight labs into an organized game for school pupils. Plus, this is a mobile installation that we can take from school to school.
So, the point is for youngsters to playfully acquire digital skills?
Martin Hollinetz: Not only to acquire digital skills, but also to grasp the effects among them and to develop an attitude towards that! Our primary mission isn't to impart this content, since others can do that too. We want to provide a compact way to experience these effects, how technologies interact with each other, and the impact they have on the individual in the context of a team effort. At the end of our organized game, all participants have to jointly organize an event, the Robo-Challenge. That works only when everyone pitches in, works together with the help of all these tools, and makes this a group production.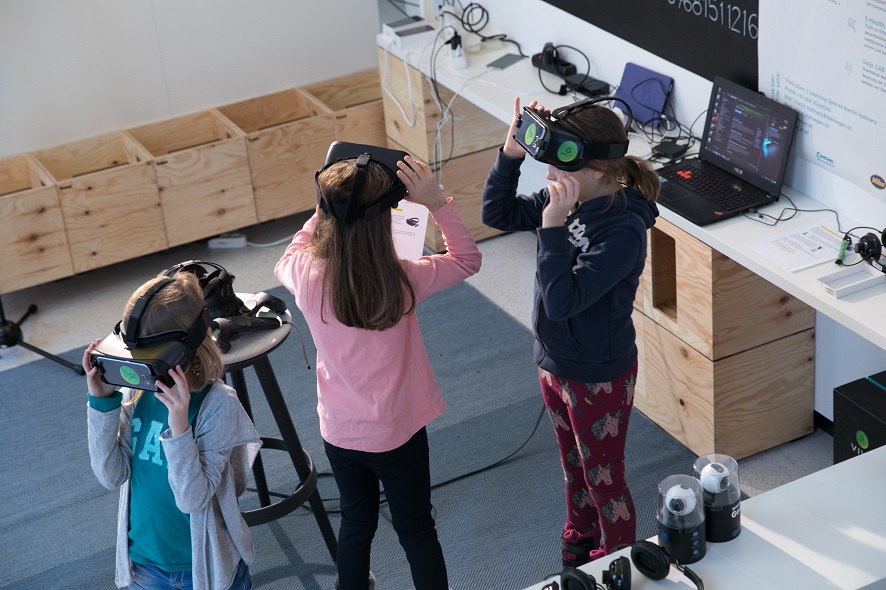 Credit: Otelo
How long does it take to play the game all the way through?
Martin Hollinetz: A game takes two hours; the process of reflection afterwards takes half an hour. This debriefing is about how it went for the individual participants, what was new, what were the areas of stress or tension. What's the takeaway with respect to the person's own future and career planning? Are there ways to sequester ourselves from interaction that increasingly enwraps us? Is that even possible nowadays? Actually, the point is for the participants themselves to discover new ways to personally deal with these developments.
Credit: Otelo
How did you come up with the Otelo Futurespace idea?
Martin Hollinetz: Futurespace is an outgrowth of the Kids Experience Technology program that we've been hosting for several years. This is a program in which we work with very open installations similar to the ones in the Kids' Research Lab at the Ars Electronica Center. We've built mobility into this initiative too since we noticed that certain kids otherwise don't get a chance to participate in a program like this or even to be confronted by such concepts. Kids Experience Technology made us realize that older youngsters and adults too could use a program like this. Everyone's talking about digitization—which has long since emerged in most areas—but we're only just now starting to talk about it. Certain mechanisms are beginning to take hold in a new way here. You have to filter differently; you need an approach and a strategy as to how people can have input into these processes instead of developments just being imposed upon them. This is the main reason why we called for something like a training space in which people can test things out for themselves. For older participants, we wanted to create an organized game in which scenarios and dynamics can be induced. We intentionally create a dense atmosphere so that certain things that don't normally have such tremendous immediacy really become palpable. So, Futurespace is the program for all age groups, and Futurespace – The Digital Playground is for 10-18-year-olds.
Credit: Otelo
How does the organized game play out?
Martin Hollinetz: The game begins with the backstory. Then, each kid is issued an assignment to receive a self-taught basic introduction. In the Futurespace labs, there are individual boxes containing the materials. The youngsters take what they need, work it up and, when they're done, get a confirmation. In return, they receive coins as well as their initial work assignment. This is why the game is scalable for youngster up to age 18. Some younger kids might only complete two assignments, but that's enough for the Robo-Challenge to ultimately take place. When older kids play, they can perform more tasks of a more complex nature that become increasingly difficult.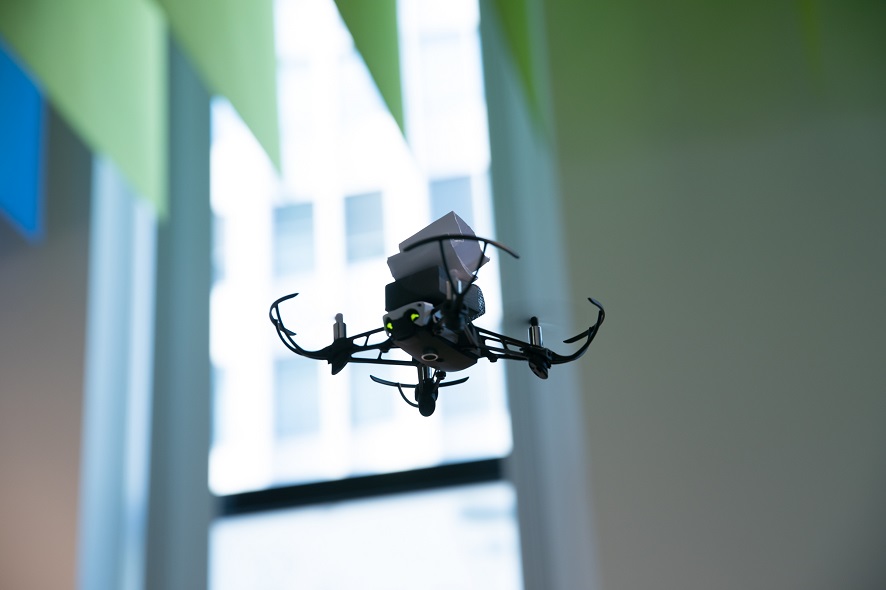 Credit: Otelo
What are some of the assignments?
Martin Hollinetz: In the Mobility Lab, for instance, the participants have to complete a basic module about drones. They have to pilot the unmanned aerial vehicles, assemble the transport boxes and then transport something with them. Once they can do that, they have to perform various loading and landing maneuvers, and then they're ready for their assignment. Without this basic introduction, they can't set up the mobile delivery service. This training also includes flying a drone while wearing FPV [first-person view] glasses. There's also an assignment dealing with surveillance in which you have to prepare a surveillance drone, take photos and deliver them. These are topics society is confronted with right now!
Or take Health Lab, where there are 15 armband trackers that register the wearer's pulse and other data. The assignment is to find suitable players for the grand finale, the Robo-Challenge that entails steering a robot. They perform tests with deep-knee bends and other exercises designed to optimize a person's efficiency as well as health.
The Data Lab precisely gathers these data and evaluates them. On one hand, participants have the assignment data; on the other hand, the Smart Lab provides information about process conditions. In the Smart Lab, participants program an Alexa to control the sound & lighting system. Or they have to equip objects with sensors so that the Data Lab recognizes when something has been completed. Here, the emphasis is on Industry 4.0, process controls and so forth.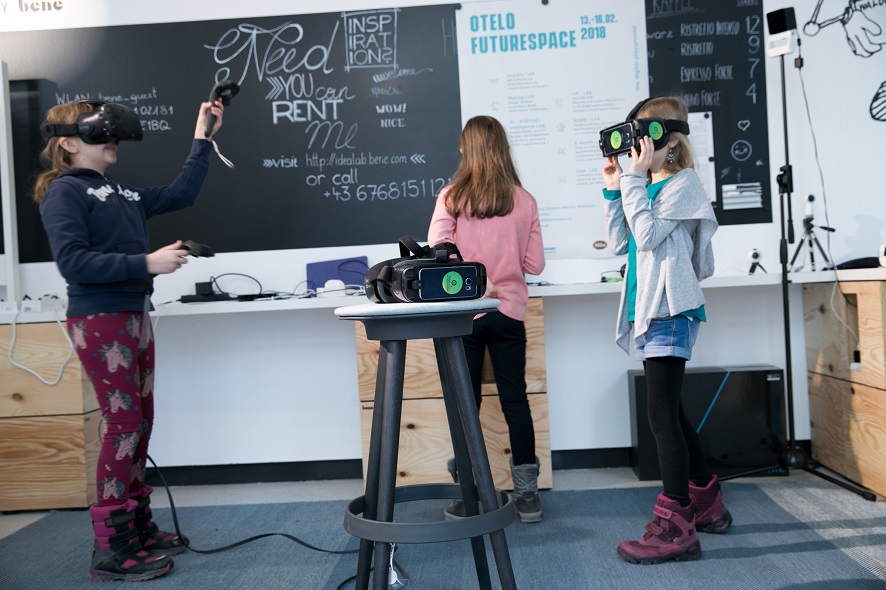 Credit: Otelo
Can you describe the Robo Challenge in a bit more detail?
Martin Hollinetz: The Robo-Challenge at the end entails two robots—Ubtech Alphas—racing in a stadium. The team that first triggers the triggering mechanism produced in the Making Lab is the one that wins. All the while, Cozmos, tiny stacking robots, are repeatedly placing stones in the paths of the Alphas. Before the race, Dash robots give a cheerleading performance that has to be programmed in advance. Plus, during the race, robot arms place cubes on the track, and the cubes may not be touched by the racers; otherwise, they have to return to the start.
So, that brings together all the skills that had previously been developed in the labs.
Martin Hollinetz: Precisely. For instance, the robots are given name tags that are incised by laser cutter. The 3-D printer has to be used to construct brackets on which to mount the switch. The Media Lab has to produce a 360° live stream as well as documentation of the event. The participants write blogs, upload content to social media outlets, announce the event, conduct interviews with a green screen, and even produce fake news. Everybody has to produce something.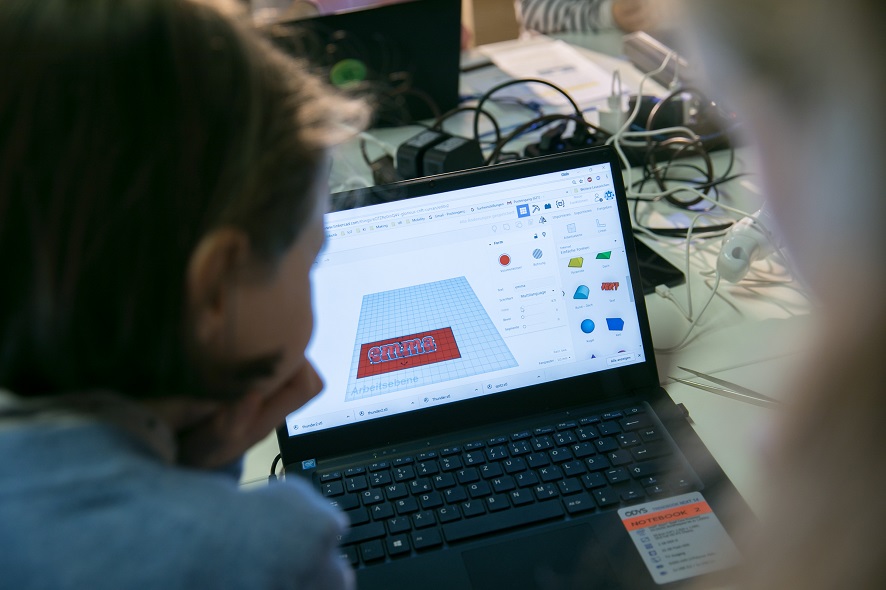 Credit: Otelo
This sounds incredibly complex!
Martin Hollinetz: For each kid, there's a path, and these progressively merge together. Quite a lot is demanded of the youngsters, but it works nevertheless! Even in spite of the fact that, according to our assessments, approximately 80% of them have never tried out these technologies before. Despite their lack of experience, they naturally take an intuitive approach and are simply delighted to be trying out this technology. This isn't just a simulation; you can't just sit back and watch, or have it explained to you by someone. You get a real live, hands-on experience. That's our basic principle: It has to be genuine because otherwise it's not fun!
How do the kids react to Futurespace?
Martin Hollinetz: We notice—especially in the reflection process afterwards—that these developments have indeed made an impression on them. They're aware of what robots can already do, what artificial intelligence is and how dangerous it can be. For these technologies to be employed positively, we need kids who are self-reliant, who know where to click and where not to. And who know what they have to be able to do for them to have a say in configuring their world. To a certain extent, this is a matter of empowerment.
Martin Hollinetz is a co-founder of Otelo eGen and a member of its Board of Directors. His areas of responsibility are education, innovation and pioneering. He's the epitome of a leading-edge thinker and model builder. He does organizational, strategic and public relations work, is building an international network for innovation culture, develops trailblazing educational offerings and provides process consulting. As a regional manager, Martin has conceived new models in the fields of work, education and regional development. Participation, cooperation and innovatively linking up existing structures have been the decisive elements of his work at Otelo eGen and will serve him in good stead at the international Otelo Network for Innovation Culture.
Otelo Futurespace – The Digital Playground will run from Wednesday, April 4th to Sunday, April 8, 2018, at the Ars Electronica Center. School classes can register to take part in the organized game from Wednesday to Friday; details are available here. On Saturday and Sunday, Otelo Futurespace is open to all visitors in conjunction with the Virtual Worlds – New Realities themed weekend; details are available here.
To learn more about Ars Electronica, follow us on Facebook, Twitter, Instagram et al., subscribe to our newsletter, and check us out online at https://ars.electronica.art/news/en/.