Every year, a colorful conclave full of hustle and bustle fills the otherwise yawning emptiness of POSTCITY Linz when the u19 – CREATE YOUR WORLD Festival comes to town. Over five days—during the Ars Electronica Festival, September 6th to 10th this time around—youngsters can tinker, play, experiment, get hands-on experience and give free rein to their creativity.
We met with Hans Christian Merten, the director of u19 – CREATE YOUR WORLD, to talk about the theme and the highlights of the 2018 jamboree.
What's the theme of this year's u19 – CREATE YOUR WORLD festival-within-a-festival?
Hans Christian Merten: The thematic focus is on learning, which suggested itself as a logical derivative of the Festival theme, Error – the Art of Imperfection. CREATE YOUR WORLD [CYW] doesn't have to go through any contortions this year; the theme reflects exactly what CYW has been since its very inception—a platform for alternative teaching and learning methods in which acceptance of errors has always played an immensely important role. In past years, our platform for experimentation has positively invited people to make mistakes. With this emphasis on learning from them, we're attempting to accentuate the productive aspect of this and not dwell on the seemingly negative side. We do this, first and foremost, for pedagogical institutions like schools, but also for families, parents and children, and the various generations. We cordially invite them to repeatedly call into question their acceptance and definition of error. After all, errors are actually always a matter of definition, at least when social or societal issues are involved. What's right and wrong in our dealings with new technologies, with their impact on our interpersonal relationships? What can parents allow or forbid their children to do? What can teachers and educators permit or prohibit?
https://www.youtube.com/watch?time_continue=31&v=ixpn_gkf5pM
So, is the u19 – CREATE YOUR WORLD Festival calling for another way of dealing with errors?
Hans Christian Merten: No. We're inviting people to reflect on this. We don't know if the current way of dealing with errors is right or wrong! We at CYW have never presumed to do such a thing. We invite people to discover precisely this together with us. It's a highly individual process. For example, we're planning a project in which participants can make their own individual entry as to when in life or in a sequence of events, there perhaps came a point at which it became apparent that things had taken a turn for the worse. And this is an essential part of this learning process and of defining what constitutes an error. Often, one recognizes that, say, 10 years ago, one could have seen certain things differently than how one sees them now. Sometimes, these are very specific events that perhaps were mistakes—an accident, a catastrophe—or maybe something good. On the other hand, sometimes you can't really say why you now see it differently than you did before. Life experience might have something to do with this; it depends on whom you regularly meet, whom you talk with, etc. Here, I see many and varied definitions of learning, of what constitutes an error, and what's right and wrong. There exist billions of truths over the course of an individual's life. In reality, this is a regularly recurring Aha! experience for all of us. In this connection, CREATE YOUR WORLD has always tried to say: You don't have to be afraid; you can think positively, seek alternative models for living and learning, work together on something, tinker, experiment, and sometimes it goes bad and you fail. That's the way it goes! It's important to simply experience errors. But in contrast to real life, mistakes made at CYW have no consequences because you're allowed to experiment here.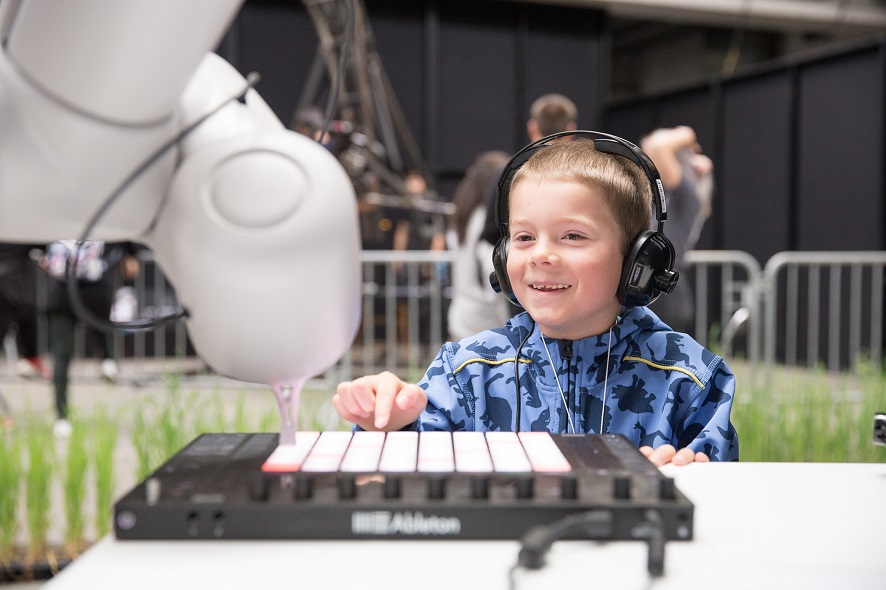 AI Music. Credit: Florian Voggeneder
What will be some of this year's highlights at u19 – CREATE YOUR WORLD?
Hans Christian Merten: We're starting out precisely where we originally began, and we can carry on our work in superb fashion thanks to this theme. So, of course, there are a lot of highlights once again this year! As always, the basis is the Prix Exhibition, the show featuring the prizewinning works in the Prix Ars Electronica's u19 category. That really constitutes the core of the CYW Festival. Another thing I can tell you is that the Learning theme has yielded an effort to more intensively intermingle the respective generations. They should be able to learn from each other. In this vein, the State of Upper Austria's teachers' college and the Chamber of Labor are again staging a Perspectives on Political Education symposium The target audience is teachers, but we're delighted to be able to integrate young people in the event this year. Especially for this symposium, we've commissioned a project to be carried out over the next couple of months—in other words, a paid summer job—and be presented at the symposium. There'll be a keynote speech by a representative of a youth group named Jugend Hackt, who'll also be staging their own open lab. We always make an effort to dovetail projects so people and ideas can interact.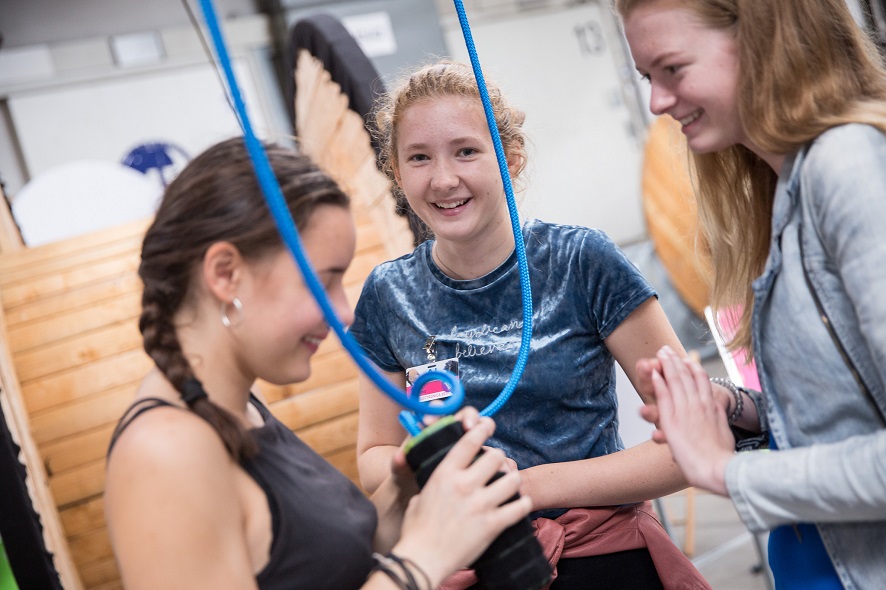 Credit: Tom Mesic
What are some of the highlights of this year's open labs?
Hans Christian Merten: It's difficult to name highlights because they're all so cool! What's particularly noteworthy this year is that we'll be showcasing a few longer-term collaborative relationships. Here, I'd especially like to mention our work with Landestheater Linz. Together we're organizing a mixture of open lab and event to investigate the television format, and we'll integrate festivalgoers into these activities. We want to peer into the future and ask how a TV program can be developed further. This project entitled Bug TV will elaborate on the hot topic of real news versus fake news. We'll be working with actors skilled at improvisation, a large crew from Landestheater and a group of youngsters. They'll receive expert guidance as they go about producing their own TV program on Sunday, September 9th. This can also be viewed via live stream—details will be announced. And I think I can already reveal this much: Viewers can never be sure what's true and what isn't. There'll also be a live remote feed from the Kids' Cloud of Sound (Kinderklangwolke).
And since that event is on Festival Sunday this year, we have the honor of producing a feature. A young composer from Steyr is curating Ars Electronica's contribution to the Kinderklangwolke, which will be presented on a separate stage at the event. This project beautifully demonstrates that good things can happen when you submit a work for Prix Ars Electronica prize consideration—even if you don't win! That's precisely what occurred in this case—the composer entered but didn't win a prize, but that's how her collaboration with the Kinderklangwolke came about.
Oberösterreich Tourismus, Upper Austria's inbound tourism agency, has also commissioned a summer project for young people. The interim presentation will be made at the Ars Electronica Festival before the final results are shown during Tourism Days in November. We're very proud to have created a total of three summer jobs for young people this year.
What are some of the art projects we can look forward to seeing?
Hans Christian Merten: We're especially looking forward to the Tagtool Festival. The OMAi artists' collective has invited about 15 artists from throughout the world to participate in an open lab in and around POSTCITY's spiral packet chutes, and they'll stage various performances and night actions.
We're also working together with BFI Upper Austria, the regional career advancement organization. This relationship began last year, and I'm delighted it's being continued in the form of a project suggested by some youngsters in one of the BFI's own training programs. This is a very graphic project with graffiti elements we'll be implementing with AURO. We're looking forward to this because the young people are highly motivated, very committed.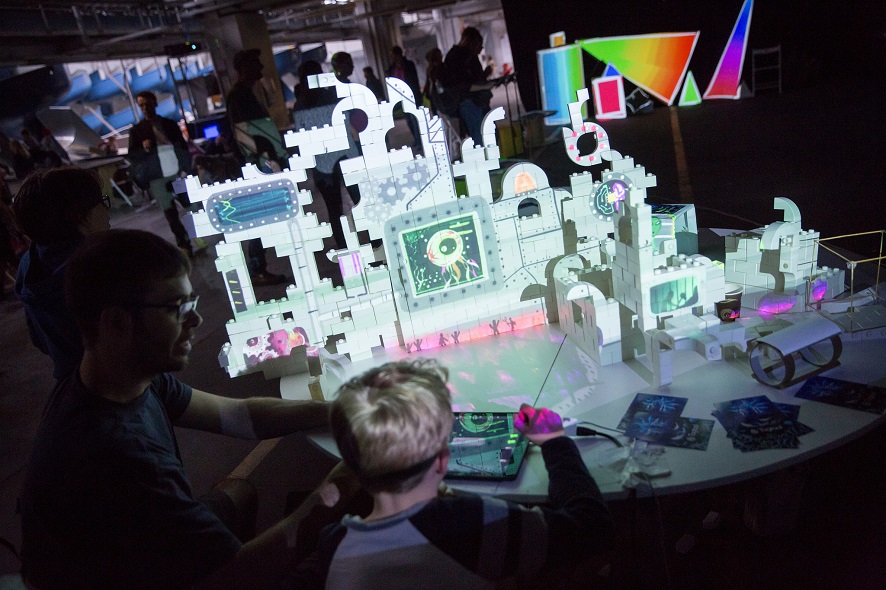 Animation:Lab / OMAi, Remo Rauscher, Barbara Heinzl. Credit: Tom Mesic
And tell us about some of the mainstays that will be back again this year!
Hans Christian Merten: We're collaborating once again with Virtual Office by FAB, which is working together with hardware provided by the g.tec company. This will be a very lively, life-affirming project. There'll be another Music Summit as well as an Ableton Education Day. This is an opportunity for music teachers to learn how this software can be integrated into classroom instruction very easily, and how learning can be improved or facilitated with music software.
I'm very happy that Rebecca Gischel and the PICAROON Kollektiv will be joining us again with a project named Surface X. She previously appeared at the 2013 CREATE YOUR WORLD in a project entitled Global Sounds. This project was damaged in transport, which is why we're inviting young people to a repair workshop at which the project will be repaired so it can be displayed as an installation at the Kinderklangwolke. Another notable development is the reactivation of our collaboration with Otelo, whose "Futurespace – The Digital Playground" will be set up at the Festival. All in all, we're offering a highly diversified and very colorful program!
Hans Christian Merten has headed Ars Electronica's u19 – CREATE YOUR WORLD initiative since 2013. He studied audio technology & design in Vienna and completed various programs at Bruckner University in Linz. From 2002 to 2010, he taught media technology & design at the Upper Austria University of Applied Sciences' Hagenberg Campus and the High School for Communication and Media in Freistadt. 2010-13, he served as artistic director of kult, a multiple prizewinning festival in Upper Austria's Mühlviertel region. Since 2005, he's been a freelance artist and director of Music for Film & Media, a project studio in Gutau, Upper Austria.
CREATE YOUR WORLD is part of the Ars Electronica Festival that will be held September 6-10, 2018 in POSTCITY Linz.
To learn more about the Ars Electronica Festival, follow us on Facebook, Twitter, Instagram et al., subscribe to our newsletter, and check us out online at https://ars.electronica.art/error/.