On Festival Friday, September 7, 2018, as night segues into day, music fans will get their fill at the Ars Electronica Nightline. The old railroad loading dock (Gleishalle) at POSTCITY Linz will be the setting for fast beats, electronic experiments and audiovisual performances that invite you to dance and party 'til the sun comes up.
Salon 2000, the curatorial team consisting of Jakob Barth and Bartholomäus Traubeck, is back again with a lineup of outstanding acts. Together with project director Hannes Franks, they tell us in this interview about the highlights we can look forward to and describe what makes Ars Electronica Nightline such a special experience.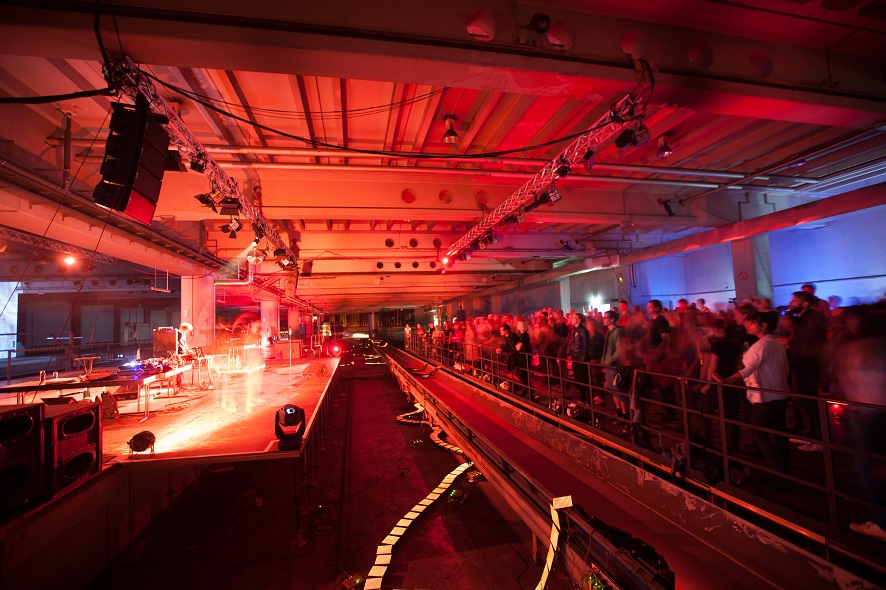 Credit: Florian Voggeneder
Salon 2000 will once again be curating the Ars Electronica Nightline especially for music fans and night owls. What direction are you going in this time around?
Salon 2000: In line with this year's festival theme, Error – The Art of Imperfection, we're putting the emphasis on performances that work with unpolished rawness, purported and genuine miscues, improvisation and even a certain amount of dilettantism. DJ Detweiler, for example, will intentionally play with the diametrical opposite of what is nowadays considered a perfect DJ set. He'll mix genres seemingly at random, play obscure numbers that are anything but tasteful, and produce transitions that are nothing less than wrenching. But if you really get into it, you realize how much energy and potential for innovation is inherent in this interplay. Another example is Group A, with their loud, chaotic performances. Here, walls of noise are the apparently random sources of a rhythmic Techno track on top of which the performers improvise with analog devices like a distorted violin. In this way, sounds we're familiar with from Industrial, Noise and Techno as well as experimental music and Post-Punk are mixed into something totally new.
And anyone who's seen and heard Iglooghost's videos knows that "Error" doesn't necessarily imply only one stylistic approach. The young London-based producer mixes a wide variety of fragments and artifacts into a stringent, hard-to-categorize "hyper"-aesthetic.
The Ars Electronica Festival isn't purely a music festival, but music nevertheless plays a big role…
Hannes Franks: As a matter of fact, Ars Electronica has always been strongly connected with music. That's why we want to offer festivalgoers something like Nightline—a chance to experience a great stage-based program in addition to the many installations, performances and workshops.
What did you look for as you went about selecting the acts?
Salon 2000: For one thing, of course, there's the yearly festival theme, which usually delivers our initial inspiration and ultimately ties the whole thing together thematically. In terms of styles and genres, most, but not all, of what we stage can be considered electronic music and audiovisual performance. On one hand, it's important to span a sort of arc across the evening; on the other hand, the performative aspect is also an essential element. This event in Gleishalle plays out on a huge stage, on which the artists have to display a certain presence in order to really make an impact. There are several acts that we would like to have booked in the last few years, but the setting just wasn't right for their shows. Accordingly, the program normally consists of a relatively large number of audiovisual performances, since Gleishalle is the perfect venue for jumbo-format projections and laser & light installations.
Hannes Franks: By all means with the acts we book, we always make sure that we can take advantage to the greatest extent possible of all that Gleishalle makes available. We have a massive architectural space as well as a 14-meter projection wall behind us, and we want to make full use of them. And in this same vein, we make a concerted effort to find acts that have their finger on the pulse of this day and age, and, above all, make electronic music that reflects what's happening here and now.
What's the here-and-now of electronic music in 2018?
Hannes Franks: There's a tremendous affinity to all that can be eclectically amalgamated from various earlier elements. In the wake of 50 or 60 years of Pop music, which has made all sorts of stylistic transitions, we've now arrived at a point at which everything is being thrown into a pot and remixed. On the Salon Stage, we have an act, Mermaid & Seafruit, that makes heavy use of Hardstyle but whose repertoire also includes a very mild Pop number. And then there's Golin, who builds all possible stylistic directions into her set.
https://www.youtube.com/watch?v=miJHXjrzSmo
As you just mentioned, there's a Main Stage and a Salon Stage again this year. What's the difference between them?
Hannes Franks: The Main Stage is the one in use throughout the festival—for the Opening, the Big Concert Night, the concerts on Monday and the Nightline. It's the festival's prime performance venue, and also showcases small delegations throughout each day of Ars Electronica. After a bit of infrastructural reorganization, the stage can be used for different kinds of events—for instance, we'll be setting up runways for dancer Silke Grabinger on Sunday. In the background, there's this massive screen, a wall actually, that we use for audiovisual augmentation.
The Salon Stage is a supplement to the program on the Main Stage so we can offer festivalgoers a bit of flexibility. If an act on one stage doesn't really appeal to you, there's always an alternative. Plus, it's really great to circulate—you proceed from the Main Stage to the Salon Stage, then you pass the Bar, and then head back to the Main Stage. It's a cycle and you always find something new.
Salon 2000: The Salon Stage is a venue for more experimental, off-beat acts. This is the place to go for unique performances, often by local artists who can come across more directly in this somewhat more intimate setting, since the audience is in a more up-close-and-personal situation. This year, DVRST will put on a dark, droning show, and Mermaid & Seafruit will present their distorted interpretation of rave-like club music at an intermittent pace—oppressively slow, then at breakneck speed. Finally, DJ Detweiler sees to it that festivalgoers get to party for all their worth on into the wee hours of the morning. Last year, DJ Marcelle demonstrated that this somewhat smaller, club-type stage is wonderfully well-suited to this.
And what highlights await us on the Main Stage?
Salon 2000: B. Visible will be appearing with a live band to kick off the festivities. Berlin-based rapper/chanteuse Catnapp partakes of all the multifarious genres of electronic music. Clemens Haas is conceiving a light installation for the stage that he'll unfold throughout the evening. Golin is coming in from Belgium to perform their futuristic sound featuring lots of improvisation. So, there are no headliners; the program is conceived in such a way that each act assumes a certain place in a sequence of events in which each component is essential.
In your work as Salon 2000, you've displayed a very wide-ranging concept of electronic music. In your interview last year, you described your approach in these terms: "Generally, we always try to make the transition from performance to show to music as fluid as possible." Are there, among this year's acts, those characterized by particularly spectacular forms of artistic expression?
Salon 2000: Group A is definitely very interesting in this respect. But on the whole, all the acts on Friday work at the nexus of show, art, music and performance, each with its own focal point, of course. Something else that's sure to be fascinating is the collaboration of Visionist with filmmaker Pedro Maia, whom we invited to work together with Vessel two years ago. His analog imagery, much of it produced in an elaborate process that entails filming in 16mm format and scanning so it can be flexibly projected, is highly immersive and brutally violent in part.
A unique feature is that the stages' location used to be an industrial-strength logistics facility…
Hannes Franks: And indeed that's a matter of some importance from an organizational point of view! (LAUGHS) For example, there's a big difference between industrial escape routes and those prescribed for events. Since this hall previously accommodated freight trains, there was no need to consider a huge crowd of spectators, which is now a major factor. So we have to come up with well-thought-out infrastructure to effectively channel this mass of visitors. It's also interesting that the train tracks were used only in the early days of this Postal Service distribution center. The reason for situating this building here was actually the intermodal aspect, but as trains became increasingly irrelevant to mail delivery in the 1990s, this Gleishalle was neglected a bit. It was just an empty space for a long time, which is clearly evident when we set up here.
So, the location itself is really excellent. All these possibilities for doing stuff in this space are outstanding; also that we even have access to this stage and enjoy all this freedom. And it's absolutely fantastic that a very international audience convenes here. We can stage a program at this location that we might not be able to put on someplace else. We don't necessarily have to withstand the pressure to play Pop music in order to draw spectators since we have an audience that's very interested. So we're giving acts a stage with an audience the likes of which they otherwise don't have. Some acts usually play small clubs and, all of a sudden, they're on a big stage, with a state-of-the-art projection surface, in an amazing location in front of a world-class crowd of festivalgoers.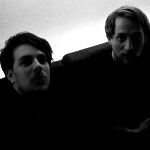 Jakob Barth is a filmmaker and media artist; Bartholomäus Traubeck is a sound & media artist; together, they produce Salon2000, a series of events staged mainly at Celeste in Vienna, as well as evenings of contemporary electronic music, art and club culture specifically conceived to transgress genre boundaries. The two have been booking and organizing events for almost 10 years in Austria—and elsewhere too, sometimes.
Hannes Franks was born in 1986. He lives and works on an out-of-the-way oil rig. After getting a bachelor's in Multimedia Art in Salzburg and a master's in Media Culture & Art Theories in Linz, he worked on various cultural productions in Austria and abroad. He's been on board the Ars Electronica Festival crew since 2011, and recently took charge of producing the performance formats. That's also his métier at the Danube Festival in Krems, Austria.
The Ars Electronica Nightline is set for Friday, September 7, 2018 in POSTCITY Linz beginning at 19:30. To see the lineup, click here. To buy your tickets online, click here.
To learn more about Ars Electronica, follow us on Facebook, Twitter, Instagram et al., subscribe to our newsletter, and check us out online at https://ars.electronica.art/news/en/.