Himatsubushi is Japanese for "killing time," though that translation isn't quite a pinpoint rendering since the term is actually quite elastic—from its most negative to most positive connotations, himatsubushi encompasses quite a lot of territory. Accordingly, the exhibition of the same name that's running throughout the Ars Electronica Festival on the roof of POSTCITY Linz brings in wide-ranging ways of considering hima, time. There's a Himatsubushi Trail that invites festivalgoers to amble over decommissioned spiral packet chutes and conveyor belts; a Himatsubushi Lab, where you can take a long, close-up look at time; and a Himatsubushi Lounge that offers panoramic views conducive to taking time—contemplating, philosophizing or simply relaxing.
In this interview, festival director Martin Honzik and curator Emiko Ogawa tell us more about the term himatsubushi and a couple of the exhibition's highlights.
Let's start by talking about the name of the exhibition, Himatsubushi…
Martin Honzik: The word Himatsubushi definitely needs to be explained by Emiko, because it's a notion coming deep out of the culture of Japan.
Emiko Ogawa: The direct meaning of Himatsubushi is, in English, to kill time. But in Japanese, it doesn't have a very strong meaning. It is very playful and charming. Hima can mean a lot of things at the same time, it can be wasted time or time that you suddenly get awarded. Hima also means free time. From the negative to the positive, all aspects are included in the word Hima. Tsubushi is the act of squishing. It's a way of killing, but not with force, but just like you would squish a mosquito. This is why Himatsubushi doesn't mean to kill time in a very strong way. Rather, it is about using your imagination on how you can spend this time. We thought this kind of imperfection is very fitting with the topic of this year's festival, "Error – the Art of Imperfection". We also believe that in the future, our lives will be very structured and efficient, so this inefficient time, the time spent doing nothing, maybe even wasted time, could become a very important part of life for the human being. We see a metaphor in Himatsubushi.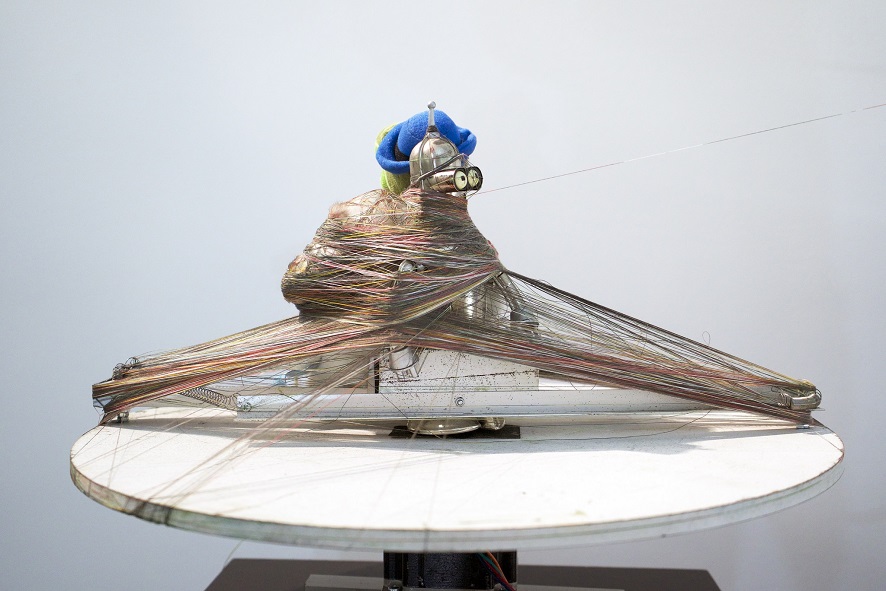 telekniting. Credit: Dmitry Morozov / ::vtol::
So is it a counter position to the current trend of optimization and rationalization?
Martin Honzik: It is. In a time where an individual is able to multiply their own personality, to jump into virtual spaces and to do things under different personalities and names, it is a very logical consequence that identification becomes a more and more important aspect. Identification in the meaning of being aware of who you are, that is, and where you are coming from. This is why Himatsubushi is not just a statement for the time we are living in, but also a statement for the microcosm that we are creating for the Ars Electronica Festival. In its materialized form, Himatsubushi will be a place that is silent, totally controversial to everything a festival actually stands for, a festival that is full of life, full of patina, full of social exchange. With Himatsubushi, we offer a new program point where people find time within the energizing festival to take a step back and find themselves. It is an exercise we offer, and the many art projects curated by our partners and us for Himatsubushi underline and trigger the communication and dialogue that we want to start.
One thing that keeps popping up in relation to the festival theme is that maybe our dream of a digital revolution has failed, maybe it has even outpaced us. Could Himatsubushi be a way of making it reality again?
Martin Honzik: That's a big question! I just don't agree with the statement. It just seems that our dream has failed, it is not a fact. Things like Himatsubushi are a sign that whatever comes with this digitalization must also have a strong relation towards where we are coming from, towards our history, our identification, the meaning of our culture. This is the starting point. Once you are not aware of where it all started from, you don't have any tools or instruments in your hands to evaluate where you are at. The more we understand that new technologies and whichever innovations coming our way need this strong relation to tradition, the more we need this. Or at the very least, we need to always raise this question, because we tend to forget who we are.
What I would like to add to the notion of Himatsubushi is that it is not unique to Japnese culture. In the process of developing this project, we experienced that everybody immediately has an idea of what Himatsubushi is, or at least it triggers a long, deep thought in your memories. It is a very fruitful and inspiring process. Himatsubushi seems to be deeply embedded in our DNA, so we decided that we wouldn't nail the definition of Himatsubushi down, but rather keep it very open. Himatsubushi is a frame where people can find themselves, it is an endless list of beautiful images that are popping up.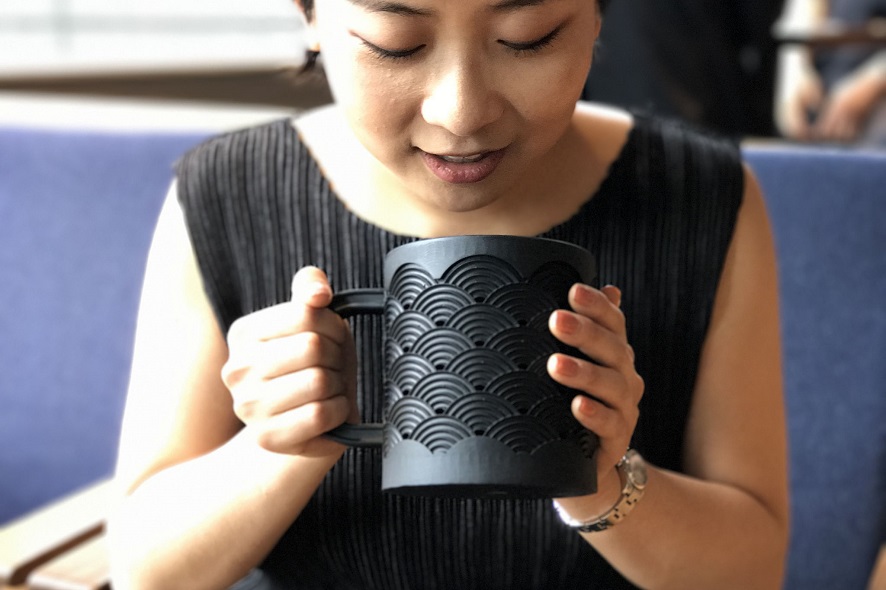 Break Time Experience. Credit: Yihyun Lim, Kacper Pietrzykowski, Andrea Piccolo, Patrik Dolo, Stella Kim, Minh Dinh
So Himatsubushi goes to the very essence of what makes us humans.
Emiko Ogawa: We wanted to interpret together with people what Himatsubushi can be for the human being. It is all about what the human being actually is and what is needed for the human being in this era.
Martin Honzik: For sure this comes with the discussion that we are now putting pretty provocatively on the table that machines are becoming creatures. They are becoming their own species and we, as humans, have to develop a new empathy, a new social intelligence, and vice versa. We are already playing with this idea, ironically or provocatively. But I think it is coming from a far bigger image, because whatever time we look at, it is always the same question. Last year, with the topic of AI, we also came to the point where we said, please, let's not discuss Artificial Intelligence, but before, let's sort out this one small question of who the hell we are as humans.
Himatsubushi will be divided in three parts at the festival. Can you tell be a little bit about them?
Emiko Ogawa: The Himatsubushi areas are connected with a trail, where you can walk along, find art projects and enjoy whatever you choose to look at. The Himatsubushi Trail leads to the Himatsubushi Lab, a group exhibition by artists and researchers who are looking at the notion of time itself. We invited five labs and exhibitors who are each researching about the individual point of view on time. There is also a team from Hakuhodo, wondering about time itself. This area really is all about Hima, how people think about the current Hima or the Hima of the future. How is it important for the human being? How can we feel it, how can we not? There are five projects, five prototypes that have certain ideas of time. They try to embody time as an artwork or as an experience. The third part of the exhibition is the so-called "Sonnendeck", the sun deck on the rooftop of POSTCITY Linz. The outdoor terrace is connected to a constructed terrace inside, which is an architecturally interesting experience. Visitors can relax here – or active.
Martin Honzik: Or activate in relaxing!
Emiko Ogawa: Moving in between the two, always moving in between. We think that this in-between situation is also very important for human beings. We don't want to just provide an opportunity for a lounge, but something more.
Das Dach der POSTCITY Linz. Credit: Vanessa Graf
What are some highlights that we can encounter on the way?
Martin Honzik: Creating this provocative opportunity in getting out of the festival and finding a place where you can create contemplative momentums is a big highlight in itself. We want to fulfill a need there, we want to offer this opportunity, but we have to be careful that we don't lose sight of the goal of the exercise. We don't want masses of people up there, the Himatsubushi idea of finding yourself becomes totally impossible. The other stars of the new area will be the meandering people who experience silence and themselves.
In addition, there will be an interesting collage of design thinking projects, coming from our international partners, which are dealing with time in a very philosophical way. It is a very dense situation where you can find aspects of time in every corner. It will be a beautiful spot for thinking and discussing time and your relation with it.
One interesting project is "Mother´s Hand Taste (Son-mat)" by Jiwon Woo. It deals with the myth that food prepared by our moms has a specific, better taste. It is a very good example of Himatsubushi. One of the deepest embedded memories a human has is the smell of their mother and everything that comes with it. Food simply tastes better when it was prepared by her, which is something that seems very clear and objective. Of course, it is completely subjective! This project combines methods of science in order to get closer to the reality that is behind this subjective feeling. The artist puts facts on the table and examines bacteria coming from mother's hands. Do they have a real influence on the taste? There will be a rice cooking ceremony on the roof, making Makgeolli, a rather common fermented drink in Korea. If you ferment or cook something, you cannot kill time, so it is a beautiful example, a very ironic one that deals with our relation to where we are coming from.
Another project is by Hideaki Ogawa and Kyoko Kunoh, "Flower of Time". You could say it is a centerpiece in the Himatsubushi exhibition, you will meet this project right on the sun terrace on the roof. It is a very ironic and poetic entrance into the Himatsubushi trail idea because it plays with time and different time speeds. Time is experienced very differently, sometimes it feels slower, sometimes it feels quicker. This piece talks about that.
Yoichi Ochiai will bring an entire lab to Himatsubushi. He is a regular guest at Ars Electronica, his projects always belong to the absolute festival highlights, and we can really look forward to how he and his group of assistants and helpers will install the many art projects they are contributing to Himatsubushi.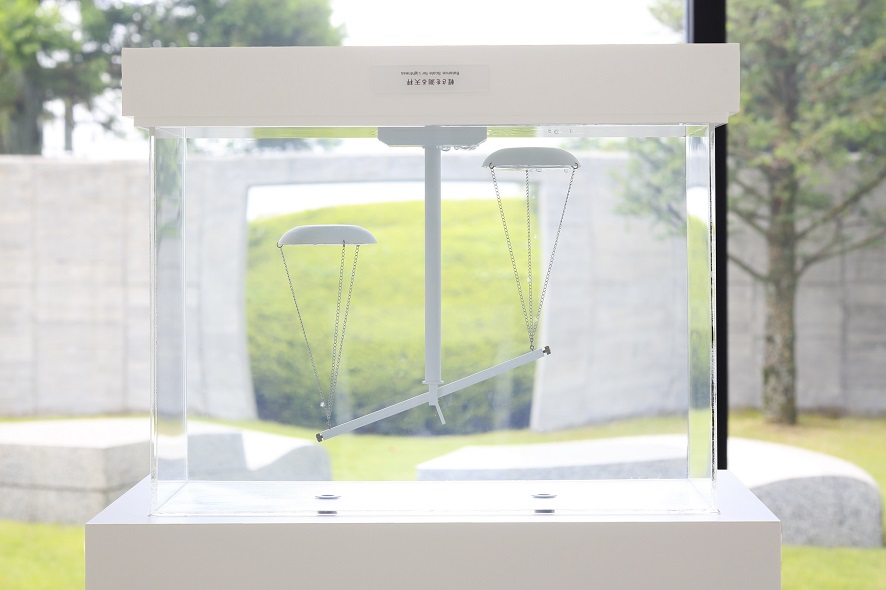 Balance Scale for Lightness. Credit: Yasuhiro Suzuki.
Emiko Ogawa: Yasuhiro Suzuki should also be mentioned! This year, we succeeded in bringing four projects of his to the festival. His work is very philosophical, it asks questions about time itself. For example, one of his projects is called "Balance Scale of Lightness". It is a scale turned upside down, with bubbles coming from the bottom. The scale is trying to balance, but with lightness. People can look at it and wonder: What is lightness? What is heaviness? It is one of the pieces that you could look at all day long, perpetually. Another artwork is called "Nature's Time Metronome", another example of his typical approach: He takes very normal, common concepts like time, something we encounter every day, and treats it under an artistic viewpoint, with a twist. On the metronome, you see different levels of time: one minute, 10 minutes, one day, one year, 100 years, up to 10.000 years. He collected time frames from nature!
We are also showing some "One Minute Sculptures" by Erwin Wurm. Visitors can become a sculpture for one minute – but deciding when they think one minute has passed will be up to them. It is a reflection on action, time and duration that reveals the subjective nature of time. The Himatsubushi Trail and exhibition really invite people to come along on this journey of discovery of time.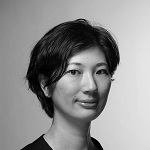 Emiko Ogawa is an artist and a curator. She is currently working for the Prix Ars Electronica, the world's most time-honored media arts competition. She worked on the signage system and produced drawings for the renewal of the Ars Electronica Center in 2009, and since then, she has worked on planning exhibitions for the Ars Electronica Center, the Ars Electronica Festival, and Ars Electronica Export. She creates installations and workshops under the topic of 'creative catalyst' and invites audiences to participate. As an artist, she is in charge of creative direction, graphics and interaction design in the media artist group h.o(hdoto). Working to 'sense the invisible', they create experimental projects that foster communication and make revelations about society.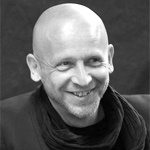 Martin Honzik is an artist and director of Ars Electronica's Festival, Prix and Exhibitions divisions. He studied visual experimental design at Linz Art University (graduated in 2001) and completed the master's program in culture & media management at the University of Linz and ICCM Salzburg (graduated in 2003). Besides being independent Artist in several art projects, he joined the staff of the Ars Electronica Future Lab, where, until 2005, his responsibilities included exhibition design, art in architecture, interface design, event design and project management. Since 2006, Martin Honzik has been director of the Ars Electronica Festival and the Prix Ars Electronica and in charge of the exhibitions in the Ars Electronica Center as well as Ars Electronica's international exhibition projects.
Himatsubushi will run throughout the Ars Electronica Festival, September 6-10, 2018, during POSTCITY Linz's opening hours. For details, please visit our website.
To learn more about Ars Electronica, follow us on Facebook, Twitter, Instagram et al., subscribe to our newsletter, and check us out online at https://ars.electronica.art/news/en/.