A slice of whole-wheat bread covered with zesty, meaty bacon, nut & seed mix for healthy snacking, and pure honey from right here in Upper Austria—the BIO AUSTRIA Farmers' Market at the 2018 Ars Electronica Festival has a whole smorgasbord of delectable delights—all organic and local—in store for festivalgoers on Saturday, September 8, 2018, when POSTCITY Linz will once again be filled with the fragrant smells of strudel, spinach & pressed cheese dumplings, and spelt coffee. In this interview, Marlene Wolfsteiner of BIO AUSTRIA tells us what the organization's organic farmers will be bringing along with them.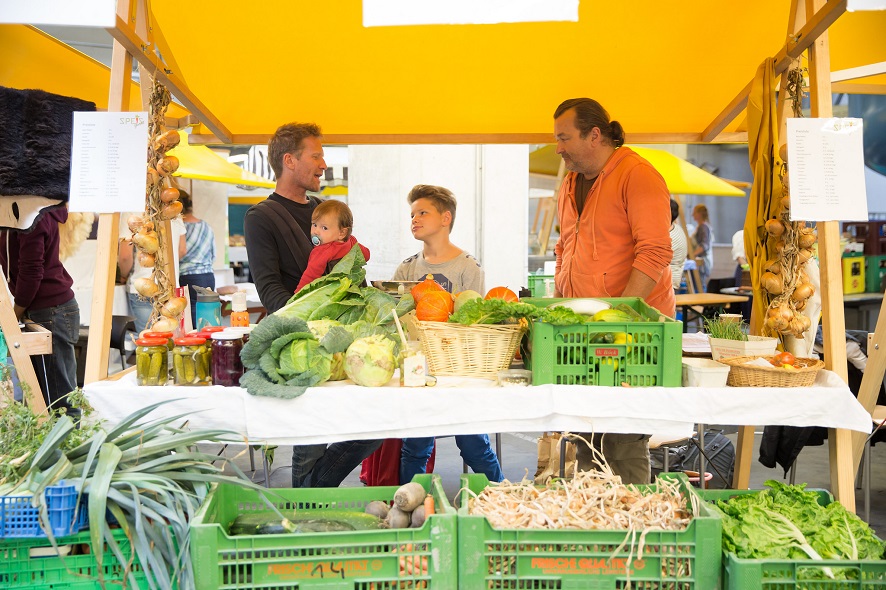 Credit: Tom Mesic
BIO AUSTRIA is holding a Farmers' Market at the Ars Electronica Festival once again this year. Who'll be there and what tasty treats will they bring with them?
Marlene Wolfsteiner: Our Upper Austrian organic farmers will be showing off their wares at the Ars Electronica Festival in POSTCITY for the fourth time on Saturday, September 8th from 10:00 to 17:00. There'll be bread, bacon and curd cheese to sample, plus everyday staples, fancy items to bring as a gift when you're invited to someone's home, and interesting organic specialties—thus, a wide selection with something for everybody.
Here's the lineup: rolls and wholegrain bread, pastries & sweets, high-quality oils such as linseed, pumpkinseed, poppy seed and safflower oils, ham and sausage, curd cheese spread, herb mixes and teas, crackers and snacks, spelt coffee, apple juice and aromatic vinegar. We'll also offer brandies & distilled spirits, marmalades and pestos, honey and tofu. Rounding out the offerings are water buffalo specialties, spicy strudel, pressed cheese & spinach dumplings, sausage & bacon dumplings and vegetarian quiche. For desert, there's organic ice cream; and soda pop to wash it all down.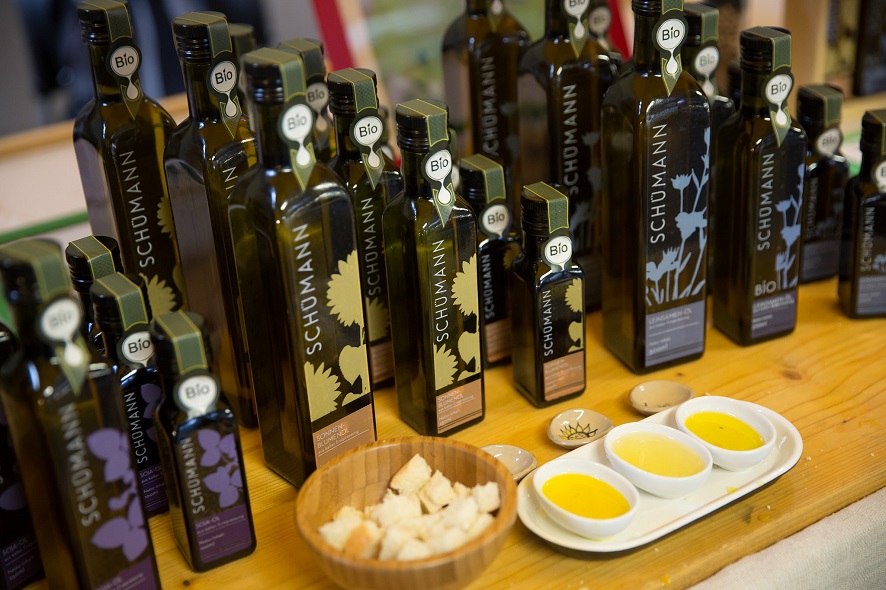 Credit: Tom Mesic
The festival theme is ERROR – The Art of Imperfection. How do men and women who produce and deal in organic foodstuffs come to terms with deviations from the norm?
Marlene Wolfsteiner: In the conventional food industry, foodstuffs that don't conform to standards are quickly trashed or don't even make it to retailers' shelves—for example, vegetables that are too big, too small, crooked, or simply differ from the look prescribed by the trade. They're culled out as defective goods and disposed of or, at best, used as compost.
Organic farmers have the advantage that they sell directly to the consumer—for example, a shop right on the farm or a stand at a weekly market, where they can sell their products that don't conform to industry norms with respect to appearance but are excellent as far as taste is concerned. Some such foodstuffs are bought up by processors—for instance, apples that don't meet standards can be made into juice, cider or applesauce.
Organic farmers prefer to cultivate tried-and-true varieties because they assure good taste, diversity and form. And in the meantime, such so-called rarities have also become popular among retailers, more and more of whom are discovering the potential of non-standardized organic foodstuffs. A great example is a packaged assortment of organic tomato rarities that far surpass run-of-the-mill commercial goods in taste, diversity and form. Plus, buying directly from BIO AUSTRIA organic farmers enables consumers to purchase organically produced specialties that are locally grown and delivered fresh. www.biomaps.at provides a nationwide directory of all BIO AUSTRIA farms in a user's area that market direct to consumers.
BIO AUSTRIA farmers produce especially high-quality products that far surpass the minimum standards of the EU's organic guidelines. At your grocer, always look for the BIO AUSTRIA label! This extraordinarily high organic quality is audited at least once a year by strict, independent inspectors.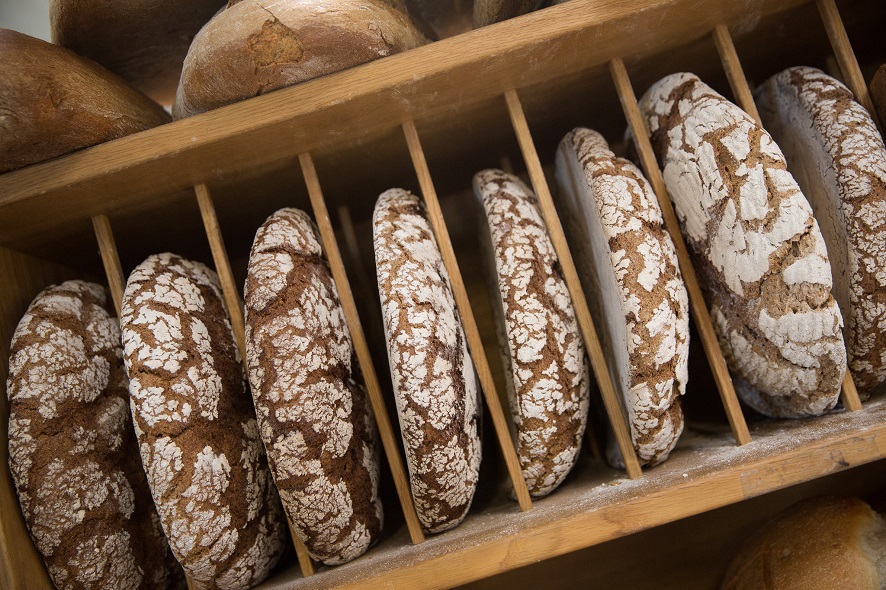 Credit: Tom Mesic
This year's festival theme, The Art of Imperfection, focuses on recognizing opportunities in errors. What are the potential sources of error in organic agriculture and how are they dealt with?
Marlene Wolfsteiner: In organic agriculture, the emphasis isn't on achieving a perfectly uniform field in the sense of monoculture; rather, the accent is on biodiversity in the sense of interplay among cultivated plants and mulch plants. Laymen often see such "imperfect" organic fields as mistakes.
But for organic farmers, this method of working the soil is enormously important because it nourishes soil life and contributes to the fertility of the land. And this fertile soil is extremely valuable in complex ecosystems. It establishes many preconditions for the essential fundamentals of life such as pure drinking water, unpolluted lakes and rivers, a life-sustaining climate, genetic diversity and, ultimately, an excellent habitat for humankind.
Organic farmers are very creative. This is manifested by a proclivity to innovate, to eschew fear of the unknown and, thus, often to take new approaches. Small flops are seen as chances to learn from these mistakes and to set out on an innovative new course. This enables organic agriculture to develop on an ongoing basis. BIO AUSTRIA farmers look at the big picture. A lot of things that are seemingly independent of each other are interconnected and have an impact on the holistic whole.
Credit: Martin Hieslmair
What are some of the other highlights that festivalgoers can look forward to?
Marlene Wolfsteiner: Naturally, the spotlight is, as always, on our organic farmers and their superb products. Conversations with organic farmers about how they work and thus their way of life will surely be enriching experiences for festivalgoers. The example of vegetables will make it crystal clear to everyone that the biodiversity to which our organic farmers pay such special attention is not only important for our environment; it also greatly improves our nutrition. Our stand will also feature equipment festivalgoers can use to make their own smoothies.
Did we whet your appetite? You can taste-test and purchase the delicious, healthy wares produced by the organic farmers of BIO AUSTRIA on Saturday, September 8th from 10:00 to 17:00 at the Organic Farmers' Market in POSTCITY.
To learn more about Ars Electronica, follow us on Facebook, Twitter, Instagram et al., subscribe to our newsletter, and check us out online at https://ars.electronica.art/news/en/.