Ever since 2016, the .ART domain offers a separate space for art in the vastness of the internet. In addition to big names in the scene such as AES+F, the Marina Abramović Institute or Kickstarter.art, Ars Electronica has now also switched to the new domain: ars.electronica.art.
Ulvi Kasimov, founder of the .ART domain, and Gerfried Stocker, Artistic Director of Ars Electronica, talked more about the new domain and what .ART means for the art world in this interview. Ulvi Kasimov will also be speaking at the 2018 Ars Electronica Festival in several events, details are listed at the end of this article.
Gerfried Stocker, why did Ars Electronica decide to switch to .ART?
Gerfried Stocker: There are two reasons. On the one hand, it is very important to us to show our brand name, which really is of great international value. The old address aec.at is very cryptic, it doesn't really say who we are. Since Ars Electronica has grown in recent years with international activities in Japan, Australia and around the world and even has its own offices there, it is important for us to make our brand name truly present online. The second reason is that the .ART domain is a wonderful symbol. It's great that there is a home for art, a domain of its own in the vast digital universe. .ART interested me because I saw that technologies are being used in a very innovative way to find new ways of creating an ecosystem for art and for producing artists.
Ars Electronica is not the only institution to have switched to .ART…
Gerfried Stocker: It's true, it's great to be in first-class company at .ART! Top artists, institutions such as the Marina Abramović Institute, but also young, successful media art labs such as teamLab from Japan are examples. And now, there's Ars Electronica to add to the list!
Ulvi Kasimov, can you tell me about the development of the .ART domain? Why was it founded and what purpose does it serve?
Ulvi Kasimov: I've always been interested in the arts, mostly from the collector's perspective. Once I got more involved with the art world, I noticed that it did not have a proper infrastructure nor did it have its own space on the internet. Coming from a venture capitalist background and having a significant number of years of experience investing in various IT projects, I saw a business opportunity there.
Domains have been in the spotlight for about 30 years. Today they are a well-established and stable technology. I momentarily realized that .ART domain is something that stands out. It's striking, clear, and concise. Anyone who purchases a .ART website name gets an instant opportunity to make a statement and to identify themselves and their business with the global artistic community.
There were a few buyers interested in administering the .ART domain zone. Thus ICANN (The Internet Corporation for Assigned Names and Numbers) held an auction for the right to administer the .ART domain zone, which I won in 2015.
Apart from the well-established function of a website name, together with the .ART team we decided to explore other opportunities the lack of infrastructure in the art world had to offer. We set out on a journey to discover how information about art objects is stored and distributed in the online space. We developed a service, called 'Art Records', which is the new international standard for art object identification on the Internet. It is based on 'Object ID', which is an international standard for describing cultural objects that was developed by the J. Paul Getty Trust and has been adopted by major law enforcement agencies, including the FBI, Scotland Yard, Interpol, UNESCO and ICOM, amongst others. Art Records aims to centralize the information available about an object while simultaneously allowing for the tracing of the object's provenance and movement around the globe. This provides universal access to cultural information and helps collection owners monetize information about the objects in the collection. One can easily buy and sell various types of information about the object (audio and video guides, historic references, images for print home use, amongst others).
What are some examples of how artists or institutions use .ART domain in their work?
Ulvi Kasimov: For an artist, a .ART website is a platform for self-expression which can also be utilized as a digital business card. A .ART site provides the owner with an opportunity to identify themselves as being at one with the global artistic community, ultimately making the artists more visible on the internet and differentiating them from others. We have already sold more than 30,000 domains and have attracted the attention of young and established artists and creatives, including the likes of Shen Wei, AES+F, TeamLab, Steve Miller, the Marina Abramović Institute, ICA London and others.
Speaking of institutions and brands, some companies have purchased a site on the .ART domain in order to distinguish their art-related activity from their business presence. For example, at kickstarter.art one may find a succession of large-scale art projects that have been realized with the support of the crowdfunding platform.
As you are participating in this year's Ars Electronica Festival – what can festival goers expect to see from you this year?
Ulvi Kasimov: We are excited to be involved in multiple activities over this year's program. We have invited two wonderful artists: the award-winning film-director, writer and producer, Martha Fiennes, and a very talented, young, multidisciplinary artist Egor Kraft. We are going to show a trailer to the most recent Martha Fiennes' moving image artwork, Yugen (2018). In addition to it being a piece where AI and creativity have come together to produce a radical new medium of art, Yugen is also the first work to be registered on the Art Records service developed by .ART. We are all very happy to introduce Art Records to the public for the first time at this year's Ars Electronica edition.
Egor Kraft will exhibit his works exploring the relationship between the real and the virtual at the .ART section in the Gallery Spaces. The connection between the offline and online worlds is important to us because what we are doing is essentially creating the online space for the global creative community.
.ART is also bringing a group of speakers to participate in panel discussions at the festival. Whilst there are other talks that we will take part in, I would like to mention the panel on identification and self-identification in the online space, which we have organized. Since .ART is essentially the ultimate identifier of one's values and beliefs online, it will be extremely interesting to trace how technology changes our perception and identification of self online.
And is there anything you are particularly excited about at this year's festival?
Ulvi Kasimov: I am very happy to see Ars Electronica becoming our partner and friend. I am looking forward to many more collaborations between us in the future!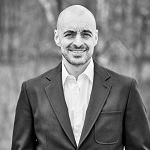 Ulvi Kasimov is a Forbes-listed venture investor, collector and philanthropist. In 2016, Kasimov and his company UKCI launched .ART, the world's only top-level domain designed for those who live and breathe art. Dedicated to the support of culture in a variety of forms, .ART empowers members of the artistic community to make strong statements in the online space.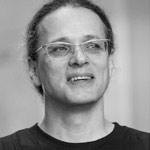 Gerfried Stocker is a media artist and telecommunications engineer. In 1991, he founded x-space, a team formed to carry out interdisciplinary projects, which went on to produce numerous installations and performances featuring elements of interaction, robotics and telecommunications. Since 1995, Gerfried Stocker has been artistic director of Ars Electronica. In 1995-96, he headed the crew of artists and technicians that developed the Ars Electronica Center's pioneering new exhibition strategies and set up the facility's in-house R&D department, the Ars Electronica Futurelab. He has been chiefly responsible for conceiving and implementing the series of international exhibitions that Ars Electronica has staged since 2004, and, beginning in 2005, for the planning and thematic repositioning of the new, expanded Ars Electronica Center, which opened its doors in January 2009.
Ulvi Kasimov will speak at the Ars Electronica Festival (September 6 – 10, 2018) at the Opening Symposium on Thursday, September 6, 2018, at the Lecture Stage and will give insights into his work at the Media Art Market Symposium on Saturday, September 8, 2018. Masha Sergeeva from .ART will also speak at Gallery Spaces Panel II: .art – Identification and Self-identification online. Technology and the true self about the domain.
To learn more about Ars Electronica, follow us on Facebook, Twitter, Instagram et al., subscribe to our newsletter, and check us out online at https://ars.electronica.art/news/en/.