Greiner Co. annually conducts an idea campaign to which employees can submit answers to a different question each year. The 2017 topic was how to use and recycle plastic in a more sustainable way. Two ideas will be presented to festivalgoers September 6-10, 2018 in POSTCITY Linz. Greiner Group CEO Axel Kühner told us more in this interview.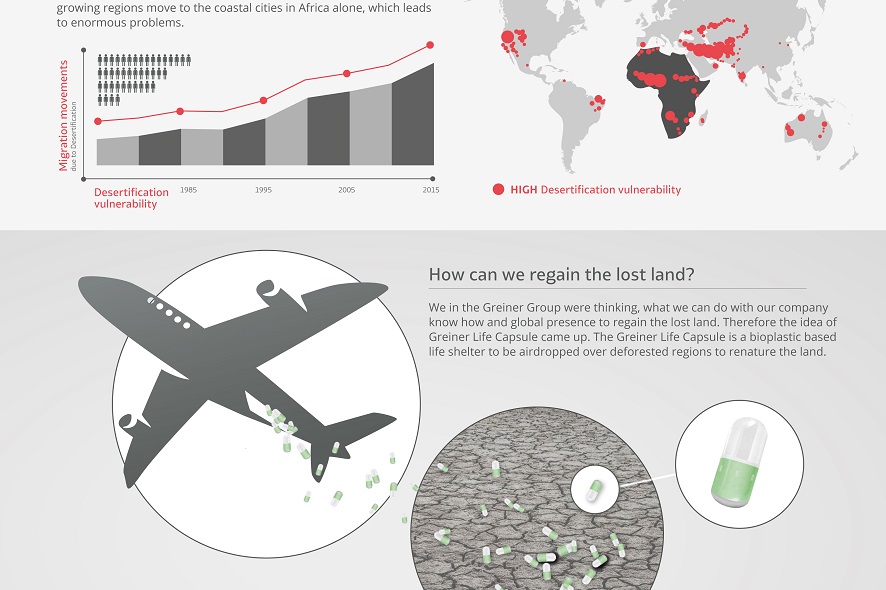 Credit: Greiner
Greiner Co. processes plastics and makes foam products, whereas the Ars Electronica Festival is a media art showcase—so, at first glance, you wouldn't think that collaboration between the two would be a perfect fit. Why are you nevertheless so interested in taking part in the festival?
Axel Kühner: Greiner Group often sets out on courses that are, upon initial consideration, rather unexpected. But we're convinced that extraordinary ideas call for unusual approaches and out-of-the-box thinking. And that includes the cooperative relationship that Greiner Group has maintained with Ars Electronica for several years now.
Interdisciplinary exchange with people who create art is interesting above all as part of the so-called strategic foresight process, since artists sketch future scenarios in which they try out and demonstrate changes in trends taking place in society. Ars Electronica has also provided us with valuable input in connection with "Future in a Nutshell," our series of interesting talks designed to acquaint employees with topics of great future importance—for instance, Industry 4.0, artificial intelligence and smart materials. A project that's still in the inception phase entails collaboration in training programs for Greiner apprentices during semester breaks or Easter vacation. So you can see that there are several reasons why we highly value working together with Ars Electronica.
Greiner will be exhibiting two projects at the Ars Electronica Festival. Tell us about these ideas and their inception.
Axel Kühner: Once a year, Greiner stages a group-wide idea campaign to gather ideas on a variety of topics. The top of the 2017 agenda was the sustainable using and recycling plastics. By presenting the two most promising submissions at Ars Electronica, we hope to get a lot of input from festivalgoers who are interested, creative, innovative thinkers, and we're looking forward to constructive discussions and lots of food for thought!
One of the projects is the Greiner Life Capsule for the reforestation of areas that have undergone clear-cutting. The idea is as simple as it is effective: egg-size containers made of biodegradable plastic and filled with plant seeds, nutrients and water are dropped over an entire area from an airplane. The capsule shatters on impact, the seeds germinate and take root, and the landscape is revived. The second project is named Enzymatic Recycling and deals with the breakdown of plastic by bacteria. It shows how this gentle but fast way of recycling plastic can be effectively implemented by the synthetic production of bacteria.
Greiner at the 2015 Ars Electronica Festival. Credit: Loopex
In making preparations for the festival, you gave high priority to involvement not only by your own employees but by festivalgoers too. What can visitors to your installation look forward to, and why is this input so valuable for Greiner?
Axel Kühner: Up to now, we've conducted our search for ideas on an in-house basis and then showcased them together with the best R&D projects and the most successful innovations. This is the first time we're inviting visitors to the Ars Electronica Festival to engage in a dialog with us and to share their thoughts and ideas with us—thus, another step in the direction of open innovation. The next step is conducting the first Greiner Ideation Hackathon in October in Vienna. We'll be inviting start-ups, students, creatives and inventors to come up with new business models for our products.
This year's festival theme is Error – The Art of Imperfection. What's your take on this; do you have any anecdotes for us?
Axel Kühner: You learn from your mistakes. They open up new points of view and opportunities, since they force us to take leave of well-trodden paths and to try something new. Accordingly, I don't necessarily regard error as something negative. If you're asking about mistakes I've made over the course of my career, then I can tell you that, quite often, things definitely didn't go as planned. But that's also what makes life interesting. When I was a boy, I always wanted to be a doctor but I couldn't pursue that career plan because I can't stand the sight of blood. Was it an error to give up on my dream? Not at all! I'm now the CEO of a company that does business worldwide, and I have the most wonderful, most exciting job I can imagine! I could be considered a living example of how purported limitations open up new and perhaps better-suited courses of action.
Axel Kühner is CEO of the Greiner Group. Credit: Greiner Holding AG / Joachim Haslinger
Both of Greiner's projects will be on display at the 2018 Ars Electronica Festival. Details are available here.
To learn more about Ars Electronica, follow us on Facebook, Twitter, Instagram et al., subscribe to our newsletter, and check us out online at https://ars.electronica.art/news/en/.