Anton Bruckner Privatuniversität (ABPU) on Pöstlingberg high above the rooftops of Linz is serving as a festival location for the third straight year. As always on Sonic Saturday, September 8th, the focus in on sound art in a lineup that includes a symposium, an Expert Tour, a Listening Room and a concert of electronic music entitled Medium Sonorum. And Music Monday on September 11th, a whole day of audio works staged at many festival venues, kicks off in intensive fashion at ABPU.
Professor Volkmar Klien of the school's Computer Music and Media Composition program, media artist Se-Lien Chuang, and Professor Andreas Weixler, director of ABPU's Computer Music Studio (CMS), told us about the highlights in this interview.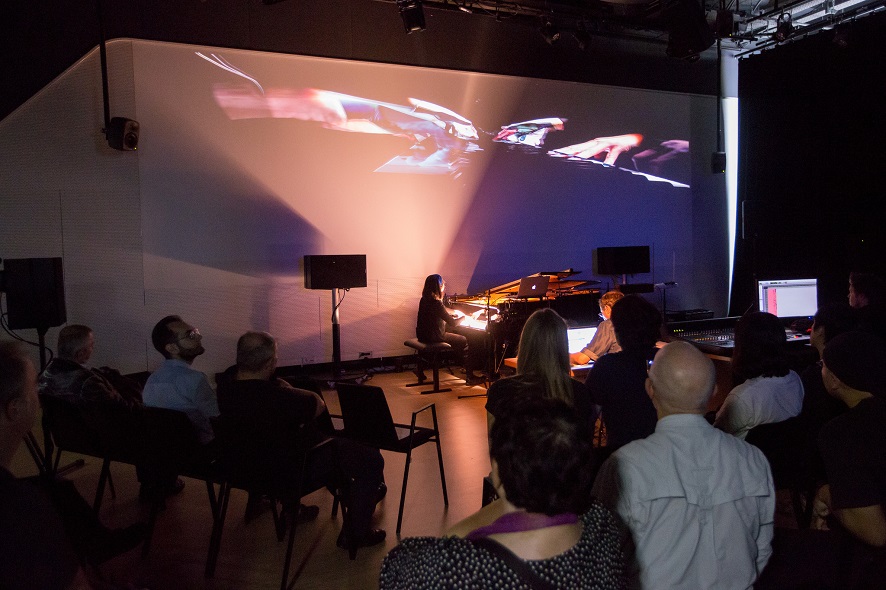 Credit: Tom Mesic
The symposium, which is a mainstay of every Sonic Saturday, is entitled "composing (in) digital worlds" this year. What's it all about?
Volkmar Klien: Digital music and music in general are increasingly changing along with the digital culture in which we live. The beginnings of computer & electronic music were strongly oriented on making it possible to produce new sounds, or to process existing sounds in better or different ways. Now, in the age of Big Data, we also have big corporations and social media providing music streaming services and observing user's dealings with music, and they're not only personalizing radio programming but also attempting to utilize algorithms to produce content that's attuned to users' desires. This is actually a profit-driven counter-model to what was envisioned by the musical avant-garde that invented electronic music, computer music and the sonic and artistic possibilities they opened up. A very interesting group of artists and theoreticians convene in Linz for the Sonic Saturday symposium, people who have a variety of takes on issues having to do with digital music, composition, manipulating sounds, and music generation processes. The participants—Alexandra Murray-Leslie, Thor Magnusson, Enrique Tomás, Sam Ferguson and Thomas Grill—will confront artistic approaches and the consequences that the fundamental shift of the 'music' setting to artistic practice can have. We conclude with a panel discussion that we'll try to keep as open as possible to also allow for communication with visitors.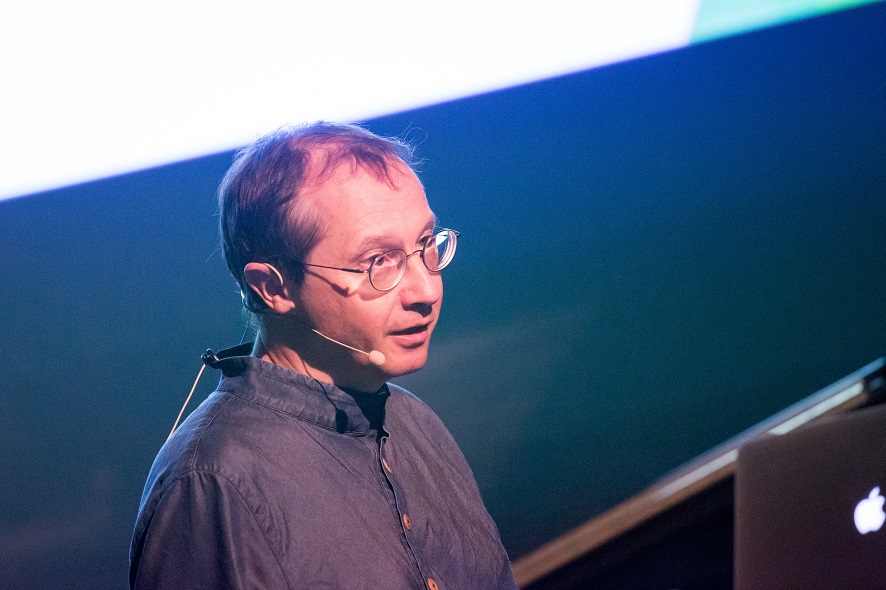 Andreas Weixler. Credit: Florian Voggeneder
Andreas and Se-Lien will conduct visitors on an Expert Tour through the university …
Andreas Weixler: Our highest priority is to showcase the Sonic Lab with its multichannel capabilities both with time-based media and in sound-and-image interactivity. This year, we also want to bring in something special—the Paint Sound Board that Se-Lien and I have developed, and which was recently honored as Best European Performance at the International Computer Music Conference in Daegu, South Korea. On the Expert Tour, we'll feature selected works that bring out the space's qualities as a setting for composition and as an instrument. Tour group participants will also get to experience the various spaces that make up the Sonic Lab—the computer music studio, the replica room and the production studio.
Se-Lien Chuang: Of utmost importance to us in this Expert Tour is to demonstrate how APBU's infrastructure can be deployed. We want to show the creative possibilities that the Sonic Lab's multimedial modality makes available. With the Sound Board Painting, we attempt to really present the music and the art, and to familiarize the audience with them. Here, you can truly experience multimedial modality.
Andreas Weixler: In the past, this was very well received. The tour group can be divided into two main categories—experts who are interested in the technical details, and those who work in very different fields. That's why we always take time for questions. And the beautiful thing about this is when one project gives rise to another. Last year, for example, a group from the Musrara School of Art in Jerusalem was on hand, and they were delighted with what they experienced, and we subsequently invited them to the Listening Room for this year.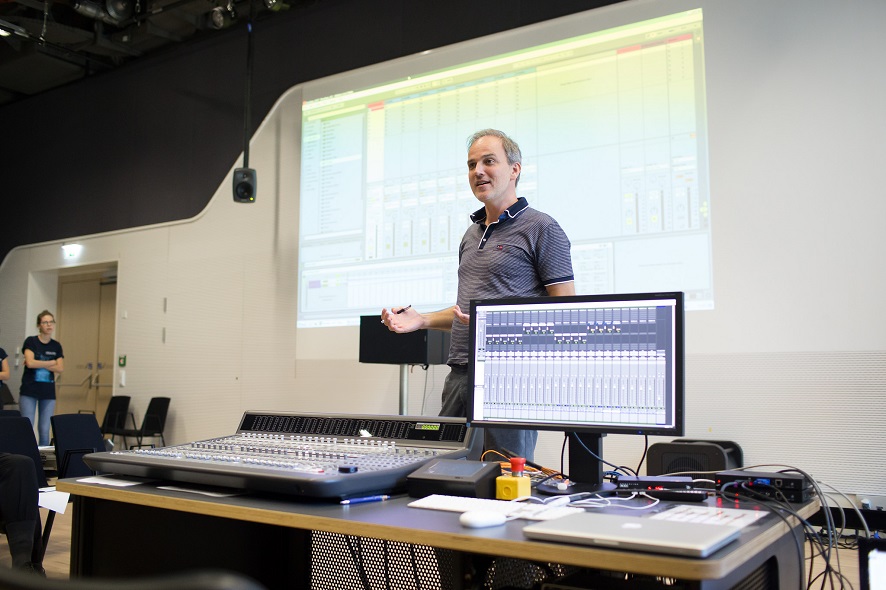 Volkmar Klien. Credit: Florian Voggeneder
In our interview last year, we talked a lot about the Sonic Lab, especially about the technical specifications, since it really is something special. What's it like to visit the Sonic Lab?
Se-Lien Chuang: As soon as you walk inside, you experience its extraordinary acoustics. You perceive the sound of a voice very clearly. And musicians feel exceedingly well here because this acoustic treatment makes the sound very transparent. The multimedia infrastructure is also extraordinary—we have double projectors as well as a third beamer, which makes various combinations of presentations possible. The 20.4 loudspeakers enhance the acoustic variety and diversity.
Andreas Weixler: One truly is immersed into a unique domain, especially when one experiences images and sounds together in this immersive environment. At the same time, this space's laboratory character is very important to us—I mean, that's why it's called Sonic Lab. We often place it at the disposal of guests who are developing something over a long period of time or are our long-term collaborators like Linz Art University's Interface Cultures program. Their students work on totally different projects than ours do, and this presents networking opportunities. What we aim to get across is that you're in another world here. A particular source of delight for me during these tours is having contact with people from around here who are obviously proud of the Sonic Lab.
Volkmar Klien: I'm fascinated by the fact that it's possible to construct a virtual soundscape. This gives rise to a concert situation in which there's not necessarily a "front" because you're enveloped by sound everywhere. This act of surrounding the audience in sound is fascinating because the virtual world one conjures up as a composer isn't behind membranes or screens. The audience actually is surrounded by the sound, amidst the acoustics. It's a virtual world that physically enwraps you. The tonal phenomena are emitted by loudspeakers, but they occur in the middle of the space in which you're seated. This interests me both as a listener and as a producer.
Se-Lien Chuang. Credit: Tom Mesic
You're planning two productions that manifest this multi-channel effect—the Listening Room and the Medium Sonorum concert. What can we look forward to?
Andreas Weixler: In Medium Sonorum, we're endeavoring to impart insights into what's happening now in computer music. On one hand, we're inviting people from all over the world we'd like to meet & greet; on the other hand, we want to give young people in the local scene a platform at this international festival, though we require that their work be on a world-class standard.
We'll be hearing from Stevie Jonathan Sutanto, an Indonesian composer who's a rising young star in this scene. We invited him for a 2018 CMS Research Residency and we'll be presenting one of the results of this stay, "inMemory [sound ritual]," on this program. I also want to mention Jorge Gomez, who has a strong proclivity to electronic music. It's so much fun to work with him!
Se-Lien Chuang: Harald Günter Kainer is presenting his audiovisual composition "repaint!," which is a great fit in Sonic Lab with its double projections and 20.4 loudspeaker system. He has readapted his composition for our loudspeaker system and done a spatialization. And we would be remiss if we failed to mention that this piece is very appropriate to the festival theme.
Andreas Weixler: When we tried out his piece in Sonic Lab, we weren't sure if our system was broken! It conveys the concept of error so perfectly that it even fooled us briefly.
Volkmar Klien: Martina Claussen, a composer and professor of voice/singing at the University of Music and Performing Arts Vienna, is currently enrolled in our Electronic Composition master's program. Her work entitled "[connected] 1.2" is a fixed media piece consisting of layered voices processed to varying extents. Thor Magnusson, an Icelandic composer currently doing research in the field of digital music in England, will present "Fermata" performed by an ensemble that includes two ABPU professors: Peter Herbert on stand-up bass and Hannes Löschel on harmonium. Magnusson is heavily involved in the culture of live coding whereby compositions, improvisations and works of sound art are created in real time via synthesis. In this case, this also occurs in the physical space surrounding the musicians whose actions the computer inputs into this multichannel soundscape.
We've chosen works that are highly diverse so that the lineup is characterized by variety but is still homogeneous enough so that concert dramaturgy works. All the pieces take advantage of Sonic Lab's multichannel and audiovisual capabilities. There's a wide variety of styles, live music, fixed media and real-time processing to duly cover the whole spectrum of artistic modes of expression.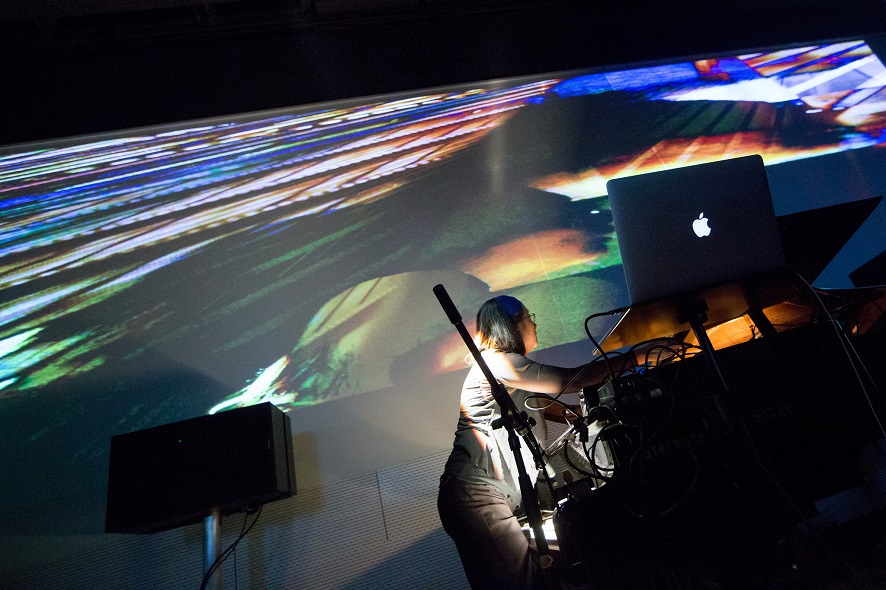 Listening Room. Credit: Tom Mesic
Throughout the day, visitors will have the opportunity to hear other works in the Listening Room …
Andreas Weixler: We've invited diverse artists to appear in the Listening Room—for instance, the previously mentioned group from the Department of New Music at Musrara School of Art in Jerusalem will perform a block of six pieces. A second block will spotlight diversity on the part of established artists and up-and-coming young people including students.
Se-Lien Chuang: As far as the substantive differences between Medium Sonorum and the Listening Room are concerned, I just want to point out that we have endeavored to make Medium Sonorum a showcase of the computer as musical instrument. In this concert, real-time processes take place; the computer will be used as a performance instrument and the audience made aware that computers can also be used as instruments. The Listening Room has less to do with real-time processes; the program consists of set pieces.
One example of what guests will experience in the Listening Room is an audiovisual composition by João Pedro Oliveira, an SMC prizewinner. Composers Angelica Castelló, Astrid Schwarz and I will present pieces. It's important for us to endow the Listening Room with a balanced substantive and artistic presence. We're exhibiting audiovisual compositions as well as multichannel-electroacoustic compositions. There are also compositions that were produced for stereo—that is, for only two loudspeakers—and were subsequently spatialized via 20.2 loudspeaker channels. One example of this is the work of James Surgenor, a PhD candidate at the University of Sheffield. His field of research is electroacoustic composition and the development of various software tools for use in the composition and performance of electroacoustic music.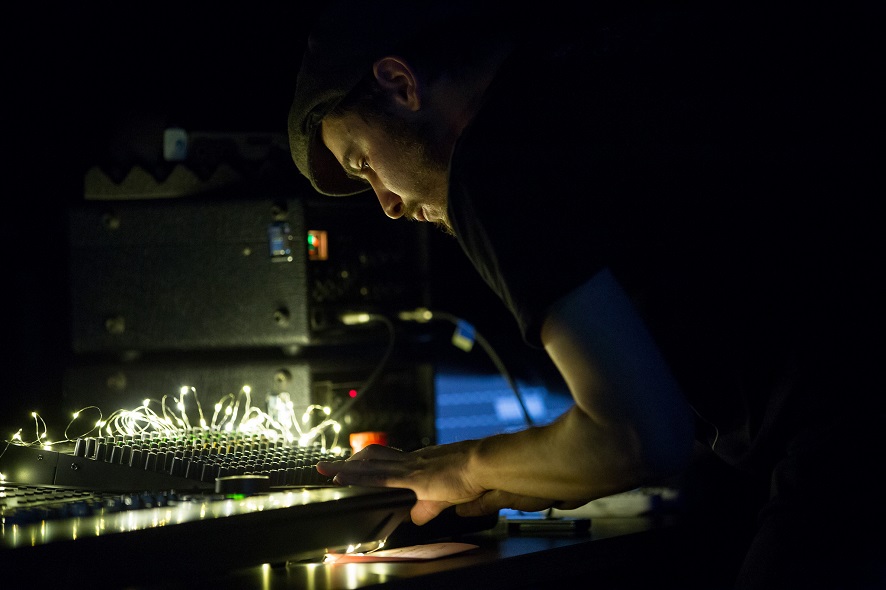 Lukas Löcker. Credit: Florian Voggeneder
Music Monday wraps up the Ars Electronica Festival with a cavalcade of sound art, and the day's activities commence at ABPU. What do you have planned?
Volkmar Klien: Music Monday is a perusal of the audible portion of the Ars Electronica Festival. For us, this day is also an opportunity to present what's happening at ABPU in the fields of electronic computer music, sound art and composition. Our guests can partake of works by our students, and behold the modular Buchla synthesizer that the Ernst Krenek Foundation placed at our disposal this year. We'll present the works students have created for this instrument as well as the instrument itself. The archivist of the Ernst Krenek Foundation, Clemens Zoidl, will also be on hand to talk about the early days of electronic music. Then, visitors will be free to roam about and visit the installations.
Andreas Weixler: We're featuring a superb performance by Sarah Baminger, who actually studied Jazz/saxophone but chose a major in Music & Media Technology. Everyone was delighted by her graduation project, a very delicate performance, extraordinarily sensitive to light. The system she programmed reacts to light and to the saxophone. The second work is "4×4," a composition and installation by Lukas Löcker and Michael Mayr that includes multiple layers—accordion, video, percussion, computer—all of which are depicted physically.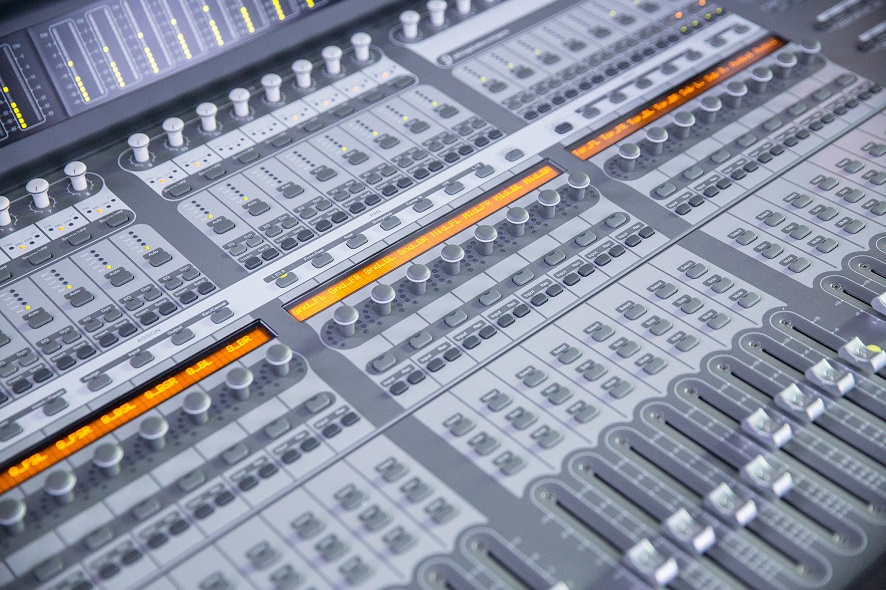 Credit: Tom Mesic
What are you most looking forward to at this year's festival?
Andreas Weixler: To the meeting & greeting! To the human, artistic and scholarly encounters and exchange. Meeting new people is fun, and you learn from one another.
Se-Lien Chuang: What's most important for me is to take what is regional and project it out into the world, and to take what is international and bring it to Linz. It's fascinating to combine and integrate research and art. For me, quality and content are the primary considerations.
Volkmar Klien: For me, the Ars Electronica Festival is, first and foremost, a chance to learn. I like to be surprised, to see who's there, to meet new people and touch base with old acquaintances. It's wonderful that this takes place in Linz. I regularly confront new things that I find exciting and inspiring, things that point my thoughts in new directions or even reveal something totally new to me. And when you can personally meet the individuals who produced a particular project, that's even better! So, my plan is to wander about aimlessly and let interesting, surprising things happen.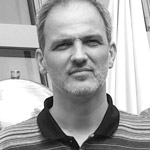 Volkmar Klien spent his childhood and adolescence in Vienna, fascinated by musical life in that city, its glorious traditions and antiquated rituals. Today, inspired by this background, he seeks to expand the possibilities of composing, playing and hearing music far beyond classic concert situations. His interest in the multilayered connections between the various modes of human perception and the roles that they assume in the communal creation of reality have led him to the most multifarious realms of audible—and sometimes inaudible—art. Mariendom was the setting of his "Relative Realities" installation during the 2016 Ars Electronica Festival. Volkmar Klien is professor of composition at Anton Bruckner Private University in Linz.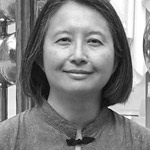 Se-Lien Chuang is a composer, pianist and media artist. She was born in 1965 in Taiwan and has lived in Austria since 1991. Her areas of artistic specialization include contemporary instrumental composition and improvisation, computer music and electronic sound processing, and audiovisual interactivity. She studied composition (Beat Furrer), music & media technology (Karlheinz Essl), piano, recorder and Electroacoustic music in Austria. Her numerous international productions, research stays, speeches and performances of her own compositions have included appearances in Europe, Asia and North & South America: the Salzburg Festival, Wien Modern, Ultraschall Festival Berlin, ICMC Daegu/Shanghai/Utrecht/Athens/Perth Ljubljana/Huddersfield/NYC/Belfast/Copenhagen, SICMF Seoul, NYCEMF, NIME Copenhagen/ Lousiana/New York City, ISEA Hong Kong/Singapore/Nagoya, IAMAS Japan, Ars Electronica Linz, SONORITIES Festival Belfast, et al. She has been a member of the faculty of Anton Bruckner Privatuniversität since 2016.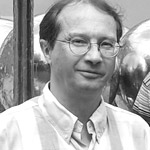 Andreas Weixler (born in 1963 in Graz) is a composer of contemporary instrumental and computer music featuring audiovisual interactivity, virtuosic fortuities and interactive scores. He is a professor at Anton Bruckner Privatuniversität, where he initiated the development of the Computer Music Studio and the Sonic Lab, the intermedial multichannel concert hall for computer music. He also teaches at Linz Art University and mdw–University of Music and Performing Arts Vienna. After studying in Graz with Dobrowolski, Pagh-Paan and Furrer, he completed numerous international projects, studies abroad and research stays. Andreas Weixler established the Sonic Intermedia concert series at Ars Electronica Center Linz and currently operates the ATELIER Avant Austria together with Se-Lien Chuang.
Music and Sound Art at the Ars Electronica Festival September 6-10, 2018
With an extensive lineup of high-quality concerts, performances, speeches and discussions, the Festival has long been a major attraction for music aficionados as well. In addition to Sonic Saturday, the Big Concert Night on Sunday, September 9th in POSTCITY is another don't-miss festival highlight. The Ars Electronica Center's Deep Space 8K features several audiovisual presentations. The Festival's evening program including the Opening, Nightline and OK Night serve up a veritable musical feast. In what has become a Festival tradition, the final day of Ars Electronica, Music Monday, is dedicated to music and sounds. Talks and presentations, performances, workshops and concerts provide insights into sound projects and installations showcased at the Festival.
Complete details about Sonic Saturday are available here on our program website; for info about Music Monday, click HERE.
To learn more about Ars Electronica, follow us on Facebook, Twitter, Instagram et al., subscribe to our newsletter, and check us out online at https://ars.electronica.art/news/en/.