It's quiet in the basement of the Salzburg Museum. Almost too quiet, when you consider which exhibition is currently being presented here: Silent Night 200, a show about the all-time classic Christmas carol. With simplicity and elegance, six exhibits or "verses" put the world-famous song on display – without a single note being played.
In honor of the 200th anniversary of the famous Christmas song by Franz Xaver Gruber and Joseph Mohr, the Salzburg Museum is displaying the most varied aspects of Silent Night as part of the Salzburg Landesausstellung 2018 (Salzburg County Exhibition) – from kitschy memorabilia to commercialization to political misappropriation.
Ars Electronica Futurelab produced three media installations for the exhibition – an unusual kind of Advent calendar, a morphing installation and an interactive autograph score. Stefan Mittlböck-Jungwirth-Fohringer, project manager at Ars Electronica Futurelab, Martin Hochleitner, director of the Salzburg Museum, and Peter Husty, head curator at the Salzburg Museum, explained the thinking behind the exhibits in this interview.
We're standing in the middle of the exhibition "Silent Night 200" – what's it all about?
Peter Husty: The exhibition, which we opened on Saturday, September 29 2018, is dedicated to the 200th anniversary of Silent Night. The song by Franz Xaver Gruber and Joseph Mohr was first performed in 1818, it's turning 200 this year, and so we prepared a special exhibition about it.
Martin Hochleitner: This exhibition is part of the Salzburger Landesausstellung 2018. Ars Electronica produced three media projects for this exhibition. That was very important to us in this cooperation. How do you handle this subject today? How can the media expand our ability to experience this song in the context of the Landesausstellung?
Stefan Mittlböck-Jungwirth-Fohringer: For the exhibition "Silent Night 200," the Ars Electronica Futurelab conceived, designed, and implemented three installations. The first installation is an Advent calendar for the whole year that counts the days until Christmas. It's the first thing visitors see when they come in. In the second installation, singers from different countries sing the song in 15 different languages. They morph into each other every two measures to demonstrate the intercultural reach of the song. The third installation is about the deconstruction of the autograph score, meaning the sheet music. Here we try to break the autograph down into its components so it can be experienced. There are three areas: The first is a detailed analysis of the melodic structure and the motifs in the song. The second has a strong contribution by Professor Dr. Hochradner. He explains about the individual aspects of the song: What key is it written in? Why guitar? Which parts have changed over time or been passed on differently? In the third area the original handwriting on the autograph is transcribed in German, and the song is also translated into English.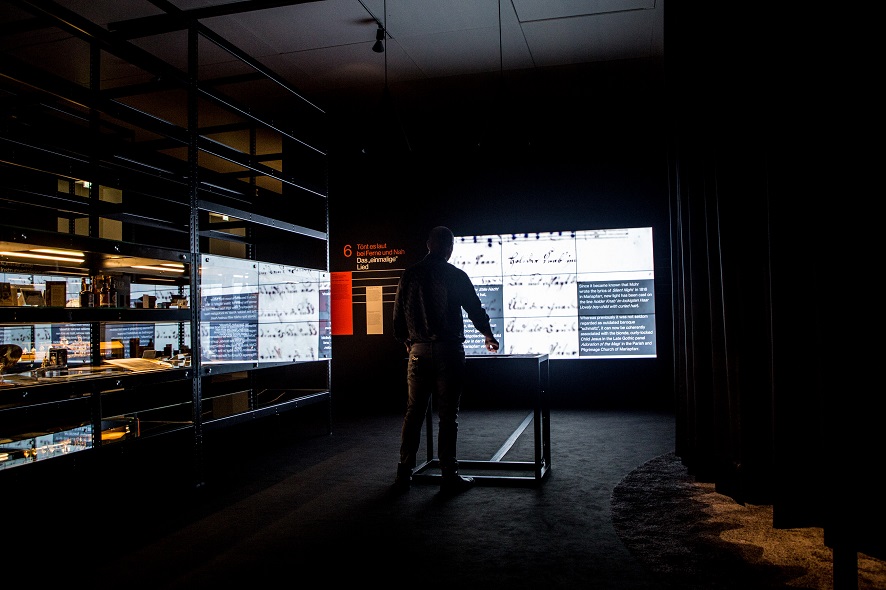 Credit: Vanessa Graf
Peter Husty: We didn't want to show only the objects connected with the song, from the autograph to the kitsch objects; we also wanted to integrate various media installations. We want to open up this topic in as many ways as possible. The springboard for the exhibition is the advent calendar – not a conventional one with little doors to open, but a calendar that counts down the days, hours, minutes and seconds until Christmas. Then there's the morphing installation and at the end of the exhibition, as the sixth verse so to speak, the visitors finally encounter the autograph score written by Joseph Mohr in the early 1820s. The Ars Electronica Futurelab incorporated Professor Dr. Thomas Hochradner's academic ideas into an interactive installation.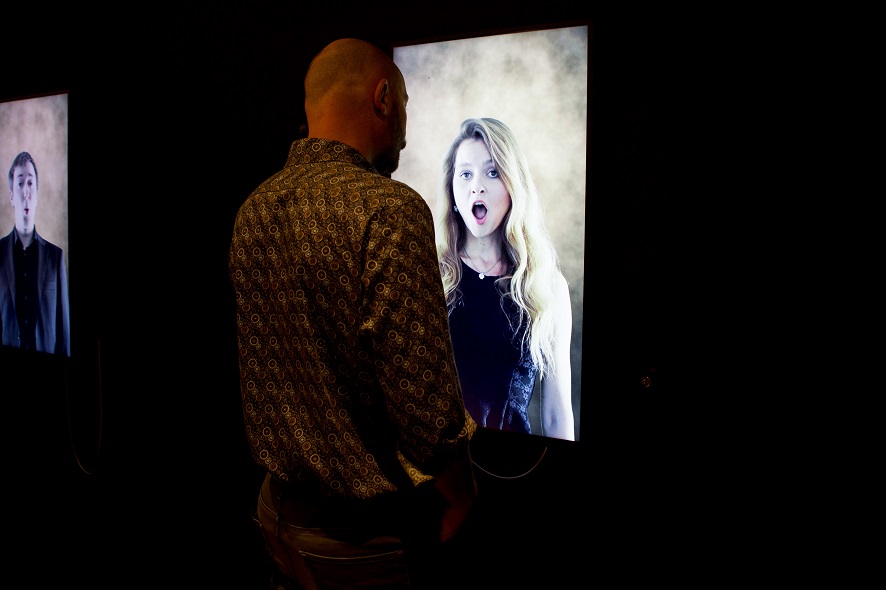 Credit: Vanessa Graf
There's a lot of working with media throughout the exhibition, but it happens mostly without sound…
Martin Hochleitner: That's a huge issue: how do you handle "Silent Night, Holy Night" in a responsible way? Part of it is that the song is really only heard in this space on December 24. That was also exactly how our cooperation with the Ars Electronica Futurelab approached it. In the deconstruction of the autograph score, you don't hear the song – rather, there is a wonderful, detailed explanation of it. And it's done in a way where even expert musicologists can look at it and say: it's amazing what you can do with media.
Silent Night has 200 years of history look back on, whereas the Ars Electronica Futurelab is very future-oriented. How do they go together?
Martin Hochleitner: Ars Electronica is a highly respected institution that takes a leading role in many areas. In recognition of this competence it was really important to us to discuss our ideas with the Ars Electronica Futurelab. It is really unbelievable how much competence they have, even in musicology. That's why we wanted to develop this exhibition with Ars Electronica.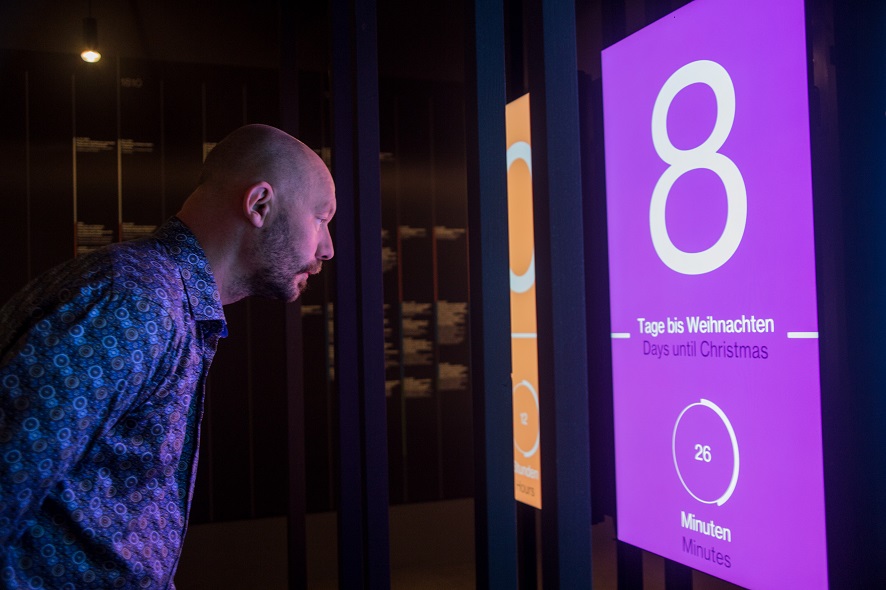 Credit: Vanessa Graf
What are your associations with Silent Night?
Stefan Mittlböck-Jungwirth-Fohringer: Silent Night awakens very personal and childlike memories. The fact that the song is only heard once a year means the memories are very clearly connected to Christmas Eve or that cozy situation. My perception of Silent Night has of course changed a little during this engagement with it, but it's still a feeling of security and warmth.
Peter Husty: Everyone has very personal connections to the song – even just the melody has something quaint, something distinct. I associate it with the time after the pre-Christmas stress with all the activities and shopping, when you can settle into an inner sense of calm. And with the fact that what the song is meant to express, namely a message of peace, a message of calm and quiet, that I come to feel that too.
Martin Hochleitner: I think that is a huge subject: that Silent Night is something that we all connect with personal, intimate experiences, with celebrating Christmas. It's always strongly associated with childhood, or with being a parent yourself, a father or mother. Those are the personal aspects and we take that into account as well. This intimacy should not be portrayed in an overly emotional way because we all know how much people actually fight at Christmas, too. That's also a reason why we have to take a responsible approach to this topic. I hope we did a good job of meeting that responsibility.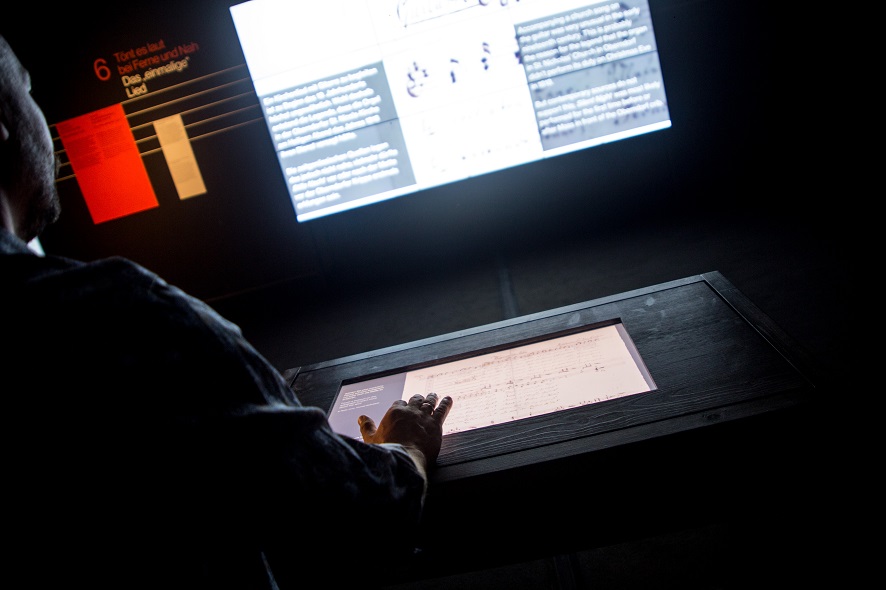 Credit: Vanessa Graf
What was it like to be so involved with Silent Night outside of Christmas time?
Peter Husty: We've been working on the exhibition for two years already. Especially this year, with such a hot summer, it was a little hard to be working with Silent Night. We succeeded; despite high temperatures, you can still focus on the song. We learned that the quality of the song is so high that you don't get sick of hearing it. Of course it wasn't playing continually, but it didn't annoy us by getting stuck in our heads either.
Stefan Mittlböck-Jungwirth-Fohringer: It was difficult to engage with the song so long before Christmas, with its intensity and its particular quality. That changed my image of the song and I think it was the same for the other colleagues who were involved. My image of Silent Night became more holistic. There is a lot of background information that we learned by studying the song. This project showed me its intercultural significance and its validity as a peace song.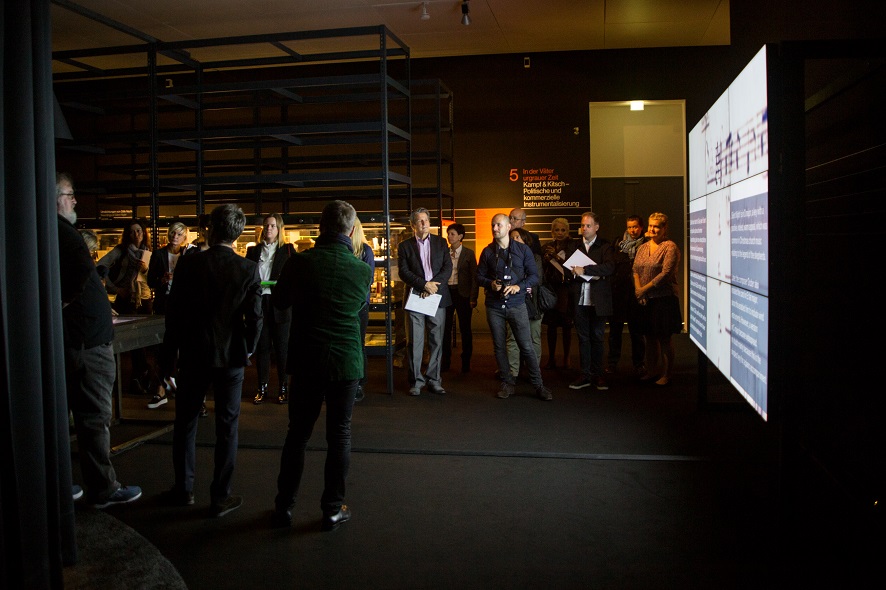 Credit: Vanessa Graf
What meaning does the song have for you after this intensive work?
Stefan Mittlböck-Jungwirth-Fohringer: Now, after working with it so much, it clearly seems like a peace song to me, no longer just a personal Christmas song.
Peter Husty: This Christmas, wherever it's playing, I'll certainly think of it with different background knowledge and look at it through different eyes.
Martin Hochleitner: There is a higher understanding. I think you can see that for us this is about much, much more than just the song. It's about the context, it's about the effect it has, it's about the effectiveness, it's about aspects of political appropriation, commercialization, but also how we as people have processed this song, for example with the Association for the Deaf. So there were some very touching aspects, but also some that were irritating. When you think about how the National Socialists rewrote the text of the song, you really get goosebumps – in a bad way.
The exhibition "Silent Night 200" can be seen at the Salzburg Museum until February 3, 2018. Learn more here.
To learn more about Ars Electronica, follow us on Facebook, Twitter, Instagram et al., subscribe to our newsletter, and check us out online at https://ars.electronica.art/news/en/.