They're even more impressive in real life: The Alps. Rugged and rocky, they loom over the heads of the audience, meters high, covered in snow. But the entire audience is actually sitting at an altitude of just over 250 meters, in the Ars Electronica Center in Linz. Here, in front of the 16×9 meter screen in Deep Space 8K, mountaineer storytellers Marlies Czerny and Andreas Lattner tell about their adventures at over 4000 meters above sea level in "4000ERLEBEN."
Both presentations of "4000ERLEBEN" sold out immediately, which speaks for itself. For those who would still like to learn more, Marlies Czerny, the first Austrian woman on all 82 alpine 4000ers, is here to tell you.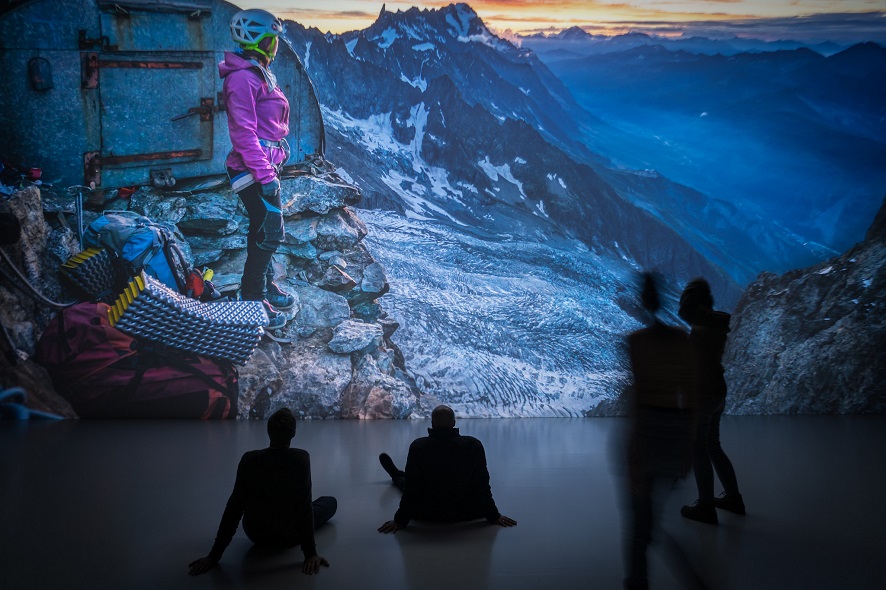 Credit: hochzwei.media, Robert Bauernhansl
You and Andreas are mountaineers as well as professional storytellers – how did you arrive at this unusual combination?
Marlies Czerny: In Andi's case, he had a pretty traditional introduction to the mountains. He often went hiking with his parents. For me it was a little bit different, because my parents ran a restaurant and there was just never time for mountain climbing. After finishing school, I began my dream job right away, I became a journalist and worked a lot. Until my boss said after two years that I should use up eight weeks of vacation! I actually didn't know what to do with my free time, and one time I just went hiking in the area where I grew up on the Grünburger Hütte. The first step out into the free mountain air was really a step towards myself. I solved my vacation problem quickly, because after that I was in the mountains whenever I had a free minute – and that's where I met Andi, too. We took our first mountain tours together, but it was only a couple years later that we realized we got along well in the valley, too.
In my job as a sports journalist, I traveled a lot; there was journalistic work every day and all the hectic activity that goes with that. But the mountains always took me out of that whole thing because I felt so peaceful there. So the mountains became more and more important. In total, I worked as a journalist for 10 years and then I got to a point where I thought, actually, I could take my writing career and combine it more with the mountains. Andi always enjoyed photography and was good at it, so we thought – why don't we just do this together? So in the end he left his job too; at the end he was only working part-time anyway.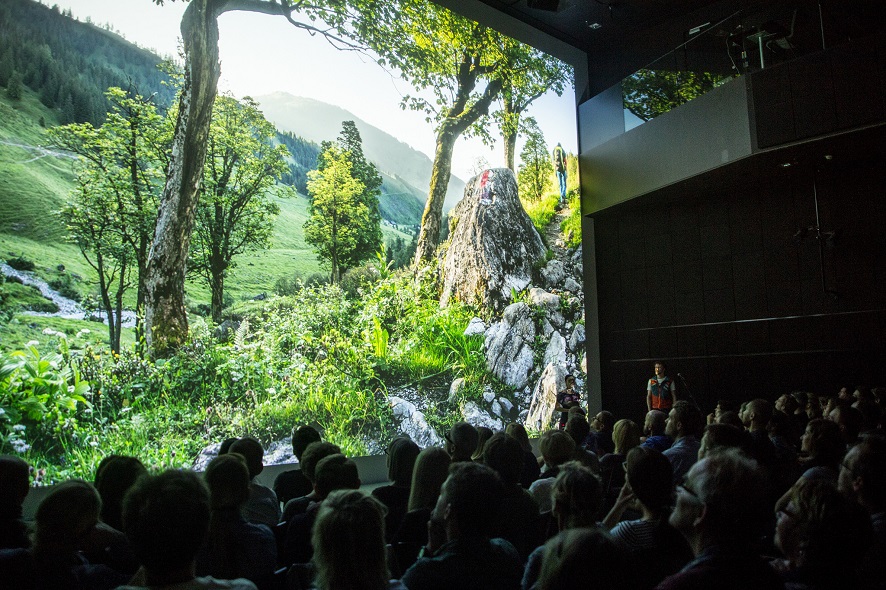 Credit: hochzwei.media, Vanessa Graf
You are the first Austrian woman to have been on all 82 alpine four-thousanders. What was the moment where you knew: I have to go up all of them?
Marlies Czerny: I remember that moment very well, because at that time Andi and I were on a pretty long mountain tour. After the tour we were too tired to start anywhere else. We sat in Switzerland at a lake and Andi asked me just by the way, how many four-thousanders I had already been on. I didn't even know because I hadn't kept a tour book  – mountaineering was my way of finding balance, I didn't want to write it all down in my free time because that's what I did at my job. But there is a four-thousander guidebook. I picked it up and crossed out all the tours I had already done. When I counted them, I actually surprised myself: there were already 62. Only 20 were left! So then I thought – yeah, why not all of them?
What do you find up in the mountains that you don't get in the valley?
Marlies Czerny: Peace, solitude, a broad perspective, beautiful sunrises, and above all focus and concentration.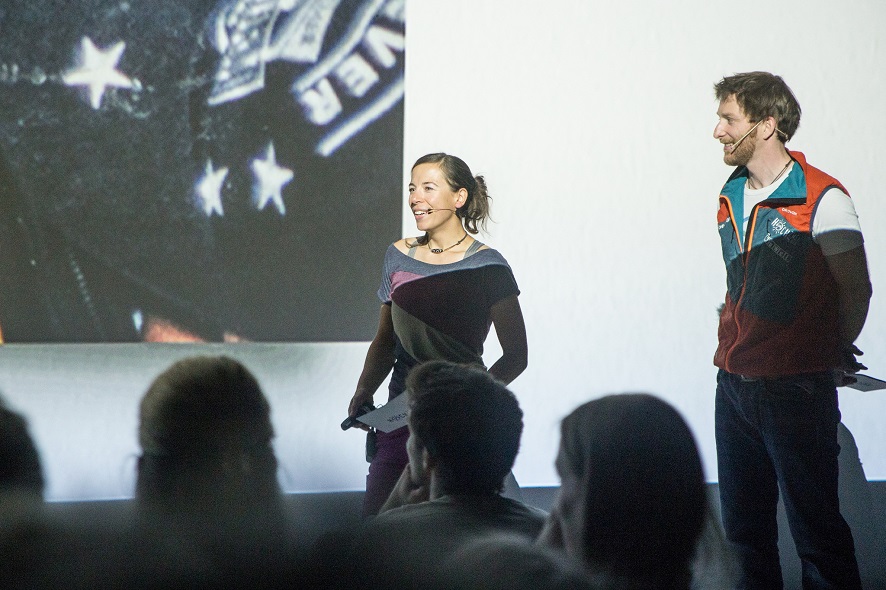 Marlies und Andreas bei ihrem Vortrag. Credit: Vanessa Graf
How do you deal with dangers on the mountain? Mountaineering is pretty challenging after all …
Marlies Czerny: Yes. And you can keep seeking out the challenges and mastering them. It's always a great feeling when you make it, especially when you do it together with a partner. When you master that kind of challenge together, it connects you even more.
Are there a lot of moments where you have to make difficult decisions?
Marlies Czerny: Oh yeah, that happens very often. Very, very often. As a mountaineer you have to make a lot of decisions in a matter of seconds – where you're going, where to climb, where to grip. So not just whether to turn around! But you really make a lot of decisions about your own life. You definitely listen to your gut feelings a lot based on the experiences you've had so far. Sometimes it also needs to be discussed, what are the pros and what are the cons, but I find it's good to have a partner that you trust. You know, he knows me and I know him and then we make a decision together. And the decision that you make, it just fits. There are often decisions where you know that if you make a mistake, you're not coming home.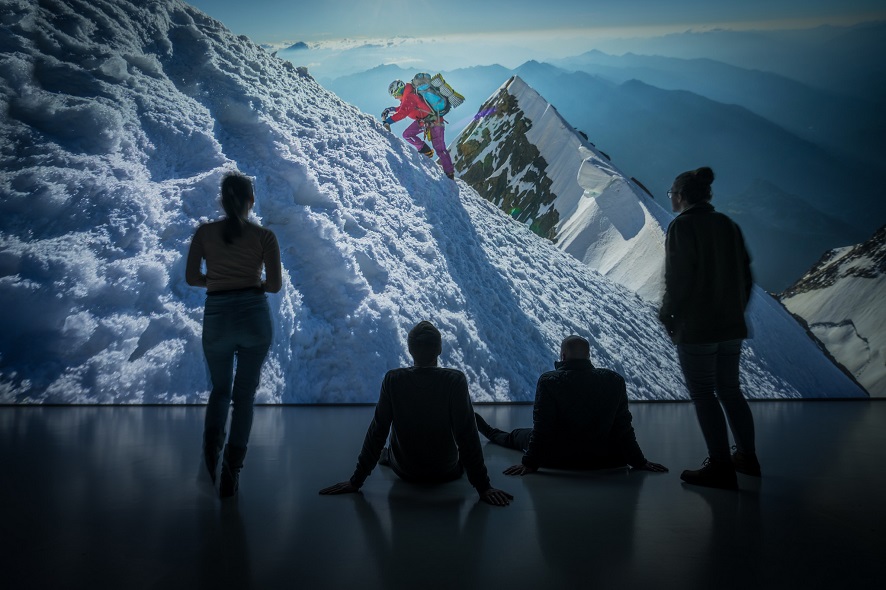 Credit: hochzwei.media, Robert Bauernhansl
Now you've sacrificed several perfect mountain days to work on your presentation. The premiere was at Deep Space 8K – why did you choose that location?
Marlies Czerny: Where else would you have the chance to see the mountains so close up and so big unless you go there? We had already been to Deep Space 8K once before and were really enthusiastic about it. The 16 by 9 meter screen, but also the proximity to the audience. I think we could have sold two or three times as many tickets, but we wanted this cool and somewhat exclusive setting. Here you really believe that you're right there on the tour. I think when you present the mountain in a live-reporting style, people really get the feeling that they're climbing there along with you. You can't get that across with a small screen the way you can here.
Do you have tips for beginning mountaineers who are also aiming for the heights?
Marlies Czerny: Yes: start small. The best thing would be to go on your local mountain. I think there is steady growth on the mountain. In the mountains you can keep pushing yourself a little further, longer tours, a little higher up, and the important thing is, especially on high mountain tours – where you're also on glaciers, which are dangerous, or climbing on narrow ridges – that you know what you're doing. There are a lot of training programs you can go through, then you get a better feeling for it and can enjoy it more when you are hiking. It's also great if you have a partner you can learn from. And it's great the other way around, if you achieve a little bit of a leadership role and can take on some responsibility, or have to. Both Andi and I have done several weeks of training under instructors for alpine tours and ski tours. That is definitely a good basis for further decision-making.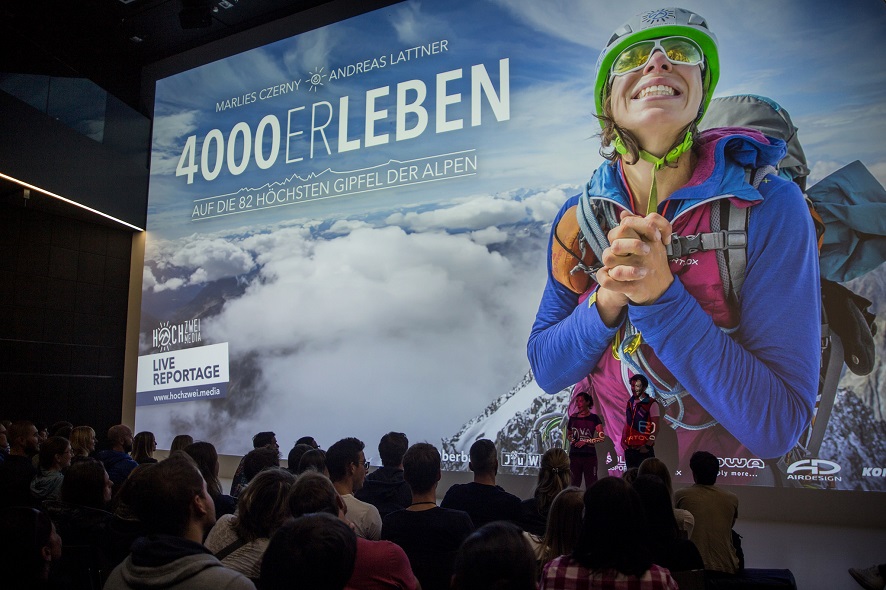 Credit: hochzwei.media, Vanessa Graf
What is your next adventure?
Marlies Czerny: Doing the presentation in Deep Space next time! (laughs) No, in terms of mountains, we'll see. This year we tried an 8000 m high peak in Pakistan but the weather did not cooperate. We'll see if we want to go higher up but actually we have noticed even now, in the process of preparing this presentation, how beautiful our own Alps are. Going out for another few weeks and climbing and paragliding, I think that's the next thing waiting for us.
Marlies Czerny worked as a writer for a major Austrian newspaper for 10 years before making the jump into independent journalism in 2017. Her stories appear regularly in various magazines. In between big events such as the World Ski Championships and the Beach Volleyball Grand Slam, the journalist began hiking and learned to love the mountains. Now a nationally certified instructor for high-altitude tours and ski tours, she has stood on every one of the 82 alpine four-thousanders.
Andreas Lattner has been at home in the rocks since he was young. Even the air feels like his element. A trained technician and nationally certified instructor for high-altitude tours, he worked in fall protection for a long time in his part-time job. He left that job in 2018 – a year after Marlies. Andi now focuses completely on photography and graphic design, putting a creative face on their shared ideas. Getting it just right often means he spends nights in front of the computer (or with his guitar).
Marlies and Andreas showed the premiere of their mountain presentation "4000ERLEBEN" on October 12, 2018 in Deep Space 8K at the Ars Electronica Center. On November 9, 2018 there will be another presentation – but unfortunately it's already sold out! You can learn more about them here.
To learn more about Ars Electronica, follow us on Facebook, Twitter, Instagram et al., subscribe to our newsletter, and check us out online at https://ars.electronica.art/news/en/.