From the outside, it has been visible for quite some time now – the old slaughterhouse in Linz is being rebuilt. But what exactly was to come into the old hall with its bright red steel girders was still a mystery. Until now! Today is the day on which the new Rotax MAX Dome is finally being opened: A two-story race track for the new E-Karts from BRP Rotax, sharp curves, games and fast-paced rides through virtual worlds. In short, a driving experience you can't find anywhere else.
Behind this is a collaboration between the engine manufacturer BRP Rotax and the Ars Electronica Futurelab. Christopher Lindinger, Director of Research & Innovation at the Ars Electronica Futurelab, reveals in an interview what racers can expect in the new Rotax MAX Dome in Linz – and why gaming plays a major role.
Christopher, tell us – what has been happening in recent months behind the facade of the Old Slaughterhouse in Linz?
Christopher Lindinger: Quite a lot. The old slaughterhouse, where the Linz meat market once took place, is something like a landmark in Linz. BRP Rotax has now taken this historic building and completely transformed it into an E-Kart track! The company is currently working increasingly in the field of e-mobility and this also applies to racing karts. What they wanted to create in Linz with the new Rotax MAX Dome is an experience that is not only exciting for classic racers, but also inspires people who aren't traditionally racers. That's why we thought together about what young and young-at-heart people could enjoy and ended up with – gaming. With specially developed gaming elements and playful additions to the E-Kart race, we want to lower this barrier to entry into karting on the one hand and add a new dimension of fun on the other.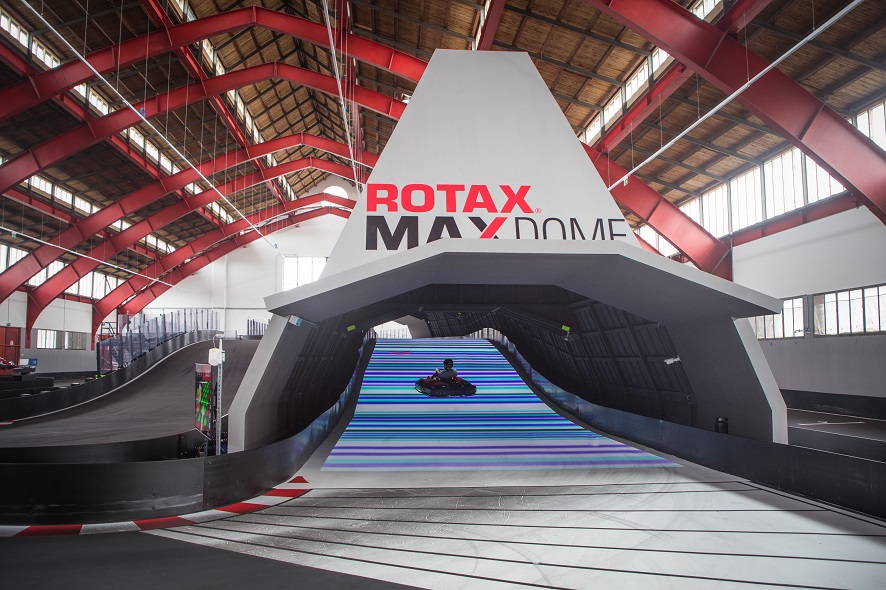 Credit: Vanessa Graf / Ars Electronica
So what you experience now when you visit the Rotax MAX Dome is not just an exciting e-kart race, but an experience that starts at the moment you buy your ticket. For example, you can record yourself in a short video and create your own race avatar that will appear on the scoreboards and displays. We developed different Achievement levels, very similar to career levels, but more playful, which show points and distribute different awards. For example, who was the fastest racing driver from Linz today? Who was the slowest racer from Gramastetten? Who solved the most extra tasks? It's not just about rewarding the fastest person – everyone can unlock achievements.
For this purpose, there is even a small app…
Christopher Lindinger: Exactly. You can either take part in the race with the conventional analog ticket or use the app. It works like a kind of driver's license that racers need for the Rotax MAX Dome, but also shows their own achievements and points.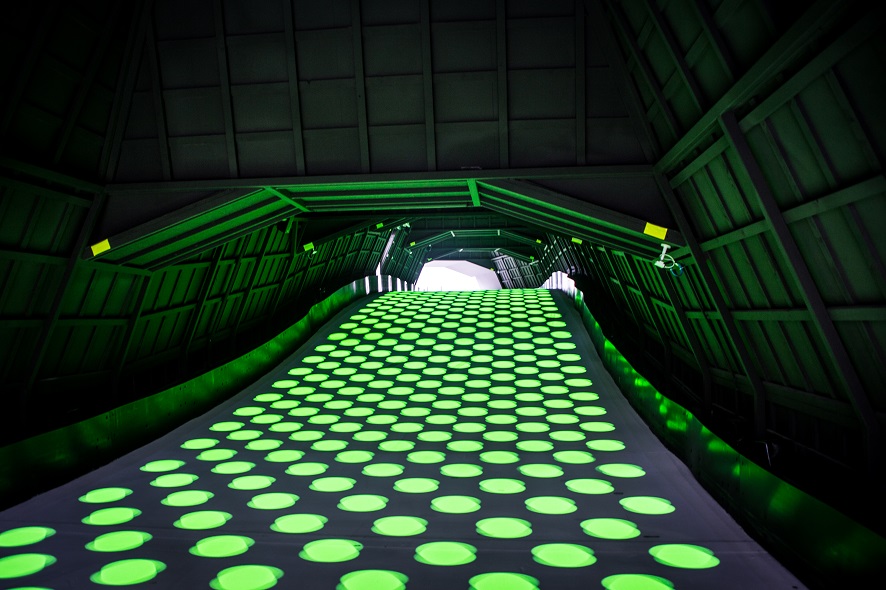 Credit: Vanessa Graf / Ars Electronica
How can you collect these points beyond the usual race?
Christopher Lindinger: Within a race, this happens above all in the architectural highlight in the large hall – our Signature Building, a tunnel that immediately attracts attention with its unusually designed structure. You drive through different games across two floors, which are played with projections on the ground. Each round, the game changes – but before you enter the tunnel, you can see which game is on at the moment. It could be about driving across as many coins as possible that then get turned over, while at the same time avoiding driving over coins that have already been turned over by other racers! You can also drive slalom or avoid obstacles, depending on the mode. The points you collect here are counted as race scores and influence the final result.
Additionally, there is a second experience that you can book – the Team Room. This works like an Escape Room: You are beamed as a group to a strange planet and have to solve different tasks. The game in the Team Room was created in cooperation with Polycular, who are active in gamification and game design. Another part of the game is to race the e-carts on the track. The same principle applies here, the points from the Team Room and the points from the race together make up the final result.
Credit: Vanessa Graf / Ars Electronica
That sounds very complex. What was the biggest challenge?
Christopher Lindinger: Definitely the sensors. The e-karts are racing at a really impressive speed, but we have to be able to track them very precisely to make the games possible. It's a lot easier on flat environments, but in the tunnel, which is two levels high, it wasn't that simple.
Besides the games inside the tunnel and the Team Room, we faced many other challenges. It was very important that all the screens and displays worked together to create a closed system. There's the Green Box, as mentioned earlier, where you can record a video of yourself and create an avatar, a Wall of Fame, where you can scan your ticket and check your rank, and of course race displays – we wanted all these elements to speak a common aesthetic language. That was a lot of work, but very important.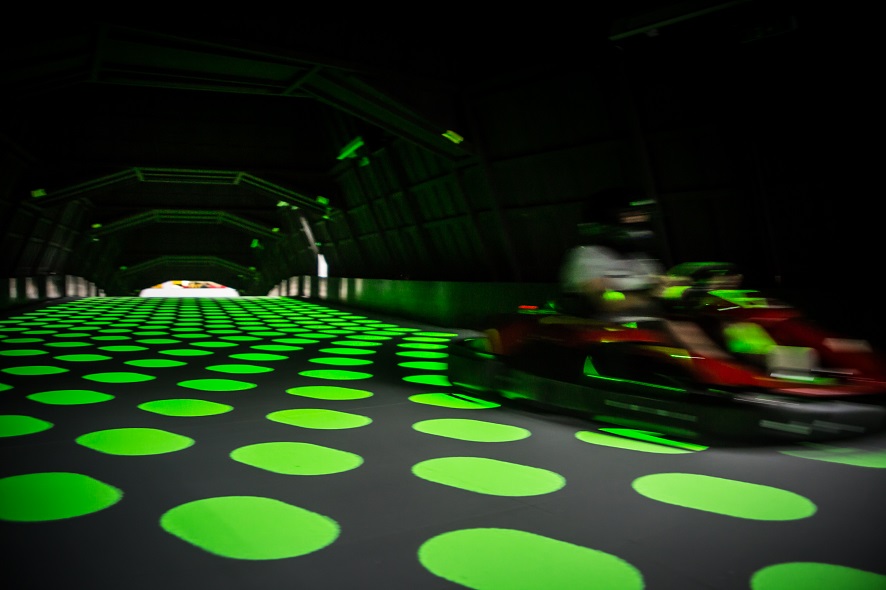 Credit: Vanessa Graf / Ars Electronica
These digital elements should also be seamlessly integrated into the physical racing environment…
Christopher Lindinger: There are really two worlds that meet here. On the one hand, BRP Rotaxhas incredible experience in karting and mechanical engineering, on the other hand we are concerned with digital technologies and their social impact. Working together on the Rotax MAX Dome has merged these two worlds. We also know from experience that it's not always so easy – but there was just such dynamism, such curiosity, such openness to innovation on the side of BRP Rotax that the collaboration worked really well.
You've done a few laps in the new Rotax MAX Dome yourself – how was the driving experience for you?
Christopher Lindinger: Yes, I did – and I am extremely bad at it. I wouldn't say that I'm a typical target customer for karting tracks, I'm a very cautious kart-driver after all. But in combination with the playful elements and the gaming aspect, that doesn't really matter! That's exactly what we wanted to achieve: That even people who normally don't drive e-karts can get excited about the experience here.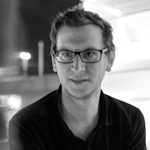 Christopher Lindinger studied computer science at Johannes Kepler University in Linz and cultural management in Salzburg. He then worked as a computer scientist in the field of supercomputer visualization in Chicago and as a freelancer in the computer games industry. His activities in the area of new technologies, digital culture and art already got him hooked up with Ars Electronica in 1997. He is currently head of research and innovation at the Ars Electronica Futurelab, moonlights as a consultant to private-sector firms and government agencies, and has been a visiting lecturer at several different universities.
To learn more about Ars Electronica, follow us on Facebook, Twitter, Instagram et al., subscribe to our newsletter, and check us out online at https://ars.electronica.art/news/en/.