It was a show that visitors of the Japanese National Museum of Emerging Science and Innovation, Miraikan, Tokyo, will surely remember for a long time: groundbots whirring in and out of the performance space, carrying displays that completely break the conventional rectangular video format; artist Akiko Nakayama creating colorful images in a live performance that resembled alchemists of old; and musician Ei Wada incorporating his DIY-instruments, made from electronic gadgets, into the performance.
The Swarm Arena performance at Miraikan in July 2019 gave a glimpse into the latest outcomes of a shared research project by Japanese telecommunications company NTT and the Ars Electronica Futurelab. While at first, the focus was on drone-based navigation and signage (Swarm Compass, 2017), it quickly shifted to more complex applications of swarm-based technologies using both drones and ground bots (Swarm Arena, 2018). Now, the scope has expanded once again – the Ars Electronica Futurelab and NTT are creating a new kind of public sports viewing using the groundbots, creating a travelling lab for art, sport, and society.
Here, artists Akiko Nakayama and Ei Wada share their impressions of the performance with the new robotic swarm for art, entertainment and sport at Miraikan this July. And just in case the interview makes you want to see Swarm Arena for yourself: the Ars Electronica Futurelab will show demonstrations of the applications, one of which is Swarm Arena, of the in-house developed software SwarmOS at the 2019 Ars Electronica Festival.
Akiko Nakayama, you are often described as a modern-day alchemist. What does this mean? 
Akiko Nakayama: I am a multimedia artist based on painting history.  In recent years, I am concentrating on the performance "Alive Painting", depicting the resonance between shapes and textures by using different types of liquids, each with a unique characteristic. Combining the energy and the movement and the beauty of colors, the performance becomes an abstract metaphor of various aspect of nature. And it attempts to celebrate the moments of beauty amidst the ephemerality of life. Alchemists searched for a metal called the "Philosophers' Stone" and experimented. There is still no metal that gives us life. However, various useful substances have been discovered in their journey. I aim for a masterpiece like they aimed for, but I love to share my experiences with people. In my Laboratory – in the theater.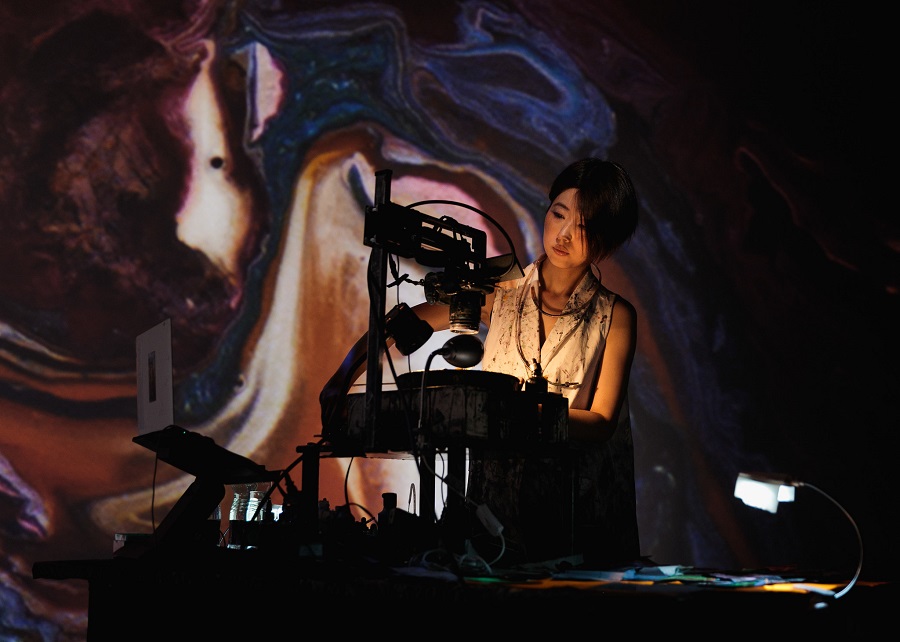 Credit: vog.photo
Ei Wada, for people who have never seen your work, could you describe what you do?
Ei Wada: In recent, I've made an effort to engage as many different people as possible to reincarnate retired consumer electronics into new kinds of instruments, gathering all instruments into an orchestra, forming a project called 「ELECTRONICOS FANTASTICOS!」.For this project, I've used many consumer electronics such as CRT-TV, electric fan, air conditioner, etc. and reincarnate them into a new form of instruments. For example, in 《CRT-TV Gamelan》, I catch the electromagnetic wave that is emitted by the tube-based CRT-TV screen, generating sound through the coil that was attached to the foot connected to the guitar amplifier. The pitch of the sound changes depending on the number of stripes on the screen producing different sounds. I continue with creating my work by always expanding my imagination on the consumer electronics being able to create modern-day "Electromagnetic Folklore Instruments".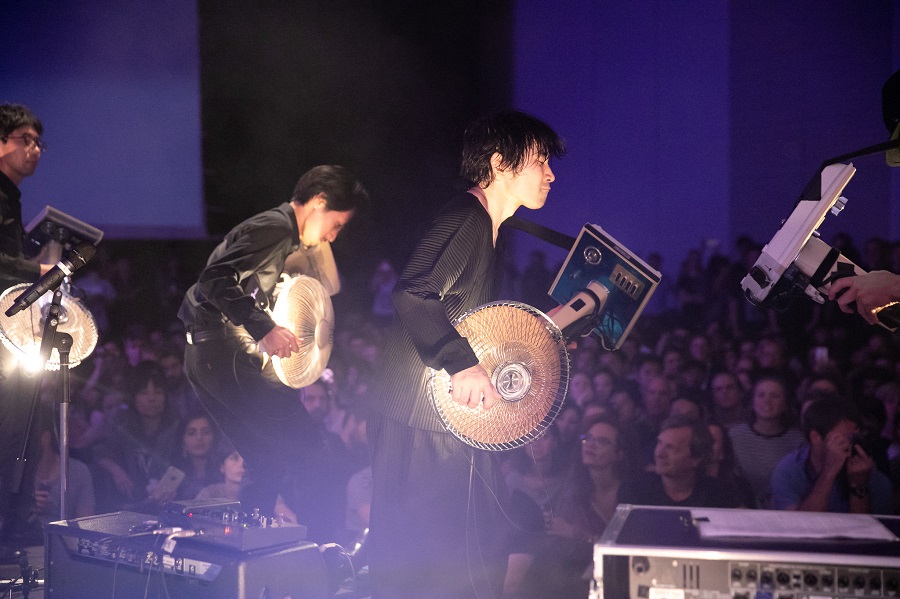 Credit: vog.photo
You have both already performed several times within the context of Ars Electronica, but this was the first time with the groundbots. How was the experience for you?
Ei Wada: At Miraikan, I played music using an old TV display as an instrument, while the groundbots unfolded their "Display Dance", emitting riot colors of lights, synchronizing with the "Display Music" that I played. I've got my hands on some old TVs that were made during the period when the last Olympics were held in Tokyo, in the 1960s, and used them as instruments. I think it will be great if I could also work with TVs that were made in 2020, since the next Olympics are scheduled to take place in Tokyo then. In 60 years, maybe the groundbots can be robots and at the same time instruments. I feel like visual media is entering a new dimension and a new life and we are celebrating a new start of a near-future. This is definitely the next level of the "Video Jockey"!!!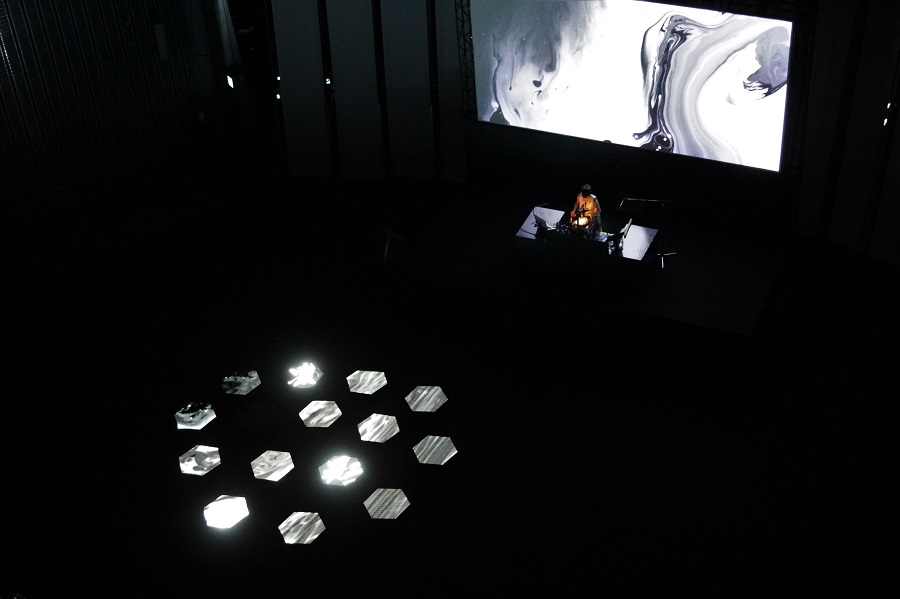 Credit: Raphael Schaumburg-Lippe
Akiko Nakayama: At Ars Electronica, I have performed with the Bruckner Orchestra and I also performed an audiovisual solo at Deep Space 8K. Everyone was already super professional with their instruments, equipment, and other tools. However, at Miraikan , it was an experience of a "birth of new tools and its growth". That is a big difference. This is because the tool is in the process of becoming an expanded body.
I think the Ars Electronica Festival is characterized by professional exhibitions, university and young artist exhibitions, company and new technology booths, and all the stages and fields of experience all in one place. In this groundbot project at Miraikan, I think it was a wonderful attempt at the opportunity of gathering all the above three facets.
I was very excited that the core of Ars Electronica embodies the research attitude of "challenge, verification, challenge, verification". And in that experiment, I discovered that this media can have the physiological feel of living creatures, and found that it can be fine-tuned artificially.
As an artist, which possibilities does this new media or technology offer?
Ei Wada: The pioneer of "video art," Nam June Paik's way of presenting his work is by not only showing videos that he created on the screen of the CRT-TV, but also including the material, which in this case is the CRT-TV itself. At the same time, the evolution of the display has the potential to create a new aesthetic sense of video projectors. The next "Video Art" may begin to blossom when the video device itself, or the small units that projects video, begin to gather and rise.
Akiko Nakayama: Cave paintings, picture scrolls, fans, ceiling paintings, mural, canvases, screens, VR spaces, people have been drawing on various media. Each of these supports media and has its own spatial gravity and characteristics. Ground bots are new media, but they are not waiting for an artist's brush. It's so powerful, like a foal that runs a field when it's born! It is literally "Run." It is the leading edge of support material of art history. We will gradually increase our common language with them, and the day will come when we will make a poetic expression. The way the painter pursues the canvas is the possibility of visual art with a new body sense. Then, a group of the canvas that had been silent before begins to dance. What an exciting media revolt!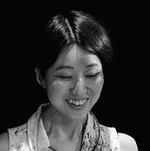 Akiko Nakayama (JP), born in 1988, is a painter who depicts the beauty of energy metamorphosis through several media such as installations, photos, and performance. Combining the energy of movement and the vibrancy of colors, Akiko Nakayama brings pictures to life. Her solo performances and collaborations take place in various cities.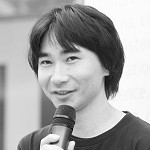 Ei Wada (JP), born in 1987, is an artist/a musician. When he was a child, Wada was convinced that there was a music festival waiting for him under the gigantic tower shaped like the crab legs embedded in tube TV. But when his friend told him that there was no such place on earth, the dream bubble burst. Then Wada decided to make the music festival himself.
You can find out more about SwarmOS, Swarm Arena and previous projects within the shared research project of NTT and the Ars Electronica Futurelab on our website and in previously published interviews on the Ars Electronica Blog. For more information on the SwarmOS Research Demos at the 2019 Ars Electronica Festival, please check out this year's festival program.
To learn more about Ars Electronica, follow us on Facebook, Twitter, Instagram et al., subscribe to our newsletter, and check us out online at https://ars.electronica.art/news/en/.