With the start of the new school year, a series of new workshops, guided tours and programs will also begin at the Ars Electronica Center specifically designed for school classes of all ages. Children can embark on a microscopic journey through the microcosm with Tardi, the tardigrade, experiment with robotics or create their own Ding Dong song. Nicole Grüneis, head of the Ars Electronica Center's Education and Cultural Mediation Department, told us more about the out-of-school mediation mission, the creation of programs for schools and why Ars Electronica sees itself as an "educational partner in crime".
Artificial intelligence, Internet of Things, biotechnology: Can our education system keep up with these rapidly advancing technological changes?
Nicole Grüneis: I don't think that our education system is fast enough to respond to changes in our society through technology, through technological change, through new scientific knowledge. We know that the school, the school system itself, is a rigid construct that has difficulties in implementing new things in the classroom. That is why it is important, as an extracurricular institution, to offer programme and mediation services, because as an extracurricular learning location we can react much more quickly, much more dynamically, because we can respond more quickly to new developments, because we can obtain expertise more quickly and, above all, because we can build up a better network. For me, the possibility of compensating for this rigid school system lies very much in the cultural institutions as extracurricular places of learning.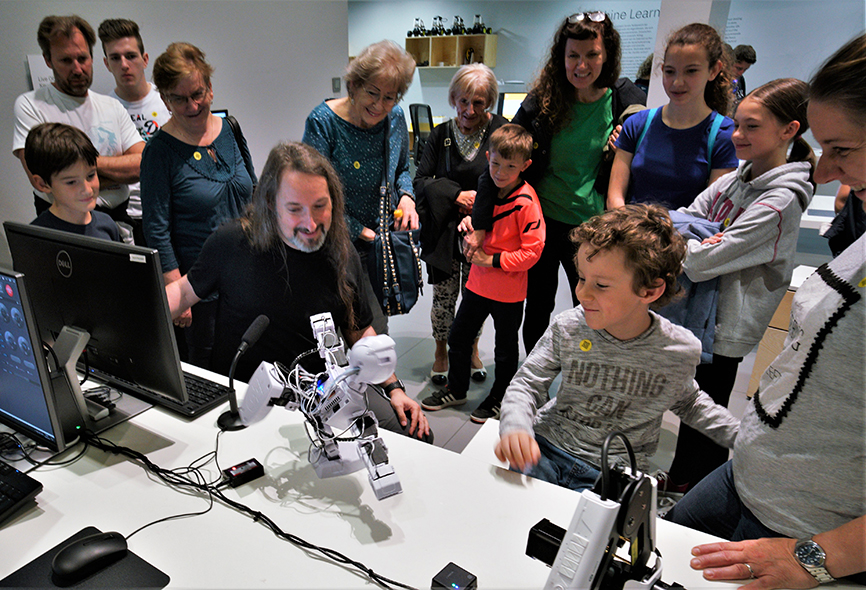 How does mediation in the museum work, can you explain this using the children's research laboratory, for example?
Nicole Grüneis: The children's research laboratory has been in existence for five years and is a reflection of all the topics in our house. We try to have installations or works there that refer to the other spaces, to the other exhibitions. But it is always in dialogue with the current exhibition. At the moment this is the exhibition "Mirages & miracles", which deals with augmented reality. The approach here is to use technology to make the invisible visible, or at least comprehensible.
A key installation is Tagtool's AI installation, a reference to the Understanding AI exhibition. One transfers material things into the digital and thus makes a new world visible in the digital.
Another important installation for this purpose is nonvisual-art by Lisa Buttinger, who in 2017 received both the Golden Nica of the Prix Ars Electronica in the category "u19 – CREATE YOUR WORLD" and a recognition of the STARTS Prize. Here, too, a new layer can be made visible using polarization foils. A white, monochrome picture suddenly becomes colorful and I can discover something new.
Further back there is our "mossed, green corner" in which a microscope stands in front of a moss wall. The area is in correspondence with our children's book "Da ist Tardi!" Here we would like to make the microcosm visible with the magnification technologies of the microscope. This is a counterpoint to the other area of the children's research laboratory, where one can create a digital, an artificial world: Here I can look at the natural world, which exists permanently but is never visible to me. This natural microcosm is so fantastic and great, the most wonderful creatures become visible here. At the AI station, for example, I created a purple elephant balancing on a ball – that's one thing. But in the back, in the second area, in the area of the moss wall, I look at living beings that no science fiction author could invent better than nature can. Here we are also talking about the tardigrade, which has become a kind of mascot for us. We will try to discover them there. Tardigrades have super powers because they can survive all kinds of extreme situations. Besides, it is a very likeable, clumsy character. We try to find him in the moss with the help of the children, we have already succeeded once.
"These stations together represent a fusion of our natural with our artificial environment, which is negotiated there as a matter of course. In this self-understanding nature and art/culture become inseparable and thus equally experienced and discussed."
When we try to teach AI, to convey what artificial intelligence, what computer, what a machine is, we always refer back to these naturalistic parallels. In parts of the exhibition, we compare sensors with senses, because through this natural system of living beings, which is also the human being, one can get a good understanding of what machines can be. We also name the machine after attributes that we actually only assign to living beings. Intelligence, for example, is something that only affects living beings. The fact that machines can dream, including the concept of sensors, has its origin in a biological organism.
At a time when all knowledge is already digitally available, why should one still visit a real, analogue museum? What added value does a visit to a museum offer, but also school attendance?
Nicole Grüneis: It's about the curation, the meaningful linkage, the sequence, the framework that I give. This is important in order to develop an understanding. On the other hand, in Central Europe we have almost unrestricted access to knowledge. Everything is served to us. Why is it not enough? That brings me back to the definition of intelligence. Intelligence is not just data and facts that I feed into my neuronal system. Intelligence is body experience, is to experience and behave myself in relation to other objects and subjects, a mutual exchange. What we call knowledge is much more than just learning facts.  Even experiencing is an essential point in one's own development, also here in the museum. We would like to make this direct confrontation with the most diverse technologies possible – I also like to speak here of: initiating a knowledge of contact. The hands-on approach of bringing people into experiential situations is essential if you want to convey technology. The knowledge of touch, in which I use my whole body, my senses, in order to create connections, gets stuck. As a museum, we are permanently guided by these literally "understood experiences". We want to be a place of experience instead of just a place of knowledge.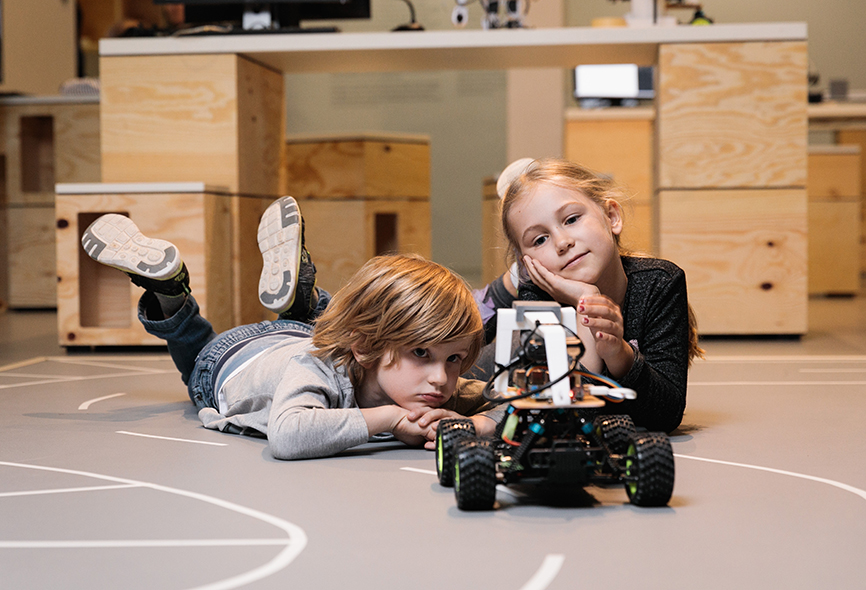 Which new activities and programs does Ars Electronica offer specifically for schools? Can you highlight a few?
Nicole Grüneis: We've shaken up our educational box, turned it upside down and made room for completely new educational programs on current exhibition topics.
For example, we can offer artificial intelligence and neuro-bionics for elementary school students in our " Maschine 9xKlug" and " Superhirn & Denkerstirn" workshops, fresh and "oven-warm", while the older ones can try their hand at being machine trainers in the Machine Learning Studio. In " Welt nach Maß " and " Flache Weltbilder " we discuss the anthropocene and earth observation strategies and create new world views with children and young people according to their own ideas. The Ars Electronica Labs in the 1st basement also offer wonderful content for making people vulnerable: In the SecondBody and Material Lab, students from the 5th grade onwards can experiment with soft robotics in the "From Hardware to Soft Tissue" workshop or hack a language assistant from the 7th grade onwards. Biotechnology also offers interesting points of contact, for example, in the "PiPaPo Cells" workshop we introduce elementary school pupils to the topic of pluripotent stem cells.
Of course we also use the Open Soundstudio in the AIxMusic exhibition: In the workshop "Ding Dong" we create sounds on non-instruments, i.e. on all kinds of objects – a dong is made on a thing. This sound is mixed to a melody in the studio – a ding dong song is created.
This is just an excerpt from our mediation program. Of course, we also have theme tours in our programme in addition to other workshops.
Over the course of the school year, our range of educational formats will continue to expand – there are so many ideas. We and our visitors will certainly not be bored… we will take care of that!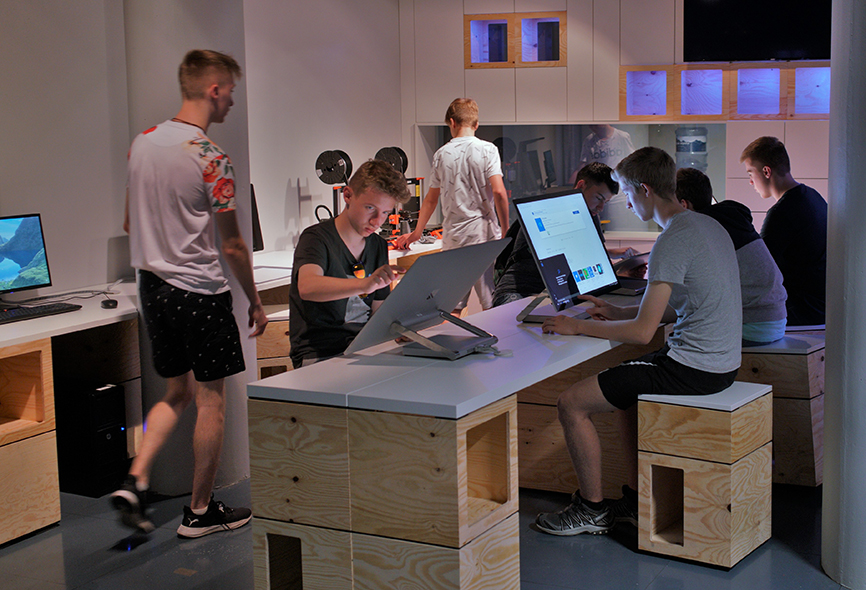 Which developments did you observe during your time at Ars Electronica, are there more visitors coming, how is the mediation offer generally accepted?
Nicole Grüneis: During my time here, you can see that more and more visitors are coming. But that's also something to be critically questioned, the very number. Yes, more and more groups are coming, that's undeniable. My wish would be that the pedagogues not only use the Center at the end of school as a nice activity, but also integrate it and our range of educational programs into their curriculum. That they also see us as a place of learning that can give them added value during the year. The trend is in this direction. Part of our work is to engage the teachers in such a way that they see our offer and accept us as their "educational partner in crime" for things that they cannot cover with their wealth of experience and knowledge. Not every teacher is an AI expert, a social media expert or a biotechnology expert. That's what we are here for. We try to be a good cooperation partner and therefore an accomplice for teachers.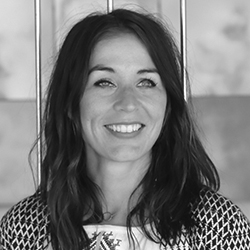 Nicole Grüneis has been with Ars Electronica for ten years. She started as an infotrainer in active mediation work, where she could feel and experience the essence of this profession. Nicole studied psychology and art. For five years now, she is in charge of the Ars Electronica Center's Education and Cultural Mediation Department, where she is responsible for the development of educational programs such as guided tours and workshops, as well as the training of infotrainers, the cultural mediators.
You can find an overview of our new programs for schools as well as all current dates here.