The ARTificial Intelligence Lab (AI Lab) offers artists working in the field of artificial intelligence the opportunity for residencies at various partner institutions. On the topic of "Astronomy x AI", a call was issued together with the Leiden Observatory, which was won by Sarah Petkus and Mark J. Koch. We talked to Pedro Russo, University Professor of Astronomy and Society at Leiden University, about what this residency is all about, why not enough questions can be asked, and whether 42 is really the answer to all questions.
The Leiden Observatory is a part of the university but at the same time is accommodating over 100 companies, start-ups and research institutes. It is also the astronomical institute of Leiden University. Can you give us a brief introduction into your institution and into your work?
Pedro Russo: Yes, I work at the Leiden Observatory. It is the oldest university observatory in the world and was founded back in 1633. Galileo used a telescope for the first time in 1609 – and only a few decades later the Leiden Observatory was founded, which is quite impressive. So the place is interesting because it has a long tradition in astronomy and also because many astronomers spend their time there. Currently it is one of the largest astronomical research institutes in Europe – almost 300 astronomers, postdocs and PhD students work here.
Besides the university connection, we are also well linked to the rest of the community, especially to the space campus. We are neighbors of the European Space Agency Center for Technology and Science (ESTEC), around which there are lots of space companies. By working together, we are well embedded in the ecosystem for space exploration.
We are also fortunate to have one of the former institute buildings, which is a typical old observatory from the 18th century. So we have a number of telescopes and domes in the city center of Leiden, where we do a lot of public programs and hold exhibitions to reach out to the public.
As an astronomer, have you always wanted to go there?
Pedro Russo: Leiden is known as a place of astronomy, and the institute is so big that if you are an astronomer you are quite likely to spend some time here – be it as a workplace or at a conference or workshop or seminar. It is a place that every astronomer in the world knows, has been to, or at least has colleagues at. It is a focal point of astronomy around the world. But honestly, no, I never thought I would work in Leiden.
What are the focal points of your work?
Pedro Russo: In the course of my PhD, I realized that I am most interested in the people in astronomy – that is, the interface between astronomy and society. I am trying to understand why we do astronomy for the sake of humanity. So it's about philosophical questions around the quest to understand the universe, but also about understanding society's support for those questions. Why do we have public appreciation and public understanding? Why do governments put money into this research? Why are we looking at galaxies and black holes when we have so many local challenges and tasks that need to be solved on our planet?
While pondering these questions, I decided that this should be my contribution to astronomy. I still do astronomical research, but most of my time is spent on implementation and hands-on projects.
Artificial Intelligence is one of the hot topics of our time – discussions about possibilities and dangers are proceeding while AI is already used in a lot of applications of everyday life. What is the greatest opportunity of AI in the area of astronomy and astronomical research? Is AI already used and where?
Pedro Russo: That's right, AI is one of those topics in research and technology that is currently very present – and also in areas that have a direct impact on our lives. It's the same with astronomy, especially with machine learning and data processing software. I think astronomy is kind of at the forefront of these technological developments.
We are a very image-based science, and to process those images we use electronic devices and computers. We use AI for pattern recognition and run simulations of how the universe works. Since we can't go into galaxies or black holes, we need simulations and computer models – and these algorithms use machine learning.
In astronomy, there is a huge amount of data that has been collected over the last few decades, and using intelligent algorithms, we can go through that data and make new discoveries. I'm pretty sure that in the process we're going to find some very interesting new things about the universe that we didn't know yet. They've been in the data all along, but we've never had the time, the expertise, or the knowledge to actually identify these things. And that's going to be a bit of a revolution.
Astronomy as a "harmless" science can be used as a platform to question the use of AI without debating personal freedom or personal data. This platform could be a meeting place for people to understand the technology.
Half of the AI Lab Residency will take place at the Leiden Observatory and the other half at the Ars Electronica Futurelab; the topic is "Astronomy x AI". What did you expect from the submissions?
Pedro Russo: Astronomy is one of those fields of research at the forefront of science that raises some interesting questions about humanity. What is the origin of the universe? What is the origin of the planets? What is the origin of life? These questions were already on the minds of early philosophers, and yet astronomy is a "harmless" science in the sense that it has no negative impact on humans – unlike, say, medicine or some AI applications. And so we can use astronomy as a platform to question the use of AI without debating personal freedom or personal data. This platform could be a meeting place for people to understand the technology.
The concept of bringing people from different fields together to create new perspectives can only help us. Collaborating with artists lets us question not only the social role of AI, but also the social role of astronomy. And so we can have a conversation about a more neutral use of AI.
The winners of the residency are Sarah Petkus and Mark J. Koch with "Moon Rabbit". What do you expect from the residency?
Pedro Russo: Now that it's established that we're working with Mark and Sarah, we're pretty excited. The two of them have a very playful approach to science, which is interesting because AI still sounds like something only computer geeks understand. With their playful approach, Sarah and Mark are reaching out to different communities, maybe even younger ones, and asking very innocent questions about AI, science, and about the social impact of research.
I am very curious about the collaboration. For our institute, this is the first time we've had an AI working group – it's being formed as we speak. So now we have people thinking about how to use AI for future research, which is why it's absolutely the right time to involve artists and ask more questions.
It seems like a perfect fit between the institute and the artists. Like the philosophical questions astronomy can come up with and Sarah and Mark's project, where they ask similar questions like "Why are we here? What can we learn from the machines?"
Pedro Russo: As part of the jury process, we were looking for an "easy fit." With the current travel restrictions, it will be difficult to meet people, so in that sense it was essential to find someone who was already a fit for the program. I'm really glad we chose them!
What can the artists expect from this residency?
Pedro Russo: I almost feel like we're going to get more from them than the other way around… What we can do for Sarah and Mark is give them a better sense of pioneering space science. The interesting thing they can get from us is an understanding of what astrobiology means for research.
What are your imaginations about the results?
Pedro Russo: One experience we have had so far with art in science is that one should not expect results from the beginning. Of course, one would expect a finished artwork that is physically present somewhere in the institute, but it is primarily an exploratory process, especially in the first part of the residency here in Leiden. The artists are here to think and explore and then turn that into something concrete under the guidance of Ars Electronica. So we're going to focus on the process, and I'm really excited to see what Sarah and Mark come up with.
If you had certain expectations now – how do you think they would compare to the outcome in about 6 months?
Pedro Russo: Completely different (laughs).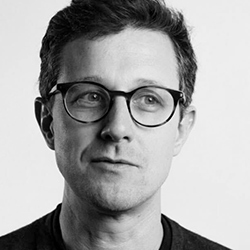 Pedro Russo (NL) is University Professor in Astronomy & Society at Leiden University, the Netherlands. Dr. Russo was the global coordinator for the International Year of Astronomy 2009. He obtained his University degree in applied mathematics, physics and astronomy from the University of Porto, Portugal, was a research fellow at the Max Planck Institute for Solar System Research in Germany and is involved with several international organisations, like the European Astronomical Society, Europlanet, the International Astronautical Federation. His work has received several awards, such as Seeds Special Award 2009, Scientix Best Educational Resource in 2015 and 2016, Most Innovative Educational Activities in 2017 and 2018 by HundrED and 2018 Leiden University's K.J. Cath Prize. Pedro has worked in several science and art collaborations and is currently working on a collaboration with the Nederlands Dans Theater, NDT2.