How you can participate? All instructions are to be found here:
His seamlessly beautiful and elaborately folded objects are definitive in the context of contemporary electro-mechanical art and combine the traditional and natural structure of origami plastic with cutting-edge technology: To build his sensitive robots, he uses nothing less than the complex structure of folded paper.
Watching the coded transformations of those fragile figures raises a key question in the minds of the fascinated audience: Can the art and science behind Matthew Gardiners' research make future robots more natural?
Matthew Gardiner, Key Researcher and Artist in the Ars Electronica Futurelab, builds his Oribots to highlight a brand-new technological development, but also to better understand the world surrounding us and its nature. With his research, he develops new approaches – for instance design, Soft Robotics, Fold Printing and architecture. The functional aesthetics of his gentle moving objects, which respond to physical motion, sensors and data streams, have a strong connotation to robotic technology, but simultaneously also to the natural environment.
In his attempt to get as many people as possible to participate in his experimentations, he has assembled a set of components from which everyone can create his*her own Origami Robot with quite simple means. Find out, how to create an Oribot yourself, by following some instructions and a series of ten short video tutorials.
"Folding is a cultural technique that has historically provided a significant contribution to this world. But I believe that origami is the cutting-edge technology of the 21st century."
– Matthew Gardiner, Artist and Key Researcher in the Ars Electronica Futurelab
1. Grab your own ORIBOKIT™
The ORIBOKIT™ is an art-science kit that allows you to recreate your own Origami Robot – from home. The modular system can be adapted for other origami robots however you like. If you want to try out the origami components before you buy a kit, you can get an inexpensive practice kit. Your ORIBOKIT™ is available at https://oribokit.com.
You will get:
1, 2 or 3 Oribok blossom with easy to fold laser cut paper
Servo motors
drive wires
Arduino-compatible STM32 microcontroller plus open-source firmware
2. Prepare for the arrival of your ORIBOKIT™
Art-making with oribokit involves a few simple steps: Before your kit arrives, spend some time thinking about where you will hang your finished work, find a wall, surface or area with an accessible power outlet. Go for a walk in your local parkland and find a tree branch. If you are in Australia, eucalyptus are excellent, especially dried ones, as the colour of the leaves is an amazing match for the kraft paper of the mechanism. Or think even broader about another type of object you want to try to bind your oribokit blossoms to. Check the not-included list for any items you may still need to find, such as a USB power supply, USB-C cable and paper glue, so you are ready. When your kit arrives, unpack carefully and join a workshop or view the online documentation.
You will need:
Scissors and craft knife
Phillips head screwdriver #1 (small)
Paper glue stick, like UHU or other (I like the purple colour changing type)
Scrap paper to glue on top of
(optional) pencil and note pad to make notes
USB-C Cable and USB Powersupply, minimum 5W (better 10W) to power your oribokit™
3. Follow theses instructions and create your own Origami Robot with ORIBOKIT™
ORIBOKIT™ Introduction, tools and part check
Before you start tinkering the Oribot, you should watch this video. It explains the kit, the tools and materials needed and also shows the components of the set. This is useful to check if you have everything you need.
ORIBOKIT™ Prepare the blossom and fold mechanism
ORIBOKIT™ The blossom's mechanism
ORIBOKIT™ Fold the petal
ORIBOKIT™ Join the petal to the mechanism
ORIBOKIT™ Controller board and servo setup
ORIBOKIT™ Wire mechanical assembly
ORIBOKIT™ Wire to board assembly
ORIBOKIT™ Install onto a branch
ORIBOKIT™ Check final details
Subscribe to Matthew Gardiner's YouTube channel to stay up to date on Orgami Robotics: Another Oribokit video tutorial coming soon. The topic: programming the Oribokit.
Visit Matthew Gardiner in his Oribotics studio on Ars Electronica Home Delivery, or learn more about his Key Research on Origami Robotics on the Ars Electronica Futurelab website or visit him and our other Alchemists of the Future at the Ars Electronica Festival.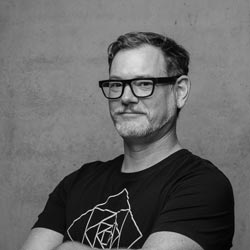 Matthew Gardiner is a world leading expert in the field of Oribotics. He pioneered the fusion of origami, folding, and robotics, coining an important term in the context of contemporary electromechanical art. Gardiner's artistic context already encompasses several generations of Oribotic art. In addition to his artistic practice, he engages in team-based research within commercial institutions and universities. His interdisciplinary expertise includes aesthetic and interactive experience design, digital fabrication, rapid prototyping, expert-level origami, and code writing. An innovator, Gardiner joined the Ars Electronica Futurelab in 2010 as an Artist in Residence supported by the Australia Council for the Arts. During this time, he developed his flagship work Oribotics [the future unfolds] and later became a member of the research and innovation group-as one of the most important researchers in the field of functional aesthetics. Gardiner was integral in the curation and production of the flagship Project Genesis exhibition on synthetic biology. The project was the conclusion of the Living Logic workshop program, which was part of a three-year FP7 European Union Studiolab project. His current research activities include a doctoral dissertation on Folding and Technology and a largescale FWF PEEK-funded art research program, ORI* On the Language and Aesthetics of Folding and Technology. Gardiner is the best-selling author of Everything Origami and was artistic director of Folding Australia from 2003-2009.