Maaya Makino is the first participant in the "Program for Next Cultural Producer Incubation Project". This very special residency program, for which applications are now open until January 4, was initiated last year for the first time by Ars Electronica together with the Japanese government's Agency for Cultural Affairs. Unlike many other residencies, it is not aimed at artists but explicitly at cultural producers. During a six-month stay in Linz, a residency, participants have the opportunity to experience several areas of Ars Electronica and also to actively contribute to its programming.
It's therefore much more than just a behind-the-scenes look at organization, research and production-it's a place where skills are taught for the next generation of curators and cultural producers. Ars Electronica is well-suited for this purpose because it represents an eco-system of its own that operates at the interface of culture, technology, society, education and science. The project was initiated by the question: How can we train "Next Cultural Producers" who are capable of transcending existing frameworks, stimulating people to debate and creating new settings with their visions? Excursions into the Prix, Futurelab, Center and Festival sections of Ars Electronica will focus on testing new concepts of interdisciplinary collaboration. Applications can be submitted by curators, artists and students who want to to work as cultural producers, who hold Japanese citizenship (or permanent residency status in Japan) and who are proficient in English.
What such a stay might look like, what questions she approached Ars Electronica with, and how these six months in Linz shaped not only her professional but also her personal development are best heard from the first graduate herself. We met Maaya Makino, and she told us how she experienced the Next Cultural Producer Incubation Project.
First, I wanted to know a bit about your background: Where are you coming from? What did you study, which disciplines and how did you hear about the program?
Maaya Makino: I have a background in sociology and anthropology. Now I'm doing my PhD program at the University of Tokyo. The first contact with Ars Electronica was three years ago, I got in touch with Yoko Shimizu, researcher and artist at Ars Electronica Futurelab. She held a lecture at my university, but at that time she wasn't a member of the Futurelab yet. Though, she introduced me to the media art world and to the creative director, to Ars Electronica as an organization. I got really interested because she explained to me that Ars Electronica is not only about art, but it's also an organization related to society. After that, I did an internship at Matsudo International Science Art Festival. It is a collaboration art festival initiated by Matsudo City and Ars Electronica was the main curator. At that time I met other Ars Electronica artists and directors and talked to them, so I became even more interested in Ars Electronica.
And last year the Japanese government's Agency for Cultural Affairs founded this program and I heard about the open call and the opportunity to work with Ars Electronica so I applied and here I am! :)
And how was it, how was your experience with the program?
Maaya Makino: Well, first of all, I really enjoyed these days. In the beginning I was a bit afraid of all the new things. It's also my first time to live in a foreign country. I visited Germany before, but just for two weeks – it's not the same as actually living here.
New countries, new cultures, and it's also the first time to work in an international company. It means I use English daily in my workplace – so everything's new to me. And this program accepts only one person, which means I came here alone. I already knew Emiko Ogawa and some Japanese people here, but still I felt a little insecure.
How was your first day?
Maaya Makino: First, I had to quarantine because at that time Austria was in lockdown. So I stayed inside for ten days and I had online meetings with Emiko, the person in charge of the program at Ars Electronica, and I watched a lot of Home Delivery sessions and Prix Ars Electronica winners' contents.
So yeah, the 10 days passed very quickly. At the end of May I visited the office for the first time and I remember that many people in the office were very open minded and welcoming. I mainly worked in the festival team and did the garden management, the project management for parts of the online festival, but at the same time I joined other departements like Center, Futurelab and also visited Solutions.
So the purpose of this internship is to understand the organization Ars Electronica. For this purpose I met lots of people and I had some sessions with them and was introduced to almost everyone in the organizational team and asked them questions like "what are you doing here and why do you work for Ars Electronica? Not as a Museum or as an art institution, but why did you choose Ars Electronica?" I tried to understand what kind of people are working here, how they manage this organization and how they communicate inside and outside of the team.
What was the outcome?
Maaya Makino: The outcome is that almost everyone has internalized the core philosophy of Ars Electronica. I was really surprised because I figured out that the personalities are very different in each department, but when I talked about philosophical topics or Ars Electronica's mind thinking, many people mentioned the triangle of art, technology and society.
On the other hand side, from a reasercher's perspective, I wanted to find out more about Ars Electronica and the connection with the city of Linz. My first question was how Ars Electronica has cultivated the culture of Linz City for more than 40 years? I already knew that Linz was not so "cool", so to say, not so famous and not so touristic in the 1970s when Ars Electronica was founded. I wanted to figure out the process that turned Linz into a city of media art and the relationship between the city and this organization.
And the second point is more focused on practical aspects: How can this kind of organization be managed? My personal goal is not to become a professor but to become a producer myself. And I want to do the management and the curation of an art festival by myself. At least in Japan, there are aspects like financing and collaborating with partners that make it espacially hard to manage an art festival, so I wanted to know how Ars Electronica collaborates with various partners and how it's managed.
This is very interesting to hear. You mentioned you worked with and for the Ars Electronica Center or the Futurelab as well. Can you tell me a bit more?
Maaya Makino: In the Futurelab I had monthly mentoring sessions with my mentor Maria Pfeifer. I met her and asked everything which I wanted to know at that time. And the other big thing is I did the project management for Matsudo International Science Festival together with Yoko Shimizu. And I also did a Future Matters workshop by myself, which is part of the Home Delivey Services offer. In this workshop, where fun and creative experimentation with programmable materials as well as discourse and reflection on materials of the future are on the agenda, the pupils become material researchers and inventors.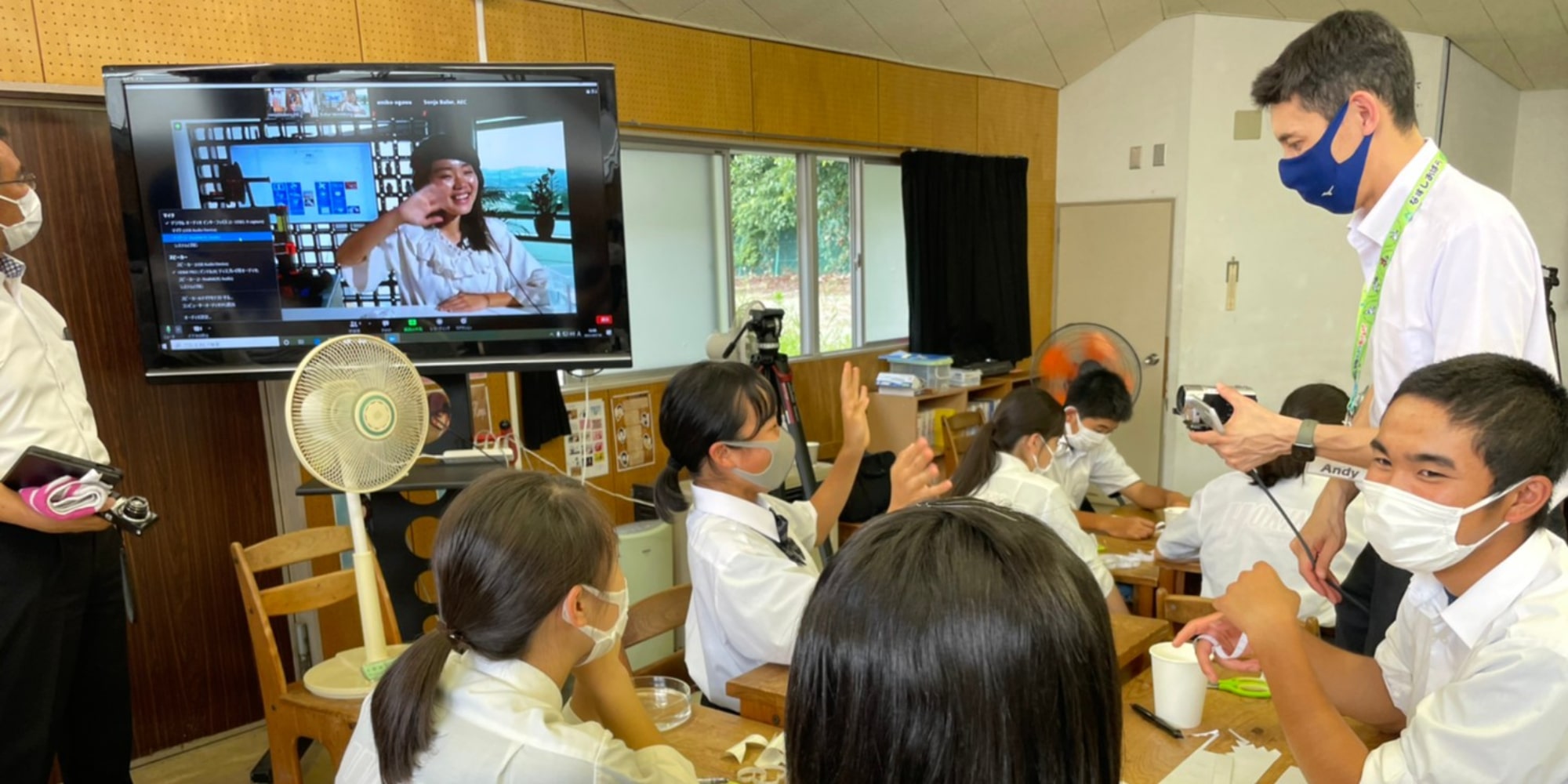 In addition to this workshop I also created my own, original workshop. It's called "Picture Commons" Workshop. So as I told you before, I'm interested in the local community and citizens here. So I collaborated with the Citizen Lab in the Ars Electronica Center. In the workshop, we drew on the photos of public spaces in Linz city and 'pictured' the future of Linz Commons. This workshop was held as part of a theme weekend in the center.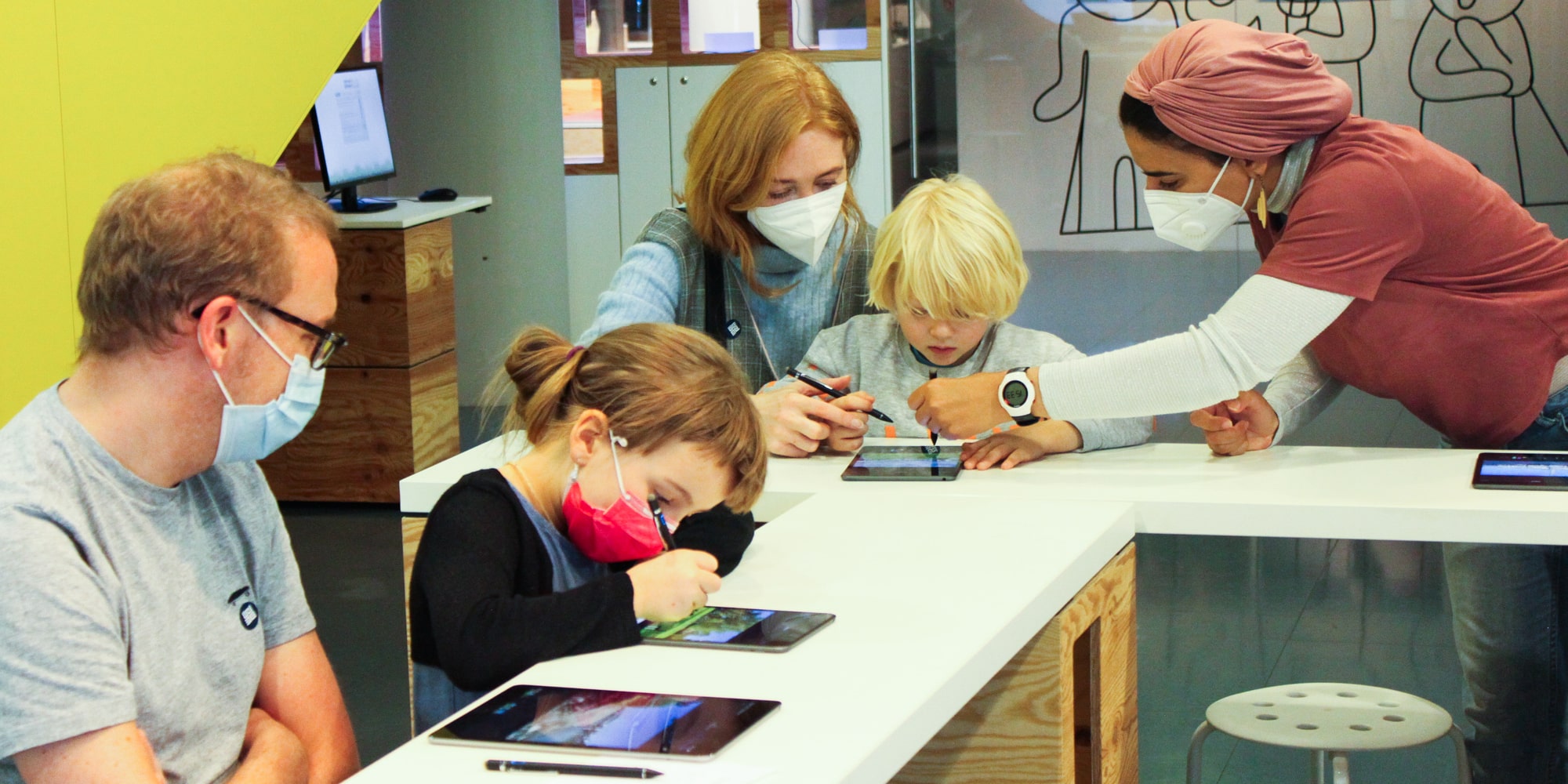 Were there also some challenges or things that you would do differently next time or that also the program should maybe do differently?
Maaya Makino: I am the first participant of this residency. So this year the program adjusted to my interests, but I think this program can be adapted depending on the participant's interests. For example, I was very interested in the social aspects of Ars Electronica so Emiko, my mentor, set up my schedule accordingly. But if the person is more interested in an, let's say, technological aspect, they could join more projects at Futurelab for example.
To sum it up: What was the most important outcome for you, personally, of this program?
Maaya Makino: Well, first of all, I changed a lot during these few months. I felt disfitting in the beginning, because the Japanese culture is very different from here – the communication style and the working style is very different. And in the first place, I think I was shy and even if I like to talk to people, I simply couldn't figure out how and to what extent. But gradually I understood the feeling here and I could really join the team. Not as guest, but as a member, especially in the festival team. I did garden management for the festival, which means I worked with super international partners from Africa, India, Asia, Europe, Middle East. And I also learned a lot about cultural differences through this project management. I learned how I can adapt myself to different people who have various backgrounds.
I think the most important outcome is very simple. Actually, I learned a lot of technique and tips here, but what I realized most impressively is that trust is the most important thing to manage this kind of organization.
"Trust is the most important thing to manage this kind of organization."
Trust among all of the team members and also trust with the external partners. In the festival team, when I was dealing with partners, they said "okay, we can do that because of our partnership" or "okay, I can do that because you are ars electronica". And I understood that Ars Electronica has built up trust for 40 years and still the members here keep and try to develop this kind of trust in their partnerships. Well, it's a super simple outcome, but for me it's very important.
Very exciting! And also what you said about getting to know the work culture and the way of communication… I think when you learn how to adapt to one country and to one company, then you can easily do it again in another country or somewhere else because you learned how to do it.
Maaya Makino: During the festival production, of course I couldn't understand everyone, but at least I understood that my perspective and my way of thinking is just one aspect. The difference in thinking is natural. So how can I narrow this gap? So I changed my mindset and I think I got a lot of confidence from this experience.

Find out more about the Program for Next Cultural Incubators Project in our Home Delivery session (in Japanese language). Here you can find all the details on how to submit your application.
Born in Hyogo, 1996. Ph.D. student at Integrated Human Sciences Program for Cultural Diversity, The University of Tokyo. She has researched creative city planning, future commons, community art projects from sociological, anthropological perspectives. Her master thesis writing about the art project in Fukushima after the nuclear power plant accident received the award in the program. She has a wide range of interests in art direction and producing the contents. In 2020, she did an internship at a Japanese entertainment company and engaged in a virtual reality game project. She has a lot of enthusiasm for cultural management in the future city.