Unique image worlds, a projection surface of 16 by 9 meters, 8K resolution, 3-D laser tracking – Deep Space 8K is a perfect way for young artists* to work with immersive image worlds. That's why the bachelor's degree program in "Time-Based and Interactive Media Arts" at the Linz University of the Arts has been offering the course "Ars Electronica Deep Space 8K – Cooperative Aesthetics" since the 2014/2015 winter semester. With the support of course director Prof. Dr. Gerhard Funk and senior artist Holunder Heiß, students will develop their own interactive program for Deep Space 8K.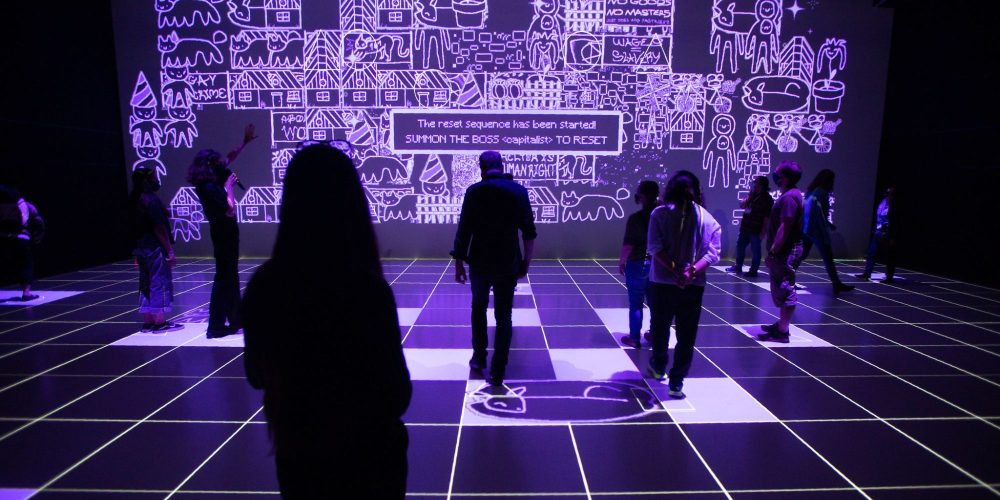 The artistic experimentation always starts with getting to know the location and the existing works from previous semesters. Gerhard Funk invites his students to Deep Space 8K and shows them what the space can do. He explains what technical infrastructure is installed here, what potential but also what challenges this means. "You have to be aware that the resolution in Deep Space 8K with the combined floor and wall projection means many times the resolution that your own laptop offers. So a program can't really be tested 1:1 – you have to work with scaling factors to be able to see it on your own screen. Using simple examples, we'll go through this together."
Using Processing, a programming language developed specifically for artists*, we then move step by step to implementation. "'Processing' is not a high hurdle in terms of programming, yet it is a very powerful programming language. Our students learn it from the first semester, and can then deepen their knowledge in advanced courses. However, a basic knowledge of this programming language is actually enough to be able to develop work for Deep Space 8K."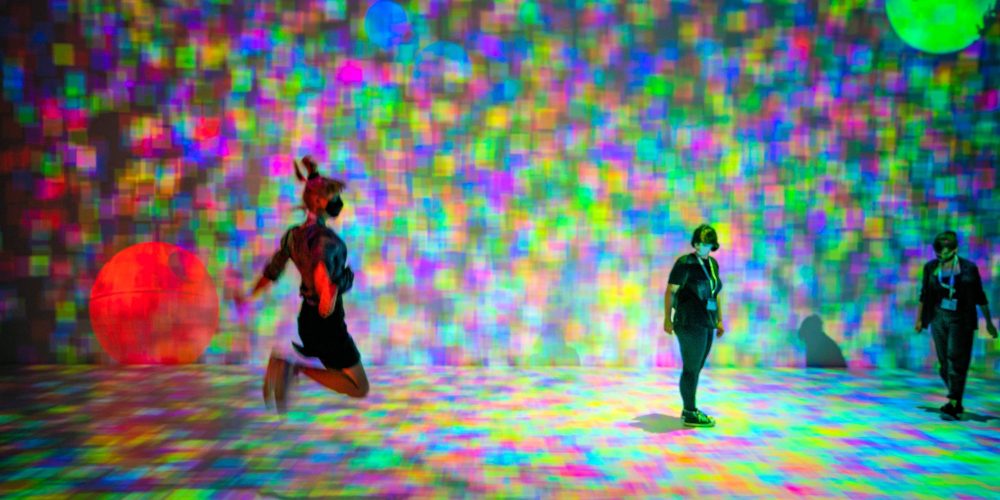 After about a month, the students come back to Deep Space 8K – the program includes initial tests of small, simple programs. Now the students are ready to develop concrete ideas and decide what is feasible during the semester. They will come to Deep Space 8K a total of four more times to test and experiment with their project. After that comes the final presentation.
But the end of the semester doesn't mean the adventure is over. Another quality of the cooperation between the Art University and Ars Electronica is that Deep Space 8K is not only a playground but also a stage for the students. Since 2014, their projects have been shown at the Ars Electronica Center as part of the TIME-OUT exhibition series, and the very best among them are even included in the ongoing program and can be seen throughout the year at Deep Space 8K. When Ars Electronica announces its annual festival at the beginning of September, things will be especially exciting for the students: they'll have the chance to present the projects they've worked on here in Linz to an international audience of experts and to exchange ideas with artists and curators from all over the world.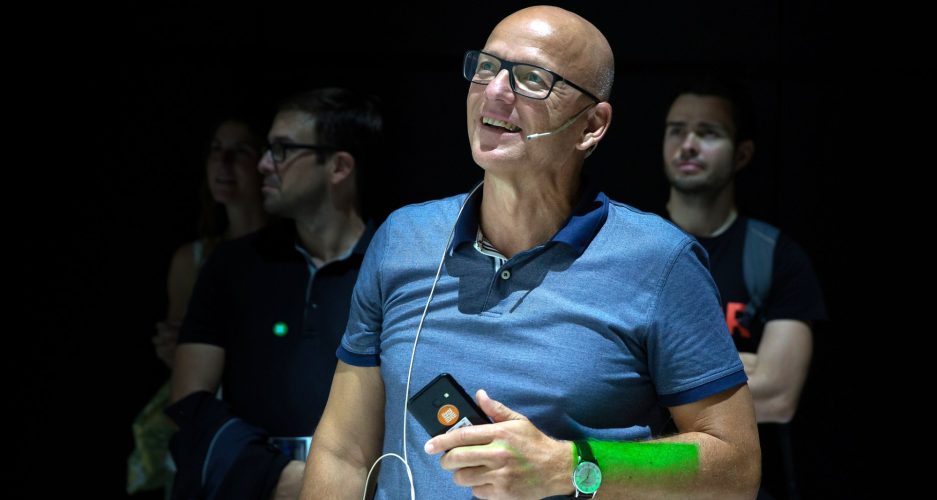 But what makes the Ars Electronica Center's Deep Space, as a space for interactive games and artworks, so special? For Gerhard Funk, it's the completely new possibility of making art. "It's fascinating to me to think of concepts for controlling things just by moving the human body in space. It's a very special interface that you have here, and it's very different from a touch or mouse interface. For me, the collaboration and cooperation aspect in particular is a big draw when I'm programming work for Deep Space 8K."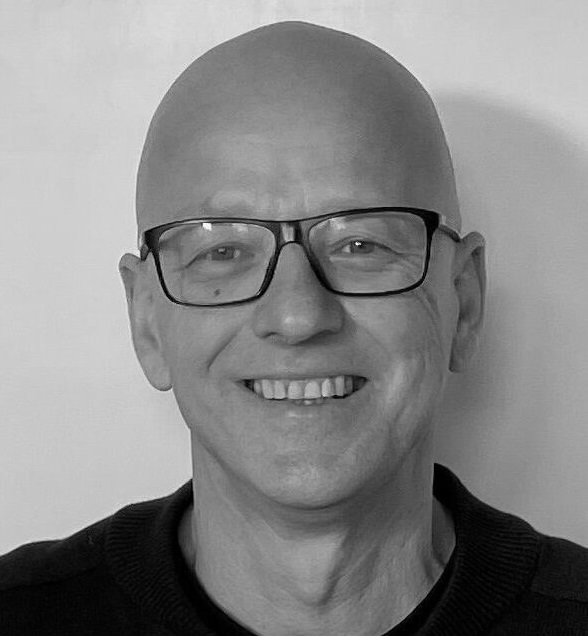 Gerhard Funk, born in 1958, studied mathematics and art education in Linz and earned his PhD in Theoretical Computer Science at RISC Linz. In 1993 he moved to the Linz University of the Arts, where he established the teaching program for all students at the university in the field of digital media. Since 2004, he has been a professor at the Institute for Media and until October 2021 will be in charge of the bachelor's program "Time-based and Interactive Media Art", which he designed. In recent years, he developed the concept of "Cooperative Aesthetics" for the AEC's Deep Space. Here, visitors can create a shared aesthetic spatial experience through their movements and through cooperation.