The Prix Ars Electronica in the u19-create your world category has always wanted to know what issues young people are concerned with, what visions they have and how they express it all in the form of artwork. The fact that these themes are not always positive in nature is shown by the winning project in the category "u19 – create your world" by Linz based artist Mary Maryhofer. A black blanket under which is a seemingly motionless body, on it a poem written in capital letters. The poem was written at an emotional low point and deals with lethargy, exhaustion and isolation. With the project "The Black Blanket" Mary Mayrhofer deals strongly with the topic of "psychosocial health" and shows the dark sides of a generation that has completely broken away in recent years. In the interview, the artist tells us more about the story behind the project.
Many kids are not, in fact, alright, and if we want to again look to the future with confidence, we must become active right now in order to provide help. We as a society cannot give young people the feeling that it will be up to them alone to sort out this mess when it is finally their turn to run things. We all must work together in solidarity to ensure a brighter future. – Jury Statement
What did the creation process look like?
Mary Mayrhofer: It all started with a poem with the same title, which was created on 10. 04.2021 at about 03:00 in the morning. At the time, I was at a pretty low point mentally and didn't really intend to work with the poem or have a project come out of it. To be honest, the poem would almost have been attached to a farewell letter, since it arose from a state of deep black emptiness and I had the feeling that I had succeeded quite well in explaining how I felt. However, I still went to rehab in the summer of 2021 and have otherwise spent the last year working a lot on getting a handle on my depression. Dealing with my inner self and working on it artistically has definitely played a supporting role. Only through the "look inside" came the idea to represent my depression not only through words, but also visually. The textile project was created from about November 2021 at the HBLA for artistic design as a Matura project in the context of my diploma thesis on the topic of "art and disease". While working and through the exchange with my professor then also came the idea to add a series of 5 Polaroid pictures to underline that depression is very diverse and can creep into all conceivable life situations and people. Art is therapy for me, or at least it can be, which is why I find it almost a little ironic that working on my project as a symbol for depression did me so much good.
Why did you choose the blanket as a design stylistic device?
Mary Mayrhofer: One of the most crushing symptoms of depression for me is not being able to get up; you might not imagine it that way, but in my worst phases I had days when the alarm clock would ring and I was too empty, too mentally tired to get up – no matter if it was for school, my hobbies or a visit to the zoo with friends. There's supposed to be something cozy or comfortable about your own bed, but for me it often felt like a prison. Depression, however, does not make the bed extraordinarily comfortable. It just makes it the only bearable place sometimes, because everywhere else in the whole world is far too exhausting. I find that very exciting, because it's very contrary to my childhood, when I used to pull the blanket over my head when I was scared. So in my work, the blanket is not only supposed to be a blanket, but also a thin, tight shell that cuts you off from the enjoyment of life.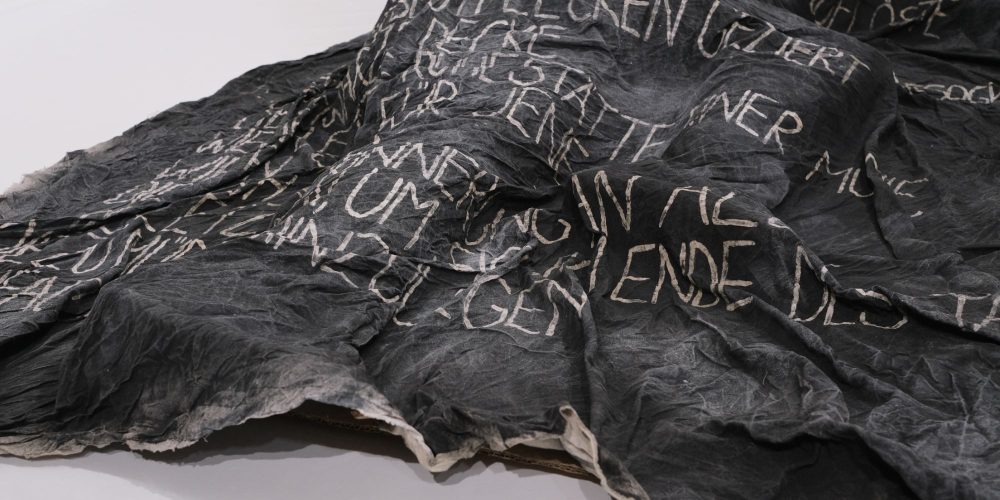 How do you see the role of art as a means of communication?
Mary Mayrhofer: Often the beauty of art is not just what you put into it – but what you get out of it. If the next few years go according to plan and I pursue the future I currently envision, I want to become an art therapist. I am absolutely convinced that there are many ways to get something out there or to confront yourself with yourself through creative processes. Sometimes pictures really do speak louder than a thousand words – especially for things that are too difficult to express. While I don't think everyone can relate to art or creative work, for me personally it makes it easier to reveal my inner self to others.
What message do you want to give other people with your artwork?
Mary Mayrhofer: I want to give a sense of representation to all those affected, as I have noticed myself that there is still an uncomfortable stigma around mental illness. The fact that you can't guess the age, origin, or gender of the person under the blanket is meant to suggest that anyone or everyone could be under it. Moreover, this effect is to be underlined by the Polaroids, because depression can affect any kind of person. Since I have been struggling with the diagnosis since I was 11 years old, I have often been told that depression is just a phase or a hormone-related additional symptom of puberty. In the meantime, however, I know that this is not true. What I would like most is for someone to look at my project and feel a little less alone with this crushing feeling. In addition, I would like to commemorate with my work all artists, parents, friends, siblings and strangers who suffer from this disease or have already perished from it.
The Black Blanket encases a person,
But the person is no longer there.
The fabric became rigid;
It hardened and stiffened
As life dissolved in fog.
The person is already gone,
Perhaps escaping from their thoughts,
Or exploring the bottom of the Danube.
The Black Blanket has absorbed tears
And eavesdropped on prayers.
It has muffled screams
And adorned itself with bloodstains.
The Black Blanket,
Like the last resting place of a mummy,
Like a coffin for those still alive.
As a final memory to all
Who were too tired
At the end of the day
To simply lie down again.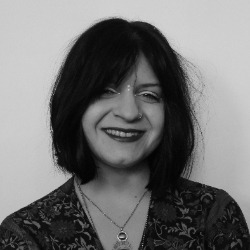 Mary Mayrhofer (*2002) currently still lives in Linz, but would actually like to travel the world. She graduated from the HBLA for artistic design and now wants to become an art therapist, thus combining her two greatest interests – people and art. In all areas of her life, expression comes first, which is also the reason why she deals with her own inner self in her works. Although she is always picking up new materials and techniques, she has mainly found herself in the medium of collage and the style of Dadaism. What she values most about it is the freedom to take everything apart and put it together anew, as well as to destroy all norms and conventions.