OMAi (AT)/ STEMarts Lab (USA)
The OMAi Space Workshop is a unique learning experience that combines astrophysics and media art. Participants experience an exciting journey through space and time and explore the mysteries of the universe together with the workshop facilitator. Starting with an interactive starry sky, they first explore the significance of astrological observations for ancient advanced civilizations. The discussion leads to current ecological and ethical issues in the exploration of space. In the second part, participants will encounter supernovae, black holes, and gravitational waves. The excursion into the unknown finally leads to the extraterrestrial origins of the building blocks of life.
Explore the mysteries of the universe! A unique interdisciplinary sci-art experience combining astrophysics and new media art.
| | |
| --- | --- |
| School levels | from the 5th school level |
| Format | Workshop |
| Implementation | Possible both in class on site and as an online workshop in the context of distance learning |
| Duration | 2 consecutive units |
| Participiants | up to 30 between 10-18 years |
| Support | 1 Workshop facilitators from OMAi/ Ars Electronica and 1 teacher from your school |
| Fee | free |
The workshop was developed by OMAi in collaboration with STEMarts Lab (USA) and will be delivered by an OMAi team member.
OMAi ("Office for Media and Arts International") is a Viennese company for digital artistic expression founded by brothers Josef and Markus Dorninger and Matthias Fritz. The collective's work includes live performances, interactive art installations, and creative education. Their primary medium is digital light projections, for the creation of which the specially developed visual instrument "Tagtool" is used. This invention, patent pending in the USA, is used by projection painters worldwide on stage and street to bring images to life. In its educational work, OMAi always focuses on the accessibility of the learning experience and the expertise of international experts. http://www.omai.at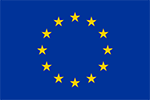 The create your world tour is funded by the European Union's Horizon 2020 research and innovation program under grant agreement No. 824581 as part of the 'OSHub' project.