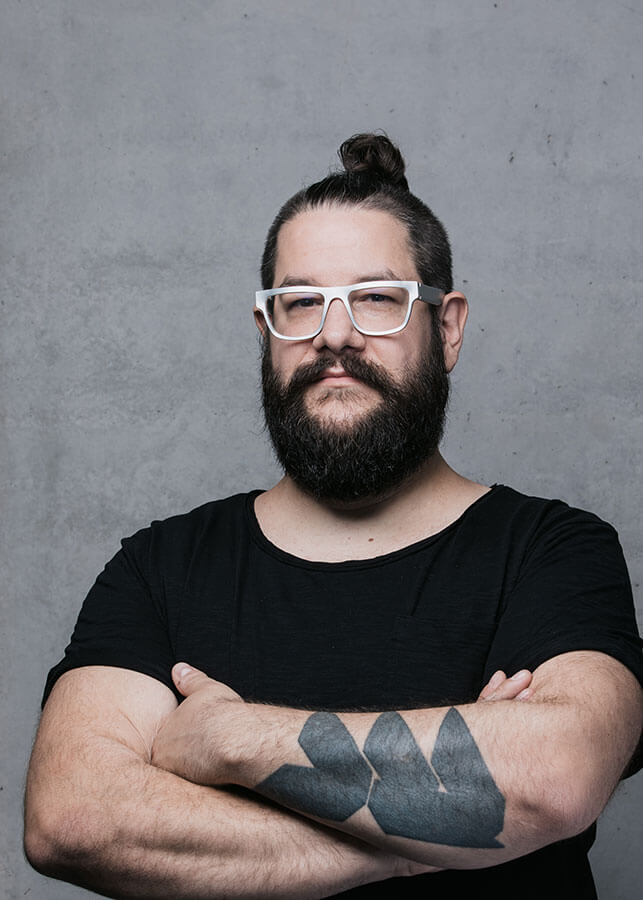 "Incrementalism and those little steps are not enough. Not right now."
by Sen. Bernie Sanders
Biography
Johannes Pöll has started as a researcher and artist at the Ars Electronica Futurelab in 2017. Already ten years prior to this tenure, he performed as a Computational Noise musician at the Interferenz-, Elevate– and certainly the Ars Electronica Festival.
Changing preferences from the computed auditive to the generative visual world, the multimedia artist moved to Berlin in 2013. At onformative, he is looking for inspiration and experience at the crossroads of natural sciences, art and technology.
Next to his work as lead designer at the Ars Electronica Futurelab he researches time-based, aesthetic processes of spatial art as an explanatory model of complex processes. Johannes spends his sparce leisure on the skateboard, designing occult graphics and is programming the blastbeat signal processing of his post post black metal band Galtür.
Additional Information
Workshops
Workshop @ HOK Studios, Linz / September 2016
do not fear – Creative Coding (Processing & live Shader coding)
Workshop @ Ars Electronica Festival 2015, Expanded Animation Symposium / September 2015
Realtime Alchemy: Smoke, Mirrors & Brute Force
Talks
Talk @ Gamestage 2015 / Unity Days 2015 / Tabakfabrik Linz / October 2015
Shenenigans with Unity3d or how i stopped worrying and learned to love realtime graphics.
Talk @ Ars Electronica Festival 2015, Expanded Animation Symposium / September 2015
Realtime Alchemy: Smoke, Mirrors & Brute Force
Performances & Works
Iron Flowers Alpha / Installation @ HOK Studios, Linz / December 2016
Ars Electronica Festival 2016 Trailer Artist / Animation @ Ars Electronica Festival, Linz / September 2016
Landscapetranslations II / Installation @ HOK Studios, Linz / März – April 2016
Landscapetranslations I / Installation @ HOK Studios, Linz / Oktober 2015
Ignite @ Fluctuations – generative essences in Austrian audiovisual works – a status quo
kuratiert von Woeishi Lean & Leonhard Lass @ MAK Wien / April 2015
Ars Electronica Festival 2014 Trailer Artist / Animation @ Ars Electronica Festival, Linz / September 2014
Beyond @ Ece Gözen FW1314 / Installation @ Mercedes Benz Fashion Week, Istanbul / März 2013
Sonic Death Monkey AV Performance @ Ars Electronica Festival 2009, Linz / September 2009
Monstamash AV Performance @ Elevate Festival 2008, Graz / November 2008
Metadrain D.M. AV Performance @ Ars Electronica Festival 2007, Linz / September 2007
Metadrain D.M. AV Performance @ WUK Interferenz Planet Mu 100, Wien / Juni 2006
Ioshii AV Performance @ STWST Interferenz Festival, Linz / Februar 2006