The School of the Future Festival 2020—a cooperation between Ars Electronica and TOKYO MIDTOWN—took place from February 20th to February 24th 2020 in Tokyo, Japan. The School of the Future is an extra-curricular place where visitors are invited to think about our future society together with artists, companies and universities at exhibitions, workshops and lectures. During the five festival days, a total of 130,000 visitors were counted, who took part in over 36 events. This time, six universities were represented among the 26 event partners, including the University of Art and Design Linz.
The festival's kick-off was a live performance of a very special kind: a piano performance accompanied by visualizations and complemented by artificial intelligence as a co-creation of human and technology, which picked up on the festival theme Dappi perfectly: Dappi (Japanese for shedding) is about getting rid of stereotypes, gathering courage for change and challenging the status quo. The old is being rethought, a look outside the box is dared and self-imposed restrictions and norms are broken free from: Through artworks and projects that push us out of our comfort zone, the old skin is stripped off and the wall for transformation and personal growth is broken through.
Dappi was felt throughout the rest of the events, as well: Over the next few days, numerous exhibitions, talks, performances and workshops followed, in which children and adults were encouraged to become active themselves and think about our society's future. Topics included discussions about new perspectives and roles of technology-supported societies and individuals, rediscovering and reflecting yourself, breaking free from self-limiting beliefs and the unstoppable adaption of social rituals in a society that is constantly changing.
A big highlight for the little visitors was a carnival parade in the middle of the busy building complex TOKYO MIDTOWN—a hybrid of offices, apartments, restaurants, a shopping center and a hotel—where the children proudly presented their masks which had been designed previously in a workshop.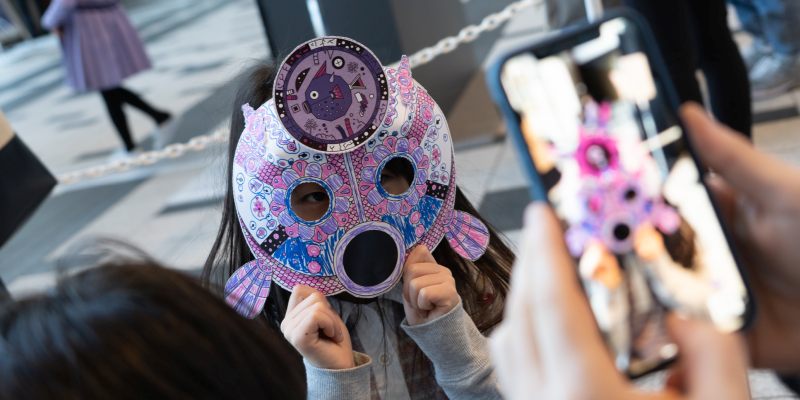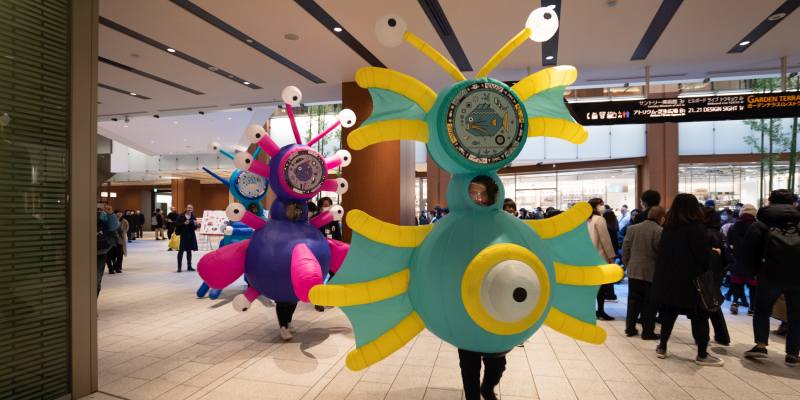 Credits: La parade engloutie / Guillaumit and Les Plasticiens Volants | TOKYO MIDTOWN
For the first time this year, the European Commission's STARTS initiative was also presented as part of the festival. STARTS aims to foster alliances of technology and artistic practice that effectively implement European policymaking to nurture innovation and that benefit the art world as well. In addition to a talk session about the future of collaborations between the arts and businesses and the societies and forms of innovation that result from their cooperation, there was also an exhibition of this year's STARTS Prize winners and their Project Alias.
The role of universities regarding the shaping of our future was a central one this year. Universities are under enormous pressure to transform: adaptation to demographic change is pressing, the need to teach digital technologies is becoming urgent. How can universities change for the future? At the Campus Exhibition, unique approaches from various universities, including the University of Art and Design Linz, were presented.  Educators and students rethink the meaning of education, and develop virtual course syllabus, interactive technologies are developed and implemented in the classroom, visual communication is gaining importance in conveying information.
At the Public Review for Campus Exhibition, members of Ars Electronica and the participating students exchanged opinions about the projects presented in the Campus Exhibition and deepened the dialogue about how society can shed its skin for the future—a topic that accompanied this year's School of the Future Festival more noticeably than ever before. At the time of the festival, certain restrictions due to the spread of the SARS-CoV-2 coronavirus were in place in Japan.
Related Projects
Take a look at some of our other projects
From our never-ending list of ideas and concepts we have compiled a selection of works related to the topics addressed in this project. An overview of all our productions, cooperations and projects can be found in our continuously growing project archive.