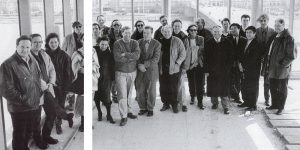 WORLD WIDE WEB
Hannes Leopoldseder (AT)
Chairman of the Jury. Hannes Leopoldseder, born 1940, Ph.D., has been working for the Austrian Broadcasting Corporation since 1967. Since 1974 he has been General Manager of the Upper Austrian Regional Studios. In 1979 he co-founde,d Ars Electronica and the Linz Sound Cloud, in 1987 he initiated the Prix Ars Electronica and in 1993 the Ars Electronica Center.
Derrick de Kerckhove (CA)
Derrick de Kerckhove, Director of the McLuhan Institute of Culture and Technology at the University of Toronto. His works on the effects of communication-media on the human nervaus system include "Brainframes" and "The Alphabet and the Brain".
Joichi Ito (JP/US)
Joichi Ito, developer and producer in the areas of virtual reality and multi-media. Japan correspondent for Mondo 2000, Wired and other. Numerous publications, particularly on networks.
Franz Manola (AT)
Franz Manola, ORF (Austrian Broadcasting Company), director of the section for marketing – planning – company strategy.
Morgan Russell (US/AT)
Morgan Russel served as editor of various magazines. His writings have been mistranslated into many languages, including Catalan, Spanish, German, Japanese, Hungarian, and Dutch. Russell is currently "Digitor" (Digital Editor) of the tO-Netbase website. Russell's desire is the re-opening, in conjunction with Kozari Hilda and Godzilla Sensei, of the fabled Japan Cafi in Budapest where Jugendstilmaster Lechner frequently met with his fellow movers and shakers to eat fantastic desserts…
Mitsuhiro Takemura (JP)
Mitsuhiro Takemura, born. 1954. Associate Professor, Kyoto Universtiy of Art and Design. Director of Research and Planning Department, Research Fellow of Digital Media Development of Japan Arts Foundation. Also directing lecturer of Media Theory (Media Aesthetics) and Media Art, Kyoto University of Art and Design. One of Japan's leading experts on Virtual Reality and media art based on advanced image technology.
INTERACTIVE ART
Roy Ascott (GB)
Born 1934, artist, Director of the Centre for Advanced Inquiry in the Interactive Arts, Gwent College, Wales. Pioneer of telematic art: "Terminal Art" (1980), "La Plissure du Texte" (Electra 1983), Venice Biennale 1986, Ars Electronica '89, "Telenoia" (1993). Numerous articles published internationally. Dean, San Francisco Art Institute, California 1915-18; Professor for Communication Theory, Academy of Applied Art, Vienna 1985-92.
Vittorio Giacci (IT)
Vittorio Giacci, film critic and expert for communications and performance practice, has published various works on the cinema. His areas of expertise are film restoration and interactive communication. He has produced a CD-ROM on François Truffaut as well as numerous documentary films. He is currently the general manager of Cinecitta International.
Roger Frank Malina (US)
Born 1950. Ph.D. in astronomy at the University of California, Berkeley. Presently Director at the Center for EUV Astrophysics in Berkeley, California, and Director of the Laboratoire d'Astronomie spatiale, Marseille. Editor of the art journal "Leonardo", executive Editor of the art journal "Leonardo Electronic Almanac".
Monique Mulder (NL)
Born 1965. Studied at the Art Academy, Den Haag (architecture, interior design), and received postgraduate training in computer graphics and animation. Worked as an assistant director, production assistant for television, production director and stylist for fashion photography, architecture and interior design, and as a producer for a 3-D animation.
Michael Naimark (US)
Michael Naimark, media artist Interval Research Corporation in 1992. Faculty appointments at the San Francisco Art Institute, San Francisco State University, California Institute of the Arts, MIT and the University of Michigan. Member of the Editorial Boards of "Presence" and "Leonardo Electronic Almanac". Bachelor of Science in Cybernetic Systems from the University of Michigan (1914), Master of Science in Visual Studies and Environmental Art from MIT (1919).
COMPUTER ANIMATION
Mark A. Z. Dippé (US)
Born 1956. Ph.D. University of California at Berkeley, 1985. Berkeley, Lecturer Computer Graphics 1988-1989 at Berkeley; Industrial Light and Magic, Visual Effects Director, 1988 until present. Publications: "Parallel Ray Tracing", SIGGRAPH 1984; "Stochastic Sampling", SIGGRAPH 1985. Films: "The Abyss", "The Terminator 2", "Back to the Future 2", "Hunt for Red October", "Jurassic Park", "The Flintstones".
Johnie Hugh Horn (US)
Born 1951; electronic artist. Produced and directed computerjelectronic art festivals for the past 12 years. Associated with SIGGRAPH since 1983, directed the Electronic Theater in 89, 91, 93, and 94. Directed the first video catalogue of Interactive Art for SIGGRAPH in 1988. Co-founder of "big Research". Currently he is art/technical director for HUXLEY 101 .
Peter Kogler (AT)
Born 1959, media artist living in Vienna. Represented Austria at the Biennale 1986 in Venice ("Aperto 86"); significant exhibitions: 1989, "Open Mind" at Museum van Hedendaagse Kunst in Gent; 1992, documenta, Kassel; 1993, "Excess in the Techno Mediacratic Society", Galerie Krinzinger, Vienna; Centre Georges Pompidou Paris/Museum in Progress.
Sally N. Rosenthal (US)
Sally N. Rosenthai is co-founder of "big Research". She is a business consultant and catalyst in related areas of online communities, computer graphics, group interaction, stereoscopy, and telecommunications. Since 1981, a major force in annual SIGGRAPH conferences. She is an appointed member of the Genevabased World Arts Council, is NASA's virtual reality pin-up, and is an avid collector of pop-up and moveable books.
COMPUTER MUSIC
Stephen Arnold (GB)
Stephen Arnold studied with Peter Maxwell Davies, Jonathan Harvey and Alexander Goehr, and at the Universities of Southampton and Nottingham, gaining a Ph.D . for a study of the music of the American composer, Milton Babbitt. In 1990 he directed the International Computer Music Conference in Glasgows. He is a Director of the International Computer Music Association and holds the office of VicePresident for Conferences.
Lars Gunnar Bodin (SE)
Born 1935; independent composer/artist and member of the Royal Academy of Music in Sweden. Taught electroacoustic music at the state College of Music in Stockholm and Dartmouth College, USA. Lars-Gunnar Bodin is one of the pioniers of electroacoustic music in Sweden, and is also involved in chamber music, inter-media, happenings, instrumental theater and visual arts. From 1978 to 1989 he was Director of the Institute für Electroacoustic Music in Stockholm. Co-founder of the International Confederation for Electroacustic Music (ICEM).
Ludger Brümmer (DE)
Born 1958. 1978-1983 study of psychologyjsociology at the Universität Dortmund. 1983-1989 studies of composition at the "Folkwanghochschule" in Essen with Nicolaus A. Huber (instrumental composition) und Dirk Reith (electronic composition). 1992 Work with the Nederlands Dansteater and the Ballett Orchestra, Den Haag, for the piece "!Tristan und Isolde!". 1991-1993 scholarship at the "Center für Computer Research in Music and Acoustics" (CCRMA) at the Stanford University California. 1993 teaching position at the electronic studio of the Folkwanghochschule Essen (ICEM).
Werner Jauk (AT)
Born 1953; assistant professor and lecturer in systematic musicology at the University of Graz. Founder and director of the "Grelle Musik" studio for experimental acoustic and visual art forms. Author of scientific works in the areas of psychology of music, sociology of music, computer music and avantgarde rock, with the emphasis on the carrying over of principles inherent in technology into the aesthetics of music.
Ivanka Stoianova (BG)
Born 1945 in Sliven, is Artistic Director of the Ricordi Publishing Hause in Paris and a professor in the Music department at the University of Paris VIII. Studied in Sofia, Moscow, Basle, Berlin and Paris (violin, musicology und phylosophy). Doctorate and professorship in Paris and activity at IRCAM, CNAC "Georges Pompidou"). Académie Chartes Cros prize for best music book of the year (Luciano Berio/Chemins en musique).