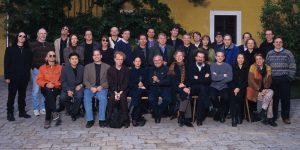 .NET
Hannes Leopoldseder (AT)
Chairman of the jury. Born in 1940 in St. Leonhard; Ph.D., journalist for the Austrian Broadcasting Corporation from 1967, Managing Director of the Upper Austrian Region since 1974. Cofounder of the Ars Electronica Festival and the Linzer Klangwolke in 1979, initiator of the Prix Ars Electronica competition in 1987, originator of the 1991 Ars Electronica Center idea for a museum of the future in Linz. 1991 set the idea in motion of the Ars Electronica Center as a museum of the future in Linz.
Andreas Broeckmann (DE)
Born 1964, currently lives in Berlin and Rotterdam, studied art history, sociology and media studies in Bochum/DE, Berlin/DE and Norwich/UK. He received a Ph.D. from the University of East Anglia, Norwich/UK, writing an extensive study about the use of portrait photography in the 19th-century human sciencs (A Visual Economy of Individuals, 1995, unpublished). Since 1995 he has been working as a project manager at V2_Organisation, a Rotterdam-based centre of art and media technology. He maintains the V2_East/Syndicate mailing list on the Internet and coordinates deep European network meetings related to electronic art and media culture. In his recent work Broeckmann has been exploring ideas for a machine aesthetics of media art.
Derrick de Kerckhove (CA)
Director of the McLuhan Institute of Culture and Technology at the University of Toronto. His Works on the effects of communications-media on the human nervous system include Brain-frames and The Alphabet and the Brain.
Robert Gehorsam (US)
Robert Gehorsam is Vice President of Programming at Sony Online Entertainment, where he is responsible for all content and technology for "The Station", Sony's new online games service. Prior to that, he was Vice President of New Media at Scholastic Inc., the world's largest children's publisher. For eight years he led Prodigy's entertainment and education division. Robert has also consulted to a wide range of online and media companies, including Microsoft, CNET, Ziff-Davis, America Online and Childrens Television Workshop.
Joichi Ito (JP)
Joichi Ito is developer and producer in the areas of virtual reality and multimedia. Japan correspondent for Mondo 2000, Wired and others. Numerous publications, particularly on networks.
John F. Simon jr. (US)
John F. Simon jr. is an artist who uses programming language as a means of activating ideas. His projects involve the computer's ability to iterate possibilities. The work is realized as software and drawing. John lives in New York City with his wife Elizabeth.
INTERACTIVE ART
Machiko Kusahara (JP)
studied mathematics and history of science at Tokyo's International Christian University and is an Associate Professor of Media Art at the Faculty of Arts, Tokyo Institute of Polytechnics. She has been teaching computer graphics theory and media since 1986 and has published several books on computer graphics and A-Life. Her recent research has been centered a round the transition of the nature of artistic creativity in interactive art, especially in relation to the concept of networking and A-Life.
John Markoff (US)
is based in San Francisco as West Coast Correspondent for the New York Times, where he covers Silicon Valley, computers and information technologies. Before coming to the Times in 1988 he covered Silicon Valley for the San Francisco Examiner beginning in 1985. He has also been a writer at Infoworld and in 1984 he was West Coast Technical editor for Byte Magazine. He is the co-author with Katie Hafner of Cyberpunk: Outlaws and Hackers on the Computer Frontier (1991) and with Lenny Siegel of The High Cost of High Tech (1985). In January of 1996 Hyperion published Takedown: The Pursuit and Capture of America's Most Wanted Computer Outlaw, which he co-authored with Tsutomu Shimomura. He was named as one of Upside Magazine's Digital Elite 100 in both 1996 and 1997.
Michael Naimark (US)
Michael Naimark holds a research appointment in arts and media at Interval Research Corporation, where he has been since 1992. As an independent media artist from 1980 to 1992, he produced artworks in conjunction with the Paris Metro, the Exploratorium, the ZKM, and the Banff Centre for the Arts and consulted for companies including Atari, Lucasfilm, Apple, and Panavision. He was instrumental in making the first interactive laserdiscs at MIT in the late 1970s and was on the original design team for the MIT Media Laboratory. Naimark has held faculty appointments at the San Francisco Art Institute, San Francisco State University, California Institute of the Arts, MIT, the University of Michigan; is on the Editorial Boards of Presence and Leonardo Electronic Almanac; and has been a member of the Society for Visual Anthropology since 1984. He created a B.5. in Cybernetic Systems as an independent major from the University of Michigan in 1974 and received an M.S. in Visual Studies and Environmental Art from MIT in 1979.
Hans-Peter Schwarz (DE)
Hans-Peter Schwarz studied visual communication at the University for Applied Science in Bielefeld, finishing 1973 as a qualified designer. 1982 doctorate summa cum laude for the title Dr. phil. from the Philipps-Universität. 1983-1990 curator at the Deutsches Architekturmuseum. 1990-91 project director for the conception of a new museum for the history of the modern age in Frankfurt/Main. Since 1982 lecturer at the Universities of Marburg, Trier and Frankfurt, the Un iversity for Applied Science in Darmstadt and the State School of Design /Karlsruhe. Since 1992 director of the Media Museum at the ZKM Center for Art and Media in Karlsruhe. Since 1994 chair for the history of art at the State School of Design/Karlsruhe (HfG). Since 1997 external project director for the thematic area of the EXPO 2000.
Jon Snoddy (US)
Jon Snoddy joined GameWorks in March 1996 as Vice President, Design from the Walt Disney Co. In 1993, Snoddy founded the Walt Disney Virtual Reality Studio which is currently producing the Aladdin Virtual Reality ride. He also led the conceptual development and design of the ride system for the wildly popular Indiana Jones attraction. Prior to joining Disney, Snoddy was with Lucasfilm's THX division where he was instrumental in transitioning the THX sound system from an industry studio mix product to a worldwide consumer product. He began his career as a technical director working for National Public Radio in Washington with the program All Things Considered. Snoddy has degrees in journalism and electronics from the University of South Carolina.
COMPUTER ANIMATION | VISUAL EFFECTS
Maurice Benayoun (FR)
Born in 1957, founded Z.A. Production in 1987, which emphasizes special effects and is particularly concerned with the potential of the digital image and interactivity. He has taught at the Universite 1 (Panthéon Sorbonne) since 1984. Since 1996 he is Artiste Invité at the École Nationale Supérieure des Beaux Arts, Paris. Since 1994 he has been particularly interested in the development of VR installations and interactive Internet applications.
Larry Cuba (US)
Larry Cuba, a pioneer in the use of computers in animation art, produced his first computeranimation in 1974 putting him at the forefront of the computer-animation artists considered the second generation – those who directly followed the visionaries of the sixties: John Whitney, Sr., Stan Vanderbeek and Lillian Schwartz. ln 1975, Cuba collaborated with John Whitney, Sr. programming his film Arabesque. Cuba's subsequent computer-animated films, 3/78, Two Space, and Calculated Movements, were shown at film festivals throughout the world, including Los Angeles, Hiroshima, Zagreb and Bangkok and have won numerous awards. Cuba's been invited to present his work at conferences such as Siggraph, ISEA, Ars Electronica, and Art and Math Moscow and his films have been included in screenings at New York's Museum of Modern Art, The Hirshhorn Museum, The San Francisco Museum of Modern Art, The Art Institute of Chicago, The Amsterdam Filmmuseum and the Isetan Museum of Art, Tokyo. Cuba received grants from the American Film Institute and The National Endowment for the Arts and was awarded a residency at the Center for Art and Media Technology Karlsruhe (ZKM). He has served on the juries for the Siggraph Electronic Theater, the Montpellier Festival of Abstract Film, and The Ann Arbor Film Festival.
Mark Dippé (US)
Mark Dippé has worked in feature film for many years, specializing in digital filmmaking. He was a visual effects director on severa l films such as Abyss, Terminator 2, and Jurassic Park and was the director of Spawn. He was the recipient of the Prix Ars Electronica for Terminator 2 and Jurassic Park and was a past member of the Ars Electronica Jury in 1991.
Rudolf John (AT)
Rudolf John studied at the film academy in Vienna and worked as a freelance journalist in Berlin. He writes film reviews for Austrian film and television magazines, in addition to working as a freelance writer. In 1990 he initiated the film and television award ROMY, of which he has since been the organizer. Together with his wife Alke, he runs the advertising agency Ideen GmbH.
Peter Kogler (AT)
Born in 1959, represented Austria at the "documenta IX" in Kassel; in 1995 he created sections of the Austrian Pavilion at the Venice Biennale, in which he had participated in 1986 in conjunction with "Aperto". His work is situated in the field of intermediality. The sign language he created with the computer is used to form mass media installations that occupy space and are adapted to their specific surroundings. He is guest professor at the Academy of Fine Arts in Vienna.
Barbara Robertson (US)
Barbara Robertson has been the West Coast Senior Editor for Computer Graphics World since 1985 and in that capacity has written many award-winning articles on computer animation, visual effects, and graphics technology as she watched the evolution of computer graphics art and technology. Prior to this work, she was the Editor and Researcher for the Whole Earth-Software-Katalogs, West Coast Bureau Chief for Popular Computing and West Coast Editor for Byte Magazine.
Michael Wahrman (US)
Michael Wahrman is an independent designer and supervisor of digital effects and production technology. He has contributed to the design, planning and supervision of dozens of feature films and special venue productions. Currently he is working as an in dependent digital effects supervisor, a consultant to Viacom International , a designer of creative technology for Post Perfect (New York Media Group), and designing a series of production technologies for the independent computer animator.
COMPUTER MUSIC
Jean-Baptiste Barrière (FR)
Jean-Baptiste Barrière studied music, philosophy and mathematical logic. Parallel to composing, he made a career at IRCAM/Centre Georges Pompidou in Paris, France, where he began as a researcher in January 1981 in the Chant (synthesis of the singing voice with computer) and Formes (contral of synthesis and composition with computer) projects. During the same period, he also assisted the composers Morton Subotnick, Gerard Grisey, Jonathan Harvey and Harrison Birtwistle in the realisation of their pieces. From 1984 to 1887, he directed the Musical Research Department at IRCAM, then from October 1989 he was responsible for the Department of Education, and since 1993 he has been director of Education and Production. He is currently on leave from IRCAM for one year to teach composition with the computer at the Sibelius Academy, and to work on various compositional projects
Jonty Harrison (UK)
Born 1952, studied at the University of York (D.Phil in Composition) and worked at the National Theatre and City University. In 1980 he joined the Music Department of The University of Birmingham, where he is now Senior Lecturer, as well as Director of the Electroacoustic Music Studios and BEAST (Birmingham ElectraAcoustic Sound Theatre). He has been on the Board of Sonic Arts Network, the UK's national organisation for electroacoustic music for many years.
Naut Humon (US)
Naut Humon conducts, curates and performs his and outside works for Sound Traffic Control, an omniphonic orchestral "dub dashboard" network which remorphs sonic spatial objects fram live instrumentalists, audio sculptures, and multiple DJ/VJ configurations for the RECOMBINANT diffusion jockey summits. He also operates as producer and creative director of the Asphodel/Sombient labels from San Francisco to New York.
Laetitia Sonami (FR)
Born 1957. She studied with Joel Chadabe at the Electronic Music Studio in Albany, NY, and with Robert Ashley and David Behrman at the Center for Contemporary Music, Mills College, CA, where she received her MFA in composition in 1980. She has since been developing her own electronic musical instruments for live performance. She lives in Oakland, California.
Werner Vollert (DE)
Werner Vollert studied art history, philosophy and journalism at the Free University Berlin. As an artist working in fine arts, he was awarded the Berliner Karl Hafer Prize for interdisciplinary art in 1986. His works may be found in a number of European museums. 1987 and 1988 he worked for the American Bally Corporation as a flipper designer. In 1988 he founded the Society for Art and Technology in Berlin, for which he is still an active board member. He has been responsible for implementing several of highly regarded art exhibitions involved with the theme of "new media". From 1992 to 1996, Vollert operated the Berliner technoclub "Bunker". With the Bunker CD series, he has released a number of CDs from the borderlands of aesthetics.
U19 | CYBERGENERATION
Sirikit M. Amann (AT)
Sirikit M. Amann studied political science, theater arts and economics in Austria, Germany and the USA. Since 1987 she has worked for the ÖKS – Austrian Culture Service – where she is responsible for the concept development and implementation of multimedia projects in schools. Austrian Culture Service school projects: 1994 "Computer and Games" and 1995 "Speed" (both at the Ars Electronica Festival).
etoy.AGENT e04 (IT)
The individual data for etoyAGENT e04 fram the period between 1972-1992 will be kept confidential by the etoyCOR PORATION™ until the year 2032. etoy.AGENT e04, who was born in italy, was recruited by etoy on january 1, 1992 and invited to an etoy SURVIVAL CAMP in the swiss alps, where a series of aptitude and performance tests were conducted with him and eleven other agents. the first generation of the etoy.CREW was purposely placed in extreme situations and subsequently mustered on the basis of technical, training-specific and creativity-based criteria. following a 16-week special training, seven of the eleven agents were selected. e04 accomplished the tasks required of him with excellence and is distinguished by his outstanding intellectual and athletic achievements.
Günter Hupfer (AT)
Günter Hupfer was trained as a teacher and has taught German and history at middle schools and computer science at the pedagogical academy in Linz. He has written a number of articles and books on the subject of "Using the Computer in Schools". He has worked for Microsoft Germany as a freelance consultant and set up an extensive training department for Microsoft Austria. As Marketing Manager for Microsoft Austria, he presented Windows 95 to the market. In 1996 he transferred to the Ars Electronica Center, where he was in charge of the educational setup. Günter Hupfer currently works as a teacher at a special middle school for computer science and as a freelance PR and marketing consultant.
Norman Filz (AT)
trained as a hairdresser after completing school requirements, played percussion on the side (with Marty Brem, Vacuzzi and Die vergifteten Pfeile, and others), also worked as a taxi driver, masseur and spa superintendent, ran a taxi business, wrote texts for an advertising agency and romantic novels for the teen magazine Music Man, participated in two operetta tour productions. He has worked for the Austrian youth and music magazine Rennbahn Express since fall 1993- He initiated the Viennese rock band "No Na Ned" and the dancefloor project ZEN, and has appeared in performances of Franz Schubert's Die Winterreise on the side.
Stefan Sagmeister (AT)
Stefan Sagmeister graduated from the College of Applied Art in Vienna and then studied at Pratt Institute in New Vork with a Fulbright scholarship. He worked as Creative Director for Leo Burnett in Hong Kong and M&Co. in New Vork, after which he opened his own studio Sagmeister Inc. in New Vork. He has created CD packaging and graphics for the Rolling Stones, David Byrne, Lou Reed, Aerosmith and Pat Metheny.