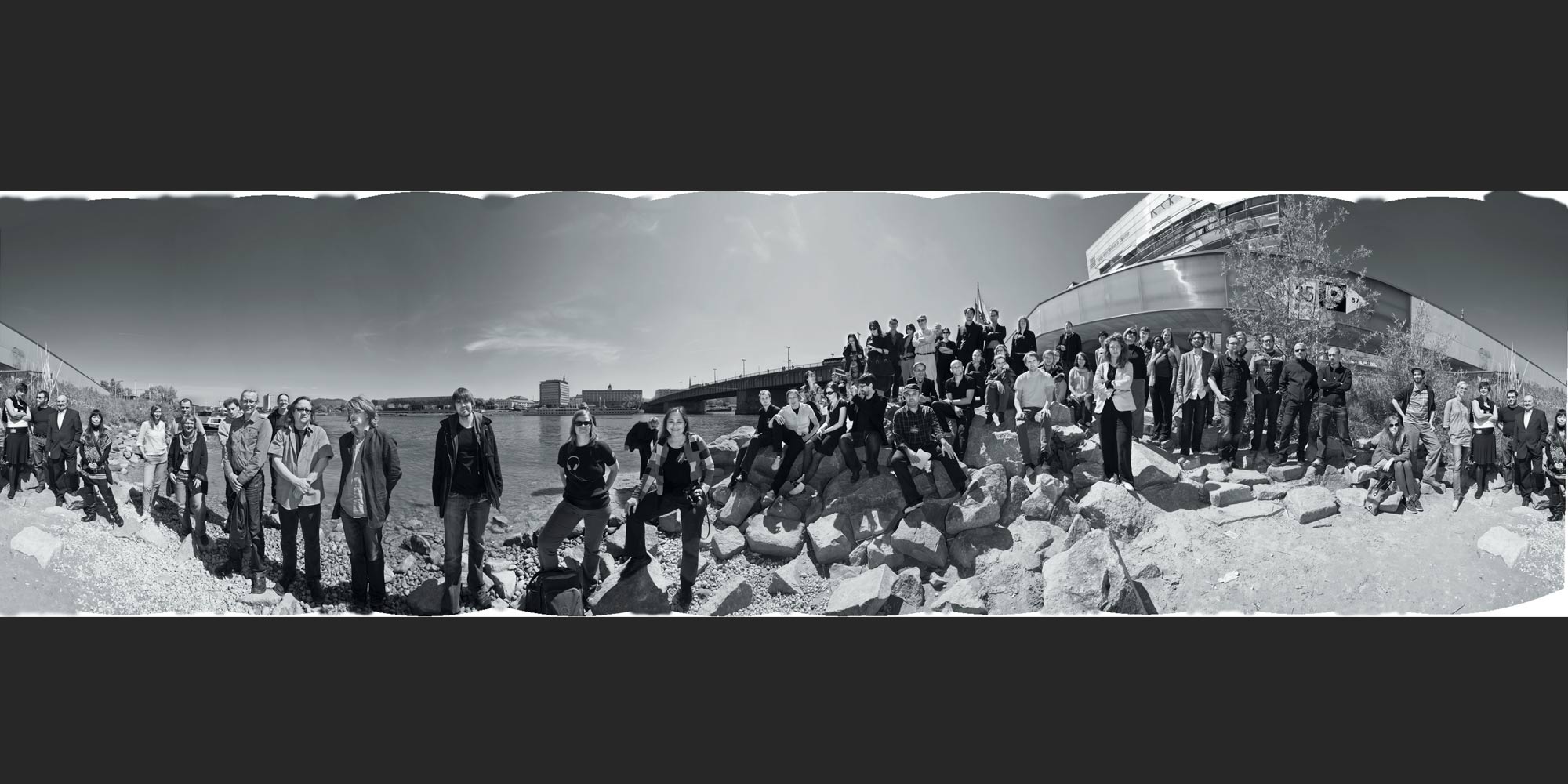 COMPUTER ANIMATION / FILM / VFX
Edgar Honetschläger (AT/JP)
born in Linz, Austria, Edgar Honetschläger studied economics and art history. 1989-1991 he worls in New York/LA, since 1991 mainly in Tokyo but Rome/Palermo and Brasilia/Sao Paolo/Rio as well. 1997 he participates in Documenta X. 2004 Honetschläger establishes the EDOKO Institute Vienna and joins Ribo Ltd. Tokyo. 2009 he receives a life award for interdisciplinary arts from the province of Upper Austria. The artist, screen writer an film director makes his homes in Tokyo and Vienna.
Patrick Bergeron (CA)
1967 (Quebec, Canada), digital artist, Patrick Bergeron completed a bachelor degree in physics engineering in Quebec and a master degree in aerospace in Montreal. He then became a computer technical support at the National Film Board of Canada (NFB). Over there he worked with experienced technical people and with renowned animation film directors. The NFB has been his film school and the place where he learned using professional creative software. He gradually evolved as a digital compositing artist. For the last 15 years, he has been working in special effects for the film industry and worked on films such as The Lord of the Rings and The Matrix. Besides his professional work, he is creating films and video installations. His latest project, LoopLoop, has been showed in 60 countries and won more than 10 awards in film festivals. Exploring the concepts of rhythm and memories, his work is a mix of animation, experimental film and documentary.
Susan Collins (UK)
is one of the UK's leading artists working with digital media. She works across public, gallery and online spaces with her recent works mainly employing transmission, networking and time as primary materials. Key works include In Conversation; Tate in Space; Transporting Skies; Fenlandia and Glenlandia – live year long pixel by pixel internet transmissions from remote landscapes, and The Spectrascope, an ongoing live pixel by pixel transmission from a haunted house. Public commissions include a wildlife surveillance system for Sarah Wigglesworth Architects's RIBA award winning Classroom of the Future and Underglow, a network of illuminated drains for the Corporation of London. In 2009 she exhibited Seascape, a solo show at the De La Warr Pavilion, Bexhill-on-Sea, commissioned by Film and Video Umbrella and the De La Warr Pavilion and recently completed Love Brid, a short film for Animate Projects. Susan Collins is currently the Director of the Slade School of Fine Art, University College London where she established the Slade Centre for Electronic Media in Fine Art (SCEMFA) in 1995. http://www.susan-collins.net
Anezka Sebek (US)
Indonesian-born Anezka Sebek has taught full time at Parsons since 1999. She served as the MFA DT Program Director from 2006 to 2010. She designed the curriculum and coordinated the BFA/MFA Traditional and Computer Animation and Motion Graphics Pathways and the MFA DT Major and Thesis Studios. The MFA DT Thesis Studio provides students research and studio support to innovate along the intersection of design, technology and the human condition. Ms. Sebek teaches collaboration studio in animation, effects, motion capture, and gaming in the MFA DT. She is a regular professor of the MFA DT Thesis. Before turning to teaching, her extensive professional career in the film industry includes projects for television, advertising, documentaries and feature films for such companies as Kleiser-Walczak, R/Greenberg Associates, HBO, and Curious Pictures. She was best known as a Visual Effects and Computer Animation Producer for technologically complex projects that combine live-action with digital effects. She has written, produced, and directed music videos and short films and is currently pursuing a PhD in Sociology of Media at The New School for Social Research. Her dissertation topic looks at the intersection of at-risk female heads of households and their children and the opportunities available to them in the Creative 21st century US economy (financial, information, knowledge, entertainment, and networked industries). Ms. Sebek has served on several ACM Siggraph Electronic and Animation Theater juries as well as the Computer Animation, Film and Visual Effects juries for Prix Ars Electronica 08/09.
Mark Dippé (US)
Mark Dippé (US) has been involved in digital filmmaking since the early days of the medium. He began working on Hollywood movies in the late 80's at Industrial Light & Magic where he was one of the creators of the pseudopod in "The Abyss", the liquid metal T-1000 in "Terminator 2", and the dinosaurs in "Jurassic Park", as well as numerous other films. He left ILM to direct the film "Spawn" and has continued to direct, produce, and supervise numerous live action and animated projects for film and television using his computer grahics studios in Los Angeles and Seoul. Some recent projects being: "Paranormal Activity 2", "Fairly Odd Parents", and "Garfield's Pet Force".
DIGITAL MUSICS & SOUND ART
Ludger Brümmer (DE)
was born in 1958 and studied composition under Nicolaus A. Huber and Dirk Reith at the Folkwang University of the Arts in Essen, Germany. He has composed music for the Nederlands Dans Theater in Den Haag, and worked together with choreographer Susanne Linke as well as installation artist & architect Christian Moeller on exhibitions in Tokyo, Lisbon and in London's Science Museum. Concert tours have taken him to China, Japan, Canada and numerous European lands including Great Britain, France, Bulgaria, Italy and Hungary. In 1991-93 as a German Academic Exchange Service grant recipient, he worked at the Center for Computer Research in Music and Acoustics at Stanford University in California. He has been guest artist at the Center for Art and Media Karlsruhe and a member of the teaching staff at the Folkwang University of the Arts' Department of Computer Music and Electronic Media. Beginning in 2000, he was a research fellow at Kingston University in London and from April 2002 professor of composition at the Sonic Art Research Centre in Belfast. Since April 2003, he has been chairman of the Department of Music and Acoustics at the Center for Art and Media Karlsruhe. He is currently guest professor at Karlsruhe University of Arts and Design. In 2009, he was elected to membership in Germany's Academy of the Arts. In his works in the electroacoustic genre, Brümmer integrates aspects of electronic music, video, dance, opera and instrumental music. His oeuvre includes self-produced videos. He has been an advocate of spatial composition since its very inception. Many of his early works were subsequently developed into multi-channel versions for the Sound Dome he conceived (see www.zkm.de/zirkonium). He has been honored with numerous awards including the Busoni Prize, the Grand Prix de Bourges in 1997 and 2001, a 1994 Golden Nica at the Prix Ars Electronica (where he served as a juror 1995-96), a prize in the Luigi Russolo competition, the Folkwang Prize, WDR Prize, and the 1st Prize for Electronic Music at UNESCO's Rostrum. He was also nominated for the International Video Art Prize awarded by Germany's Südwestfunk public broadcasting company.
Mike Harding (UK)
(born 1957, England) Curator & Producer; Lecturer & Publisher; Author & Editor; occasional exhibitions/installations/performances… He has been running the audio-visual label Touch (with Jon Wozencroft) for nearly 30 years and in this period has acquired much experience and information on disseminating cultural sounds to a wider audience.
Susanna Niedermayr (AT)
was born in Vienna in 1972, and studied visual arts and political science at the University of Vienna. 1995-2000, she was a member of Wochenklausur, a Vienna-based international artists' group that has been carrying out sociopolitical interventions at the invitation of renowned artistic and cultural institutions since 1993. Since 1996, she has been a journalist, on-air personality and web designer for the ORF – Austrian Broadcasting Company (Ö1, FM4), including a stint with Ö1 Kunstradio. In 2002, she founded line_in:line_out. Since 2008 she is one of the 2 editors in chief of the new music program of ORF Ö1, and as a part of this also co-producer of the radio-series ORF Ö1 Zeit-Ton, for which Susanna Niedermayr has been working as an editor since 2000. Susanna Niedermayr has written extensively for numerous publications, and has also served as a consultant and curator, including work for Wien Modern, Wiener Festwochen and Turning Sounds (Warsaw). Since 2007, she has been co-curator of ORF musikprotokoll im steirischen herbst. She lives and works in Vienna.
Marcos Boffa (BR)
(born 1962, Belo Horizonte/Brazil) Marcos Boffa is one of the most active music organizers in South America and a representative for contemporary Brazilian music. As the director of Motor Music in Belo Horizonte, he took care of many South-American tours for international bands like Fugazi, Stereolab, Superchunk, Yo La Tengo or Tortoise. He studied Cultural Politics in Paris/France at Formation International Culture 1995/96. In 1999 he became the artistic director of the Eletronika Festival in Belo Horizonte, one of today's most important meeting places for electronic music in Brazil. In 2004 he moved to São Paulo to work as the artistic director of festivals such as Sonar Sound São Paulo (2004), Nokia Trends (2005), Motomix (2006), Planeta Terra Festival. From 2006 to 2010 he was one of the directors of Artemov – International Mobile and Media Art Festival. He was a member of the jury of Transmediale (2006), and took part of discussion panels in Mutek (2005), Club Transmediale (2007) and SxSW (2008) . Also, he has been involved with different music projects in collaboration with international cultural institutions (Goethe Institut, Bureaux Export de La Musique Française and British Council). Last year, he became artist director at Mondo Entretenimento.
Isabella Bordoni (IT)
is a poet, author and interpreter, visual and sound artist. Active in fields of scenic and electronics arts, she began her own artistic path in North Europe, in the second half 80s. She takes care of directing and dramaturgy for theatre piece, radio and media. She cares the poetics of place and the reciprocal influence between the organization of the natural and architectural space and the artistic act, developing her present activity in art projects, curatorship and teaching. She collaborates with NABA Nuova Accademia di Belle Arti in Milan, at postgraduate school for Visual Arts and Curatorial Studies. "Libertà come bene supremo" [Freedom as the Supreme Good_ a three-days event focused on observation and critics' of contemporary] is a permanent project of reflection about the praxis, politics and poetics of memory and the concepts of 'poetic citizenship' revolving around some of the main themes in arts. At the end of the long-term project CONTRO LA PUREZZA [Against Purity 2008-2011], which inquires the figures of consent and the normative practices, Isabella has started this year the cycle REFUGEE [2011-2013] reflection on politics and poetics in order to create a utopia inborn in the space of relationship of/between body and landscape.
INTERACTIVE ART
Giselle Beiguelman (BR)
is a new media artist, curator and researcher. Artistic Director of Sergio Motta Institute (2008-2011) she was Professor of the graduate program in Communication and Semiotics of PUC-SP (São Paulo, 2001-2011), and she will be teaching, from 2011 on, in the Architecture and Urbanism Faculty of the University of São Paulo. Her art work has been presented in international venues such as Net_Condition (ZKM, Karlsruhe), el final del eclipse (Fundación Telefonica, Madrid), The 25th São Paulo Biennial, Algorithmic Revolution (ZKM), 3rd Sevilla Biennial, Transitio_MX (Mexico), YOU_ser (ZKM), Geografías Celulares (Fundacion Telefonica, Buenos Aires and Lima), artemov (Belo Horizonte and São Paulo) and Visual Foreign Correspondents (Berlin), among others. She was Curator of Nokia Trends (2007 and 2008), of the Brazilian participation in ISEA Ruhr (2009) and of the on-line festivals HTTPvideo (2008 and 2010) and HTTPpix (2010). More about her art work and writings:http://www.desvirtual.com
José Luis de Vicente (ES)
is a cultural researcher, curator and writer working around the edges of new media, digital creativity and innovation in design and culture. He is the director of the Visualizar program on information visualiation at Medialab Prado, Madrid, and one of the founders of zzzinc, a cultural innovation consultancy in Barcelona. He has previously worked as curator for new media festivals like Sónar, ArtFutura and OFFF. Recent projects include exhibitions like Arcadia (Laboral, Gijón), Machine and Souls (Reina Sofia, Madrid), and the Atlas of Electromagnetic Space (AV Festival Newcastle-CCCB Barcelona). He teaches, lectures, and writes about new media in different spanish organizations.
Susanne Jaschko (DE)
"As curator, author and lecturer I work about selected themes which I research and convey. My work centers on an experimental art practice renewing the understanding of art and its social and cultural functions. This implies a critical analysis of traditional and institutional practices and a rapprochement to neighbouring disciplines such as architecture, design or sciences. Digital culture which influenced my generation irreversibly, is often the conceptual point of departure for my projects, since it deeply changed our understanding of authorship, the public, process, time and space". Dr. Susanne Jaschko (*1967) is a Berlin based independent curator, author and lecturer. Between March 2008 and May 2009, she was head of presentation and of the artist in residence program at the Netherlands Media Art Institute in Amsterdam. From1997 – 2004 Jaschko was curator, then deputy director of the transmediale festival for art and digital culture in Berlin. Next to her curatorial work she has taught on an academic level in Germany and abroad. She regularly speaks at conferences and publishes on themes related to her curatorial practice.
Tomoe Moriyama (JP)
Media Art Curator, Museum of Contemporary Art, Tokyo (MOT). Since 1989, she has organized over 30 exhibitions on media art and pre-cinema history and mainly working for new-media art and the history of visual devices, at the Tokyo Metropolitan museum of Photography (TMMP). She teaches media arts as a Project Associate Professor of The University of Tokyo, as well as a lecturer of media art at the Waseda University in Tokyo, its postgraduate course and several collages of art. Also she is a jury member of Japan Media Arts Festival, a councilor of the Virtual Reality Society Japan(VRSJ), a jury member of Prix Ars Electronica 2003/2004(interactive art) and 2005 (net vision), SIGGRAPH 2005 Art Gallery and Student CG Contest, Japan, an invited researcher at ZKM (zentrum fur kunst und medientechnology, Karlsruhe) and MIT Media-Lab., Boston in 2003 and had several media art lectures at Bauhaus University in Weimar, Pratt Institute NY, UCLA in Los Angels(2002-2006), visiting scholar at J. P. Getty Research Institute in 2007. She studied art history and received a M.A. degree at the University of Tsukuba and participated in the Museum Preparation Office of Tokyo Metropolitan Government during the doctoral course. 'Imagination'(1995), '3D – beyond the stereography'(1996) and 'electronically yours'(UK98, 1998), 'Mission: Frontier'(2004), 'Global Media/OTAKU: persona =space=city'(2005), etc at TMMP. Also she wrote several books of media art, "Re-Imagination(2002)", "Inter-media(2003)", "The Universe of Storyboards(2004)", "Meta-Visual(French Edition, 2005)" and "Re-Imagination/Post-Digi-graphy" in 2006. In 2007, she organized an original plan for the 10th anniversary commemorative exhibition "The Power of Expression, Japan" at The National Art Center, Tokyo and "Haptic Literature" at TMMP.
Jeffrey Huang (CH)
heads the Media x Design Lab at EPFL in Switzerland where he is a Full Professor in the School of Architecture, and in the School of Computer and Communication Science. He is also a Berkman Fellow at Harvard University (Berkman Center for Internet & Society). In collaboration with Muriel Waldvogel, Huang is co-founder and principal of Convergeo, an international design firm. Huang's work examines the convergence of physical and digital architecture. Current projects include "Superstudio," an experiment with future design studios where humans and machines co-design; "Organicity," an exploration of code-driven design methods for generating ecological architectures; "Cityrank," an experiment with bottom-up/crowdsourced rankings, "Food Urbanism," an exploration of food and urbanity; and "Towards an Alliance between the Performing Arts and Sciences," an investigation of the variability of performance space under the condition of new technologies. Prior to coming to EPFL, Huang was a professor of architecture and digital media at Harvard's Graduate School of Design. Huang has published and lectured widely on topics such as digital architecture, organicity, telepresence and parametric urbanism. His work has appeared in a variety of media including CNN, Wall Street Journal, New York Times, Neue Zürcher Zeitung, Le Temps, Science, and Architectural Record. A native of Rome and a Swiss citizen of Chinese origin, Huang received his DiplArch from the ETHZ, and his Masters and Doctoral Degrees from Harvard University, where he was awarded the Gerald McCue medal.
HYBRID ART
Jens Hauser (DE/FR)
is a Paris based art curator, writer and video maker focussing on the interactions between art and technology, trans-genre and contextual aesthetics. He has organized several interdisciplinary conferences in the field of art, science and philosophy, as well as exhibitions such as L'Art Biotech (Nantes, 2003), Still, Living (Perth, 2007); and, as part of the European Capital of Culture programs, sk-interfaces (Liverpool, 2008/Luxembourg, 2009), the Article Biennale (Stavanger, 2008), Transbiotics (Riga 2010), Fingerprints… (Berlin 2011) and Synth-ethic (Wien 2011). In 2005 Hauser received the Fund for Arts Research Award from the American Center Foundation; he guest lectures at universities and art academies internationally. His current research at the Institute for Media Studies at Ruhr University Bochum is concerned with biomediality. Hauser is also founding collaborator of the European cultural television channel ARTE and has directed numerous creative radio pieces.
Oron Catts (AU)
Director of SymbioticA- The Centre of Excellence in Biological Arts, School of Anatomy and Human Biology, The University of Western Australia. Visiting Professor of Design Interaction, Royal College of Arts, London. Oron Catts is an artist, researcher and curator whose work with the Tissue Culture and Art Project (which he founded in 1996 with Ionat Zurr) is part of the NY MoMA design collection and has been exhibited and presented internationally. In 2000 he co-founded SymbioticA, an artistic research laboratory housed within the School of Anatomy and Human Biology, The University of Western Australia. Under Oron's leadership, SymbioticA has gone on to win the Prix Ars Electronica Golden Nica in Hybrid Art (2007) and became a Centre for Excellence in 2008. In 2009 Oron and Ionat were recognised by Thames & Hudson's "60 Innovators Shaping our Creative Future" book in the category "Beyond Design", and by Icon Magazine (UK) as one of the top 20 Designers, "making the future and transforming the way we work". The latest show he curated was Visceral – the Living Art Experiment at the Science Gallery, Dublin, 2011. Oron has been a researcher at The University of Western Australia since 1996 and was a Research Fellow at the Tissue Engineering and Organ Fabrication Laboratory, Harvard Medical School, Massachusetts General Hospital, Boston from 2000-2001. He worked with numerous other bio-medical laboratories around the world. In 2007 he was a visiting Scholar at the Department of Art and Art History, Stanford University. He is currently undertaking a "Synthetic Atheistic" residency which is jointly funded by the National Science Foundation (USA) and the Engineering and Physical Sciences Research Council (UK) to exploring the impactions of synthetic Biology. Some of his past art projects include tissue engineered food and leather, in which the "steaks" and "jackets" were cultured in a laboratory setting to interrogate the possibility of victimless animal products; the Pig Wings Project, in which several pairs of wings made from pig bone marrow stem cells were grown, and Extra Ear-1/4 Scale, in which a miniature replica of Australian performance artist Stelarc's left ear was grown using human cartilage cells.
Dietmar Offenhuber (AT)
has backgrounds in architecture, urban studies and digital media. He works on the spatial aspects of cognition, representation and behavior. Dietmar holds degrees from TU Vienna and the MIT Media Lab. He was key researcher in the Ars Electronica Futurelab and the Ludwig Boltzmann Institute for Media.Art.Research and taught in the Interface Cultures program as a professor at the Art University Linz. Currently he is researching his PhD dissertation in the Senseable City Lab at the Department for Urban Studies and Planning, MIT. His work has been shown, among other places, at ZKM Karlsruhe, Ars Electronica, the Sundance Film Festival, Secession Vienna, the Seoul International Media Art Biennale and Arte Contemporaneo, Madrid.
Daria Parkhomeno (RU)
(1983) is director of LABORATORIA Art&Science Space, Moscow. She is a curator specialized on art and science interactions. In 2008 she founded an independent non-for-profit centre LABORATORIA Art&Science Space – the first institution in Russia focused on establishing a new type of relationship between art, science and society. Daria created the model of interdisciplinary platforms practices uniting exhibition, discussion and education projects. Daria Parkhomenko studied sociology, history of art, cultural management at Moscow Lomonosov State University and Moscow School of Social and Economic Sciences. She participated in various symposiums and seminars among them "The Digital Oblivion. Substance and ethics in the conservation of computer-based art" ZKM, Karlsruhe, Germany, "Syncretic Transcodings 2010″, CIAM, Montreal, Canada, " Art and Technological Sublime", Centre of Contemporary Culture "Garage", Moscow, Russia, "Robot Autonomy? ", LABORATORIA, Moscow Russia and others. She took part in Art&Science Arctic expedition 2010, Cape Farewell project, London, Great Britain. Daria makes residencies for artists at scientific Russian institutes and research centers. On this collaboration her curatorial practices are based. She collaborates with National Center for Contemporary Arts (Moscow), Moscow Museum of Contemporary Art (Moscow), Polytechnical Museum (Moscow), Karpov Physical-Chemistry Research Institute (Moscow), Kurchatov Scientific Center (Moscow), Moscow Institute for Steel and Alloys (Moscow), Centre Interuniversitaire des Arts Méadiatiques (Montreal, Canada), Itau Cultural (Sao-Paulo, Brazil) and others.
Bronac Ferran (UK)
Bronac Ferran is a London-based writer, researcher and event producer working internationally in areas of art, design, technology, science and ecology. She works part-time at the Royal College of Art in London in Innovation Design Engineering and Visual Communications departments and her independent work is summarised at www.boundaryobject.org. She writes extensively about interdisciplinary and hybrid practices. Recent published work includes a co-authored text with Professor Paul Macneill on artists collaborating with bioethicists, published by Springer Journal of Bioethical Enquiry (http://philpapers.org/rec/MACAAB); a critically reflective essay on the work of Proboscis and a major catalogue essay produced for STILL an exhibition about water touring the UK in 2011. Bronac is also leading the curatorial team for The Human Project, a new museum of art, science and ecology currently in design phase in Sergipe, North East Brazil. She is a former Director of Interdisciplinary Arts at Arts Council England where she initiated numerous hybrid arts activities.
DIGITAL COMMUNITIES
Liu Yan (CN/NL)
is an advocate of cross-culture and cross discipline exchange, entrepreneur and community organizer. She is the CEO and cofounder of Xindanwei, a co-working community and one of the leading creative centers in Shanghai. Xindanwei serves as platform designed to stimulate new ideas, conversations, and initiatives among young Chinese change makers and social entrepreneurs. Liu Yan's educational background is in Arts Management and Marketing. As an independent consultant and lecturer in the Netherlands and China from 2004-2007, she served as advisory board member of "cultural entrepreneurship" for the city municipal of Utrecht, and worked as the advisor of the China program of Dutch Electronic Arts Festival (DEAF). Liu Yan speaks regularly at International Conferences and forums about social entrepreneurship and innovation in China.
Beatrice Achaleke (AT)
is the initiator and conference manager of the World Diversity Leadership Summit Europe (http://www.wdls.eu). Beatrice is the Founding Executive Director of AFRA – International Center for Black Women's Perspectives (www.blackwomencenter.org), the initiator of the 1st Black European Women's Congress, Vienna 2007 and current president of the Black European Women's Council (www.bewnet.eu). In 2008 Beatrice was the first Black Woman to stand for parliamentary elections in Austria. She is the publisher of the book "Voices of Black European Women 1, challenges, reflections and strategies from the Vienna Congress", Vienna 2009 and the "Lagebericht Schwarzen Menschen in Österreich", Vienna July 2010. Beatrice Achaleke studied Sociology at the University of Vienna and Law at the university of Yaoundé Cameroon.
Tiago Peixoto (BR)
currently works at the ICT4Gov program of the World Bank. Prior to joining the Bank, Tiago worked as a consultant and policy advisor for various organizations in the field of e-governance, such as the OECD, the United Nations, and the Brazilian and UK governments. He has been involved in pioneering European Commission funded work concerning the use of ICT in participatory governance initiatives. Tiago is also a research coordinator of the Electronic Democracy Centre in Zurich, a joint venture of the Oxford Internet Institute, the European University Institute and the University of Zurich. Tiago is an advisor to, amongst others, the Technology for Transparency Network and the e-Democracia project of the Brazilian House of Representatives.
Aaron Koblin (US)
is an artist specializing in data and digital technologies. Aaron's work takes real world and community-generated data and uses it to reflect on cultural trends and the changing relationship between humans and technology. His projects have been shown at international festivals including Ars Electronica, SIGGRAPH, OFFF, the Japan Media Arts Festival, and TED. He received the National Science foundation's first place award for science visualization and is part of the permanent collection of the Museum of Modern Art (MoMA) in New York, and the Centre Pompidou in Paris. He recieved his MFA in Design|Media Arts from UCLA. In 2010 Aaron was the Abramowitz Artist in Residence at MIT and currently leads the Data Arts Team in Google's Creative Lab.
Graham Harwood (UK)
currently works with Matsuko Yokokoji as YoHa, the Japanese word for 'aftermath' they have lived and worked together since 1994. Harwood and Yokokoji's co-founding of the artists group Mongrel (1996-2007) specialising in digital media and established the Mediashed, a free-media lab in Southend-on-sea (2005-2008). In 2008 they joined long time collaborator, Richard Wright to produce Tantalum Memorial, winning the Transmediale first prize for 2009. In 2010 YoHa produced Coal Fired Computers in which one-hundred year old, 35-ton showman's steam engine powers a computer with 1.5 tons of coal. The project worked with groups of miner activists, Coal Fired Computers articulating the relations between Power, Art and Media, responding to the displacement of coal production to distant lands like India and China. Graham Harwood works at Goldsmiths, Centre For Cultural Studies, University of London.
Advisory Board 2011
Christopher Adams (TW), Heitor Alvelos (PT), Aram Bartholl (DE), Robert Bichler (AT), Peter Tomaz Dobrila (SI), Michael Eisenriegler (AT), Cyrus Farivar (US), Carlos Gomez de Llarena (US), Wolfgang Gumpelmaier (AT), Armin Himmelrath (DE), Insulares / Divergentes Research Team, Mike Jensen (ZA), Peter Kuthan (AT), André Lemos (BR), Ronaldo Lemos (BR), Isaac Leung (HK), Silvia Lindtner (AT), Alessandro Ludovico (IT), Andrés Monroy-Hernández (US), Marcus Neustetter (ZA), Margit Niederhuber (AT), Ulrike Reinhard (DE), Martin Richartz (DE), Juliana Rotich (UG), David, Sasaki (US), Moritz Stefaner (DE), Laurent Straskraba (AT), Sun Tian (CN), Otto Tremetzberger (AT), Rob van Kranenburg (NL), Mahir Yavuz (TR), Zhao Jiamin (CN)
[THE NEXT IDEA] VOESTALPINE ART AND TECHNOLOGY GRANT
Horst Hörtner (AT)
is a media artist and researcher. He is expert in design of Human Computer Interaction and holds several patents in this field. Hörtner is founding member of the Ars Electronica Futurelab in 1996 and since then directing this atelier/laboratory. He started to work in the field of media art in the 1980ies and co-founded the media art group x-space in Graz/Austria in 1990. Horst Hörtner is working in the nexus of art & science and giving lectures and talks at numerous international conferences and universities.
Wolfgang Müller-Pietralla (DE)
Head of Future Affairs. Volkswagen Group Research. Wolfgang Müller-Pietralla studied biology at the University of Hanover, focusing on models and simulations of ecologic systems. In 1992 he joined Volkswagen where he introduced a sustainable environmental management system. During the EXPO 2000, Mr. Müller-Pietralla was Volkswagen's project manager and stage-managed both the Autostadt and the rain-forest house. Since 2003 he is head of Volkswagen's future affairs department within the Volkswagen Group Research, with the focus on analyzing future developments and deducting future mobility and vehicle concepts. From October 2010 on Mr Mueller-Pietralla holds a lecture at the Free University of Berlin.
Andy Cameron (UK)
is an artist, designer, curator, writer and educator. His focus is interactive media. Andy co-founded the antirom studio – an influential art and design collective – in London in 1994. In the same year he created the Hypermedia Research Centre at the University of Westminster. As a partner at antirom he led major interactive projects with commercial clients and arts institutions, won D&AD and BIMA awards for interaction design, and published two critical essays – 'Dissimulations, the Illusion of Interactivity' and 'The Californian Ideology' (with Richard Barbrook). He co-founded Romandson Interactive in London 1999. In 2001 he was appointed visiting artist, and subsequently, Creative Director, in interaction design at Fabrica, the Benetton research centre in Italy. At Fabrica he has been responsible for the research programme in interactive media, organising Fabrica workshops with visiting artists like Yugo Nakamura, Golan Levin, Amy Franchesini, Casey Reas and Zach Lieberman, as well as guiding Benetton's online and interactive communication strategy. In 2002 Andy directed United People, an in-store video installation and online community for Benetton megastores worldwide. Andy has revitalised Benetton's web communication and directed several innovative marketing projects for the company, including an interactive shop window display, a store based marketing TV channel – UCBTV and a creative games website for young people – benettonplay. Andy has created interactive installations for museums, art galleries and public spaces, including Jam at the Barbican in London in 1995, DARE at the Museum of the Moving Image in New York, 2003, I've Been Waiting for You in Seoul in 2006, Remote Control at MoCA Shanghai, 2007, and Les Yeux Ouverts at the Pompidou in Paris, 2006, Milan Triennale 2007 and the Museum of Art, Shanghai, 2007. Venetian Mirror, a major installation created by Andy with Sam Baron was on show at Decode at the V&A from September 2009 until April 2010 and is currently touring in Beijing and Moscow. Andy continues to teach and write about the politics and aesthetics of interactive and networked media. He published 'The Art of Experimental Interaction Design' for IdN, 2004, a major survey of 30 of the most exciting interactive artists from around the world. Recent teaching includes the University of Venice, Bocconi University in Milan and London University of the Arts. Andy served as a judge on the Interactive Jury at Prix Ars Electronica in 2008 and 2009 and is a member of IADAS and a judge on the Webbys. In 2009 Andy was appointed Executive Director of Fabrica. Andy went on to develop Benetton's online and store based marketing communication with ITS MY TIME, a global casting competition which generated millions of page views per day for the company. In September 2009 Andy launched the Future of Retail, a research collaboration between Fabrica, Telecom Italia, Ars Electronica Futurelab and the London University of the Arts to re-imagine and re-engineer the retail experience. Andy directs filmit, an innovative internet video project for primary schools in the UK and India for the Helen Hamlyn Trust. In May 2010 Andy was invited to join Wieden + Kennedy London as Interactive Creative Director, with a remit to help develop interactive and digital thinking across the agency. Andy works on a number of key W+K accounts as well as helping with Platform – W+K London's R+D programme. Andy's judging commitments in interaction design and marketing in 2011 include D&AD Digital Advertising, the Creative Review Annual, Creative Circle, the Webbys and Ars Electronica. Andy writes a monthly column about interaction design for Creative Review.
Michael Sterrer-Ebenführer (AT)
Corporate Advertising and Sponsoring. voestalpine AG
Karin Mairitsch (AT)
U19
Sirikit Amann (AT)
was born in 1961. She studied political science, theater and economics in Vienna, Munich and Boston. Since the '80s, she has been involved primarily with cultural education in the context of new media on the national and international level. Since 2006 Sirikit Amann has been curating the film programme "Young Animations" on behalf of Ars Electronica. In 2008, she took over the newly-founded Department of Artistic and Cultural Mediation at the Austrian Federal Ministry of Education, Art and Culture.
Gerlinde Lang (AT)
ORF, Radio FM4. Gerlinde Lang was a 19-year-old student of sociology when FM4 came calling. She's been a staffer at the Austrian public broadcasting company's youth/culture radio station ever since: editor, fashion columnist, mediator of digital lifestyle elements, webhost of http://fm4.orf.at/gerlindelang and, first and foremost, on-air personality. She holds radio workshops, hosts the FM4 Stage at such events as Vienna's Danube Island Festival and the Slow Fashion Awards, and is a hard-working mainstay of the FM4 Frequency Festival every summer. A September highlight: her annual appearance at the Ars Electronica Festival! In private life, her interests include ornithological taxidermy, equal rights for women, audacious outfits, fashion blogging—and exquisitely harmonizing all these pursuits.
Martin Hollinetz (AT)
OTELO – Open Technology Laboratory. Social education worker and teacher, regional developer and passionate advocate of Digital Bohème. The desire to overcome the bourgeois values and norms that he perceived as restrictive, the wish to reconfigure his identity, and the longing for creative freedom have been, since 1993, the motivations that have driven him to found and mentor a series of business start-ups, projects and associations having to do with work, youth culture, IT and media. A temporary "steady job" in the field of regional development put him in a position to set up OTELOs in the Upper Austrian towns of Gmunden, Vöcklabruck and Kirchdorf. Their areas of emphasis are the creative economy, media, textile art, robotics and exhibition development for kids age 10 and under.
Robert Praxmarer (AT)
is a multimedia artist and developer who is currently the department head of Augmented Reality & Computer Game Development at the University of Applied Sciences Salzburg / Bachelor Program MultiMediaTechnology and he holds the position of the scientific head of the Center for Advances in Entertainment Technologies (CADET). With his first computer at the age of ten a rollercoaster ride through a new world had begun. He received international Awards and Grants (Grand Media Art Award Salzburg, Podium09 Award, ElektronikLand, honorary mention from UNESCO Digital Arts Award, Crossing Europe, Upcoming Artist Award Madrid, etc.). He exhibited around the world at ARCO, Cultural Capital Linz09, Play Cultures, Ars Electronica, Crossing Europe, VisionSonic, Cynet Art, Microwave Media Festival, etc., and was an artist in residence of the "Les pepinieres pour les jeunes artistes" program of the European Union at CIANT media laboratory in Prague, and the "Cité des Arts" program in Paris. His research and works are in the field of interactive art, with a special focus on interactive performative works (theater, dance, music visualisation), computer games, augmented reality and realtime 3d animation fused with video.
Gottfried Haider (AT)
was born in 1985 and studied digital art in Vienna and Rotterdam. He made his public artistic debut at the age of 13 at the 1998 Prix Ars Electronica. Since then, he has worked continuously on walk-through soundscapes, the algorithmic manipulation of space, and forms of programming. He has participated in a long list of so-called "media art" festivals and exhibitions in Austria and abroad, including Dadamachinima in Amsterdam and Antwerp, the International Symposium on Electronic Art 2010, transmediale, GOGBOT 2010 Enschede, Interdisciplinary College 2010, and Mobile Music Workshop 2007 and 2008.