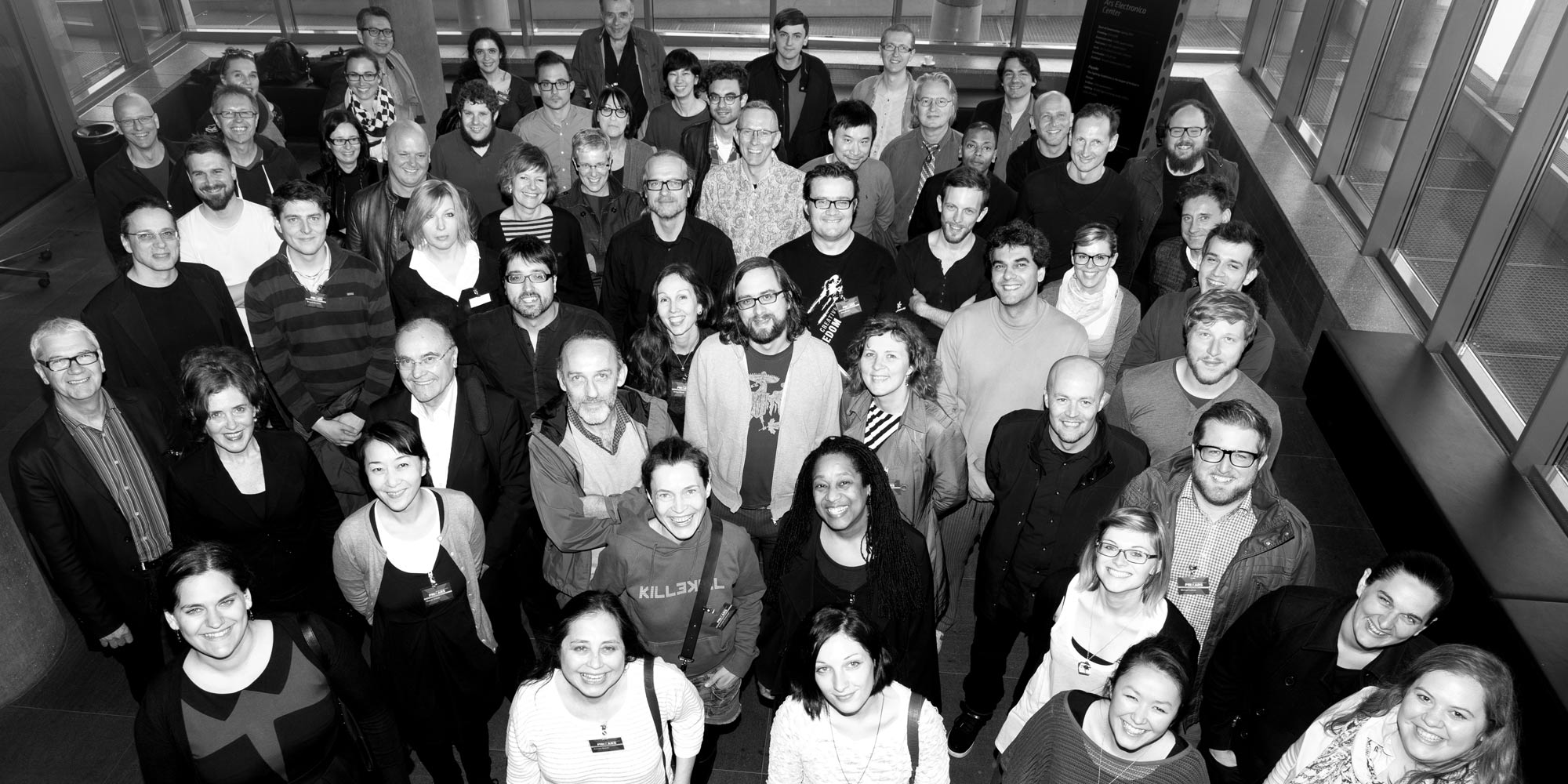 COMPUTER ANIMATION / FILM / VFX
Anezka Sebek (US)
Indonesian-born Anezka Sebek has taught full time at Parsons in the MFA in Design and Technology program since 1999 (Program Director from 2006 to 2010). She designs curricula in the BFA/MFA traditional, computer animation, and motion graphics courses as well as teaching in the BFA/MFA in Design and Technology Studio courses. Before turning to teaching, her extensive career in the film industry included projects for television, advertising, documentaries and feature films for such companies as Kleiser-Walczak, R/Greenberg Associates, HBO, and Curious Pictures. She was best known as a visual effects and computer animation producer for technologically complex projects that combined live-action with digital effects. She has written, produced, and directed music videos, narrative shorts, and documentaries. Ms. Sebek served on juries for ACM Siggraph Electronic and Animation Theater (2003/04) and Ars Electronica (2008/09/11). She now furthers her study of the human condition at The New School for Social Research. Her Ph. D. dissertation fieldwork looks at homeless women and children and the lack of educational and social mobility in post-industrial United States.
Chris Bregler (DE/US)
Chris Bregler is a Professor of Computer Science at NYU's Courant Institute, director of the NYU Movement Lab, and C.E.O. of ManhattanMocap, LLC. He has been on the faculty at Stanford University and worked for several companies including Hewlett Packard, Interval, Disney Feature Animation, and LucasFilm's ILM. He was the chair for the SIGGRAPH Electronic Theater and Animation Festival. He was the executive producer of Squidball.net that is holding several world records in The Motion Capture Society and is the lead developer of ILM's Multitrack system that has been used in many feature film productions. He has been named Stanford Joyce Faculty Fellow, Terman Fellow, and Sloan Research Fellow. He received the Olympus Prize for achievements in computer vision and pattern recognition and was awarded the IEEE Longuet-Higgins Prize for "Fundamental Contributions in Computer Vision that have withstood the test of time".
David O'Reilly (IE/US)
www.davidoreilly.com
Suzanne Buchan (CH/UK)
Suzanne Buchan is Professor of Animation Aesthetics at Middlesex University London. She gained her PhD at the University of Zurich and was a founding member and co-director (1994-2003) of the Fantoche International Animation Film Festival, Switzerland. She teaches, curates and advises internationally in her research field of a wide concept of history, theory and aesthetics of animation outside commercial canons. Books include Pervasive Animation: an AFI Reader (forthcoming 2013) and The Quay Brothers: Into A Metaphysical Playroom (2011). She is the founding editor of animation: an interdisciplinary journal (Sage Journals).
Tomek Bagiński (PL)
Tomek joined Platige Image studio in 1997. Since then he has directed many game cinematics, animated shorts, and worked on multiple artistic projects. He is known and appreciated as the director of "The Cathedral", "Fallen Art", and "The Kinematograph". Among many awards, the films received there are the Academy Award nomination, Best of Show award at SIGGRAPH or BAFTA Award. Bagiński directed the animated set design for the "Seven Gates of Jerusalem" concert, which was nominated for an Emmy Award.
DIGITAL MUSICS & SOUND ART
Electric Indigo (AT)
Electric Indigo, DJ, composer and musician since 1989, has performed in 35 countries across the northern hemisphere. Clarity of vision as well as depth are characteristic for her music. As a composer and musician, she emphasizes the spatial-temporal placement of subtly textured sounds. She received the "outstanding artist award Musik 2012" for electronic and computer music and the national grant for composition 2013 from the Austrian Federal Ministry for Education, Arts and Culture.
Emre ErkaI (TR)
Emre ErkaI is a practicing architect and a sound artist from Ankara and Istanbul. After his electronics engineering degree from METU, he worked on research projects on computer graphics and cognitive science at several postgraduate institutions in Turkey and USA. He received his professional degree in architecture from Harvard Graduate School of Design where he participated in research projects at MIT Media Lab. Erkal worked on award-winning buildings and campuses in various countries in New York and in Turkey. He completed his PhD in Architecture at Istanbul Technical University with his work on space and sound. His sound art installations have been featured in venues including the 8th Istanbul Biennial, ZKM in Karlsruhe, Istanbul Architecture Festival, Mediamatic in Amsterdam, De Singel Conservatory in Antwerp and NAiM – Netherlands Institute of Architecture. His publications and talks were presented at various occasions and he has been reviewer, jury member and/or presenter for events including ISEA and SIGGRAPH. He has taught at several universities including Bilkent University, Istanbul Technical University and Istanbul Bilgi University on sound and space, architecture and urbanism. Erkal is also co-founder of NOMAD, an initiative for digital arts and culture in Istanbul. Since 2002 NOMAD has created, curated and sponsored many international productions in several countries, including the sound art festival.
Jeff Mills (US)
born 1963 in Detroit, USA has been active in the electronic music industry by operating his own record label, Axis and performing all over the world, an average 100 events a year. His specialty is conceptual music, mostly inspired by Space and Time travel. He also scores films such as "Metropolis" "Woman In The Moon" by Fritz Lang, "Oktober" by Sergei Eisenstein as well as creates musical installations for museums such as Museum Quai Branly, Centre Pompidou and Fondation Cartier, which led him to be honored the title of Chevalier des Art et des Lettres by French Government in 2007.
Ludger Brümmer (DE)
Ludger Brümmer studied composition at the Folkwang University of the Arts in Essen, Germany. Beginning in 2000, he was a research fellow at Kingston University in London and from April 2002 professor of composition at the Sonic Art Research Centre in Belfast. Since April 2003, he has been chairman of the Department of Music and Acoustics at the Center for Art and Media Karlsruhe. In 2009, he was elected to membership in Germany's Academy of the Arts. Awards: Busoni Prize, the Grand Prix de Bourges in 1997 and 2001, a 1994 Golden Nica at the Prix Ars Electronica, a prize in the Luigi Russolo competition, the Folkwang Prize, WDR Prize, and the 1st Prize for Electronic Music at UNESCO's Rostrum. Fields of activities: spatial acoustics, medial composition with audivisual contents (3D, Video, interactivity, live video)
Pamela Z (US)
Pamela Z is a composer/performer and media artist who makes works combining a wide range of vocal techniques with electronic processing, samples, video, and gesture activated MIDI controllers. She has toured throughout the US, Europe, and Japan in concerts and festivals including Bang on a Can, Japan Interlink, Other Minds, and the Venice Biennale. She has also composed scores for dance, film, and new music chamber ensembles including Kronos Quartet. Her installations have been presented in exhibitions in the US, Europe, and Africa. Her awards include a ggenheim Fellowship, Creative Capital, CalArts Alpert Award, and the NEA/JUSFC Fellowship.
INTERACTIVE ART
Jer Thorp (CA/US)
Jer Thorp is an artist and educator currently living in New York City. Coming from a background in genetics, his digital art practice explores the many-folded boundaries between science, data, art, and culture. Thorp's software-based work has been exhibited worldwide, including in the Museum of Modern Art in Manhattan. Jer is an adjunct Professor in New York University's ITP program, and a co-founder of The Office For Creative Research. From 2010 – 2012, Jer was the Data Artist in Residence at the NYTimes.
José Luis de Vicente (ES)
José Luis de Vicente is a cultural researcher, curator and writer working around the edges of new media, digital creativity and innovation in design and culture. He is the director of the Visualizar program on information visualiation at Medialab Prado, Madrid, and one of the founders of zzzinc, a cultural innovation consultancy in Barcelona. He has previously worked as curator for new media festivals like Sónar, ArtFutura and OFFF. Recent projects include exhibitions like Arcadia (Laboral, Gijón), Machine and Souls (Reina Sofia, Madrid), and the Atlas of Electromagnetic Space (AV Festival Newcastle-CCCB Barcelona). He teaches, lectures, and writes about new media in different spanish organizations.
Maholo Uchida (JP)
Maholo Uchida is a curator and exhibition development devision manager of Miraikan (National Museum of Emerging Science and Technology) in Tokyo, Japan. She started her career as a curator of new media art and design producing several national and international exhibitions. She has developed a new style of science museum, where activities and exhibitions strongly orientated towards art, design, game, manga and other popular culture. She is a director of "TsunagariProject" which is symbol exhibition of Miraikan includes Geo-Cosmos – 6 meter sphere interactive globe display.
Mariano Sardón (AR)
Bahía Blanca, Argentina. He's professor and chair of the Electronic Art Degree at the Universidad Nacional de 3 de Febrero. He's researcher in Art and Neuroscience at the same university together with the Laboratory of Integrative Neuroscience at the Universidad de Buenos Aires. He's academic advisor of the Interactive Art Program at Espacio Fundación Telefónica Argentina. He was consultant for Daniel Langlois Foundation. He studied Physics at the Universidad de Buenos Aires and visiting scholar at UCLA. He made many exhibitions and his works belong to museums and private art collections in Argentina and abroad.
Olga Shishko (RU)
Olga Shishko (Russia) — curator, researcher of media culture. Founder (since 2000) and Director (since 2006) of the Center of Culture and Art «MediaArtLab», an integrated research within contemporary art involving media technologies. Her research activities focus on different aspects of contemporary media art (Art on the Net, Video, Cyberculture, etc.). She has curated numerous international events, festivals, and exhibitions including: 'NewMediaLogia' Symposium (Moscow, 1994), "Pro&Contra" Symposium (Moscow, 2000–12), 'MediaForum' Multimedia Art Festival (since 2000) – one of the official programs of the Moscow International Film Festival (MIFF), etc. Editor of the catalogues, anthologies and books on contemporary media art issues published in Russia, among them: 'NewMediaLogia – NewMediaTopia" (Moscow, 1996), 'Data Trash' (Moscow, 2000), "Pro&Contra" (Moscow, 2000), and «the Anthology of The Russian Media Art" (1st part: "Video Art From Russia," Moscow, 2001) catalog-research "Expanded Cinema I and II".
HYBRID ART
Andrea Grover (US)
Andrea Grover is the Curator of Special Projects at the Parrish Art Museum, Water Mill, NY. From 1998–2008, she was Director of Houston's Aurora Picture Show, a non-profit cinema specializing in multi-disciplinary performances and screenings. In 2010, she was awarded a Warhol Curatorial Fellowship, hosted by the STUDIO for Creative Inquiry and Miller Gallery at Carnegie Mellon University, Pittsburgh, PA. The outcome of that Fellowship is the 2011 publication, "New Art/Science Affinities," co-authored with Claire Evans, Régine Debatty, Pablo Garcia, and Thumb. The corresponding exhibition, Intimate Science, opened at Miller Gallery in January 2012 and is touring the U.S.
Arthur I. Miller (UK)
Arthur I. Miller is emeritus professor of history and philosophy of science at University College London. He is fascinated by the nature of creativity in art and in science – similarities and differences. His books include: Jung, Pauli, and the Pursuit of a Scientific Obsession; Insights of Genius; and Einstein, Picasso, nominated for a Pulitzer Prize. His forthcoming book is The New Avant-Garde: Dispatches from the Edge of Science and Art.
Jens Hauser (DE/FR)
Jens Hauser is a Paris-based curator, author and arts and culture critic. With a background in Media Studies and Science Journalism, he focuses on the interactions between art and technology, as well as on trans-genre and contextual aesthetics. He has curated exhibitions such as L'Art Biotech (Nantes, 2003), Still, Living (Perth, 2007), sk-interfaces (Liverpool, 2008/Luxembourg, 2009), the Article Biennale (Stavanger, 2008), Transbiotics (Riga 2010), Synth-ethic (Vienna, 2011) and Fingerprints… (Berlin, 2011/Munich, 2012). Hauser organizes interdisciplinary conferences and guest lectures at universities and international art academies. In his current research at Ruhr-Universität Bochum, he investigates the biomediality and wetware paradigms. Hauser is also a founding collaborator of the European culture channel ARTE and has produced numerous radio features.
Jurij Krpan (SI)
Jurij Krpan is artistic director of Kapelica Gallery – Gallery for Contemporary Investigative Arts, Ljubljana which was established in 1995. He is also art director of BioTehna, a Platorm for Artististic Research of Life Systems established in 2012. As curator and selector he has participated in domestic and international festivals, the biggest international productions to date being the organization and artistic management of the Slovenian pavilion at the 50th VENICE BIENNALE in 2003 and the conceptual gallery Cosinus BRX at the European Commission building in Brussels 2006-2010 and the 5.th trienial of Contemporary Investigative Arts 2006 at Museum of Modern Art – Ljubljana. In September 2008 he curated the presentation of the Gallery Kapelica in the Featured Art Scene section of Ars Electronica in Linz. Jurij Krpan lectures about the artistic profile and curatorial practice of the Kapelica Gallery in Slovenia as well as abroad.
Karin Ohlenschläger (DE/ES)
Has been a critic and exhibition curator specializing in contemporary art and new media since 1985. She co-founded and co-directed MediaLab Madrid (2002-2006). She has directed various international initiatives, and her works haven been showed worldwide. Karin Ohlenschläger teaches art, science and technology at the European University of Madrid and is the chairwoman of the institute of Contemporary Art (IAC)
DIGITAL COMMUNITIES
Bruce Sterling (US)
Bruce Sterling, author, journalist, editor, and critic, is best known for his ten science fiction novels, he also writes short stories, book reviews, design criticism, opinion columns, and introductions for books ranging from Ernst Juenger to Jules Verne. His nonfiction works include THE HACKER CRACKDOWN: LAW AND DISORDER ON THE ELECTRONIC FRONTIER (1992), TOMORROW NOW: ENVISIONING THE NEXT FIFTY YEARS (2003), and SHAPING THINGS (2005). He is a contributing editor of WIRED magazine and writes a weblog. During 2005, he was the "Visionary in Residence" at Art Center College of Design in Pasadena. In 2011 he returned to Art Center as "Visionary in Residence" to run a special project on Augmented Reality.
Ian Banerjee (IN/AT)
Ian Banerjee is an architect, urban planner and educational researcher living in Vienna. After spending his childhood in Africa, Asia and Europe, he studied architecture in Vienna. He did his Masters thesis on the city of Curitiba, also known as the 'ecological capital' of Brazil. He then worked for several years for the Austrian Broadcasting Corporation (ORF) and the German satellite TV (3Sat) as a consultant for documentaries on urban innovations. During this time he travelled extensively through the world – especially in Asia. The films were made in Tokio, Kioto, Hanoi, Shanghai, Hangzhou, Hong Kong, Kolkata, Mumbai, Paris, Washington and Mexico City. Going back to academia, he joined the Centre of Sociology (ISRA) at the Vienna University of Technology as assistant professor. This is where he started researching radical innovations taking place in the educational sector – especially their virtual aspects. During this time, he worked for three years on the National Spatial Strategy for the Sultanate of Oman. The exposure to the complexities of national policy making in the Arab world shaped his conviction for the need of new forms of community based education and societal learning. He is currently writing a book on emerging educational spaces with the working title: "Landscapes of Learning: Moocs, CoPs, Living Labs and other new stories…"
Lei Yang (CN)
Yang Lei is the deputy director and chief curator at CMoDA (China Millennium Monument Museum of Digital Arts), Beijing. Being active in exploring digital engagement to transform the social life in China with latest focus on smart city / smart citizen movement. He founded CMoDA CoINNO Lab on collaborative innovation on digital art and design in 2012. He is mentor on digital entrepreneurship for X Media Lab Australia. He is founder, curator and producer of NOTCH Festival on live media and social innovation. He is alumni of British Council's Arts Management Program and had curator residency at ICA London in 2005. Before that, he founded Radio Take10, a collective internet radio co-curation project on net label and demo culture.
Leila Nachawati (ES)
Leila Nachawati is a Spanish-Syrian communication strategist and human rights activist. She is a professor of Communications at Carlos III University in Madrid, where she has also started her PhD on new media and freedom of expression under authoritarian regimes. She contributes to several projects and online media like Global Voices Online, Global Voices Advocacy, Eldiario.es and Al-Jazeera English. She holds degrees in English Studies, Arabic Studies, and a master´s degree in International Cooperation. You can follow her on Twitter: @leila_na
Marcus Neustetter (AT/ZA)
Johannesburg based artist, cultural activist and producer, Marcus Neustetter, reflects critically and playfully on his context through his art and collaborative projects. Working in a multi-disciplinary approach in the fields of art, industry, science and technology he has been finding context spefic strategies for working with artists and alternative audiences in developing his own work and platforms and opportunities across the arts industry. Following his Masters in Fine Arts at the University of Witwatersrand, Johannesburg, Marcus has been consistently producing and exhibiting art internationally for the past 15 years (www.marcusneustetter.com) and, in partnership with Stephen Hobbs, has been active with The Trinity Session and in their collaborative capacity as Hobbs/Neustetter (www.onair.co.za).
Advisory Board 2013
Heitor Alvelos (PT), An Xiao (US/CN), James Burke (NL), Tim Causer (UK), José Luis de Vicente (ES), Martijn De Waal (NL), Cyrus Farivar (US), Carlos Gomez de llarena (US), Yesica Guerra (US), Felipe Heusser (PE), Mark Jensen (ZA), Jepchumba (KE), Peter Kuthan (AT), Andre Lemos (BR), Jose Carlos Mariategui (PE), Didi Offenhuber (AT), Annalisa Pelizza (IT), Ulrike Reinhard (DE), Clément Rénaud (FR), Aniara Rodado (EC), TH Schee (TW), Mark Shepard (US), Rob von Kranenburg (NL), Jeffrey Warren (US)
[THE NEXT IDEA] VOESTALPINE ART AND TECHNOLOGY GRANT
Horst Hörtner (AT)
Horst Hörtner is a media artist and researcher. He is expert in design of Human Computer Interaction and holds several patents in this field. Hörtner is founding member of the Ars Electronica Futurelab in 1996 and since then directing this atelier/laboratory. He started to work in the field of media art in the 1980ies and co-founded the media art group x-space in Graz/Austria in 1990. Horst Hörtner is working in the nexus of art & science and giving lectures and talks at numerous international conferences and universities.
Michael Sterrer-Ebenführer (AT)
corporate communications voestalpine AG
Ela Kagel (DE)
(SUPERMARKT Berlin) is an independent cultural producer with a focus on open source strategies, media activism and digital culture. As one of the transmediale festival program developers she initiated the Free Culture Incubator, a series of research events on the price and value of cultural work. Since 2005, Ela works with Public Art Lab and has initiated a broad range of media culture events, such as the Mobile Studios, Upgrade! Berlin or the Mobicases. Since 2011, Ela is founder and managing partner of SUPERMARKT, Berlin's center for creative resources. She is responsible for the monthly changing program of workshops, conferences and exhibitions on digital culture. Ela holds an M.A. in European Cultural Planning from the De Montfort University in Leicester / UK. twitter: @supermarkt facebook: supermarkt. (Berlin, Germany)
Gustav Pomberger (AT)
Is a full professor for software engineering and has been head of the Departement of Business Informatics-Software Engineering at the Johannes-Kepler University of Linz since 1987. In 1983 he was appointed professor of computer science at the University of Zurich, In 1987 he was simultaneously offered positions at ETH Zurich, the Technical University of Vienna and the Johannes-Kepler University of Linz. From 1992 to 1999 he led the Christian Doppler Research Laboratory for Software Engineering. His basic research focuses on the design of high quality software development process. His applied research concentrates on the design of software architecture for augmented and virtual-reality-based embedded systems.
Michael Doser (AT/CH)
Michael Doser has been working for CERN since 1991, where he is deputy department head of CERN's physics department. He has been working with antimatter since 1983, using it both as a tool and as an object of study, with the goal of understanding the first moments of the universe. In 2002, he was part of the team that made cold atoms of anti-hydrogen for the first time, and he currently leads the Aegis experiment to measure the effect of gravitation of antimatter. He is the author of more than 250 publications related to his work and to the Aegis experiment.
U19 – CREATE YOUR WORLD
Sirikit Amann (AT)
Sirikit Amann was born in 1961. She studied political science, theater and economics in Vienna, Munich and Boston. Since the '80s, she has been involved primarily with cultural education in the context of new media on the national and international level. Since 2006 Sirikit Amann has been curating the film programme "Young Animations" on behalf of Ars Electronica.
Karl Markovics (AT)
Karl Markovics (born August 29, 1963) is an Austrian actor and film director. He starred as Salomon Sorowitsch in Stefan Ruzowitzky's 2007 film "The Counterfeiters", which was awarded the Academy Award for Best Foreign Language Film for that year. Prior to that, his most notable appearances have been in the highly-acclaimed Austrian (Viennese) black comedy Komm, "süßer Tod" (2001), his role as far-right terrorist Franz Fuchs in the 2007 TV movie "Franz Fuchs – Ein Patriot", and in the police drama television series "Inspector Rex". His character from Inspector Rex had his own spin-off series, "Stockinger". He also played the role of Ferdinand aus der Fünten in the 2012 Dutch film "Süskind". Markovics remains a frequent stage actor, and in April 2010 played the non-singing role of Samiel in Counterfeiters-director Ruzowitzky's first opera production, "Der Freischütz" at Vienna's Theater an der Wien. He directed and wrote "Atmen" in 2011.
Gerhard Funk (AT)
Gerhard Funk was born in 1958. He studied Mathematics and Art Education in Linz und received his Ph.D. in Theoretical Computer Science. As a highschool teacher he taught art education, mathematics and informatics. In parallel he worked as assistant and researcher at RISC Linz. In 1993 he transfered to the University of Art Linz, where he established an education programme for digital media and developed the elearning platform "Digital Media for Artists – DMA". Since 2004 he is a full professor at the Institute of Media and the head of the bachelor's degree program "Timebased and Interactive Media" that he has conceptualized. Additionally he leads the branch of study "Web Art & Design" of the master's degree program in "Web Sciences" that is offered together with the Johannes Kepler University Linz.
Conny Lee (AT)
Born in 1985 with 50% southkorean genetic material from her father, raised in a tiny village far off in Lower Austria, moved to Vienna to attend University, finished the allegedly unpromising discipline of theatre-, film- and mediascience, since 2010 working as editor for Radio FM4 on topics like Games, IT, Literature and Comics, additionally producing and co-hosting the Morningshow.
Benjamin Brockhaus (DE)
Benjamin Brockhaus worked as a ranger in a national park at the North Sea and he graduated with a Bachelor of Science in "Ecosystemmanagement" at the University of Goettingen, Germany. Pursueing his personal goal, to empower young people in discovering and developing their potential as creators of our common future, he founded the "Youth Future Project" in 2009, which enables students and undergraduates to get to know future-looking approaches and equips them with the knowledge and project-management-tools which they need, to initiate own peace- or sustainability-projects. For this reason he arranges meetings between young people and role models like awardees of the nobel peace price.