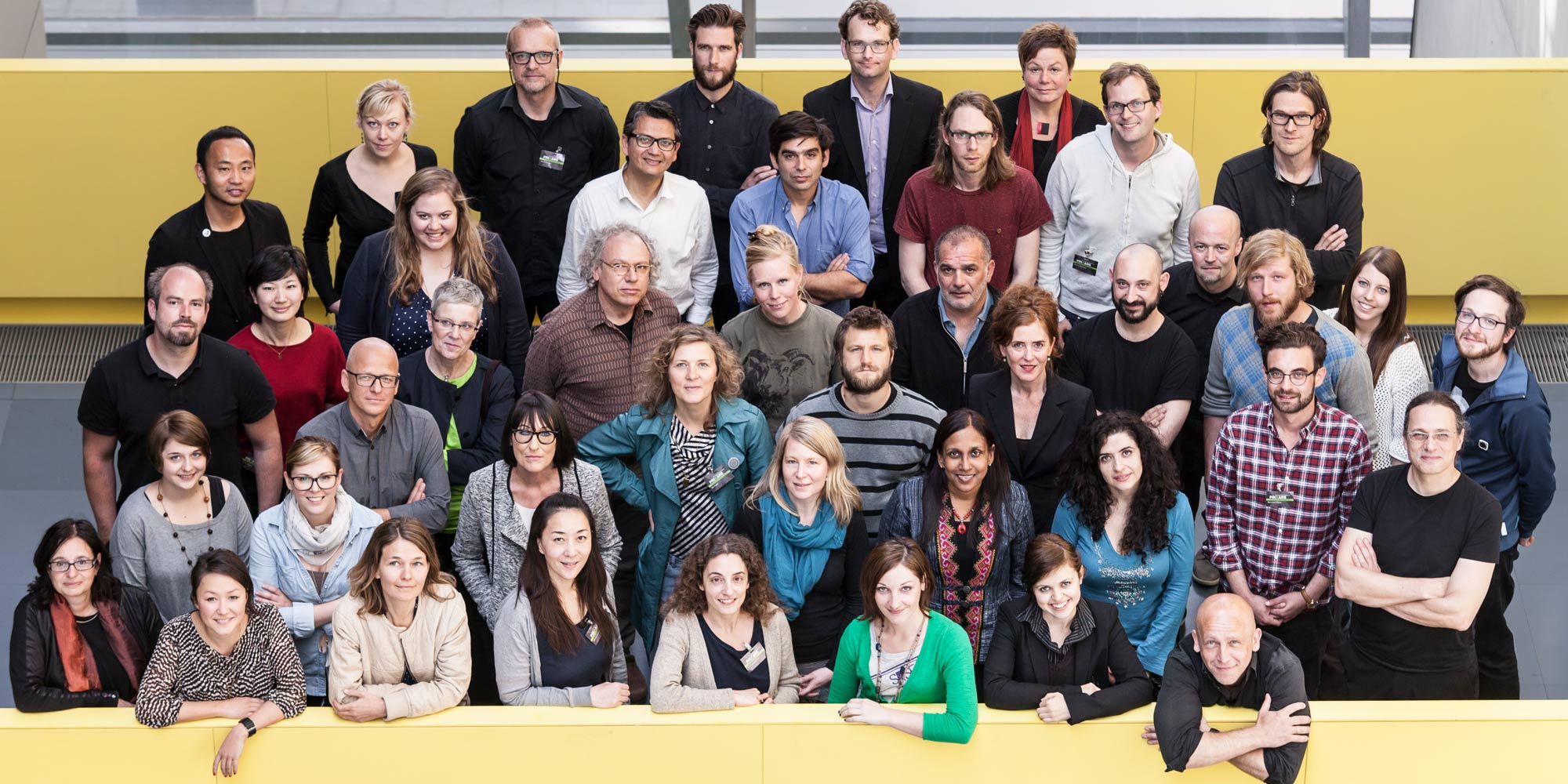 COMPUTER ANIMATION / FILM / VFX
Suzanne Buchan (CH/UK)

Suzanne Buchan is Professor of Animation Aesthetics at Middlesex University London. She gained her PhD at the University of Zurich and was a founding member and co-director (1994-2003) of the Fantoche International Animation Film Festival, Switzerland. She teaches, curates and advises internationally in her research field of a wide concept of history, theory and aesthetics of animation outside commercial canons. Books include Pervasive Animation: an AFI Reader (forthcoming 2013) and The Quay Brothers: Into A Metaphysical Playroom (2011). She is the founding editor of animation: an interdisciplinary journal (Sage Journals).
Joe Gerhardt (UK)

Semiconductor is UK artist duo Ruth Jarman and Joe Gerhardt. Through moving image works they explore the material nature of our world and how we experience it, questioning our place in the physical universe. Their unique approach has won them many awards and prestigious fellowships, most recently the 'Samsung Art + Prize' 2012 for new media, the 'Golden Gate Award for New Visions' at San Francisco International Film Festival USA 2012 and the 'Art and Science Award' at Ann Arbor Film Festival USA.
Jürgen Hagler (AT)

Jürgen Hagler studied art education, experimental visual design and cultural studies at the University for Art and Industrial Design in Linz, Austria. Professor for Computer Animation and Animation Studies at the Department for Digital Media at the University of Applied Sciences Upper Austria, Campus Hagenberg. He became the programme coordinator for the Digital Arts master's degree programme in 2009. Since 2009 co curator of the Ars Electronica Animation Festival.
Sabine Hirtes (DE)

Prof. Sabine Hirtes teaches since 2010 at the University of Offenburg Postproduction and Vfx . After graduating in "Visual Communication" at the FH Aachen miscellaneous creative and educational activities in the field of digital print media as well as moving images with a focus on computer animation and Vfx in different companies, studios and schools in Germany and abroad such as the Filmakademie Baden-Wuerttemberg, Cairo Film Institute and the ZKM, Centre for Art and Media, Karlsruhe.
Quayola (IT/UK)

Regarded for his enigmatic video installations, Quayola creates hybrid spaces of animated painting and sculpture. Engaging a practice of audiovisual performance, drawing, photography and software programming, he explores a fine boundary between the real and the artificial. Special institutional commissions of Quayola's work have allowed him exceptionally rare access to the art and architecture of churches, theaters and museums in Europe, such as Notre Dame and the Vatican. Quayola received Golden Nica -Prix Ars Electronica 2013 together with Memo Akten.
INTERACTIVE ART
Óscar Abril Ascaso (ES)
Oscar Abril Ascaso works as Director of Activities at Laboral Centro de Arte y Creación Industrial (Gijón, Spain). As a specialist in the context of techno-scientific culture and new social cultural paradigms, he develops his research in the field of Performativity Studies. Throughout his professional career spanning over twenty years, he has commissioned more than ten international exhibitions, in addition to many congresses, symposiums, seminars and workshops, for Sonar Festival (Barcelona), Centre de Cultura Contemporània de Barcelona (Barcelona), ARCO (Madrid) or L'Estruch (Sabadell).
Irini Papadimitriou (GR/UK)

Irini Papadimitriou is a London-based curator and producer, currently Head of New Media Arts Development at Watermans, an arts organisation presenting innovative work and supporting artists working with technology, where she is curating the exhibition programme and an annual digital performance festival. Irini is also Digital Programmes Manager at the V&A, mainly responsible for programmes such as the annual Digital Design Weekend: a big-scale event of interactive installations, open & collaborative workshops, artists' presentations and talks, showing digital art and design projects and offering audiences the opportunity to meet the artists & makers and explore processes. She is also one of the organisers for London's Elephant & Castle Mini Maker Faire, a day of making, learning, inventing and tinkering.
Enrique Rivera (CL)

Enrique Rivera G., 1977, Chilean audiovisual researcher and curator. President of the Chilean Video Corporation and Director of the Media Art Biennale of Santiago. Since 1997 he has explored and developed installations base on the intersection between visual art, film and literature in public spaces, galleries, museums and concerts.
Maholo Uchida (JP)

Maholo Uchida is a curator and exhibition development devision manager of Miraikan (National Museum of Emerging Science and Technology) in Tokyo, Japan. She started her career as a curator of new media art and design producing several national and international exhibitions. She has developed a new style of science museum, where activities and exhibitions strongly orientated towards art, design, game, manga and other popular culture. She is a director of "Tsunagari Project" which is symbol exhibition of Miraikan includes Geo-Cosmos – 6 meter sphere interactive globe display.
Michel van Dartel (NL)

Michel van Dartel is curator at V2_, where he coordinates public events and is involved in a variety of artistic R&D projects. He also works as a freelance curator for a.o. the Dutch Electronic Art Festival, art center TENT, MU gallery, the Energize festival, and ARTICLE biennial. Besides curating, Michel is an author, tutor atLuca Brussels University College and CODARTS University for the Arts, researcher at Hanze University of Applied Science, associate editor of the Journal for Artistic Research, advisor to a.o. theMondriaan Foundation and Creative Industries Fund NL, and professional advisory board member at Piet Zwart institute andWillem de Kooning Academy. Michel holds an MSc in Cognitive Psychology and a PhD in Artificial Intelligence and currently lives in Rotterdam and Brussels.
DIGITAL COMMUNITIES
Ian Banerjee (IN/AT)

Ian Banerjee is an architect, urban planner and educational researcher living in Vienna. After spending his childhood in Africa, Asia and Europe, he studied architecture in Vienna. He did his Masters thesis on the city of Curitiba, also known as the 'ecological capital' of Brazil. He then worked for several years for the Austrian Broadcasting Corporation (ORF) and the German satellite TV (3Sat) as a consultant for documentaries on urban innovations. During this time he travelled extensively through the world – especially in Asia. The films were made in Tokio, Kioto, Hanoi, Shanghai, Hangzhou, Hong Kong, Kolkata, Mumbai, Paris, Washington and Mexico City. Going back to academia, he joined the Centre of Sociology (ISRA) at the Vienna University of Technology as assistant professor. This is where he started researching radical innovations taking place in the educational sector – especially their virtual aspects. During this time, he worked for three years on the National Spatial Strategy for the Sultanate of Oman. The exposure to the complexities of national policy making in the Arab world shaped his conviction for the need of new forms of community based education and societal learning.
Laina Greene (SG/US)

Laina Raveendran Greene is Chief Executive Officer of GET-IT, Green Energy Technology and Info-communications Technology and Executive Director of a public listed telecom tower company in Indonesia. Laina's work experience spans 25 years in the telecoms industry with a focus on Green ICT and bridging the digital divide in developing countries. She also served as Secretary General of the Asia Pacific Internet Association, Board Director of Globetel Communications Corp, Guest lecturer at the Global Enterprise Marketing program at the Stanford and founded, and ran over 10 years and sold an interactive digital media company in Singapore. Based in Silicon Valley, Singapore and Indonesia, she considers herself a serial entrepreneur and a Global Citizen.
Leila Nachawati (ES)

Leila Nachawati is a Spanish-Syrian communication strategist and human rights activist. She is a professor of Communications at Carlos III University in Madrid, where she has also started her PhD on new media and freedom of expression under authoritarian regimes. She contributes to several projects and online media like Global Voices Online, Global Voices Advocacy, Eldiario.es and Al-Jazeera English. She holds degrees in English Studies, Arabic Studies, and a master´s degree in International Cooperation. You can follow her on Twitter: @leila_na
Salvatore Vanasco (IT/DE)

Born in 1960 in Montalbano, Italy; grew up in the German State of Hesse; 1982, studied literature at La Sapienza University of Rome; 1984-89, studied visual communication at HFBK–The University of Fine Arts in Hamburg; 1989-98, founding member and director of the European Media Art Lab; 2006, co-founder of xailabs GmbH in Berlin; artist and software entrepreneur; for many years, full-time professor and dean at Merz Akademie Stuttgart; recipient of the German Media Art Prize; e-businessman since the internet's takeoff.
Kazuhiko Washio (JP)
Kazuhiko Washio is a Creative Director/ Producer at Hakuhodo Inc, and also is a Chief Research Director at the Institute of Media Environment of Hakuhodo DY Media Partners Inc. Since joining Hakuhodo, a major advertising agency in Japan, he has supported building innovation programs for a diversity of companies through his expertise and experience in strategic planning, creative planning, communication design, advanced media development and project development. He is also author of publications "Branding for Empathy" and also a photographic artist with a number of photography books and publications.
Advisory Board 2014
Heitor Alvelos (PT), Cristina Ampatzidou (NL), Martijn De Waal (NL), Cyrus Farivar (US), Yesica Guerra (US), Felipe Heusser (PE), Mike Jensen (ZA), Jud / Wachter (CH), Denisa Kera (CZ/SG), Gerald Kogler (ES), Daniela Kuka (AT), Peter Kuthan (AT), Keith Lam (HK), Marc Lee (CH), Andre Lemos (BR), Eric Pan (CN), Stefan Pawel (AT), Annalisa Pelizza (IT), Fred Petrossian (IR), Ulrike Reinhard (DE), Juliana Rotich (KE), TH Schee (TW), Mike Stubbs (UK), Otto Tremetzberger (AT), Rob van Kranenburg (NL), Jeffrey Warren (US), Lei Yang (CN)
[THE NEXT IDEA] VOESTALPINE ART AND TECHNOLOGY GRANT
Horst Hörtner (AT)
Horst Hörtner is a media artist and researcher. He is expert in design of Human Computer Interaction and holds several patents in this field. Hörtner is founding member of the Ars Electronica Futurelab in 1996 and since then directing this atelier/laboratory. He started to work in the field of media art in the 1980ies and co-founded the media art group x-space in Graz/Austria in 1990. Horst Hörtner is working in the nexus of art & science and giving lectures and talks at numerous international conferences and universities.
Michael Sterrer-Ebenführer (AT)

Corporate Advertising and Sponsoring, voestalpine AG
Rikke Frisk (DK)

Rikke Frisk is founder and co-director of the community focused culture planning company, Indgreb, based in Copenhagen. Indgreb is specialized in participant driven events, and has amongst other things created the international innovation and art competition and festival, Afsnit I. Rikke co-created and for several years managed Strøm – the leading festival for electronic music in Scandinavia and later she was head of secretariat for the Copenhagen hosting of WOMEX – the world's biggest world music fair and festival.
Ela Kagel (DE)

Ela Kagel (SUPERMARKT Berlin) is an independent cultural producer with a focus on open source strategies, media activism and digital culture. As one of the transmediale festival program developers she initiated the Free Culture Incubator, a series of research events on the price and value of cultural work. Since 2005, Ela works with Public Art Lab and has initiated a broad range of media culture events, such as the Mobile Studios, Upgrade! Berlin or the Mobicases. Since 2011, Ela is founder and managing partner of SUPERMARKT, Berlin's center for creative resources.
Alexander Mankowsky (DE)

Born in Berlin 1957, Alexander Mankowsky studied Social Science, Philosophy and Psychology at the 'Freie Universität Berlin'. In 1989 he started working in the research institute of Daimler in Berlin. The multidisciplinary approach in the institute integrated a wide array of disciplines, from social sciences to artificial intelligence. His current working topics are Futures Studies, focussed on the ever changing culture of mobility, the interdependency of social and technological innovation and other aspects of envisioning paths into the future.
U19 – CREATE YOUR WORLD
Sirikit Amann (AT)

Sirikit Amann was born in 1961. She studied political science, theater and economics in Vienna. Since the '80s, her activities in Austria and abroad have been focused on the interface of culture, education and new media: until 2007, at KulturKontakt Austria as division manager for cultural education; beginning in 2008, in the newly-established staff position for artistic and cultural education at the Austrian Federal Ministry of Education, Art and Culture; until 2013, that ministry's in-house expert for artistic matters; since 2014, that same function in the Office of the Federal Chancellor; since 2008, the Prix Ars Electronica's curator of Young Animation; u19 juror since that category's inception.
Gerhard Funk (AT)

Gerhard Funk was born in 1958. He studied Mathematics and Art Education in Linz und received his Ph.D. in Theoretical Computer Science. As a highschool teacher he taught art education, mathematics and informatics. In parallel he worked as assistant and researcher at RISC Linz. In 1993 he transfered to the University of Art Linz, where he established an education programme for digital media and developed the elearning platform "Digital Media for Artists – DMA". Since 2004 he is a full professor at the Institute of Media and the head of the bachelor's degree program "Timebased and Interactive Media" that he has conceptualized. Additionally he leads the branch of study "Web Art & Design" of the master's degree program in "Web Sciences" that is offered together with the Johannes Kepler University Linz.
Conny Lee (AT)

Conny Lee, born 1985 in Vienna, studied the allegedly unpromising discipline of Theatre-, Film- and Mediascience. Since she got her degree, she's been working for Radio FM4 at the Austrian Broadcasting Company. There she produces and co-hosts the bilingual FM4 Morningshow and does Reviews on Games, Literature and Comics. Apart from that she also moderates events and public discussions.
Kirsten Mascher (DE)

Kirsten Mascher was born in 1974. In Dresden, she studied social pedagogy with a major in using media for instructional purposes. Since 2002, she has worked at Medienkulturzentrum Dresden developing multimedia educational projects. She's a project manager in conjunction with the MB21 German multimedia prize. In recent years, she has offered game design instruction at u19 CREATE YOUR WORLD and provided guidance to youth groups in developing serious games.
Ulrike Schweiger (AT)
Ulrike Schweiger was born in 1969 and graduated from the mdw – University of Music and Performing Arts Vienna where she majored in film and television. She works as a director, screenwriter and dramaturgical advisor. She's a member of the board of directors of the Viennese and Austrian screenwriters guilds, and serves as a juror on the Austrian Film Institute's film development advisory board. Ulrike Schweiger's films have won numerous awards at international and Austrian film festivals.